Anticosti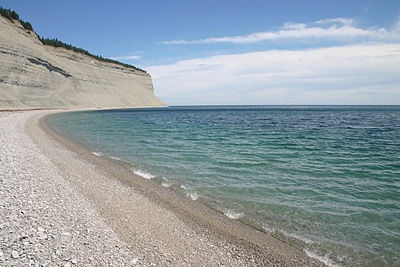 Anticosti
is a large but sparsely-populated island in
northeastern Quebec
, in the Gulf of St. Lawrence. While the island is over 160 km long, the only settlement of note on Anticosti is tiny Port-Menier (pop. 250) on the western coast. Much of the island is devoted to parkland or nature conservation.
Visitors to Anticosti come to fish for salmon on the Jupiter River or hunt white-tail deer. Anticosti Provincial Park straddles most of the island.
Understand
Aboriginal peoples visited the island for fishing and hunting. Jacques Cartier 'discovered' it for Europeans in 1534, although it remained without any permanent population until Louis IV gave it to the Jolliet family in 1680, who retained it until 1753. Since then it was used for only for timber harvesting until it was sold to French chocolatier Henri Menier in the late 19th century. He built Port Menier and introduced a deer population, who without natural predators expanded exponentially. Today there are more than 100,000 deer on the island, for a density of approximately 14 deer/km².

Talk
French is spoken by the inhabitants. English is not widely used, except in hunting and fishing tourism.

Get in
The closest access by boat or plane is typically from Havre-Saint-Pierre, Sept-Îles, or Baie-Comeau.
By plane
Port-Menier AirportRegular flights are offered by Air Liaison and SkyJet
Air Liaisonflies to Anticosti on Mon, Tues, Thurs and Fri (one-way fares) from Havre-Saint-Pierre at 10:50AM ($162), from Baie-Comeau at 8:35AM and 9:15AM ($502-518), and from Sept-Îles at 9:15AM ($231). The return flights are on the same days: Havre-Saint-Pierre at 10:25AM, Baie-Comeau at 11:35 AM and 4:40PM, and Sept-Îles at 11:45 AM

SkyJet

phone: +1-877-677-0033
It is possible to charter aircraft; outfitters have packaged flights from Mont-Joli, Sept-Îles, Havre-Saint-Pierre and occasionally Québec or Montréal as part of hunting expeditions.
By boat
It is possible to reach the island by ferry.
phone: +1 418-723-8787

address: 17 Lebrun Ave, Rimouski G5L 7R1

Weekly departures from Havre-Saint-Pierre Sunday evening and from Rimouski noon Tuesday for Anticosti, by reservation. Outport ferries to supply various north shore mainland villages between Sept-Îles and Blanc Sablon which are not reachable by road.
Get around
The island is 222 km (135 miles) in length and mostly parkland or wilderness. It is possible to bring vehicles on the ferry or rent them in Port Menier; guided package tours may also include transport.
Location Sauvageau

phone: +1 418-535-0157

address: 55, chemin de la Ferme, Port-Menier

Small truck rental.

phone: +1 418-535-0060

address: 42 Chemin de la Ferme, Port-Menier

+1 418-567-8761. Cruises and excursions to Anticosti and îles Mingan. Whale watching.
See
Eco-museum

phone: +1 418-535-0250

address: 1, rue du Couvent, Port Menier

History and ecology of Anticosti Island, furniture and artefacts from the time of Henri Menier.
A guided tour of Port Menier village is offered by the municipality to coincide with the arrival of the M/V Nordik Express.
There are six lighthouses on the island (Carleton Lighthouse is near Vauréal Falls; the cliffs offer a good vantage point for whalewatching) and shipwrecks (the Calou at Pointe-de-l'Ouest and the Wilcox near Pointe-Carleton are the most accessible).

phone: +1 418-535-0156

address: 25, chemin des Forestiers, Port-Menier

Bird watching (with more than 130 species), local wildlife includes beavers, otters, seals and black bear. Camping, hiking, sea kayaking. White oceanfront cliffs. Explore canyons, caves, rivers and the 250' (76 m) high Vauréal Falls.
Do
Hunting and fishing are just about the only activities; both require a provincial licence. There is trout and salmon in the area.
Sépaq AnticostiProvincial park, salmon fishing, deer hunting. Lodging at l'Hôtel de l'Île in Port Menier for visitors in transit. Campsites.
Buy
There is an artisans' boutique, a
caisse populaire
(Desjardins credit union, but with no ATM), a garage and a fuel station in Port Menier, the only village on the island.
phone: +1 418-535-0219

address: 12B des Olympiades, Port-Menier

Family-owned general store includes Ace Hardware, souvenir and convenience store.
Eat/drink
There are restaurants in Port Menier and at the Auberge Chicotte and Auberge McDonald inns. A picnic area is beside the "
Info Anticosti
" house at 7, ch. des Forestiers, +1 418-535-0250).
phone: +1 418-535-0129

address: Port-Menier

Local grocer with bakery, butcher, beer and wine, spirits, pizza, BBQ chicken, produce, seafood, ice, bait, propane and fuel. Preparation of orders in advance, deer meat cutting & packing service in season. Open year-round.
Sleep
phone: +1 418-535-0335

Two former lightkeepers' houses at the western end of the island, 20 km from Port-Menier. Offers guided tours and camping trips to park, including equipment and meals.

Auberge Chicotte

phone: +1 418 535-0279

address: Chicotte-la-Mer

Ten-room inn with restaurant on south shore of island.

Auberge McDonald

phone: +1 418 535-0279

address: McDonald Bay

Sixteen-room inn and restaurant on north shore of island overlooking Jacques Cartier Strait.

phone: +1 418 535-0279

address: 143 rue des Forestiers, Port-Menier

Licenced restaurant (6:30AM-10PM) and ten-room inn.

Pourvoirie Lac Geneviève d'Anticosti

phone: +1 418-535-0294

Hunting outfitter for deer hunt. Five cedar cottages on the shore of Lac Geneviève, two former lightkeepers' houses on the north point of the island, cabin camp on the shore of Lac Valiquette. Limited access to electricity, depending on site; these are off-grid.

phone: +1 514-252-5015

Hunting outfitter with five main lodges (Bell River Lodge, Fox Lake Lodge, Safari Lodge, Louis Jolliet Lodge and Gisele Michaud Lodge) open seasonally on various parts of the island with large tracts of private land for deer hunting. Guides with truck and ATV. Cottages to accommodate between 6 to 8 hunters each at six sites in the three main areas.
Stay safe
Anticosti is off the beaten path. There is no hospital on the island and just one small clinic in Port Menier, so in some areas the nearest help of any kind is over a 160 km (100 miles) away. The waters around the island have also been the site of hundreds of shipwrecks over the years.
If driving on the island, watch for wildlife. Deer are plentiful even in the village and can do substantial damage in a vehicular collision, while hitting a moose can be deadly.

Connect
There is no
mobile telephone
infrastructure on the island. There are a few Telus (3G UMTS) base stations on the mainland in
Havre-Saint-Pierre
; there is no Rogers and no 2G (GSM or CDMA) support.
Go next