Antigua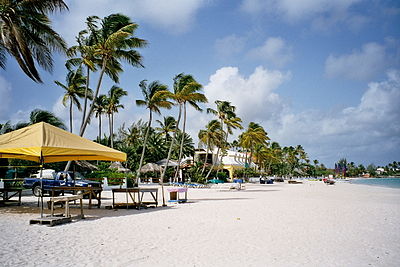 Antigua
is the larger of the two main islands that make up
Antigua and Barbuda
. It is a beautiful getaway and many tourists enjoy the really energetic island culture but also the peace and tranquility that the surrounding seas bring.
Cities
Other destinations
Falmouth was the original British settlement on the island.
Understand

Since gaining independence from the UK in 1981, Antigua has built itself up as a tourist hotspot, and rivals St Barts, Barbados and Jamaica in the Caribbean.

Talk

English is spoken everywhere on the island, along with local dialects.

Get in
By air
V. C. Bird International Airport
(
ANU
) is situated on the outskirts of St John's and to the north of the island. It has regular flights from UK and America, along with smaller planes from elsewhere in the region. It is a fully functioning airport with Wi-fi capabilities.
LIAT has a hub in Antigua, operating flights to various destinations in the Eastern Caribbean.
The following international airlines serve the airport:
Caribbean Airlines (Kingston, Barbados, Trinidad)
To the US: American Airlines/American Eagle (Charlotte, NC; San Juan, Puerto Rico), Delta Air Lines (Atlanta), United Airlines (Newark, NJ), JetBlue (New York-JFK)
To Canada: Air Canada (Toronto)
To Europe: British Airways (London Gatwick), Condor (Frankfurt, Germany), Virgin Atlantic (London Gatwick)
You can also connect to Paris (Air France) and Amsterdam (KLM) via St Maarten

By cruise ship
Many tourists come to Antigua and Barbuda via cruise ships. On Antigua, passengers enjoy a short walk through Heritage Quay into the heart of St. John's.

Get around
By car
Cars may be hired from numerous places around the island. Contact your hotel for more information. However, there is a 30 mph speed limit on the island, so driving can be a tad tedious. Car hire tends to be expensive, around US$100 a day.

By taxi
Taxis (usually minibuses) are not at all cheap in Antigua, and as the road surfaces can be a bit patchy in places, they will take you along the best routes though. The fare, for example, from the West Coast Pineapple Beach Resort (just past the village of Wilikies) to St Johns costs US$52 per taxi up to four persons. They are in stark contrast to bus fares.

By bus
Local buses are said to be unpredictable but they are certainly cheap, only US$1-2 per person. All start at St Johns, in the well-ordered bus station on Market Street.

See
CricketCricket is the Antiguan sport. Games are played at the Recreation Ground in St John's or at any of the 365 beaches on the island. Or on any spare bit of ground.
Antigua Recreation Ground

address: St. John's
CarnivalFrom late July to early August the Recreation Ground in St John's is liberated from the cricket fans and is home to the islands main festival.
Nelson's DockyardHistoric English dockyard in English Harbour.
Betty's Hope is a 17th C windmill for processing sugar cane, on the Pares Village Main Road just before the boundary with Saint Philip parish. It fell out of use in the 20th C but has been restored, and occasionally has demonstration runs in the cane harvest season Feb-July. This makes it one of the only two functioning sugar windmills left in the world: the other is the Morgan Lewis mill in Barbados.
Do
Scuba diving - there are many reefs off the eastern coastline and as a result, there is some pretty awesome fish to see. Snorkeling is also pretty good here, as the water is very clear, and it's a lot cheaper! Snorkeling on the Western side is spotty to non-existent. Some of the locals recommended Darkwood beach as a location with good snorkeling off right off the beach. Not so. While the beach is stunningly beautiful and gloriously uncrowded, most of the "reef" is actually just grass. There is a small fragment of reef at the southern end of the beach, but you have to be wary of the rough surf that tends to push you toward the rocks. The common advice is that the best snorkeling is to be reached by boat.
Sailing - dinghies, cats, cruisers can all be hired from many places around the island, and there are plenty of coves and natural harbours to explore. Why not lay claim to the uninhabited island of Redonda?
Party at Shirley Heights Lookout(an old British fort and signal station near Falmouth) on Sunday evenings to Antiguan music and see the spectacular sunset over English Harbour. Arrive at 4PM to catch the sunset, and by 7PM you'll be eating barbecue and dancing to music by local bands. Entry is US$6, which no longer includes a free drink. Even if you can't attend the barbeque, Shirley Heights Lookout boasts one of Antigua's best views and lures tourists and locals alike.
Buy

St Johns offers a variety of merchants offering most everything needed to visit the island or live there.
Heritage Quay, at the land end of the cruise ship piers, offers a wide variety of duty-free shopping for international visitors. To qualify you for duty-free treatment, merchants often ask to see airline tickets or ship ID cards. Offerings range from jewelry to liquor and tobacco, with one especially nice store for linens. Excellent and unique, hand-made gold jewelry can be found at the Goldsmitty on the street one short block south of and parallel to the main shopping street for the Quay.

Eat

Seafood is understandably very popular here. There is a nice variety of tropical fruits that grow on the island. The national dish is called fungi (pronounced foun-gee) and pepperpot. Besides the local dishes, almost every major type of cuisine can be found on the island, e.g. Italian, Mexican, American, British, Jamaican. Just ask locals for directions.

Drink

There is a host of local drinks in Antigua: from pineapple, guava, mauby, seamoss, passion fruit and hibiscus to imported drinks (Coca Cola, Pepsi). All varieties of water exist, even local brands. Many beers can be found in Antigua from local (Wadadli, English Harbour rum), to regional (Carib Beer), to international, (Smirnoff and Heineken) and can be purchased at any local bar. Rum is by far the most popular spirit, best served as a "Rum Punch".

Stay safe

Antigua is a relatively safe place but, like all places in the world, wisdom should be used. Do not travel alone at night. Stay in well-lit places. Do not carry around more money than is absolutely necessary, nor flash expensive jewelry. Do not accept anything from strangers, not even car rides. It may be best to avoid street urchins who beg for money or politely refuse them and in the unlikely event of anything contact the police force.

Cope
Consulates
Denmark (Honorary)

phone: +1 268 480-3070

address: The Harper Bldg at High & Market Sts
Go next