Antigua Guatemala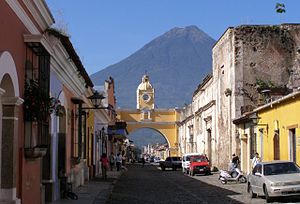 La Antigua Guatemala
was the colonial Spanish capital of Central America. It is a World Heritage Site, and is perhaps the most popular tourist destination in
Guatemala
.
Understand
History
Now commonly referred to as just Antigua (or La Antigua), the city was one of the grand colonial capitals of the Spanish Empire in America from the 16th-18th centuries. Under the name
Santiago de los Caballeros de Guatemala
, it was the original "Guatemala City". A disastrous earthquake in 1773 destroyed or damaged most of the city, and the Spanish crown ordered the capital moved to a new city, what became the modern
Guatemala City
. In 1776 this old city was ordered abandoned. Not everyone left, but it turned from a bustling capital into a provincial town, filled with the ruins of its former glory. It became known as "Antigua Guatemala", meaning "Old Guatemala".
In the 20th century there was increasing appreciation for the large amount of preserved colonial Spanish architecture here, development to host visitors, and the city was declared a
UNESCO World Heritage site
in 1979.
Semana Santa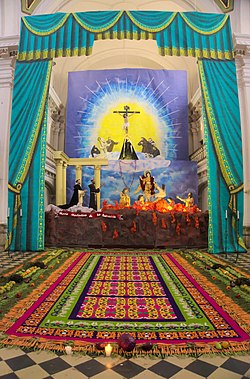 Semana Santa
("Holy Week") is the spanish name for the week of Easter celebrations, which lasts from Palm Sunday to Easter Sunday. The Semana Santa is celebrated in the whole Spanish speaking world with street processions in which religious groups carry life-sized, heavy and holy statues through the streets. Antigua Guatemala, together with
Seville
(Spain), is one of the most famous and traditional spots in the world to celebrate these Easter processions. First records of Semana Santa processions in Antigua date back to the year 1543.
Nowadays, Antigua is particularly famous for its carpets made of colorized sawdust that show and form religious symbols and get decorated with fruits and vegetables. These carpets are displayed in churches and on the streets - the latter as a grounding for the processions to walk over it. The streetcarpets, however, are of short attraction and although it takes hours to form then they are directly wiped away by the cleaning team after being walked over for the first time.
During Semana Santa, Antigua is the touristic hotspot in Guatemala and it seems like half of the city is involved in the Easter celebrations in one way or the other. If you plan to visit Antigua during this time, book in advance and expect to pay higher prices compared to the rest of the year.
Orientation
The city's streets are mostly laid out in a rectangular grid aligned with the compass, with the
Parque Central
as an origin point. North-south roads are
avenidas
or avenues, numbered from 1st to 8th from east to west. The avenidas are further divided into
sur
(south) and
norte
(north). East-west roads are
calles
or streets, numbered from 1st to 9th from north to south. The calles are further divided into
oriente
(east) and
poniente
(west). The street intersection at the northeast corner of the
Palace of the Captains-General
,
i.e.
at the southeast corner of Parque Central, is the origin of this division. Avenidas are
sur
south of 5ª Calle, and
norte
north of it. Calles are
oriente
east of 4ª Avenida, and
poniente
west of it.
Some roads have names that don't follow the avenida/calle numbering scheme, and some roads away from the center don't follow the grid. Most corners do not have signs showing the name of either the street you are on or the one you just came up to. All are paved with cobblestones, and sidewalks are generally not very good.
Addresses are numbered sequentially outwards from the origin point. Even-numbered addresses are on one side of the street and odd numbers are on the other. Street addresses are written with the street or avenue number first, followed by the letter "a" in superscript (because 1ª signifies "primera", 2ª is short for "segunda", 3ª for "tercera", etc.); then "Av." (for
avenida
) or "Cle." (for
calle
), then "Ote." (
oriente
, east), "Pte." (
poniente
, west), "Sur" (south), or "Nte." (
norte
, north); then the street address number. For instance:
"5ª Av. Nte. #5" is address #5 on 5th Avenue North. The small number shows it is just a little north of the north-south divider, 5ª Calle.
"3ª Cle. Ote. #28" is address #28 on 3rd Street East. The relatively large number shows it is some ways east of the east-west divider, 4ª Avenida.
It's helpful to memorize that the north and south sides of Parque Central are 4ª and 5ª Calles, and the west and east sides are 5ª and 4ª Avenidas respectively. Parque Central is the reference point for east, west, north, and south in street addresses. "5ª Av. Nte. #5" is north of Parque Central. "5ª Av. Sur #5" is south of Parque Central. Essentially, if you understand which way is north of Parque Central, you can find anything in the city.
phone: +502 7832-0787
address: 5ª Calle Oriente #11
Get in
By plane
There is no direct commercial air service to Antigua. The nearest airport is
La Aurora International Airport
(
GUA
) in Guatemala City, which is 45 minutes to an hour from Antigua by car.
A taxi from the airport to Antigua is around GTQ350, and can be split among 2 or 3 riders to make it comparable with privately arranged shuttles. For your departure from Antigua, there are numerous travel agencies near Parque Central from which to purchase rides back to the airport. The usual cost is from Q55-80 (quetzales).
There are regular shuttle vans directly from the airport to Antigua that cost around GTQ80 and leave regularly all day until 20:00. You don't need to prearrange, but demand can be high depending on the number of flights arriving at the same time, so pre-purchasing a ticket from a local travel agent is best. To return to the airport, almost all travel agencies in Antigua offer scheduled tourist shuttles to La Aurora, for fares ranging from Q40-80. The earliest buses and shuttles depart at 04:00, in time to arrive at the airport by 05:00 for a 07:00 flight out. The lines at the airport are very long, so arrive at least 1 hour or more before your flight.
You can also pre-arrange a charter tourist van to pick you up at the airport, which for first-time visitors might be the safest and most convenient option. It costs about Q250-350, and the driver will meet you at the airport with your name on a sign.

By bus
The is located in the west side of town, northwest of the intersection of 4a Calle Pte and Alameda Santa Lucia, in the lot behind "El Mercado" (Central market, see below under "buy"). From here the buses go to Chimaltenango, Esquintla, Jesus Santa Maria, San Miguel Dueñas, Ciudad Vieja, San Antonio Aguas Caliente and anywhere around. If going to Quetzaltenango, Huehuetenango or Panajachel by chicken bus take the Chimaltenango bus to the Interamerica Hwy (CA-1) south of Chimaltenango and transfer to a westbound bus going towards the desired destination. Buses going north towards Chimaltenango also pass through Jocotenango, northern 'suburb' of Antigua. leave from the next street south of the artisan craft market. Buses from Guatemala City leave from Terminal Trebol and stop under the pedestrian bridge at Tikal Futura Mall along Cazalda Roosevelt in Guatemala City.
There are numerous travel agents all over town who offer or arrange shuttles to Panajachel, San Marcos, San Cristobal de las Casas, Monterrico, Quetzaltenango, San Pedro La Laguana, Chichicastenango (market days); The airport, Lanquín y Semuc Champey; and Copan de Ruinas. Other destinations such as Flores/Tikal, Puerto Barrios, Tapachula, San Salvador and other cities in Central America are booked through a first class pullman bus company instead. From Antigua they transfer passengers to the pullman bus station(s) in Guatemala City by shuttle or mini-bus. The shuttles are more expensive than chicken buses but are quicker, more comfortable and safer than chicken buses. The shuttle options are offered either as one way transportation or they can be as part of an independent day trip or guided tour with return on the same day. There are day trips to Tikal which are offered with an early shuttle to the airport and a flight to Flores and back the same day/evening. Some of the local travel agents are:

There are also other travel agents in Panajachel, Copan de Ruinas, San Cristobal de las Casas, Flores and other tourist destinations booking shuttles to Antigua.

Get around
On foot
Antigua is very compact and easy to walk around, with a layout that follows the typical Spanish colonial design of a main plaza surrounded by governmental and Catholic church buildings. Most of the sites of interest to visitors are contained in an 8x8 block area less than a kilometer across, which you can walk across in 15 minutes. Be careful: the sidewalks are narrow and not always in good repair, you may have to walk in the street with traffic whizzing by you, and at night it's worth being cautious and aware of your surroundings. Standard tourist maps are linear in their drawings and thus are accurate only near the town center. Get a real map with accurate topography if you are seeking locations farther from the town center, as dead ends and curved streets are not portrayed accurately.
If you don't know the city streets too well, and it is past about 23:00, it is best to get a taxi back to your accommodations, especially if you're alone or going more than a few blocks away from the well-lit vicinity of
Parque Central
.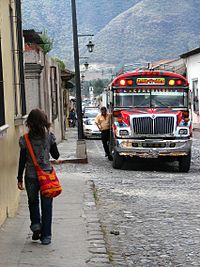 By chicken bus
Chicken buses are good for travelling longer distances. To reach Guatemala City, one simply asks for the main route of the chicken bus. They stop at every corner, honk the horn as early as 05:30, and yell out loud "Guate! Guate!". It is common to see one bus every 4 to 5 minutes leaving from the same corner. Buses to San Pedro, San Juan, and/or Santa Ana leave every 10 to 20 minutes; the best place to find these are at the Mercado or at Iglesia de Santa Lucia as they often do not follow the same set route through town.
By tuk-tuk or taxi
Tuk-tuks
and taxis can take you to destinations within the city center for Q15 or more. Negotiate the fare with the driver in advance. Otherwise, they will routinely charge 50-100% more than they should. Tuk-tuks usually do not go to Guatemala City, and they stop working at 22:00, so one will need a shuttle or taxi instead. Flag down a cruising tuk-tuk, or pick up a taxi from the queue at
Parque Central
or along a main route to the city's periphery.
See
Colonial-era ruins
The preserved ruins of the old colonial government buildings and churches are not only Antigua's main tourist draw, but they're also a UNESCO World Heritage Site. Dating from the 17th and 18th centuries, these buildings were damaged in a series of seismic events culminating with the devastating earthquake of 1773. They remained abandoned and crumbling until 1944, when Guatemala's President Jorge Ubico declared them a National Monument. Preservation (and, in some cases, partial reconstruction) of the ruins began soon afterward and continues through to the present day. With the exception of the comparatively affordable
Iglesia de San Francisco el Grande
, entrance fees for the ruins tend to be steep. Despite the popularity of the ruins with tourists, interpretive signs and plaques (where they exist at all) tend to be in Spanish only. If you're planning to take an organized tour and don't speak any Spanish, try to seek out a bilingual guide.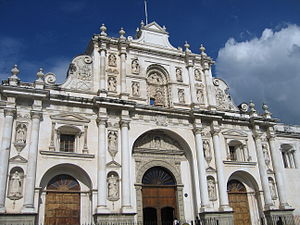 Catedral de Antigua Guatemala

phone: +502 7832-0909

address: 5ª Calle Oriente

The second church to occupy this site and one of the largest in Central America during its heyday, the Catedral de Antigua Guatemala was built in 1680 to replace its antecessor that dated to 1541. While most of the building was leveled during the earthquake of 1773, the ornate Baroque facade emerged relatively unscathed. While a partial reconstruction beginning in the 19th Century has allowed the building to once again be home to a functioning church, other portions of the complex remain in ruins.

Colegio de San Jerónimo

address: 1ª Calle Poniente

The useful lifespan of the Colegio de San Jerónimo was short indeed: the sixteen years between its completion in 1757 and the earthquake of 1773 that destroyed it saw the building used first as a secondary school staffed by the Friars of La Merced, then as a royal customshouse. Today, though it's quite a bit further afield from the other colonial ruins, San Jerónimo is popular with visitors for the beautifully landscaped gardens in its courtyard, centered on a lovely fountain and playing host frequently to dance performances, festivals, and other cultural events. As for the building itself, you can tour through the crumbling ruins of the old dormitories with their handsome vaulted ceilings, then head to the upper level for a great view of Volcán Agua in the distance.

Convento de las Capuchinas

phone: +502 7832-0184

address: 2ª Calle Oriente

Formally known as the Convento e Iglesia de Nuestra Señora del Pilar de Zaragoza (Convent and Church of Our Lady of the Pillar of Zaragoza), this partially reconstructed building (which is also home to the offices of the National Council for the Protection of Antigua Guatemala) was, from 1736 to the devastating earthquake of 1773, home to a community of cloistered nuns. Today, visitors can explore the ruined remains of the former nuns' dormitories, amble through the desolate tranquility of the convent's still-thriving gardens, and take in a panoramic view of the city from the rooftop terrace.

Convento de Santa Clara

phone: +502 7832-0184

address: 2ª Avenida Sur

One of the largest complexes of colonial ruins in Antigua, the Convento de Santa Clara was built in 1715 as the home of an order of Franciscan nuns founded some years earlier by a group of six sisters from Mexico. Today this ruin is most notable for its facade, which largely survived the earthquake of 1773 that devastated the complex; it's one of the most ornate in all of Antigua, replete with intricate statuary and ornamentation in molded stucco. Interestingly, the facade is located in the rear of the complex: in front is a spacious, well-tended courtyard garden not too different from the one at Colegio de San Jerónimo, ringed by the ruined remains of the former cloisters. Ascend to the upper level for a nice view over the surrounding mountains.

Iglesia de San Francisco el Grande

phone: +502 7882-4439

address: 7ª Calle Oriente

This grand old church is one of the most visited of Antigua's ruins, thanks to its status as final resting place of Hermano Pedro de San José Betancurt: a 17th-century monk who is the first Catholic saint to hail from Guatemala, and was renowned as the "St. Francis of Assisi of the Americas" due to his ascetic lifestyle, charitable generosity, and aid to marginalized groups within colonial Guatemalan society. A multi-domed structure in the Spanish Baroque style, San Francisco el Grande is a classic example of colonial-era architecture. It was partially reconstructed after the earthquake of 1773 and is still an operating church, but there's also a small museum onsite dedicated to Hermano Pedro and the history of the church.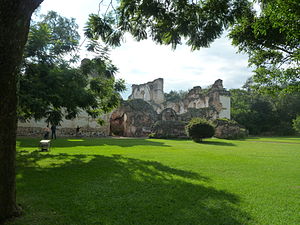 La Recolección

address: Calle de Recoletos, corner of 1ª Calle Poniente

Built in 1708 as a church and monastery for friars from the Order of the Recollects, La Recolección sustained heavy damage in the earthquakes of 1717 and 1753 before meeting its final destruction in the massive Santa Marta Earthquake of 1773 that claimed most of the rest of the city along with it. Today it's among the largest ruins in Antigua, but it's also far off the well-trodden circuit (hidden away past the bus station at the west end of town) and not particularly well-preserved either: damage to La Recolección continued even after the quake, when much of the remaining material was plundered for other construction projects and structurally stable portions of the complex were altered for use as a soap factory, a horse stable, and other purposes. Still, visitors can take advantage of the quiet tranquility and lack of crowds to enjoy a peaceful walk through the garden. As for the ruins themselves, the former church building is the best-preserved portion of the complex; the cloisters, former infirmary building, and other remains less so.

Convent Sor Juana de Maldonado

phone: +502-7873-4646

address: 4ª Calle Oriente #45

Two themes: It interprets the conservation and restoration of the convent and also aspects of Antigua Holy Week. Gives an appreciation of the everyday lives of XVIII Century nuns. Poster displays in English and Spanish. Video loops in Spanish, but conceptually understandable to English speakers. Static displays and two videos of the Antigua tradition of Holy Week artistic carpets of colored sawdust.
Other attractions within the city center
Arco de Santa Catalina

address: 5ª Avenida Norte, just north of 2ª Calle Poniente

What was a walkway used in the 17th century by the nuns of the Convento de Santa Catalina to cross over 5ª Avenida Norte from their cloisters to the parochial school without having to venture into the dusty street, is now the cliché tourist photo op in Antigua. And with good reason — the Arco de Santa Catalina is a lovely sight indeed, crowned by a clock tower that was added a bit later, in the 1830s. Today, the arch is looked after by the Santos family, owners of the nearby jewelry store Reino del Jade and Hotel El Convento.
Banco Industrial Numismatic Museum

address: 5ª Avenida Sur # 04

Small but high-quality museum interpreting history of Guatemalan currency.

phone: +502 7832 4520

address: 4ª Calle Oriente #14

Learn how to make chocolate from the cocoa beans. A unique experience where you learn everything about the history of chocolate, the cacao plantations, and the industry of chocolate making. At the end of the class you will make your own chocolate bar at your taste and will be able to bring it back home with you.

Iglesia de La Merced

phone: +502 7832-0559

address: 6ª Avenida Norte, corner of 1ª Calle Poniente

Erected in 1767 by friars from the Order of the Blessed Virgin Mary of Mercy, or Mercedarians, La Merced was one of the few buildings in Antigua to withstand the Santa Marta earthquake that struck seven years later. This was due to the ingenuity of architect Juan de Dios Estrada, who designed the building with his memories and observations of the tremor of 1751 fresh in his mind: the building's modest height, bottom-heavy orientation, wide arches, and robust columns were intended to withstand earthquakes. La Merced was abandoned in 1829 when President Francisco Morazán expelled all clergy from what was then called the Federal Republic of Central America; the church wasn't reopened until 1853, by which time the attached monastery had fallen victim to looters who plundered its building materials for use elsewhere. Today, visitors can take in a distinctive yellow facade that has been called the most beautiful example of Spanish Baroque architecture in Antigua, pay the admission fee for the ruins of the monastery whose courtyard boasts what is reputed to be the largest fountain in Central America (the Mercedarian monks once raised fish in it), or — if you happen to be in town during semana santa (Holy Week, the week before Easter) — check out the processions that wind through the streets of old Antigua on Palm Sunday and Good Friday, beginning and ending at the church.

phone: +502 7832-3169

address: 1ª Calle Poniente #51

Founded in 1998, the Casa del Tejido Antiguo is a museum dedicated to the craft of weaving as practiced for centuries by the native Mayans of Guatemala. Tucked away in an out-of-the-way corner of central Antigua, you'll be taken on a brief (30-40 minute) guided tour through about a half-dozen rooms of museum exhibits detailing the history, tools, and techniques of traditional Mayan weaving, then you'll be set loose into an even larger section containing artisans hard at work on garments, mats, and artistic pieces. You can (and will be emphatically encouraged to) buy some of their work — but, although the quality is decent, the cost is several times what a decent haggler would pay for similar pieces at the Mercado. All exhibits are in Spanish only, and only some of the staff speaks English, so those who don't speak good Spanish should make sure to ask in advance for an English-speaking tour guide if possible.

Parque CentralLocated directly in the center of town, this park is a city block in size, with concentric circular walkways threading among trees and a fountain in the middle. The trees are decorated with lights, and there are plenty of benches for sitting and people-watching. The city hall and police office, the cathedral, and several banks and tourist businesses line the four sides of the park. Many Antiguans hang out in the park, and it has a pleasant, bustling, friendly feel during the day (at night, slightly less so. Use your judgment).
Further afield
El HatoA small village in the mountains 20 minutes and 1,800 meters above Antigua, where you can hike around through the forest and coffee plantations and take in the view of the city. Chicken buses to El Hato (40 minutes; Q4) leave from the Mercado several times a day on an irregular schedule.

phone: +502 7888-6308

A nursery of macadamia trees with an interesting environmental and economic agenda. Valhalla has donated over 250,000 macadamia trees to indigenous communities in Guatemala. Macadamia nuts are a cash crop, with the potential to provide a better livelihood for Guatemalan peasants than does coffee. The farmer can use the trimmed branches of the trees for firewood. Additionally, macadamia trees take carbon dioxide out of the air and form it into wood, nuts, and shells. The shells can be used for street paving. And Valhalla have found a way to provide the trees as genetically diverse complete plants, instead of as grafts. This allows natural selection to adapt the trees to changing environmental conditions. The station turns macadamia nuts into snacks, chocolates, a fine skin cream, a pure oil, and a flour that can be made into pancakes. Pancake breakfasts are served all day, every day until 15:30. The breakfast includes 3 pancakes made of macadamia flour, served with macadamia butter, homemade blueberry marmalade and a drink of your choice. No reservation required. The station offers tours in Spanish, English, and sometimes other languages as well. At the end of a tour they offer samples of their various products. To get there, try taking a chicken bus, which run every 30 minutes on this route; the fare is around Q3.50 one way.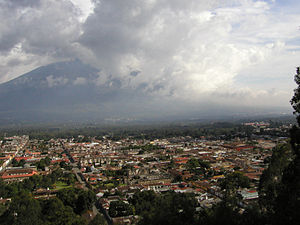 Hiking on nearby mountains and volcanoes
Cerro de la CruzThe "Hill of the Cross" is at the north end of the city and offers the best views of Antigua. You can walk to the base of the hill from anywhere in Antigua within 10-20 minutes. Robberies have taken place on the walk up the hill in the past, but there are now police on the track during opening hours, and it is considered safe by the locals. The walk lasts less than 10 minutes, but is tough if you are out of shape. If you are concerned about either safety or fitness you can catch a tuk tuk to the top and walk down with other people.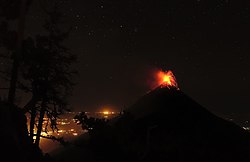 Volcán Acatenango and Volcán de FuegoAcatenango (3976m) is a streneous hike which can be done in one day or overnight. Camping overnight on Acatenango lets you watch the spectacular explosions of the active Fuego volcano from your camp site. There are several routes up the Acatenango. The most popular one starts near La Soledad (about 2400m). A much longer one starts from Alotenango. There is Q50 fee to enter the Acatenango area. Overnight tours are best done when Fuego is very active. You can watch the daily activity reports and some webcams to plan your trip. Virtually all tour operators in Antigua offer guided tours up the Acatenango and also provide you with camping gear charging $25-$100 per person for the overnight trip excluding park entry depending on the luxury level of camping, e.g. thicker mattress, smaller tents. Ask whether water, meals, hiking stick, jacket, cloves, hat are included. Check the name of the campsite on whether it's budget or midrange to not be ripped of. Bear in mind that you have to carry 3.5l of water and your meals by yourself. Camping gear is already at the campsite. Bring warm clothes as temperature drops below zero celsius during the night and sleeping. A headlight is also essential for the hike up to the top before sunrise. On the first day you can walk up to Fuego Acatenango for an extra charge starting at Q100 to get closer to eruptions. This is only worth doing on clear evenings. You can also contact a local guide directly which will usually charge Q200-Q300. Guides are easily found in La Soledad. Camping equipment can be rented in Antigua from O.X. or Old Town Outfitters but is relatively pricey. You can also go without a guide. There are several trail that are often not obvious but easily followed with a GPS and, e.g., the trail maps from OpenstreetMaps. To get to the trail head, take a bus from Antigua to Parramos and from Parramos to La Soledad (or take a taxi from Antigua, Q300.) The trail starts just before you reach La Soledad. There might be people selling drinks on the trail but there are usually no water sources. There are two popular camp sites half way up Acatenango. Both give you beautiful views of Fuego at night. The hike up from the western camp site to the top of Acatenango is much easier than from the eastern site. However, running down on the loose gravel to the eastern site is much more fun than going down on the west. To get the best of both sites, camp on the western site climb the peak with your gear and hike down to the eastern site.

Volcán AguaThe dormant volcano stretches up invitingly to the south of Antigua. Some tourists recommend climbing as part of a tour with a police escort to avoid problems as robberies are frequent. Some unaccompanied tourists have been kidnapped. Definitely take the security situation seriously. Ask at the Inguat office for advice, and go with a tour that has armed security that you trust.

Volcán PacayaGoing up the active volcano is quite easy and you will find dozens of travel agents who will be very happy to sell you tickets for a Pacaya-trip that normally costs between Q60-75, depending on your bargaining skills. This includes a bus-shuttle to and from Pacaya. Once there, foreigners must pay an extra Q50 for the park entrance. Going there without a tour is likely more expensive since you can only enter the area with a guide which by park rules charges an additional Q200 per group (up to 12 people.) As of early 2016, there is no hot lava left from the 2010 eruption but you can still roast marshmellows over vents and see the cold lava. Pacaya is an active volcano. You cannot get to the crater (you just get close), but there are some amazing views. The hike is not too hard except for the last 100 meters or so that go over very loose lava rocks. This hike can be strenuous and people who are not in good physical condition should give it carefully consideration (horses are also available for Q100 each way). If you go in the afternoon, be prepared to descend in the dark. It takes approximately an hour and a half up and 45 minutes down the mountain. There are a couple of kiosks at the bottom of this hike that offer cold beer.
Do
Artisanal workshopsSpend an afternoon with a local artisan specializing in jade, metal work, or textiles. Enjoy a unique cultural experience and come home with a handmade gift.

phone: +503 5585-4450

Learn how to pick, process and roast your own coffee! Spend a day with a coffee farmer, on the base of Volcán Agua, and learn what a day in the life of a small independent coffee farmer looks like. The tour will take you up the volcano to pick coffee from their fields. They will then take you to their homes to demonstrate how to separate the coffee fruit by density, husk the fruit, ferment and wash the beans, dry, remove the inner hull, sort by size and grade, roast, and — of course — taste! Q200 is a pretty good deal for the day, and includes a pound of coffee as well as English translation and guide services). Tours begin and end at Plaza de San Miguel Escobar in Ciudad Vieja, and must be booked at least 24 hours in advance.
Events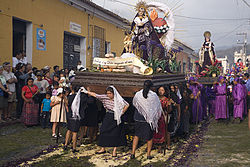 Semana Santa processionsEvery year in the "Holy Week", the time from Palm Sunday to Easter Sunday, most cities and villages in Guatemala celebrate local processions in which different religious groups carry life-sized, heavy and holy statues through the streets. Antigua is the Guatemalan hotspot and epicenter of these activities. If it happens you are in Antigua during the Holy Week don't miss to watch these processions. Usually there are several a day, organized by different groups or churches on different tracks throughout the streets and during different times of the day. Ask the local tourist information to find the procession that fits best into your plans.;
Also visit the churches of Antigua in that time, as every church is proudly decorated and displaying beautiful handmade "carpets". These carpets, made of colorized sawdust, show and form religious symbols and get decorated with fruits and vegetables and is something that Antigua is particularly famous for. Also you find such handmade carpets on the streets as a grounding for the processions to walk over it.;
Be aware that prices are rising high during the Holy Week as this is a touristic highlight well-known throughout all Guatemala. Hence, the city is crowded by natives and internationals alike. However, in the week or the two weeks before already there are a lot of processions who "practice" their walk, so it might be a smart choice to move there in the days before when prices did not yet skyrocket.
Give
You can appreciate much about the Guatemalan culture by staying with a local family here. Arrangements for family stay can be made through a local school, or through local charity that you might volunteer for. Cost of local stay to include room and board ranges from US$65 a week with shared facility to as high as US$150 a week for private shower/bathroom. To really get into a glimpse of life in Guatemala, one can sponsor a child through a local charity, like
Common Hope
, or
Mayan Families
. Once sponsored, you can visit your child through the charity. For first time visitor, Common Hope can secure an indigenous child at a nearby village like San Rafael, where you can get to see the subsistence farming and the day-to-day life of more than 50% of Guatemalans who lives on less than US$2 a day. Seeing their life on TV is not the same as up close and personal, and seeing the impact your donation makes upon the life of the whole family is gratifying. Visits through local Spanish school usually is made once a week to the local charities and hospital in town like
Hospital Hermano Pedro
, where many medical groups arrive from other countries to provide needed medical and dental work (cataract surgery, cleft lip, and dental care). One can turn a blind eye to poverty by simply shopping and dining in Antigua, but visitors can make a difference by sponsoring a child or family.
Learn
Antigua is the most popular, though not the cheapest, place to learn Spanish in Guatemala. Prices and hours vary, and can change depending on the season.
Homestays for language students are also available as a cheaper and more culturally enriching living situation. The average homestay with a Guatemalan family costs Q585 for 7 nights in your own room with shared bath and 2-3 meals per day (except Sunday). It is well worth it to pay a little extra for your own bathroom or shower, and for maximum immersion into the local culture, search for a family who takes in only one or a few students at a time (and local Guatemalan boarders). Families often visit each other on Sundays, and no meals are available. If you are the only student in the home, you are often invited for family get-togethers, and it is quite a cultural experience.
As well, impromptu "classes" in conversational Spanish can often be had with the many shoeshines in Parque Central, if you choose not to have your shoe shined and pay them a few bucks instead. Your results may vary: their education and vocabulary can be very limited, as they are often native speakers of Mayan for whom Spanish is a second language.
Work
You can easily get a job as a waiter, waitress, bartender, or host in any of the many bars, restaurants and hotels in Antigua. Usually they pay from Q65-165 a day plus tips. It is important to speak Spanish in most of these places, but you can slide by without it in some touristy spots, where most of the customers are foreigners. Also you can join in and volunteer at local non-profits. There are many local projects in education, health, and development that accept short and long-term volunteers. An example would be Common Hope, and other local churches and charities. These organisations should be contacted ahead of time for availability and credentialing.

Buy
When you change money at the bank, you will need your passport. Banks are open 7 days a week, and late: usually until 19:00-20:00. Most of the time, a passport is not needed for changing U.S. dollars into quetzales. However, you are likely required to have a passport if you want to redeem traveler's checks. ATMs are also available.
(The Market), bordered by 1ª Calle Poniente, Alameda de Santa Lucia, 4ª Calle Poniente, and Calle de Recoletos. To the dismay of some older locals who pine for the halcyon days of the smaller, better organized market of their youth, a modern-day visit to Antigua's central market can be an overwhelming experience. You literally need a compass and a map to navigate this huge maze — that is, if you simply want to get in and get out quickly; on the other hand, getting lost amid the chaos can be one of the most authentic cultural experiences you'll have in Antigua. If you're looking for bargains and don't mind the crowds of hawking vendors, El Mercado is the place for you: this is where you'll find the cheapest produce, fresh meat, consumer goods, and gifts in town. More than just a place to go shopping, El Mercado is a gathering place for all Antiguans, where people come to socialize with their friends while buying the week's groceries, or just to see and be seen. It's open seven days a week, but Saturday, Monday, and Thursday are the busiest days.
There are so many different sections to the market that you'll probably need a full day to see all of them. The market is chaotic and somewhat disorganized, though similar types of shops tend to be grouped together in specific sections of the complex: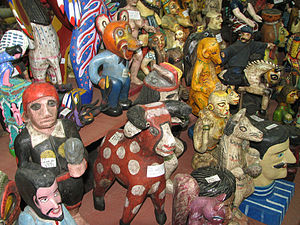 At the east end of El Mercado, you'll find supermarkets and restaurants lining the Alameda de Santa Lucia.
Souvenir shoppers will want to head to the south end of the market: it's dominated by a modern, clean and well-stocked gift, art, and local handicraft shop arranged around a central fountain. Popular items include hand-woven cloth and handmade stone and jade jewelry produced by indigenous artisans wearing brightly colored traditional clothing. The stories are all the same — "my mom made it by hand" — which is likely true. A good bargainer can usually talk them down by 25% or more off the initial asking price. Hand-carved wooden masks and figures are also big here.
The west end has Antigua's main bus station as well as an open-air fruit market where you'll find a great selection of seasonal tropical fruits such as papayas, mangoes, pineapples, and more. The red, curly-haired lychas have a pleasant sweet taste, like the lychees found in Asia. You can also find apples, grapes, and other less unusual fruits in this part of the Mercado. Fruit is safe to eat if washed, though it's a good idea to avoid strawberries unless you can assure they've been soaked well in bleach solution to wash away any fertilizer or contaminated irrigation water. Occasionally you'll see chickens and small livestock for sale here too.
To the north, inexpensive secondhand clothing is the order of the day: shirts, pants, shoes, and leather goods can be had for as little as Q8. Check for quality and comfort before you purchase shoes. Guatemalans tend to be a petite-statured people, so if you're in the market for small, hard-to-find sizes, you'll likely find what you're looking for with ease.
The central portion of the market is covered and quite dark: narrow corridors lead you through meat markets, smaller restaurants, flower shops, and numerous fruit stands.
Antigua Tabaco Compañía

phone: +502 7832-9420

address: 3ª Calle Poniente #12

What an unexpected find in central Antigua. The selection at this cigar store is second to none: the cigars and pipe tobacco found in the walk-in humidor represent practically every country in the Americas. At Antigua Tabaco Compañía prices tend to be high, but you get what you pay for — along with a helping hand from the knowledgeable and friendly staff who are more than happy to point visitors in the right direction. Best of all, after a hard day on the tourist circuit there's a mellow, air-conditioned cigar bar waiting for you here where you can kick back, grab a tall cold beer, and light up. English-speaking staff.
Pan Colonial

address: 7ª Avenida Norte #13B

Traditional Guatemalan bakery, good selection of breakfast breads. One of the best (and least costly) in Antigua.
Chocolate and cacao can be found in different places around town. Each individual manufacturer has its own characteristics. The ChocoMuseo Antigua (described above) is not only a museum dedicated to chocolate and cacao, but also a working factory where artisanal chocolate is made before your eyes. Chocolate may also be found at Chocolalala, Fernando's Kaffee, and Chocolarti.
Eat
Antigua has cafes and restaurants for all tastes and budgets. The town is the most touristy place in Guatemala so you will find anything you are looking for including international fast food shops. Be careful with where you eat. Facilities lacking in bathroom or bathroom cleanliness suggest a higher probability of food poisoning. Avoid cold salad, fresh vegetables, and undercooked meat.
Street ice cream carts
are common through the city and popular with the locals, but of are unknown safety for sensitive stomachs.
Budget
Market food court

address: market

Various comedores all serving homemade Guatemaltecan food. Breakfast from Q15, set lunch Q20-30 including a drink. All restaurants offer vegetarian plates. If you don't understand their daily menu, they will let you have a quick look into the pots in the kitchen.

phone: +502 7832-1224

address: 5ª Calle Poniente #2

Travelers come here to get their fix of bagels, excellent coffee and free Wi-Fi. Bagel sandwiches include different breakfast and lunch selections using quality ingredients such as fresh mozzarella cheese, real cheddar, etc. It's a home away from home, a very cozy environment, with movies shown in the afternoon and evenings. French, Spanish and English are spoken.

La Canche

address: 6ª Avenida Norte #42

Popular among locals and well hidden behind the tienda this family-run restaurant rarely sees tourists. The ladies are very kind and helpful even though they don't speak English. They serve breakfast for Q20 and set lunch for Q20-25 that includes a drink. The lunch options are written on a board in front of the shop. Enjoy authentic homemade Guatemaltecan cuisine while sharing a table with locals and being watched by a parrot.

Doña Luisa Xicotencatl

phone: +502 7832-2578

address: 4ª Calle Oriente #12

Has the feel of a well-run corporate restaurant set in a gorgeous leafy courtyard of a historic building. Menu includes well-executed breakfast, hamburgers, and Guatemalan interpretations of Tex-Mex food. They use purified water on their vegetables and for drinking and ice, which means their menu is in-bounds for tender First World stomachs. There is a bakery in the building, which means that when you get close you can follow the delicious smells the rest of the way in. Highly recommended, especially for the cookies and daily selection of delightful breakfast breads.

phone: +502 7882-4559

address: 6ª Avenida Norte #40

Luna de Miel opened its doors in July 2006, and Antigua immediately succumbed to the charms of crepes à la française. The first floor area is small, but there is an inviting open-roof terrace upstairs. The menu offers not a lot to choose, but all the products are fresh, selected each morning in the market. Free Wi-Fi.

phone: +502 7832-1919

address: 7ª Avenida Sur #8

Tourist-friendly and wholesome breakfasts, lunches, and dinners. An early-bird breakfast special of tomatoes, beans, eggs, rice, and tea or coffee is easy on the wallet. Sandwiches and dinner entrees are inexpensive too, and salads and big desserts are also on offer. Uses purified water for all drinks, ice, and preparation. They have a rich schedule of live music, poetry readings, and interesting lectures about Guatemala. Includes Internet access in its cornucopia of tourist-friendly offerings. If you spend more than GTQ20 in the attached bookstore, you get 25 minutes of Internet time as a bonus.

Travel Menu

phone: +502 4215-9601

address: 6ª Calle Poniente #14

Promises "small place, big portions", and delivers. It seats perhaps 20 people at about eight tables, in small, dim room painted to look like an underground European keller, lit only by candles on stands overflowing with cascades of wax drippings. They offer dinner entrees for low prices, with vegetarian options for everything. The portions are indeed generous. Beer and wine are also available, but not desserts. Topping it all off is the friendly proprietor, Jesper Nilsen of Denmark. Attracts a traveller crowd.

address: 1ª Avenida Sur #10B

All-day breakfast and some lunch items catering to twentysomething backpackers. Depending on your sense of humor, be prepared to either LOL or be outraged at gleefully profane menu items such as "Monkey's A
**" and "Egg McF***in' Muffin" (how trademark law lets them get away with that one in anyone's guess). Licuados. Benito's flavored rums. Luisa's famous hangover soups. Proper espressos. Manu Chao daily. Free Wi-Fi.
Ice cream shops
address: 5ª Avenida Norte

A chain with locations all over Guatemala and El Salvador that offers ice cream dishes in a polished atmosphere.

address: 5ª Avenida Norte

Another chain, with locations in Guatemala, El Salvador, Honduras, Costa Rica, and the Dominican Republic. This seems sort of like the Baskin-Robbins of Latin America. Several dozen flavors of ice cream in three different choices of cones, sundaes, and other more elaborate concoctions. Since 1948.
Mid-range
La Fonda de la Calle Real. Generous helpings of Guatemalan specialties, with reasonable prices and a touch of corporate efficiency in their operations. The "De Todo Un Poco" ("a bit of everything") platter combines steak, chicken, and sausage for GTQ91. The vegetarian "Pepian Vegetariano" offers green beans and other vegetables in an unusual smoky-flavored sauce. The green salad is fresh and overflows the large plate. Uses purified water for all drinks, ice, and preparation. GTQ 75-200.
La Fonda de la Calle Real has three locations:
La Fondita

phone: +502 7832-2696

address: 5ª Avenida Norte #5

La Fonda a la Vuelta

phone: +502 7832-0507

address: 3ª Calle Poniente #7

La Nueva Fonda

phone: +502 7832-0507

address: 5ª Avenida Norte #12
El Mirador

phone: +502 7832-6146

address: 1ª Avenida Norte #9B

360 degree rooftop view of Antigua. Burgers, kebabs, drink specials.
El Mix

phone: +502 7832-8934

address: 4ª Avenida Sur #2A

Music, patio, vegetarian dishes, happy hour, Israeli food.
phone: +502 7832-4228

address: 5ª Avenida Sur #6

A funky tourist friendly joint with cheap international calling and a few computers for Internet use. The food is very "gringo-esque", but tasty nonetheless. There's a large bar on the ground level, as well as a covered open air second floor eating area. Good place to meet and greet or enjoy a burger.
La Peña de Sol Latino

phone: +502 7882-4468

address: 5ª Calle Poniente #15C

Bar and restaurant featuring live music by Guatemalan and Central American bands (featuring Paco). The music, the "feel", and the food make this a really special place. Make sure to try their brownies; they are absolutely amazing. Their grouper macadamia dish is also highly recommended, and their other desserts are fantastic. They use only purified water and disinfect all produce, so go ahead and enjoy one of their creative salads. Open for lunch and dinner.
Wiener

phone: +502 7832-1244

address: Portal del Comercio #8, Alameda de Santa Lucia Norte

Located at El Mercado. Austrian restaurant that serves the best schnitzel this side of Vienna. One amazing treat for those of you from Austria! They also serve great local food and have a friendly, capable staff.
Splurge
phone: +502 7832-5510

address: 4ª Calle Oriente #7

A French bistro featuring great food, very authentic cuisine found nowhere else in Antigua. American-owned and operated (as in USA, not Guatemala). Features an open kitchen where you can watch the chefs work, and a great bar. Offers many specials and unique local foods hard to find elsewhere.

Caffé Mediterráneo

phone: +502 7832-7180

address: 6ª Calle Poniente #6A

This is a gourmet Italian restaurant one block from the Parque Central. No menus: the waiter will simply tell you the specials, which change every day. Widely considered to be one of if not the best place for Italian food in Antigua.

phone: +502 7832-5250

address: 6ª Avenida Norte #3

Entire restaurant lit with candles. Beautiful interior blending in with the style of Antigua. Do not let relatively high prices and not very appetizing pictures in the menu fool you. Steaks brought to the table will look way more appetizing and after the first bite you will know that you will not leave a single bite on the plate no matter how big of cut you have ordered. If you like steak you are hungry you are in Antigua and can spare US$20, Casa Escobar is an awesome place to go.

Havana Sabor Cubano

phone: +502 7832-4137

address: 4ª Calle Oriente #3A

An upmarket Cuban restaurant with live music on Thursday through Saturday evenings and Sunday afternoons.
Drink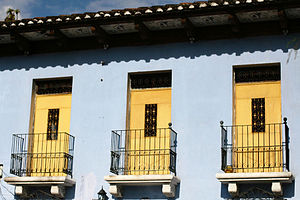 phone: +502 7832-0563

address: 1ª Avenida Sur #11C

Cool hipster-backpacker bar serving up a range of drinks including the local favorite, "Ilegal" mezcal. Dim lighting, mysterious vibes, and interesting patrons from all over the world. Friendly staff and prices are a lot more reasonable than you'd expect from such a trendier-than-thou spot. Live music is presented frequently.

El Muro

phone: +502 7832-8849

address: 3ª Calle Oriente #19D

Plays a soundtrack of classic rock and serves real drinks, Asian and vegetarian food and local cuisine. Specials for volunteers and credit cards accepted.

Reilly's Irish Tavern

phone: +502 7832-6251

address: 6ª Calle Poniente #7

Antigua's only Irish pub and a popular sports bar. Serves Guinness and Jaegermeister, among other things. Pool table. Burgers and snacks. Every Monday at 20:00 they hold a pub quiz.(updated June 2018)

Sangre

phone: +502 7832-8978

address: 5ª Avenida Norte #33A

Fancy wine bar, fine atmosphere. Moderate prices. Large selection of wine per glass. Light snacks also served.
Coffee shops
phone: +502 7832-6953

address: 7ª Avenida Norte #43D

Some of the best coffee in Antigua, plus great breakfasts. Fernando, the owner, is very friendly and may show you his operation: the coffee roaster, grinder, etc. Pleasant courtyard seating is found when walking through the first two rooms and around the kitchen. The breakfasts are awesome: pancakes and crepes and fresh fruit. It is a great place to relax drinking wonderful coffee.
Sleep
Budget
El Pasar de los AñosAs of early 2016, the cheapest place to stay during the week. Reasonable hostel with a lot of beds put into a room. Has a kitchen, free WiFi, and a spacious patio.

phone: +502 7832-6694

address: 2ª Avenida Sur #19

There are four private rooms available for rent at this friendly homestay: two singles and two doubles. Free Wi-Fi, three meals served daily except Sunday, free purified water, coffee and tea, shared baths with hot showers.

phone: +502 7832-5462

address: 4ª Avenida Norte #33

Wonderful owner who will take very good care of you and is a great cook. Comfortable beds, clean facilities, lockers, very hot showers, awesome rooftop terrace with picnic table, hammock, and a great view of the volcano. The bar/restaurant downstairs has very cheap cold beers and serves great food.

phone: +502 7832-8975

address: 6ª Avenida Norte #20

A mid-sized hostel with a courtyard, bar, restaurant, and hammocks. The operative word here is "party", so if you want a peaceful place where you can hit the hay early, look elsewhere. Wi-Fi free and daily happy hour. Hot water showers (hot water tank, not electric showerheads). Rate includes breakfast from anything on the menu. Dorm rooms from 4-6 beds. No outside food or drinks permitted.

phone: +502 7832-0384

address: 5ª Calle Poniente #28

Spacious, light-filled rooms and common areas with Guatemalan furniture and textiles. All rooms have private bath, cable TV, 24-hour hot water, and views. 18 standard rooms and 3 suites. 2 large terraces with city and volcano views. An Internet cafe, international phone service, travel agency, use of a shared kitchen, laundry service, bag storage, free bottled water. Bilingual staff. Discounts for large groups and longer stays.

phone: +502 7832-3109

address: Alameda de Santa Lucía Norte #13

Rooms with private baths and cast-iron beds. Rooms set around a small pretty courtyard. Small sun terrace upstairs. Friendly and helpful staff.

El Viejo Danés

phone: +502 7832-3881

address: Alameda de Santa Lucia Norte, Callejón San Jerónimo #31

Small hostel. Close to the market, ruins, and chicken bus station, run by a friendly couple Roberto and Claudia. Clean, shared toilet and showers with hot water. Kitchen with cooking facilities and dining area on the rooftop terrace overlooking the ruins. Two-bed rooms also available. They can also organize tours to different sights in and around Antigua. English-speaking staff.

phone: +502 4102-4122

address: 2ª Avenida Sur #48

A nice quiet guesthouse in Antigua. You can use the kitchen to make your own meals but breakfast is included. Nice clean rooms and shared bathrooms are also very clean. Garden with hammocks and a living room with cable TV/DVD, nice way to meet other travellers. A little bit further from the center (10-15 minute walk), but then you have also something good for a very good price.
Mid-range
phone: +502 4264-1122

address: Calle de San Luquitas #20

Spacious and modern rooms, complete with a comfortable double bed, along with a single bed, a huge bathroom with giant tub. Free Wi-Fi.

Entre Volcanes

phone: +502 7832-8614

address: Alameda Santa Lucia Sur #5

A 15-room hotel, very clean, with an upscale colonial-style elegance that belies a quite down-to-earth room rate. In a busy part of town, but very quiet. Pleasant patio and rooftop terrace. Breakfast (ample portions!) included in the rate. Fast, reliable wireless Internet.

phone: +502 5516-9147

address: Calle a San Bartolo, Las Jacarandas, Lote #7

A beautiful bed and breakfast in a very quiet and safe area, about 5 blocks from Parque Central. Comfortable rooms, hot water, Wi-Fi, complimentary water, shampoo, etc. Discount for groups, students, volunteers, adopting parents.

phone: +502 7832-9090

address: 3ª Calle Poniente #5

Historic hotel only a two-minute walk from Parque Central. 22 rooms all with baths, 3 gardens with fountains and a rooftop terrace. All rooms are decorated with antiques. Discounts for large groups or weekly stays. Free Wi-Fi & Internet terminals, free purified water, breakfast is available, coffee, use of kitchen, laundry service, bag storage, travel services, airport pickups, cable TV & hot water 24 hours.

phone: +502 7832-0623

address: Callejón Camposeco #3A

This small and charming 10-room hotel is only four blocks from Parque Central. All rooms have private bath and hot water. Free coffee, tea and purified water. Wireless accessible from all rooms. Discounts for longer stays.

phone: +502 7832-0694

address: 6ª Avenida Norte #8

All rooms are private, have comfortable anti-stress beds and lots of natural light. Free purified water, use of large shared kitchen, laundry service, bag storage, Internet terminals, small cafe, Internet cafe, travel services, airport pickups, cable TV & hot water 24 hours a day. The Wi-Fi signal is fast, strong, and free for hotel guests (Q5/hr, Q20/day or Q70/week for nonguests). Check your email while relaxing by the garden, on the terrace or in a hammock, while sipping on a cool one or eating a snack. And if you're a dog lover, you're in luck - there are three friendly ones who live on the property.

phone: +502 7832-3721

address: Calle del Hermano Pedro #6

Located a 10-minute walk from the center of town, this hotel offers several quiet, almost free-standing rooms spaced around a central fountain. A special treat is the working fireplace, with firewood at the ready.

phone: +502 7832-3414

address: 7ª Avenida Norte #4

There is nothing fancy about this place, but the people there are warm and friendly and it is clean and quiet. Single, double, and triple rooms available.

phone: +502 7832-3197

address: 7ª Avenida Norte #43

Clean, well-kept hotel with helpful staff. The owner used to be a tour guide and offers great advice.
Splurge
phone: +502 7832-9848

address: Calle del Espíritu Santo #69

A beautiful B&B about six blocks from Parque Central. Comfortable rooms, hot water, Wi-Fi, complimentary water, shampoo, etc. Whirlpool and Jacuzzi, spa services and packages. Great view of their courtyard and the volcano. Discount for groups, students, volunteers, adopting parents.

phone: +502 7820-1220

address: 3ª Calle Oriente #28A

A luxury international-class hotel built in the remodeled ruins of an old convent. Access to three great museums in the Paseo de los Museos is included in your room rate. Gorgeous landscaping and all the services.

phone: +502 7832-0961

address: 4ª Avenida Norte #5

Centrally located luxury hotel. 16 rooms and 9 suites, all with bath, breakfast, swimming pool, Jacuzzi, sauna, (massages available), 3 gardens with fountains and a 2nd level terrace. All rooms are decorated with beautiful Guatemalan furniture. Free Wi-Fi & Internet terminals, free purified water, free breakfast & coffee, laundry service, bag storage, travel services, airport pickups, cable TV & hot water 24 hours.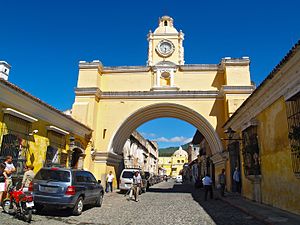 Homestays
Homestays with Antiguan families can be arranged through language schools or directly with the family in question. Because the families are prepaid, you can switch your school at any time and try a different school. Your shuttle from the airport is also prepaid if arranged through a school, so if your driver asks for Q40 or Q80 in tips, just smile, and give him Q10 or Q15 at most (a 20% tip), more if your luggage was lugged up a steep hill and dozens of steps.
The homes are often on hilltops, so be prepared to encounter large black scorpions on the lit walls at night, when you are walking home late. They are harmless unless you disturb them, but you might consider wearing shoes if they are abundant. Choose a home in the town to avoid climbing hills, and you will also get fewer mosquitoes. Families charge about Q580 for 7 days of bed, shared toilet, and 2 meals. Expect to pay about Q80 or Q160 more if you want to add lunch (the main meal), or if you expect a private bathroom (well worth it if you don't want to share with up to a dozen other boarders).
An advantage of a home stay for the Spanish language student is a chance for language immersion, as well as the cultural experience. The fewer students the family board, the better the experience. Too many students prefer to speak in English to each other and destroy your "immersive" experience. Ask first how many people are in the home, and how many boarders there are. You might avoid a situation where, say, there's one sink and two toilets shared by 14 people, and there's no way to take a proper shower because so many people are using the hot water. If you value cleanliness and convenience, book a room with private toilet and sink.
Ask the house mother to explain how to get the switch to activate on the shower, or you might have to deal with a cold shower. Buy your own soap and shampoo, as the home might use the same soap for washing dishes and clothing as for bathing. The housing may be more basic than in a hotel with simple concrete block or adobe construction, shared bathroom, and small rooms. Ask if there is a secure lock for your room, as the home is often shared with local boarders, and you do not always want to lug your camera and laptop everywhere you go.
You must provide your own hand towels and bath towels. If you leave them in a common bathroom, don't be surprised if everyone uses them. Eating hours are often different, with dinner often served at 19:30 or 20:00, so you might want to procure your own meals if you intend to go to bed early. Remember that dinner is simple: a few pieces of cold bread and perhaps very light soup. For American-style dinners, go out and buy your own food at the restaurants. Fresh fruits and vegetables are not often served, so eat plenty of beans or bring along your own source of fiber.
Some areas of Antigua are
mosquito
-free, but in other areas, they are found in abundance. As owners of homestay facilities often leave the door open while cleaning, a compact mosquito net or tent is necessary if you do not enjoy having mosquitoes buzzing around your face at night.
Connect
The post office (oficina the correos) is opposite the market in Alameda de Santa Lucia, between 4a and 5a Calle Poniente. As of Oct 2019, no stamps are sold because the postal service is changing from a private to public owned business. They hope to reopen in 2020.
There are many Internet cafes and long-distance phone shops in Antigua. Internet time costs GTQ5-10 per hour. Internet shops often have video phones for Skype calls. Many phone shops use VOIP, and not all area codes will work: for instance, the phone shop downtown will not reach certain cell phones and certain newer area codes. But just around the northwest corner is another shop that reached most U.S. area codes. Just ask as they will reluctantly point you to their competitor. Cellphones from the U.S. will work, but international roaming charges apply and are generally quite steep. Some people ask their carrier to turn off the voice mail function to avoid charges for voice mail.

Stay safe

Due to the presence of the "Tourist Police", Antigua is much safer than any other city in Guatemala: you're very unlikely to be mugged or robbed here, at least during the daytime. (At night, things get a bit more questionable.) However, the flipside of that is once you leave the city center, you're mostly on your own, so it's inadvisable under those circumstances to engage in risky behavior such as displaying valuables conspicuously. If you plan to visit sites outside the center of town like the volcanoes, make sure you go with an officer of the tourist police who accompany tourists there at least once a day.
Armed robbery is depressingly common. If this happens to you, rule number one is don't try to resist, as criminals will not hesitate to use their weapons on uncooperative victims. However, there are still ways to minimize the impact of a robbery on your trip. Firstly, it's a good idea to leave your passport in your hotel safe or local home and to carry a photocopy instead. If you are robbed, you will not need to go the consulate for paperwork. Secondly, it's also smart — especially for those who'll be moving around frequently — to keep the bulk of your valuables in a money belt strapped to your waist, and place a few dollars in a separate wallet that you can hand over to a robber if you come across one. ATMs are available, so an ATM card (ideally hidden in a money belt as described above) should be carried for instant cash.
Pickpocketing is actually somewhat less of a danger in Antigua as compared to armed robberies, but during peak tourist times like Semana Santa it's still wise to keep a hand on your wallet. Keep your bags in front of you when walking through El Mercado, as there have been reports of thieves slicing through shopping bags with razor blades to steal the contents.
Almost all bars and restaurants will be happy to call a taxi for you. Asking the bar staff to call the taxi for you, instead of looking for one yourself, can be a good idea since the staff tend to know the drivers they are calling. Ask them what the price should be beforehand, and also ask them to confirm the price with the taxi or tuk-tuk when they arrive. In Antigua, many locals consider the buses safer than a tuk-tuk as they have been blamed for taking tourists to obscure areas to rob them. Women, crimes against whom are often not widely publicized in Guatemala, are especially at risk on public transportation: as a woman, you might be safer riding on a crowded bus than hailing a tuk-tuk or taxi from an unknown driver.
Hiking the Volcán de Agua requires extra caution as numerous robberies and some kidnappings have occurred there. The relatively few reputable tour operators who offer this hike usually employ the services of a police escort or armed guards. If yours doesn't, it's best to choose a different operator.

Stay healthy
If you are lucky, you will not have any illnesses in Antigua. However, most long-term visitors may encounter a case of
food poisoning
or bacterial or viral enteritis. The best way to treat it without a physician's intervention is to buy packages (
sobre
) of re-hydration solution (
solución de rehidratación oral
). It is a simple mix of potassium, sodium, and glucose.
Most cases of food poisoning or intestinal infections can be blamed on street vendors with unrefrigerated sauces or paste, but home cooked meals can also be the cause. Street vendor food is cheap, but you should avoid it unless you have been eating it daily. A virgin stomach often cannot handle the common bacterial toxins found in unrefrigerated sauces, slaws, and cold marinades. Piping hot, wrapped, boiled food is likely safe, but might not be completely free of all toxins.
It is best to avoid
ceviche
due to potential risk of bacteria like cholera. Fresh salads should not be consumed for concern of contaminated irrigation water. Strawberries have been known to pass hepatitis A due to contaminated irrigation water. When preparing your own salad or strawberries, soaking in bleach solution or iodine is advised. All fruits should be washed or peeled before eating. Undercooked meat should be avoided due to encysted parasites, unless imported, high-grade beef is assured at a well-known restaurant. Fresh cream is often served at the table, but unless you are sure it is pasteurized or precooked, it is best to avoid putting it on your food. Going barefoot or with sandals is the norm, however hiking with them or going barefoot might lead to
cutaneous larva migrans
, a parasitic infection where hookworm larvae penetrate the skin and cause itchy red curves and lines a few days later. Wear shoes and socks if you walk off the pavement.
Guatemala, like all Latin American countries, has filtered, chlorinated water at the point of distribution. However, once it gets to the tap, it is no longer safe. Many businesses and homes have rooftop water tanks which fill up during the low-consumption period of the day (usually at night) and maintain pressure at the faucet during the day, when water pressure in the public supply is low or nonexistent. This is the cause of the waterborne intestinal diseases like E. Coli, salmonella, or cysticoccosis that are prevalent in the country. Also, low pressure in the public water pipes often leads to groundwater contaminated with raw sewage flowing into cracks in the potable water system. It has been documented that up to 20% of those who have traveled to developing countries and now have chronic diarrhea or gastrointestinal issue carry intestinal parasites, which can last for many years after returning. Over 80% of returning Peace Corps volunteers have intestinal parasites. Laboratory tests performed in the US and the UK often miss these very small parasites, so repeated samples must be submitted. The only foolproof way to avoid waterborne illness is to avoid tap water (
agua del chorro
) and instead drink bottled or filtered water (
agua del garrafón
or
agua embotellada
). Also, some homes and restaurants have purified water in 5-gallon bottles and serve it in glasses. Ask if the ice is made from purified water.
Cope
Laundry
Laundry can be done by various
lavanderias
around town. You drop off your laundry, they weigh it and charge you a price per pound (not per kilogram, interestingly). The laundry is dried and available for pickup in two to four hours. Locals advise that you inventory your laundry, to be sure that none is lost or exchanged. Two full backpacks of clothes weighed about 16 pounds.
Publications
Qué PasaBilingual monthly magazine based in La Antigua, with tourism and feature articles, interviews, and calendar of events, cinema, and live music. Print edition is available for free in many places in La Antigua and locations in Guatemala City.

Revue MagazineBilingual magazine based in La Antigua, with tourism and feature articles, interviews, humor, and calendar of events, cinema, and live music.

La CuadraMagazine published by Café No Sé, features poetry, travellers, journals, political features and commentary, artist reviews, and more.
Go next
Guatemala City - The national capital, an hour's drive away.
Copán - Mayan ruins across the border in Honduras. There is a direct shuttle bus that makes the six-hour trip between here and Antigua.
San Marcos La Laguna, Lake Atitlan; Shared 15-person shuttle, hostel pickup @ 08:30 & 14:00, Q70pp, 3.5 hours.