Antigua and Barbuda
Antigua and Barbuda
are two
Caribbean islands
, (
Antigua
, pronounced "an-tee'-gah" and
Barbuda
), that form a country that lies between the Caribbean Sea and the North Atlantic Ocean, east-southeast of
Puerto Rico
, off the coast of
South America
.
Understand
Antigua is perhaps the island which most typifies the modern day view of a small Caribbean destination. With few other natural resources, tourism dominates the local economy of both islands. Stunning white sand beaches abound, and on Antigua there is no shortage of attendant high-end resorts. Barbuda still has the beaches but little tourism-based infrastructure.
Investment banking and financial services also make up an important part of the economy with many major foreign banks taking advantage of the nation's liberal banking laws. That may all change though after the 2009 arrest of Antigua-based Texan billionaire Allen Stanford who is accused of perpetrating an enormous fraud which may have bilked investors of some US$8 billion.
Cricket is a huge sport here and this tiny nation has produced several genuine all-time world greats of the game. Cricket fans will certainly not be short of locals to chat with.
Antigua and Barbuda are nicknamed "Land of 365 beaches" due to the beaches that surround the two islands.
History
The Siboney were the first to inhabit the islands of Antigua and Barbuda in 2400 B.C., but Arawak and Carib Indians populated the islands when Columbus landed on his second voyage in 1493. Early settlements by the Spanish and French were succeeded by the English who formed a colony in 1667. Slavery, established to run the sugar plantations on Antigua, was abolished in 1834. The islands became an independent state within the British Commonwealth of Nations in 1981.
Climate
The climate is tropical marine with little seasonal temperature variation. The islands experience hurricanes and tropical storms (July to October), and periodic droughts.
Electricity
Officially 230 V 60 Hz. Most outlets are the standard British type. Generally speaking, U.S. and Canadian travellers should pack adapters for these outlets if they plan to use North American electrical equipment in Antigua & Barbuda.
Contact your hotel and ask to be sure. Many places are now built to North American standards.
Also in use are non-grounded North American outlets. These require an adapter to work with plugs that have the third grounding plug. Older North American outlets may not be polarized (with one slot wider than the other). Adapters are available which accept a polarized plug and adapt it for use with a non-polarized outlet. See the
electrical systems
article for more information.
Regions
the main island and a major Caribbean resort destination
few people, even fewer facilities, magnificent beaches
Rodonda
tiny uninhabited island
Cities
- Capital, on the island of Antigua
- A town on the island of Barbuda
Get in
All EU citizens can enter
without
a visa.
Citizens of the following countries may also enter without a visa:
Albania
,
Argentina
,
Armenia
,
Australia
,
Azerbaijan
,
Bahamas
,
Barbados
,
Belarus
,
Belize
,
Botswana
,
Brazil
,
Brunei
,
Canada
,
Chile
,
China
,
Cuba
,
Dominica
,
Eswatini
,
Fiji
,
Georgia
,
Grenada
,
Guyana
,
Hong Kong
,
Jamaica
,
Japan
,
Kazakhstan
,
Kenya
,
Kiribati
,
Kyrgyzstan
,
Lesotho
,
Liechtenstein
,
Macau
,
Malaysia
,
Malawi
,
Maldives
,
Mauritius
,
Mexico
,
Moldova
,
Monaco
,
Namibia
,
New Zealand
,
Nauru
,
Norway
,
Papua New Guinea
,
Peru
,
Russia
,
Saint Kitts and Nevis
,
Saint Lucia
,
Saint Vincent and the Grenadines
,
Samoa
,
Seychelles
,
Singapore
,
Solomon Islands
,
South Africa
,
South Korea
,
Suriname
,
Switzerland
,
Tajikistan
,
Tanzania
,
Tonga
,
Trinidad and Tobago
,
Tuvalu
,
Turkey
,
Turkmenistan
,
Uganda
,
Ukraine
,
United States
,
Uzbekistan
,
Vanuatu
,
Venezuela
,
Zimbabwe
, and citizens of British Overseas Territories.
If you do need a visa, you must have a passport valid at least 6 months after time of visit, a completed application form, and 1 passport size photo. A single entry visa costs 30GBP and multiple entry costs 40GBP.
If you are of a nationality that normally requires a visa and you are entering Antigua and Barbuda as a port for a cruise ship, you do not need a visa provided the ship will be leaving the day it arrives.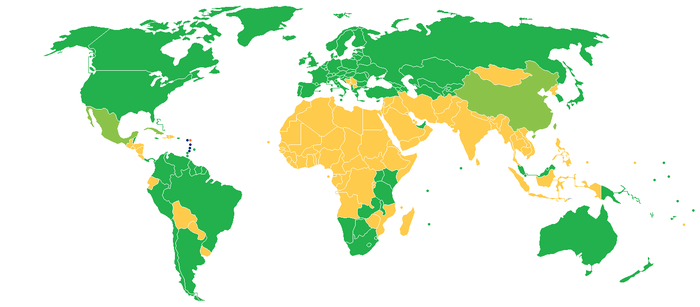 By plane
V.C. Bird International
, (
ANU
) located in north eastern Antigua on the outskirts of St John's, is the country's main international airport. The airport serves flights into the United States, Canada, Europe and other Caribbean islands.
LIAT (Leeward Islands Air Transport Services), headquartered in Antigua, operates flights to various destinations in the Eastern Caribbean.
The following international airlines serve the airport:
To the US: American Airlines/American Eagle (Charlotte, Miami and San Juan, Puerto Rico), Delta Air Lines (Atlanta, GA and New York JFK), United Airlines (Newark, NJ)
To Canada: Air Canada (Toronto, Ontario)
To Europe: British Airways (London-Gatwick), Condor (Frankfurt, Germany), Livingstone (Milan, Italy), Virgin Atlantic (London-Gatwick)
To Caribbean: American Airlines/American Eagle (San Juan, Puerto Rico), Caribbean Airlines (Barbados, Trinidad and Kingston, Jamaica)

By boat

Many excursionist come in via cruise ships and enjoy their day in Antigua. Many cruise lines travel to Antigua.
Yacht charters offer another alternative in and around the islands.

Get around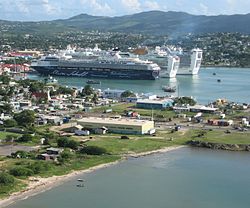 Tourists mainly get around by taxi or tour operators. However for the tourist on an economy budget the bus service is acceptable, but slow. Unfortunately the nicest spots are only reached by your own transport. But if you stay a week or more, rates for rental cars become quite reasonable(see below).
By ferry
Barbuda Express
runs ferries between Barbuda and Antigua.
Car rentals
There are various car rental agencies, so they're unlikely to be hard to find.
Talk

Languages spoken are English (official) and local dialects. There is also an expanding Spanish-speaking migrant population.

See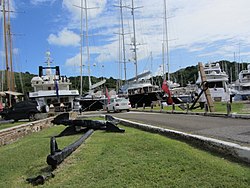 Nelson's Dockyard in English Harbour
The British forts and the views from Monk's Hill in Falmouth
Frigate birds on Barbuda
Mount Obama, previously known as "Boggy Peak" the nation's highest point and a national park named for U.S. President Barack Obama on his 48th birthday in 2009.
Buy
Money
The currency of the country is the
East Caribbean dollar
, denoted by the symbol: "
$
" or "
EC$
" (ISO currency code:
XCD
), which is also used by seven other island nations in the Caribbean. The EC dollar is subdivided into 100 cents. It is pegged to the United States dollar at an exchange rate of US$1 = EC$2.70.
Coins circulate in denominations of 1, 2, 5, 10 and 25 cents and 1 dollar. Banknotes circulate in denominations of 10, 20, 50, and 100 dollars.
Shopping
Galley Boutique, English Harbour has great clothes.
1000 Flowers, St. John's has great clothes.
Learn
Antigua State College
Antigua and Barbuda International Institute of Technology
Antigua and Barbuda Hospitality Training Institute
University of the West Indies (Open Campus)
University of Health Sciences Antigua
American University of Antigua
Learn about local heritage and culture. Learn a bit of dialect along the way. Buy a copy of the local newspaper
The Observer
: they have a nice cartoon in local creole which helps with the interesting Antiguan dialect.
Work
Working longer than three months requires an official working license, to be filed with the employer. The employer also has to pay for it. There might be good jobs at the tourism sector and the entertainment industry (especially on-line casinos and sports betting).

Eat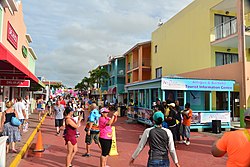 The national dish is fungie (pronounced foon-gee) and pepper pot. Fungie is a dish very similar to the Italian Polenta being made mainly of cornmeal. Other local dishes include ducana, seasoned rice, saltfish and lobster (from Barbuda). Local confectionaries include sugarcake, fudge, raspberry and tamarind stew, and peanut brittle. The various restaurants around the island sell both local and international food.
Lunch might be anything that can be easily bought from a nearby shop, especially a bakery.
Dinner will typically be rice, macaroni or pasta, vegetables/salad, a main course (fish, chicken, pork, beef, etc.) and a side dish like macaroni pie, scalloped potatoes or plantains.
On Saturday be prepared to find many drive-by barbecues at important road crossings all over the island. They are serving rice and chicken, dumplings, soup, and alike. Sometimes they even have a sound system for entertainment.
Sunday is the day when the culture is most reflected in the food. For breakfast one might have saltfish, eggplant, eggs, bacon, sausages, or lettuce. Dinner may include pork, baked chicken, stewed lamb, or turkey, alongside rice (prepared in a variety of ways), salads, and a local drink.
Harmony Hall, near Freetown. It closes for the summer on May 6. The best restaurant on the island.
Mama Lolly, Redcliffe Quay, St. John's. Vegetarian and vegan friendly home cooking.
Calabash, Redcliffe Quay's "Vendors Mall", St. John's. Vegan cuisine. Owned by a raw chef who used to work in New York.
The Roti King, corner of St Mary's Street and Corn Alley, St John's. Serves Roti, which is an East Indian dish of rolled Indian flat bread filled with hot and spicy curries and tamarind sauce.
The only American fast food chains operating on Antigua are KFC, Burger King and Subway, all with two locations in and out of St. John's .
Drink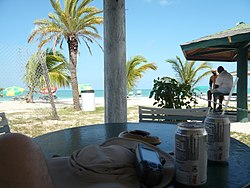 Local drinks are
Mauby
Seamoss
Tamarind juice
Mango juice
Coconut water
Cavalier Rum , Antiguan Rum.
Wadadli, Antiguan Beer
Oasis, Desalinated water.
Bars
Papa Zouk, Bar and fish and chips restaurant 2 mins outside of St. John's.
Sleep

There are many hotels resorts and other kinds in Antigua so finding one should not cause too much of a hassle.

Stay safe

Though Antigua is generally a safe place, secure your purses and wallets. Walk only with the necessary money, avoid street urchins and vagrants and don't be afraid to ask for help. If you rent a car, park in a well-lit area.
Homosexual acts between consenting adults are illegal in Antigua and Barbuda, punishable by 15 years' imprisonment. Discretion is advised for LGBT travelers.

Stay healthy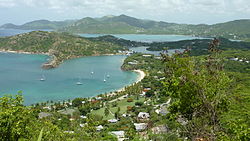 Avoid taking unusual risks, eat more from packaged goods. However the public market is a great place to mingle and get inexpensive provisions.
There are some signs on the road of St. John's, providing you with the ten principles of healthy living:
# Breathe deeply
# Drink water
# Sleep peacefully
# Eat nutritiously
# Enjoy activity
# Give and receive love
# Be forgiving
# Practice gratitude
# Be accepting
# Take your time
Tap water
is generally drinkable, but people complain about the taste and it may upset your stomach at first if you're not used to it, so most visitors drink bottled water.
Respect

The locals are very friendly and respectable. Approach them in a courteous manner and it will undoubtedly be returned to you. Approach them with a smile and remember please, thank you, good afternoon.