Antofagasta
Antofagasta
is a city in
Northern Chile
. The Atacama desert rises in the east and the Pacfic Ocean provides a western limit. This is an industrial centre in the region and is perhaps the least pleasant city in the north. A refurbished seafront makes this city more attractive for tourists. Travellers heading to
San Pedro de Atacama
and between the far north and central Chile might find it a convenient stopover.
Sernatur, Paseo Prat 384, just off Plaza Colon. Helpful tourist information with maps on the city and the region.
Get in
By bus
There is no real centralized bus terminal, but all the major companies have their grounds within a block or so of each other, centered on the crossing of La Torre and Bolivar. Many daily departures/arrivals:
Calama
,
San Pedro de Atacama
(5 hours, CLP$7,400, Tur-Bus),
Iquique
,
Arica
,
Copiapó
,
La Serena
(12 hours, CLP$10,000) and
Santiago
.
Buses do not run from downtown, but from Terminal Carlos Oviedo Cavada located north of town.
By plane
Large domestic airport outside the city
Get around
The area of interest for most visitors is easily covered on foot.

See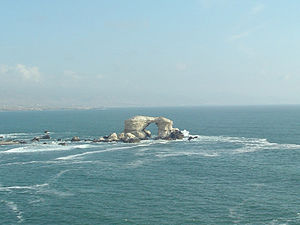 Monuments
La Portada, a natural rock arch formation between Antofagasta and Mejillones.
Ruinas de Huanchaca, the vestiges of an old iron foundry.
La Mano del Desierto, a sculpture of giant hand rising from the sand. 75 km south of the city.
Other
Sea lions, pelicans and smaller birds getting fed on fish waste in the fishermen´s harbour.
The sunset from the seafront walk to the south.
Do
Beaches
A nice sunny weather, make going to the multiple artificial beaches along the coast an enjoyable activity for any season.
Beaches at the area are:
Other
Cinemas in the two large seafront malls.
Walk the pedestrian mall that links the two main squares, Plaza Sotomayor with its market, and Plaza Colon with its Big Ben replica.
Eat
Georgio pizza, 14 de febrero 2403 (in the corner with Calle Boliviar), +56 55 789157. Great pizzas in an unpretentious and pleasant atmosphere. Take away available. Pizza and drinks for two is CLP$7000. No beer.
More than a dozen tiny restaurants at the Mercado, Plaza Sotomayor. All offer set lunches at CLP$1500. Number 67 is good.
Drink
The bars in the center are either strip clubs or purely male workers' hang-outs (the girls you see are at work).
The pedestrian Paseo Arturo Prat has a couple of pavement cafes, that are good for people watching.
A few decent spots along Av. O´Higgins (a.k.a. Av. Brasil), and also the seafront parallel to it.
The otherwise standard hellish food court of the Mall Plaza has a neat outside area with a couple of bars and restaurants.

Wally´s Pub

address: Antonio Toro 982

A genuine ex-pats hang-out, neatly laid out, with a full restaurant menu. Warm and friendly with a great atmosphere.
Sleep
Budget
Many options in the area near the bus terminals. If you get further inland from here, it can get seedy at night.
Casa de Huesped Cataluna

phone: +56 55 780001

address: Bolivar 572

Not so clean rooms - bugs and smell from joss sticks, shared bathroom (bring towel and toilet paper), big, comfy beds, thin walls let you here the birds sing in their cage in the hall and also everything else.

Hotel Rawaye

phone: +56 55 225339

address: Calle Sucre 762

Run down old building with steaming hot showers and birds nesting in the ceiling. Fascinating amount of headroom in the bathrooms. Some rooms are quieter than others
Stay safe
Beware of
pickpockets
at the bus terminals when leaving. They'll try to snatch your belongings when you load your bags into the buses. Always park your private vehicle in guarded parking lot (estacionamiento). The free guarded parking at supermarkets is not safe.
Cope
Consulates
Greece

phone: +56 5-578-9162

address: General Velasquez 1131

Germany

phone: +56 5-535-5608

address: Universidad Catolica del Norte Dpto. de Quimica, Avda. Angamos 0610

Konsul: Dr Susana de Lourdes Stegen
Go next
Any bus heading for Mejillones will let you off at the road cross by La Portada, from where there is a 3-km walk to see a natural stone arch in the sea.