Antsirabe
Antsirabe
(City of much salt) is located in the central highlands of
Madagascar
. In 2013, it had an population of around 240,000.
Get around
The city has more than 5000 colorfully painted rickshaws, called "Push-Push", it is the second most commonly used mean of transportation after cycling. This makes Antsirabe a very peaceful town compared to Antananarivo's traffic jams and pollution.
Taxis and taxi-brousse can get you to nearby cities. Bicycles, quads and taxis are available for daily rent.
See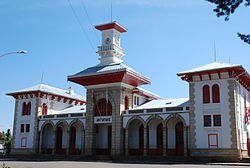 Antsirabe Train Station.
The Malagasy railway network dates from the colonial period, though breakdowns are frequent and many lines are now closed. The Antsirabe Train Station is an architecturally interesting example of colonial building techniques, though in it has been closed since 2007 because of problems with the line to the capital city.
Do
Antsirabe is a great place for hiking, be it by foot, mountain bike, or horse.
Lac TratrivaA natural crater lake 30 minutes outside of town. It can be accessed by car and then a short hike.

Lac Andraikiba
Buy
Supermarkets
Shoprite Avenue Foch. 08:00-19:00
Score Avenue Grande. 09:00-19:30
Supermaki next to Antsenakely city market. 08:00-20:00
Super Maxi Avenue Foch. which has cheaper prices. 08:00-18:00
Banks
BFV-SG Bank ATM takes most international cards.
BNI takes Mastercard and Visa card.
BOA ATM takes only Visa card.
MCB ATM takes Mastercard and Visa card.
BMOI ATM takes Visa card.
Eat
Crock Inn. Serves breakfast, lunch, and dinner. The staff has some limited English skills. Associated with the Aro Hotel.
Chez Billy. Serves lunch and dinner. French-owned and -operated, great place for tourists and backpackers.
Sleep
Arotel

address: 303 303 Rue Jean Ralaimongo Bp

Hotel TrianonThis seven-room hotel is in a building that dates to 1927, and while the building and furnishings are all older, rather than feeling worn out, the place instead has an antique feel. Rooms have showers but no air conditioning, and wi-fi is available. The parking area is behind a gate and thus offers added security. Continental breakfast is served downstairs, while there is also an attached restaurant that serves lunch, dinner, and drinks.

Hotel Diamant

phone: +261 20 44-48840, +261 20 44-49440

address: Rte d Andranobe

Clean double room with own hotwater bathroom. All rooms cable TV. Has a swimming pool.

Niavo

phone: +261 20 44-48467

address: Rue de la Myre de Villers

Single double rooms. Some rooms with own bathroom.

Blue Sky Hotel

phone: +261 34-6121216

address: Rte Circulaire

Very clean double room with own hotwater bathroom. 32-inch cable TV with USB player. Fast free internet. Free breakfast. Has its own bar and cafe.
Go next