Anza-Borrego Desert State Park
Anza-Borrego Desert State Park
in southern
California
is the largest state park in the state and the second largest in the
United States
(after
Adirondack State Park
in
New York
). The park is located on the eastern side of
San Diego County
, with portions extending east into
Imperial County
and north into
Riverside County
. It is about a two-hour drive from
San Diego
,
Riverside
and
Palm Springs
. The park is named after Spanish explorer Juan Bautista de Anza and the Spanish word
borrego
, or bighorn sheep.
Understand
The park consists of of dirt roads, and miles and miles of hiking trails. Additionally, the park features views, washes, cacti, wildflowers, and palm groves. Animal lovers will also enjoy the wildlife scene in the park—everything from chuckwallas and iguanas to roadrunners and red diamond rattlesnakes have been spotted here.
The park has been designated a National Natural Landmark by the National Park Service.
History
Landscape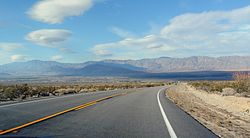 Flora and fauna
A number of species typical of the Sonoran and Colorado deserts can be seen in the park, as well as a few endangered ones, like the Desert Bighorn sheep or the Californian palm tree (Washingtonia filifera).
-->
Climate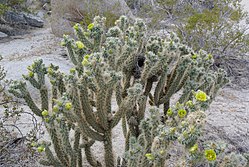 Winter lasts from November to the beginning of April, with temperatures often in the 70s and 80s F during daytime. The higher chance of rainfall during that season makes it possible to see the desert in bloom.
Get in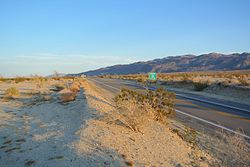 By car
California State Route 78
By foot
The
Pacific Crest Trail
(PCT) is a well known trail that extends along the West coast of the United States, from
Mexico
to
Canada
. It passes through California,
Oregon
, and
Washington State
.
Do
There are miles and miles and scenic and historic trails.... You couldn't see it all in a day if you tried!
Hike along Palm Canyon Trail, in the vicinity of the visitor center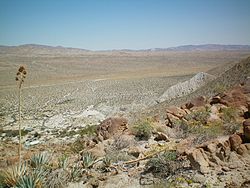 Drink

Make sure you drink lots of water. High winds and a hot sun can prove dangerous.

Sleep
Lodging
The small town of
Borrego Springs
, surrounded by the massive state park, has lodging ranging from small motels to upscale resorts.
Camping
Camp sites are available for $20 per night in most locations or you can camp for free in the primitive camping areas and really get in touch with nature! However, make sure you bring your own fire-ring (or something like it- a metal garbage can lid works great) as it's illegal to make fire upon the ground. It causes great damage to the eco-system. Pack everything (including ashes from the fire) out with you. Leave the place like you found it, or do a good deed and scout out old trash left by others that can be dangerous to the natural habitat.
Backcountry
There's plenty of room to get lost so make sure you have a map, water, and tell people ahead of time so they know to worry if you don't show up when you're supposed to.
Stay safe

Watch out for rattle snakes and scorpions... but most of all, the sun. Drink lots of water.