Ao Nang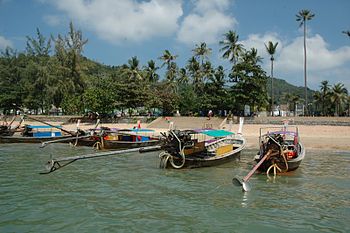 Ao Nang
(อ่าวนาง), colloquially referred to as "
Krabi
", is a sub-district and a resort town of the Mueang Krabi District, in
Thailand
's
Krabi Province
, about 15 km from Krabi Town. In high season, roughly 1 November-30 April, it is the busiest and most tourist-oriented beach destination of the province and consequently one of the most expensive places in Thailand outside of Bangkok. Phuket is cheap by comparison. On 1 May, the wrecking balls come out and many existing storefronts are demolished to make way for new ones. In low-season many places shut entirely, restrict their hours, prices revert to normal and the town is relatively deserted.
Understand
Formally
Ao Phra Nang
("Princess Bay") although everybody uses the short form, Ao Nang. It is the most "Westernized" beach in Krabi, originally a backpacker hotspot but now upmarket as the airport brings in higher flyers. While not quite as scenic as
Rai Leh
, there is some cheap accommodation, many good restaurants, easy transport and travel/tour agencies ready to cater to your every whim, making it a good base for exploring Krabi.
Orientation
Orienting yourself in Ao Nang is easy: almost everything is either along Ao Nang and Nopparat Thar Beaches, which run roughly northwest-southeast, adjacent to Ao Nang Road (Rte 4203) which goes east, then north from the southeast end of the beach. Longtail boats arrive and depart from the beach at either end of Ao Nang Beach. An impassable headland and Khlong Haeng (Dry Creek) separates Ao Nang Beach from Nopparat Thara Beach. Don't swim in the vicinity of the creek as it conveys raw sewage straight to the ocean. At the bridge over Khlong Haeng, Ao Nang Road becomes Nopparat Thara Road.
One of Ao Nang's drawbacks is that Ao Nang and Nopparat Thara Beaches are crummy beaches, certainly not beaches worth flying thousands of miles to visit. The
Rai Leh
Peninsula has superior—but crowded—beaches, but to get there you are dependent on the local longtail boat cartel which will charge you 100 baht to get there and another 100 baht return.
Get in
By plane
Krabi International Airport
is about 40 minutes away by car. The local airport limo monopoly charges a fairly steep 600+ baht for a transfer (up to four persons). Many hotels will arrange a pickup at similar prices on request. Travel time is about half an hour.
Local shuttle buses—really just converted pickup trucks (
songthaew
)—run from Ao Nang to Krabi (60 baht) and from Krabi to the airport (50 baht). The trip between Ao Nang and the airport takes little less than 2 hours. To get to Ao Nang from Krabi town you should look for a white
songthaew
outside the 7-Eleven in town centre.
There is an air conditioned bus service from the airport to Ao Nang and Nopparat Thara Beach (just after Ao Nang). There are services throughout the day. It travels from the airport to Krabi Town, the ferry terminal, then on to Ao Nang and Nopparat Thara. Good for some sight-seeing. Rates are 150 baht per person and travel time to Ao Nang is 1 hour. The buses are not new and are quite noisy. But, the best part is, the bus can drop you off at the doorstep of most hotels in Krabi Town, Ao Nang and Nopparat Thara. Just let the driver know the name of your hotel in advance. Language is not an issue, as most of them speak some English.
For the return trip, you can call the hotline one day before to arrange pick-up at your hotel. Or you can wait at any of the four bus stops in Ao Nang (one is in front of McDonald's) and Nopparat Thara. You can buy ticket on the bus or at any of the many tourist information (ticketing) shops.
By bus
The nearest inter-provincial bus station is in
Krabi Town
.
Krabi Bus TerminalIn Krabi, buses use the bus terminal at Talad Kao, about 5 km north of town centre. It is one of Thailand's better bus stations: it's clean, has bilingual signage, a good cafe, many local transport options (motorbike taxi, songthaew, taxi, minivan), and free Wi-Fi.
Krabi is served by regularly scheduled buses from all over the kingdom. Buses from Bangkok travel to Krabi down Hwy 4, the major north-south route from Malaysia to Bangkok, stopping along the way at towns like Chumphon and Hua Hin. At any of these stops you can go onward to Krabi. From Hua Hin to Krabi, for example, a BKS (government) bus departs from the station south of town centre at 22:00 (there are certainly more buses during the day). A VIP seat costs 855 baht (Jan 2016). It arrives in Krabi at about 06:30. Important: to get the best price you must go to the bus station to buy your ticket. You will be offered a choice of seats when booking. If booking a VIP seat, DO NOT choose a seat immediately behind either of the two stairwells on the double-decker bus. If you do, you will have no legroom whatsoever and would be better off going first-class at a cheaper price. If travelling during the day, give some thought to the location of the sun morning and afternoon. If going north after noon, sit on the right side of the bus; if south, sit on the left side.
To travel to Ao Nang from the Krabi bus station (or anywhere along the route they travel), look for a white, well-marked ("Krabi-Ao Nang") songthaew. From the bus station to Ao Nang, it will cost 60 baht on arrival at your desired stop.
By boat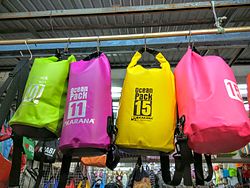 Rai Leh
West and
Ton Sai
are only 10 minutes away while the less developed
Had Yao
(Long Beach) is 25 minutes away by longtail boat. Boats leave constantly from the east end of the beach and charge a flat 80 baht/person during the day, 100 baht/person at night (after 18:00). There is no pier so expect to get at least your feet wet, probably more. A longtail boat from Ao Nang is available all seasons, but subject to the weather. In the monsoon season (May–October), getting to Rai Leh from Ao Nammao is recommended.
There are also public ferry services to
Ko Phi Phi
and
Ko Lanta
(usually twice daily), for which any travel agent will be happy to sell you tickets at around 200 baht/person. During the monsoon season, the ferry runs once day.
Boats from Ko Lanta now arrive at the new jetty, from there take a taxi (350 baht), or local bus to Krabi (50 baht) and then on to Ao Nang (40 baht).
If you travel by long getting waterproof bag for your photo and video equipment and phone is highly recommended (see photo).
By songthaew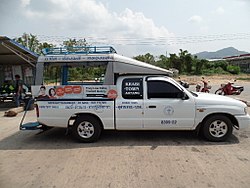 There is a songthaew (shared pick-up truck/taxi) service to Ao Nang from the Krabi Bus Station and Krabi town, which runs during daylight hours in low season and up to 22:00 in high season. The fare from Krabi to Ao Nang is 60 baht. Songthaews can be expected every 15–20 minutes. Songthaews are colour coded according to destination. From Krabi Bus Station and Krabi town, get on a white songthaew. To find one of these white ones in Krabi, go to the 7-Eleven at the corner of Soi 8 and Maharaj Rd (the main road). Songthaews from bus station en route to Ao Nang stop there for 10 minutes.
Get around
Tuk-tuks in Ao Nang charge a flat 20 baht/person for trips around town. Songthaews also run all across Ao Nang to Shell Beach and some all the way to
Krabi Town
, fares from 10 baht up depending on distance. As of 2019 high season experience, most of tuk-tuks ask for 100 baht inside Ao Nang and 400 baht from Ao Nang to Krabi town, that is for one car and single trip. It is still possible to negotiate prices sometimes, but it is becoming rare as the locals become spoilt by plentiful rich western tourists.
If you are going to or from the bus station in Krabi, a songthaew costs 60 baht. The Krabi-Ao Nang songthaews are white, with destinations clearly indicated in English. If you don't see one at the side of the bus station, wait a while and one will come by. In Ao Nang along the beach road, catch a songthaew to the bus station by standing on the beach side, not the inland side, of the road. This is counter-intuitive as Krabi is in the opposite direction.
Renting a motorbike is a great way to explore some of the sites outside of Ao Nang. There are shops up and down the major strips and you can get a reliable bike for 24 hours for 150-200 baht.
See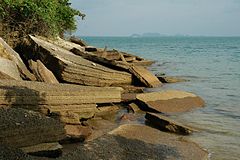 Fossil Shell BeachThis overblown tourist attraction has slates of compressed 40 million year old shellfish, which resemble concrete. There's also a small grubby museum and a huge slew of gift shops. This tourist trap is simply not worth the money unless you're a geology student. As the official Krabi tourism website (rather honestly) puts it, "Most are either engrossed to this or totally indifferent...".
Do
Rai Leh
or
Ton Sai
and organize an introductory course yourself.
Seven-day tide tables and sea conditions for Ao Nang can be found at tide-forecast
Beaches
From Ao Nang, three beaches are accessible by foot, without resort to a 100 baht boat ride to
Ton Sai
or
Rai Leh
.
Ao Nang BeachAo Nang Beach, lined with shops and restaurants, is more like a base for exploring Krabi than an important destination in itself. The west side of the beach is no great beauty, being heavily littered and ruined by the massive number of boats ready to take tourists to other beaches and to the islands. Most tourists spend the day on the east side of the beach, which is more scenic, swimmer-friendly, and contains some friendly monkeys interacting with visitors, although litter is a problem and the area is crossed by a putrid stream. At the eastern edge, a 10-15 minute trail leads to Pai Plong Beach. This is the most scenic and peaceful beach one can walk to, but has no infrastructure other than the Centara Resort. The trail itself is not particularly difficult, but still best avoided by the elderly, disabled, and small children.

Nopparat Thara BeachLong beach at the western edge of Ao Nang, zoned as a national park. Nopparat Thara beach is effectively divided in two parts, separated by a river that hosts the Hat Nopparat Thara Pier, where longtail boats and speedboats depart to Phuket and other islands. The western half is located in the neighboring Nong Thale sub-district. It is mostly surrounded by forest and a few resorts, and hence extremely quiet. The eastern half, located in Ao Nang, is lined with hotels, restaurants and shops, although not as much as Ao Nang beach. In the section of the beach closer to the pier, there are more businesses catering to Thai, rather to Western visitors, making it a good place to look for budget food. Nopparat Thara is a quieter alternative to Ao Nang and excellent for a morning stroll or watching the sunset, but the beach gets rather narrow at high tide, and it is a good idea to ask the locals if it is jellyfish season before plunging in if no one else is in the water. Near the river, during low tide you can walk up to some of the nearby craggy limestone islands like Kao Pak Klong.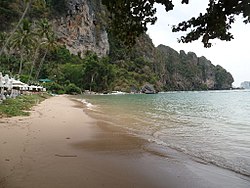 Pai Plong BeachCentara Resort occupies a scenic little cove just around the headland from Ao Nang Beach. The resort is doing its best to give the impression that it owns the beach frontage. But beaches in Thailand are all public and the public cannot be denied their use. Security guards abound and you will be asked to sign in and out. The beach itself is small, with only about five metres of sand at high tide. But it's a cute, relatively secluded beach that is hands down better that Ao Nang or Nopparat Thara. Use this beach so it stays in the public domain. The resort is quite happy to have you sit at the beachfront bar and eat and drink. Great place to watch the sunset. The wooden walkway is lighted at night, so should be no problem negotiating it after dark.
Boat tours / transfers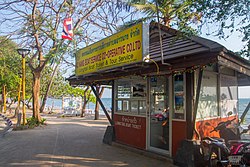 The main beach at Ao Nang is the departure point for boats to a number of places, including the nearby resort of Rai Leh, which cannot be accessed by road, Poda Island and Chicken Island. Ticket booths with clear pricing structures can be found at both ends of the beach.
Camping
phone: +66 87 8851125

Private, customised day trips and camping trips to many islands. They can also help plan individual itineraries, accommodation and transfers. Fast, helpful, English speaking service with emails answered within 24 hours. Highly recommended.
Cooking
phone: +66 81 4159358

address: Ao Nammao

Khun Sow is the head honcha. Cooking classes are 3 hr. Fruit carving is an all day class and the most expensive course.

address: 326 Moo 1, Soi Nopparat Thara 3

Thai fruit and vegetable carving is an art form. Basic courses are 3 hr long and the full-day course is 7 hours.
Diving
There are a number of
scuba diving
centers in Ao Nang, offering dive course from basic up to instructor level. The "local" islands in Ao Nang Bay are relatively easy to access and uncrowded compared to many of the diving sites around
Phi Phi Island
. Other options include Shark Point Marine Sanctuary and the King Cruiser wreck which is suitable for intermediate divers, and mini-safaris to Hin Daeng, Hin Muang, and the Ko Ha Yai Islands for experienced or deep qualified divers. Most of the dive shops offer a very similar price for the dive courses and dive trips. It's now also possible to do a one day safari by speedboat to Hin Daeng and Hin Muang for a chance to see whale sharks and manta rays, or to do some spectacular cavern diving at the five islands of Ko Ha Yai. Some of the more popular dive sites can become crowded in the peak of high season late-December to early-January
Gym
phone: +66 975 637 118

Good, centrally located, albeit expensive, gym.
Hiking
Tab Kak Hang Nak Nature TrailThe Tab Kak Hang Nak Nature Trail is northwest of Ao Nang close to beaches/resorts, a couple of kilometres north of Klong Muang Beach. It will take you through the jungle and up to a peak with a fantastic view over Ao Nang and more. A sign claims the hike to be 3.7 km but it feels like more. That's because the trail is almost all up. Thai trailblazers don't do switchbacks. No mosquitoes. There is a small ladder that needs to be climbed, but the trail is an easy one if you have decent shoes. Don't try this in flip-flops as the trail is rocky. with exposed roots and where it is not, it is certainly a mudslide when the ground is wet. At the trailhead they ask you to sign in with departure and return times.
Rock climbing
Ao Nang was originally put on the travel map by backpackers, many of whom who came for the excellent climbing that Krabi's karst rock formations offer, and rock climbing is still widely available through centers in Ao Nang, although most of the climbs are in the areas around Rai Leh, Tonsai, and Phra Nang beaches.
Buy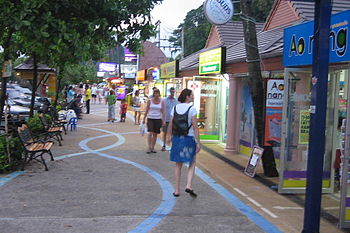 Banking
Bangkok BankFull-service banking plus two ATMs, deposit machine, bank book update machine outside.
Shopping
Unless you're in the market for souvenirs or liquor, shopping in Ao Nang is dismal. It has no shopping malls and aside from Tesco and Makro, no stores of significance. Buying a Western-language newspaper is out of the question. But there are plenty of convenience stores and souvenir shops. The vast majority of shops are lined nicely along Ao Nang Rd (beachfront). The regular tourist tchotchkes (e.g., postcards, magnets, trinkets) are plentiful as are tee shirts, flip-flops, and pretty much anything else you'll find elsewhere in Thailand. There are also tailors who will sell you a three-piece bespoke suit for 4,500-6,000 baht depending on the quality of the wool. Tailor-made shirts are 850-1,000 baht. Most of the tailors can get the suit done within a day. Don't ask how.
Three curious things about Ao Nang shopping: 1. there is only one "water machine" (in Ban Chong Phli) that are so common elsewhere in Thailand. These are the refrigerator-sized vending machines where one can fill up a 6 L (or less or more) bottle with purified water for about one baht per litre. A big down-side for the environment as more plastic bottles are the result. One suspects a water mafia that makes money delivering water is behind this. 2. Ao Nang has a dearth of gasoline stations. There are only three, all off-brand and inconspicuous, selling gasohol. Instead you will see free-standing gas pumps on every road outside of central Ao Nang. These self-service machines sell petrol for 39-42 baht per litre (Jan 2016). The nearest chain gas station on the way to Krabi (PPT) sells it for 23 baht per liter and an attendant pumps it for you. Someone is making a killing. 3. Most places in Thailand that host many Western tourists have supermarkets such as Rimping (Chiang Mai), or Tops (throughout Thailand), or even a backwater like Khao Lak, where one can buy Western breads, cheeses, salad dressings, sausages, or steaks. Not so in Ao Nang. You can't buy a hunk of Cheddar cheese or a can of pork and beans or Campbell's tomato soup in the Ao Nang Tesco. Best bet is Makro.
Ao Nang Whisky

phone: +66 81 535 7358

Alcohol is expensive in Thailand. Nonetheless, best selection of spirits, wines, and beers in Ao Nang. Probably the cheapest too.

MakroBulk foods and household, restaurant supplies. Best selection of meats, pasta, rice, charcuterie, some Western foods, including cheeses. This is a small Makro. They do not sell pet food, for example, or much in the way of toiletries, or cookware. (The larger Makro in Krabi does.) Besides that, don't bother unless you want to buy beer by the case, or a gallon of mayonnaise. Membership card is not required.

Mama Marche SupermarketSort of a locally owned 7-Eleven chain, but bigger and better. This store opened on 15 October 2016. Meats, fruit, and veg, and good for wine. Do not seem overly concerned about selling alcohol outside of the permitted hours of 11:00-14:00 and 17:00-24:00. Has a full-service restaurant inside. It's open till 22:00. Bakery adjacent to the entrance. Besides the store in Ao Nang, they have several other shops in the province. There is another smaller version in Ban Khlong Haeng, roughly opposite the 7-Eleven.

PK MinimartAnother 7-Eleven-type store on steroids. Sells snacks, beach gear, cosmetics, souvenirs, luncheon meats, cheese, cigars, and lots of booze. One unusual souvenir item seen nowhere else: commemorative Thai coins and postage stamps.

Sawatdee Stationery and Copy Centre

phone: +66 18 947 454 or +66 75 695 304

Sells an eclectic mix of stationery supplies, art supplies, greeting cards, and assorted gee gaws. Have industrial copy machines on premises. Will send/receive faxes, but not to overseas numbers, which sort of makes the service worthless.

S MartThe shop is like an adult 7-Eleven, with a great selection of liquor and wine. Best selection of European beers and ciders in Ao Nang. Limited supply of cigars. An unbelievable amount of merchandise is crammed into this relatively tiny shop. The sell everything from beach balls to cutlery to snacks to tee shirts to flip flops to refrigerator magnets to sunglasses to snacks.

Tesco-LotusStandard Thai supermarket, but small, that must rank among the worst in Thailand. Sells beer, wine, and spirits. Very limited Western foods available unless you count packs of individually wrapped processed cheese slices.
Eat
Ao Nang restaurants are, in general, outrageously expensive. You will pay double or triple the price in Krabi town to eat here—main courses are about 150 baht—and seafood very much more (starts at 250 baht). If you are after cheap food, look for the street stalls or restaurants at either end of Ao Nang.
24 hour
Burger King

address: Ao Nang Rd

McDonalds

address: Ao Nang Rd
Budget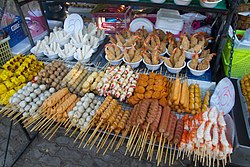 If you are the kind of person who rises early and enjoys breakfast with a cup of coffee and a newspaper, Ao Nang is not for you. As most of the larger hotels provide free breakfast, decent breakfast places are hard to find. Decent, cheap breakfast places are impossible to find. Daily newspapers? Forget about it. Even if some are supplied by the posher hotels, it will not be until the afternoon.
For cheap food, there are a few street carts scattered about, although most serve backpacker fare such as banana pancakes at 15 baht each. A lady serving fried chicken lady in front of the Tipa Resort also does good
som tam
(papaya salad) at 40 baht. Also look out for the yellow-signed noodle stalls with a "4" in a bowl as their logo, which serves a garlic-flavoured and tasty
bamii muu daeng
(roast pork noodles) for 25 baht.
The pad Thai served in a stall named "Kai Tieun Restaurant" is good and cheap. The noodle itself is not spicy although spice-rich condiments are available.
Generally the places along the beach are more expensive and the ones up the hill or down towards Nopparat Thara tend to be cheaper and better value. Even up past McDonald's on the right, some offer squid and fish at amazingly low prices.
The Boat CafeNo sign in English, but is easily recognisable by the old longtail boat outside where they serve up tom yum and other Thai soups at lunchtime. Popular with locals in the evening.

Isan Food & Cooking InterWeird name for a restaurant, but it doesn't matter as there is only one sign on the back wall of the restaurant's interior. Run by a lady (Noi?) from Issan. One of the cheapest restaurants in central Ao Nang. Simple Issan cooking. Large fish (tilapia?) seem to be the most popular fare here. Good and cheap.

One More RestaurantLow-key restaurant serving a variety of Thai dishes and seafood. The staff here are incredibly friendly.

Tonsai Restaurant

address: Ao Nang Soi 15

Popular low-key restaurant offering Thai food.

U & P Bakery House

phone: +66 81 895 6670

address: 401/4 Moo 2

Nice little bakery/restaurant. One of the few places besides McDonalds to get an early-morning breakfast. Coffees. Excellent breads by Thai standards. They sell breads, nan, brownies, cakes, and a limited supply of Cheddar cheese retail (expensive; vintage Cheddar, 240 baht here and 170 baht at Makro). Pass on their 150 baht breakfast: two eggs, two strips of bacon, one barely edible 7-Eleven-style hot dog/sausage, and two slices of nondescript white bread. Instead order one of their breakfast sandwiches: real brown bread, generous filling, and cheaper price. Beware of sandwich number eight. Billed as ham and cheese, it is two 7-Eleven hot dogs and processed cheese. Free Wi-Fi.
Mid-range
A. One Restaurant

phone: +66 94 586 4949

Very good restaurant for lunch and dinner with a romantic ambience and attentive service. Full bar, Western and Thai menu. Skip the breakfasts: the Engilish breakfast is a whopping 290 baht. The American breakfast, at 210 baht, is two eggs, two slices of toast, bacon (three slices) or sausage, orange juice, coffee. Free Wi-Fi.

Khow Soy RestaurantThe name is a playful, farang riff on "khao soi" or "khao soy", the popular northern Thai/Burmese noodle dish. Lovely restaurant with attentive service. Full bar service as it is adjacent to Rick's Bar, also worth a visit.

Wanna's RestaurantOffers rather good Thai and Swiss dishes for approximately 100 baht. The home made Swiss muesli with yoghurt and fresh fruit is highly recommended. The pad Thai here is quite good! Go to Burger King if you need a toilet as it is out the back!
Splurge
phone: +66 75 661 061

address: 127 Moo 3

Known for delicious steaks, beef or lamb. Chicken, pork, and duck as well, all prepared to high European standards. Luckily, you can order the steak in a size to suit your appetite or your budget: 200-400 grams. Nice ambience. The boss, Gidi, is a friendly Dutch national who runs a tight ship to high standards. Huge wine and European beer lists.

phone: +66 75 637195

address: 99 Moo 3

Lovely views at sunset. They will arrange transport if you reserve a table.
Drink
Ao Nang's nightlife centers on two areas, which are known locally as "Center Point" and "The Soi" (Soi RCA). Another nightlife area, the strip of bars along Bamboo Soi, was demolished in 2014. Both Center Point (on the main beach road) and "The Soi" (about 200 meters up from the beach on the right just before McDonald's across the street) contain bars offering loud music, hostesses, and free pool.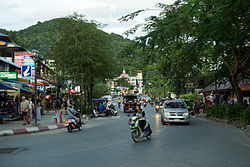 The cheapest place to have a drink in Ao Nang is down Soi 17 off Ao Nang Rd (where Ao Nang Rd meets the beach and makes a sharp right turn). About 100 m down the soi are two kiosks that serve cocktails for 100 baht and beers (Leo, Chang, etc.) for 40 baht (May 2016).
Bars close in Ao Nang at 02:00, possibly a bit later if doing bang-up business, in which case the music and lights will be turned down, and the shutters lowered.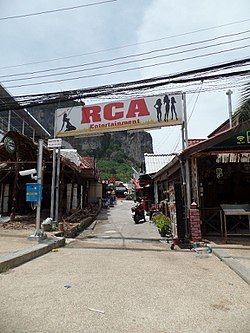 Rick's Bar

phone: +66 91 158 3641

address: Moo 2, 4201 Rd

At most bars in Ao Nang and elsewhere, you're served by a disinterested employee and lucky if you get a smile. At Rick's Bar you're served by two persons with skin in the game, the husband and wife team who run the place. A bit out of central Ao Nang, but worth the trip. Run by a courtly, knowledgeable, and affable Louisianan and his Thai wife, Rick's Bar is a comfortable place to drink. Nice ambiance, good music, no pressure. Prides itself on the coldest beer in Ao Nang. Sells pickled eggs, for chrissakes! Good selection of top shelf liquors. Pool table. Darts tournament every W night. Free Wi-Fi.

Soi RCAAo Nang has some fairly well-hidden beer bars. The largest concentration is just off the main road on a soi with a big archway announcing "RCA" over the entrance. It has about 15 bars. A good place to go if you fancy a game of pool but have no partner. A bar hostess will be happy to serve as opposition (it is good manners to buy her a drink for doing so). No one seems to know what "RCA" stands for. It may be named after Bangkok's Royal City Avenue—more commonly known as RCA—the center of that city's club scene.

Sweet BarIf you fancy a chilled out drink and few games of pool in a friendly location, go for a drink adjacent to Nopparat Thara Beach. There used to be several bars here. Now it's down to Sweet Bar. Excellent fireworks can be seen here at new year. Free Wi-Fi.

Ting Tong BarSpacious, clean bar with good music at a level that permits conversation, and a good pool table. Run by the amiable At and her husband, Patrick. Free Wi-Fi.
Sleep
Ao Nang is one of the more expensive places to stay in Thailand. Accommodation that costs 600 baht in low-season (May-November) will cost you 1,600 baht in high-season.
Budget
Blue Bayou

phone: +66 75 637558, +66 75 637083

address: 79 Moo 3

Bungalows with private bathroom fan/air-con, 20 m from the beach. Owner is very helpful and friendly, speaks very good English. Has a super little restaurant.

The Krabi Forest Homestay

phone: +66 75 661500, +66 86 5706524, +66 87 4887199

address: 68 Moo 3

Owner and the staff are very helpful and friendly. They can speak fluent English and can provide you with excellent tourist information. The bungalows have private baths. You can pick between the bungalows that have one king size bed, 2 twin size beds or 3 twin size beds. All of the bungalows/rooms come with private terrace, standard toilet/bathroom, and standard shower with hot water, air conditioning, multi-channel cable TV, coffee/tea pot and small refrigerator. 2 free bottles of water daily. Massage, spa, beauty salon, tour office service, bar, transportation services, tailor service, Thai restaurant, Indian restaurant, laundry/dry cleaning service, free Wi-Fi, motorcycle rental, car rental, bicycle rental, and private parking.

Seaworld

phone: +66 75 637388

address: 247/10-11 Ao Nang Rd

Clean, good value.
Mid-range
Ao Nang Palace HotelCan be expensive in high season as they all are, but normal off-season price is 940 baht. Breakfast is included, and there is a reasonable buffet choice. Hotel has a swimming pool, a travel agent is co-located, as are Internet computers. No lift.

phone: +66 86 2801223, +66 86 2783441

Private bathroom, pool.

Aonang Smile Hotel

phone: +66 75 63 8192

address: 23/4 Moo 2, Ao Nang

Great hotel. Spacious rooms. Good Wi-Fi and a desk to work from. No amenities such as restaurant or laundry or coffee, but perfect other than that. For those who watch TV, TV is not perfect, at least in Room 103. Clean, accommodating, great location next to three or four 24/7 convenience stores.

Chatchada Guesthouse

phone: +66 75 695 420

address: 596/6 Moo 2 Ao Nang Rd

All new Thai/Australian-run guesthouse with good service. Rooms have air-con and showers. Food both European and Thai is available all day, with an excellent English breakfasts. Free Wi-Fi and all the normal stuff in the room.

phone: +66 75 637878

address: 23/3 Moo 2

This small hotel beats PK Mansion hands down. Chinese-Thai-run hotel. Impeccably clean. Big rooms, big baths. Rooms in back have balcony that face a wall, thus are much cheaper than those in front which overlook a parking area. Free, strong Wi-Fi. Nearby is its sister hotel, J Mansion.

phone: +66 75 637431-2

address: 247/12-15 Moo 2

Run by a coven of wily little old ladies who don't miss an opportunity for a baht. Internet prices top out at 1,200 baht, but you may be asked for more. Centrally located accommodation, on a quiet street close to the beach. The large rooms have en suite bath, with TV, fridge, and balcony. The in-room Wi-Fi is poor with decent access an additional 50 baht.
Splurge
phone: +66 75 661551

address: 166 Moo 3 Ao Nang Soi 8

All rooms equipped with king-size or twin bed, air-conditioner, 32-inch LCD TV, Wi-Fi, and coffee/tea maker. Swimming pool, Jacuzzi, and massage service, car rental, and laundry/dry cleaning service.

Ao Nang All Seasons Beach Resort

phone: +66 75 661598

address: 162 Moo 3

Well equipped with air conditioning, cable TV and Wi-Fi. Swimming pool, car rental and parking. Their website appears to be exclusively in Japanese, so perhaps they don't care so much about your business.

Aonang Terrace Hotel

phone: +66 75 637091-2

address: 131-131/3 Moo 3

It offers 42 rooms, all of which have an air-conditioner, cable TV, hair dryer and a refrigerator. Some of its amenities are transportation services, games room, and high speed Internet access.

phone: +66 75 637181-3

address: 154 Moo 2

All rooms have air conditioning, minibar, cable TV, safe deposit box, hair dryer, DVD Player, Wi-Fi, swimming pool with water power stream jets and child pool, pool bar service, tour desk service, car and motorbike rental.

phone: +66 75 638211-4

address: 152 Moo 3

21 room accommodation, air conditioning, cable TV and Internet access, swimming pool, room service and restaurant, cafe, bar.

phone: +66 75 695633

address: 251/13 Moo 2

17 villas for rent nightly/weekly with private swimming pool on Ao Nang Beach.

The L Resort KrabiViews of the Krabi Mountains and the islands of Ko Talu and Ko Poda. All rooms include Wi-Fi, 40-inch LED TVs, air conditioning, mini-bar, safe, and breakfast.

phone: +66 75 661667

address: 165 Moo 3

Between Ao Nang and Nopparat Thara Beaches. Resort is 500 m from the beach.
Cope
Immigration
Krabi Province ImmigrationKrabi's Immigration Office is great. It's modern, clean, comfortable, and well-staffed. The queue never seems to be more than 10 persons. Free Wi-Fi too.
Medical
Dr Somboon Polyclinic

phone: +66 75 695 303

address: 249/10 Moo 2

General medical practice and minor surgery.
Tourist assistance
Tourist Police

phone: 1155

If you need help for anything short of assault or murder, these are your "go-to" folks.
Pharmacies
Ao Nang-Krabi PharmaciesThere seems to be a pharmacy every 50 metres in Ao Nang. They seem to specialise in sunscreen and skin whiteners. If you need a real drug, forget about it. Case in point: in what turned out to be a Snipe Hunt for Euthyrox, 50 mg, 19 pharmacies were visited in Ao Nang (16) and Krabi town (3). None of them had what can be found easily in Phuket, Khao Lak, Chiang Mai, or Udon Thani. If you require a specific medication, bring it. You may not find it here.
Connect
address: Ao Nang Rd

The main post office sells, in addition to the usual stamps, cardboard boxes and packing supplies. In fact, they will help you pack your box. There is a post office annex across the street that handles poste restante and all incoming mail. You may pick up mail there. The coordinates are not exact, but will get you in the vicinity.
Go next