Aomori

Aomori
(青森), the capital of
Aomori prefecture
,
Japan
, is located on Mutsu Bay, at the northern tip of
Honshu
.
Get in
By plane
Aomori airportIs served by Japan Airlines (JAL), ANA, FDA (Fuji Dream Airlines), and Korean Air. JAL flights arrive from Tokyo Haneda Airport, Nagoya Centrair Airport, Osaka Itami Airport, Sapporo Chitose Airport, and Fukuoka Airport. ANA flights arrive from Osaka Itami Airport and Sapporo Chitose Airport. FDA flights arrive from Nagoya Komaki Airport. Korean Air flights arrive from Seoul Incheon Airport.
Buses connect the airport to the Aomori train station for ¥700. The bus ride lasts 35 minutes.
By train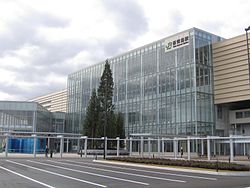 From
Tokyo
, Tohoku Shinkansen
Hayabusa
(はやぶさ) and
Hayate
(はやて) trains run to
Shin-Aomori station
(新青森) on the way towards
Hakodate
in
Hokkaido
. From Shin-Aomori, regular trains shuttle passengers over to the more centrally-located
Aomori station
(青森). Ticketed passengers are permitted to shuttle between these two stations in the non-reserved car of any train, even if a limited express train heading towards Aomori departs first. Expect the total journey to take about 3 1/2 to 4 hours, depending on the transfer and wait times at Shin-Aomori.
The regular one-way fare from Tokyo to Aomori is ¥17,350 on the
Hayabusa
- slightly cheaper for the
Hayate
- and so for foreign tourists the better deal for the round-trip is to purchase a
JR East Rail Pass - Tohoku Area
(¥19,000 for advance purchase), which can be used on any 5 days within a 14-day period.
If your travel plans include other parts of the country, the better option will be the national Japan Rail Pass. If you plans only include travel around Tohoku and Hokkaido, consider the
JR East-South Hokkaido Rail Pass
, which is slightly cheaper than the national pass (¥26,000 for advance purchase) and covers travel from Tokyo to Aomori, Hakodate and Sapporo. It can be used on any 6 days within a 14-day period.
Note that the Green Car version of the national Japan Rail Pass is valid for Green Cars on the
Hayate
and
Hayabusa
, but any version of the pass will cover just the basic fare for the premium first class seating on the
Hayabusa
called "GranClass". Travelers using "GranClass" will be pampered with an all-leather seat resembling business class on an airplane, a personal on-call train attendant, meals and complimentary alcoholic beverages. Rail pass holders willing to partake in such an experience will have to fork over the limited express and GranClass fare (¥16,960 from Tokyo). Without a Rail Pass, "GranClass" costs ¥27,110 between Tokyo and Aomori.
By bus
Aomori, at the northernmost point of Honshu, is the terminating point for several highway buses.
From
Tokyo
Station, JR Bus Tohoku's
La Foret
service runs once per night, reaching Aomori in 9 1/2 hours at a cost of ¥9,000 each way on Fridays, Saturdays and the day before holidays, and ¥8,500 on all other days. Konan Bus'
Tsugaru
runs over the same route; their bus costs ¥7,500 each way, or ¥9,000 during peak travel periods.
From Ueno Station in Tokyo, Konan Bus runs discounted bus services to Aomori: a daytime service called
Sky
(¥5,000) and two night services called
Panda
(¥4,500; ¥5,000 during peak travel periods). These buses take longer to Aomori - about 11 hours each way - due to an additional stop made in
Hirosaki
.
Willer Express
operates several buses from Tokyo Station,
Tokyo Disneyland
and Shinjuku to Aomori with prices starting from about ¥5,000. Bookings can be made online in English.
Four bus operators jointly run
Blue City
daytime buses between
Sendai
and Aomori (5 hours, ¥5,700). There are more runs during the summer months than the rest of the year.
By boat
Seikan Ferry
and
Tsugaru Kaikyo Ferry
operate ferry services from Aomori to the port of
Hakodate
with multiple departures daily. Trips take 3 hrs 45 min. One way fares are cheapest on the Seikan Ferry, ¥1600 for a carpet space. The Tsugaru Kaikyo's Blue Dolphin ferry offers several classes of service, from standard carpet space (¥2220 one-way) up to a suite with two beds and an in-room shower and toilet (¥4940 one-way) and a luxurious suite that adds a living room (¥12,340 one-way). Note that during peak travel periods, these fares are higher.
Tsugaru Kaikyo offers online booking of all of their ferry services in English through a third party. Fares are paid in euros and reservations are confirmed within 48 hours of booking. They also offer checked baggage service for an extra fee.
Cars and motorcycles can also be carried on some of these ferries.
Get around
Taxis
are always available from the train station.
Buses:
Go to the bus terminal outside the train station and tell the attendant at the city bus counter where you'd like to go. He or she will tell you which number bus stop to wait at, what time the bus will come, and where to get off. On city buses, you'll pay when you get off the bus.
The
Nebutan-go
shuttle bus runs clockwise and counter-clockwise circles stopping at both Aomori and Shin-Aomori Stations, the Prefectural Art Museum, and other tourist sites about once an hour during the morning and afternoon. 200 yen per ride; a one-day pass is 500 yen.
Anything in the downtown Shinmachi area is easily accessible by foot.
Information centerIn this well-staffed center you can make enquiries about the city, accommodation and transportation.
See
Town Center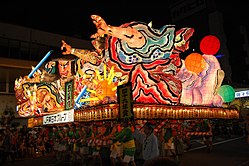 phone: +81 17-752-1311

address: 1 Chome-1-1 Yasukata, Aomori, Aomori Prefecture 030-0803

The distinctive red building houses exhibits about the Nebuta, including several floats, if you're unable to make it during festival season.

Aomori Bay BridgeThis bridge spans a short harbor inlet that could easily be walked around in five minutes, so it appears to be basically an excuse for public funding as a tourist attraction.

Hakkōda-maru Memorial ShipThe ferry which connected Hokkaido and Aomori prior to the building of the Seikan Submarine Tunnel is now a somewhat run down museum, but worth checking out if you're interested in regional history, trains, or boats. The rear part of the deck of the ferry serves as a beer garden on summer nights.
Tsugaru Kaikyō Fuyu-GeshikiThis memorial alongside the ferry terminal looks like it might honor some historical event or local hero, but it's actually dedicated to a song. Meaning "Tsugaru Strait winter scenery", the 1977 hit ballad is an all-time karaoke favorite.
ASPAM (Aomori Prefecture Tourist Center)A large triangular building that can be easily spotted from the train station or the bridge, this is the tourism center for all of Aomori prefecture. It includes a movie about the prefecture (Japanese only) and an observation deck with views of the harbor and city (extra charge).
Aomori Prefectural MuseumExhibits about the natural and cultural history of Aomori prefecture.
Munakata Shiko Memorial Museum of Art

phone: +81 177774567

address: 2-1-2 Matsubara,Aomori City,Japan 030-0813

Shiko Munakata is famous for his woodblock prints, displayed in this very small gallery along with some of his paintings and calligraphy. Closed Mondays except for national holidays and during Nebuta.
Utou ShrineThere are nice gardens and ponds tucked away behind the main shrine. There's also a "power spot" it's said if you wash your coins in a certain fountain there, you'll be free from money troubles.
South West
Sannai MaruyamaA historical site dedicated to the Jomon people, as many Jomon artifacts and construction remains have been uncovered here. The special significance of this site is that there are two types of constructions that indicate a change from a nomadic to a sedentary way of life. The site has reconstructions of buildings from the Jomon area. As the Jomon diet seems to have included chestnuts, don't miss the chestnut ice cream cones in the gift shop.

Aomori Prefectural Museum of Art

phone: +81 17-783-3000

address: 185 Chikano, Yasuta, Aomori City, Aomori Pref. 038-0021

A well maintained museum with a permanent collection featuring Marc Chagall's backdrops for Aleko, large collections by Aomori natives Yoshitomo Nara, Shiko Munakata, and other artists from Aomori and abroad. The Sannai Maruyama site is within walking distance.
Asamushi Onsen
A hot springs resort town on Mutsu bay with a large number of inns. At many of the inns and hotels, you can pay a small fee to use the bath even if you're not staying overnight.
Asamushi AquariumA nice aquarium that features a dolphin show and a transparent underwater tunnel.

phone: +81177523341

address: 〒039-3501 青森県青森市大字浅虫字内野14

One of many traditional inns in Asamushi Onsen. There are options for day plans and overnight stays with meals and access to the hot spring bath.
Do
Aomori Nebuta FestivalThis is Aomori's most famous festival. The town suddenly becomes very lively, with many street stalls. The main feature is the evening parade with huge illuminated paper lanterns and costumed dancers. The final day of the festival concludes with an extensive fireworks display while some of the Nebuta lanterns float around the bay on boats. Everybody can join the parade, as long as they wear the festival costume. To rent the costume, enquire at the tourist center next to the train station.

Machinaka OnsenIf you're tired, weary, and want a bath without going all the way to Asamushi Onsen, you can enjoy a hot spring bath just a few minutes walk from Aomori Station. The small bath outside is nice.

phone: +81177380343

address: 1 - 12, Kansuizawa, Arakawa, Aomori-shi, Aomori-ken, Japan 030-0188

The ropeway operates year round for skiers, snowboarders, hikers, and anyone who just wants to see the view from the Hakkoda Mountains. You can snowboard until May here.

Moya HillsSki resort close to the city. Roller luge, camping, and special events in the summer.
Buy
Regional specialties include
Tsugaru-nuri
lacquerware,
kogin-zashi
embroidery,
sakiori
weaving, and products made from
hiba
cypress wood.
ASPAMFor loading up on regional souvenirs, head to ASPAM, the unusual-looking triangular building located just behind the bridge on the harbor. It contains an exhibition hall for promoting tourism and local products.

A-FACTORYFor edible souvenirs and local food products, stop by A-FACTORY next to Aomori Station. There are several take-out cafes and places to sit and eat on the boardwalk overlooking the bay. Sparkling apple wine called "cidre" is also made, sold, and served here (non-alcoholic cidre is also available). The restaurant upstairs specializes in dishes featuring French buckwheat crepes and local ingredients.

Murata Kogei

address: 030-0801 Aomori-ken, Aomori-shi, Shinmachi, 1 Chome−9−18

A wide selection of souvenirs and gifts from Aomori, as well as other Japanese decorative items.
Eat
Aomori's list of food specialties is extensive, but the headliners include apples, scallops, and garlic.
Aomori Gyosai Center

address: 1-11-16 Furukawa, Aomori-City

If you're looking for a unique lunch featuring lots of fresh, local seafood, try making your own nokkedon sushi bowl at this seafood and vegetable market. First, buy tickets from the counter with the 丼 flag. Get a bowl of rice, and then trade your tickets for the toppings of your choice from vendors throughout the market. You can eat and help yourself to tea at picnic tables throughout the market.

OsanaiA small restaurant that serves local meals at a reasonable price. Try the scallops (hotate), or the local dish made of soup with seafood containing sea urchins, scallops and egg, and served on a plate that resembles a large scallop shell.

Cafe Skyline Gusto

address: Shinmachi

A chain diner to comfort the weary foreign travelers with late hours, a relaxed atmosphere, a self-serve soft-drink bar, and familiar menu items, all with pictures.

Hotate-goyaScallops are an Aomori specialty, and you can catch and eat your own at Hotate-goya, the "scallop shack." For 500 yen, you have three minutes to catch as many as you want, which you can than grill or eat raw. Or you can just order off the menu.

Aji no Sapporo Asari

address: 〒030-0801 Aomori Prefecture, Aomori, Shinmachi, 1 Chome−11−23 小林第二ビル 1F

Once of Aomori's more unusual specialties is "miso-curry-milk ramen." You can try it at this tiny ramen shop next to the Alaska Hotel.

SaigonIf you want a break from Japanese food, Saigon has a crazy potpourri of "ethnic" food from Asia, the Americas, and beyond. The menu has lots of pictures. There's an extensive drink menu with "all you can drink" (nomihodai) options available.

FuraiboIf you find yourself looking for breakfast before 8AM, try this weird little cafe with electronic card games for tables. The morning set is a bargain at about ¥500, with buttered toast, salad, ham, a fried egg, and syphon-brewed coffee. You may be sharing the cafe with some folks having morning ramen at the end of a night of drinking.

Maron

phone: +81 17-722-4575

address: Yasukata, 2 Chome−6−7

Casual cafe with decorated with old clocks and other antique knick-knacks. Morning set, lunch items and sweets available.

Smile and Spoon Kitchen Studio

phone: +81 17-773-2535

address: 青柳2丁目2-16

Right around the corner from Hotel Aomori. This little cafe has a daily lunch special and a "trip around the world" lunch from a new country each week.
Drink
Local specialties are
cidre
(シドル, sparkling apple wine) and
Denshu
(田酒), Aomori's famous
sake
. Denshu is served in some
izakaya
and sushi restaurants. The main entertainment district is Honchō (本町). To get there, walk straight down Shinmachi "Amenity Street" for about 15 minutes. Once you cross Yanagi-machi Dōri (a big street with a median strip), you're in Honchō. However, there's plenty to drink in the city center:
Karaoke U-StyleA large karaoke chain that has a branch about four or five blocks down the main street on the left. This location has a nice selection of English songs and, of course, offers all you can drink plans.

Passage HirobaPassage Hiroba is a courtyard on the right side of the main street. There are several bars, taverns, and eateries. You can drink outside during warm weather.

Cafe BERRY BERRYStandard bar fare plus darts.

Pent House

phone: +81 17-762-7218

address: Furukawa, 1 Chome−17−21 スノーランドビル3階

A hip second floor cafe lounge with cozy sofas, big floor cushions, and a ping pong table. Skip the skimpy tacos and invest in the fresh guacamole.
Sleep
Numerous hotels dot Shinmachi, the main street that stretches out from the train station. These hotels generally increase in price the closer you get to the train station.
Connect
The city tourist information center is located next to the bus station on the left as you exit the train station; they have good brochures and maps in English.
AugaThere's a computer corner called Ai Plaza on the fourth floor of the Auga department store. You can use computers for up to one hour and print up to 5 pages. There's a library on floors 6-8.

StarbucksYou can use free wifi at the Starbucks on the second floor of Lovina next to the station. You may have to register or sign in with a social media account to connect.
Go next