Aqaba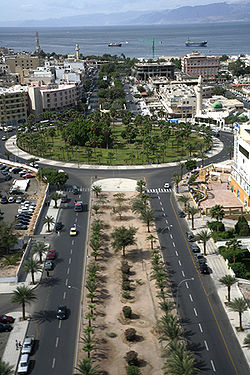 Aqaba
(العقبة
al-ʿAqabah
) is
Jordan
's only port city. It is on the Gulf of Aqaba in the extreme south of the country.
Understand
Aqaba is Jordan's window on the
Red Sea
. Historically the same city as
Eilat
on the
Israel
side of the border, plans for a shared international airport and other forms of cooperation have cooled down in the past few years during a period of political tension. Aqaba has seen a lot of development. This has improved the infrastructure and facilities. Be prepared for road maps to be incorrect or out of date.
Get in
By bus
The Desert Highway terminates in Aqaba. The is about 300 m east of the mosque. There are frequent buses to
Amman
and other points along the highway. The fare is 7 JD each way.
By car
Amman to Aqaba is about 350 km using the Desert Highway. It will take about 4 hr to travel this distance at a reasonable speed. Service/fuel stops are not very frequent on this road.
By taxi
Minibus rental with driver from
Petra
costs 45 JD and it takes about 2 hr to get from Petra to Aqaba.
Coming from the Israeli border, you will probably want to take the border taxi into town and switch to another taxi to continue on, especially if your hotel is in the South Beach resort area. From Aqaba city, taxi prices are lower than from the border.
Also see the note on the
Aqaba border taxi Mafia below
.
By plane
King Hussein International AirportRoyal Jordanian operates twice daily between Amman and Aqaba, one in the morning and one in the evening. Duration of the flight is approximately one hour and costs 37 JD + tax one-way. Easyjet flies twice weekly to London and Berlin during the winter months, whilst Ryanair operates twice weekly to Cologne, Athens and Sofia, also on a winter schedule. Turkish Airlines flies year-round to Istanbul Airport. Various smaller European airlines operate seasonal holiday charter flights as well.
Most larger hotels and dive operators can arrange airport transfers, and hire-cars and taxis are available. Note there is no public transport to and from the airport. An Israeli company offers a so-called "Aqaba airport shuttle" service through its website, which appears to be a scam, according to numerous online reviews on a number of different websites.
Given the relatively painless (for the area at least) border crossing process and the closeness of Eilat, it is also feasible to fly into Ramon Airport , which is served by the likes of Ryanair. The former Ovda and Eilat city airports have both closed.
From other countries
for details on getting in from other countries and the associated visa requirements.
Israel
If you are coming from
Eilat
, Israel, you will cross through the Yitzhak Rabin Terminal. It is open Sunday-Thursday from 06:30–20:00 and Friday-Saturday from 08:00–20:00, except for Yom Kippur and the Moslem New Year (Id il Hajira). Taxi from Eilat centre to the border is
₪
35 (Feb 2014). The fee to exit Israel is ₪102 plus a processing fee of ₪5 – you can pay with credit card.
If you are planning to come to Aqaba directly from northern Israel (e.g. from Tel Aviv, Jerusalem, or Be'er Sheva) by catching an Egged bus to Eilat, or from Eilat by hopping on any intercity bus going up north, or on any of the buses going to Ramon airport, you should ask the driver to let you off at "Rabin Border Crossing / Road 90 junction", which is the second last stop before the bus station in Eilat, and then walk east to the border checkpoint (less than 1 km on auto route 109).
After crossing the border, take a taxi from the taxi mafia (see
below
) for 11 JD, or just walk out. If the bird observatory to the right is open, walk straight through until the road with the fence and continue through the treatment plant further on another deserted road until you reach the housing area. From here, taxis are very cheap. If the bird observatory is closed, go through the sandy desert area to the right after it around the treatment plant until the road north of the new golf course, resort and oasis. It is best to have a map or GPS. If you get bothered by the taxi mafia, just keep walking, don't talk. The other way around is easier: either you walk through the treatment plant or cross through the sandy desert area straight north just before the treatment plant. If you get a taxi from the city for 5 JD, it is fine. 13 JD is way too much. In any case, if you feel you have been bothered, complain to the
Ministry of Tourism & Antiquities
.
Egypt
Ferries run regularly from Aqaba across to
Nuweiba
on
Egypt
's
Sinai
peninsula, bypassing
Israel
and the sometimes complicated border arrangements. Generally, there is no visa fee for entering Jordan through Aqaba since it is a part of the free trade zone. The line to Nuweiba is operated by
ABMaritime
, see their website for the timetable and current prices.
Also ferries from
Taba
and
Sharm el-Sheikh
are available. There is more information about the boat crossing in the itinerary
Ferries in The Red Sea
Get around
By taxi
Taxis are easily available in the city. A ride within town should cost no more than 2 JD. A ride outside town (to a beach near by or to any border crossings) costs around 5 JD. However, if your hotel calls you a taxi, you may end up paying double for it as they receive a kickback (this is especially true if you are staying on the South Beach).
While taxis are yellow all around Jordan, Aqaba taxis have been painted green and blue: the logo colours of Aqaba Special Economic Zone (ASEZ).
When negotiating the price of a taxi, make sure to determine whether the final cost is the total or "per-person" price, as you may otherwise receive a surprise at the end of the ride.

By bus
Local minibuses connect residential areas with downtown. The fare is 17 piasters (0.17 JD) regardless of the length of the journey. Passengers can get on and off at any point of the route.
The central bus station is in front of the police station in King Talal street, less than 10 min walk from city centre (Ayla Square, Al-Hussein Bin Ali Mosque).

On foot
Most points of interest can be reach on foot, and it is really the best way to see the place and experience Aqaba.

See
As of December 2018, the staff at the information center near the castle claims that there is no place to use
Jordan Pass
in Aqaba, even though two museums are listed on the official website of Jordan Pass.
Aqaba CastleIt dates to the 14th century, although the present structure was built by the Mamluke sultan Qansawh el-Ghawri (1501-1516) and has been revised many times since then. The archeological museum which used to be here no longer exists.

Aqaba Heritage MuseumA simple museum on local history and people.

AylaThe old city that was established when Islam came to the area in 622 AD.

Fourth-century Roman churchThe oldest purpose-built Christian church in history. A posted sign (viewed in the right angle) gives a little bit of information on the church and its age.

Aqaba FlagpoleThe fifth tallest freestanding flagpole sits at a height of 130 metres high. It carries the flag of the Arab Revolt.
Sheik Zayed MosqueThis mosque in the east beyond the highway gives a great overview of the area and Aqaba.

Marine Science Center AquariumSmall aquarium with a few local and exotic fish. Very small aquarium with limited information, not worth the high price for foreigners, but Jordanians (1 JD) might want to take their kids.
Do
Except the sea and diving, Aqaba doesn't have a lot of things to offer. The following can be of interest but are easily done in one day.
Aqaba Castle
Aqaba museum
Fourth century Roman church
There is a public beach between the city and the fort, although it can be very dirty. There are several public beaches south of Aqaba, which also can be dirty. Beaches generally have eating and showering facilities and sometimes watersports.
Mount Um al NusaylahHike this mountain for a great view of the Aqaba area, Eilat on the other side of the Red Sea and the valley behind the mount.

phone: +962 3 209 0300

address: Mövenpick Resort & Spa Tala Bay Aqaba, South Beach Road - Tala Bay Area

As well as a sauna, steam room and a hydro pool with skylight, Zara Spa Tala Bay offers the latest in spa facilities. Included is an "ice fountain" designed to stimulate circulation and tighten the skin. A variety of fragrances and coloured lighting effects are available for showers and also supposedly designed to increase blood circulation. A hair salon, a nail studio and a shop with a variety of beauty care products are also on premises.
Scuba diving
Have a look at an online map south of Aqaba, many dive centers can be found there. Diving in Jordan is very expensive considering the low prices of other goods and services in this country, even compared to other countries. Two simple shore dives will set you back 50 JD - same for all dive centers and not negotiable. A boat tour including 2 dives is approximately twice of that.
phone: +962 7964 120 32

address: South Beach Road

Established and well known dive centre, with air conditioned bungalow accommodation on site (40/50/65 JD for Single/Double/Triple, good discounts on offer when taking a dive package as well). Breakfast included, free wifi in public areas, on site pool and shuttle bus down to the beach (abt. 5 min). Many dives on offer, including technical dives to the Taiyong and some deeper reefs, as well as beginner-friendly coral garden dives. Also run an active litter clean up programme on the reefs. PADI training available from Open Water to Divemaster and technical courses. Dive packages include air fills, tanks and weights. Nitrox and Trimix available. Full kit hire and boat dives available, though almost all dives can be done from shore.

Ahlan Aqaba Scuba Diving Center

phone: +962 3 2062242

address: Al Nahda St., Hotel area in the heart of the city

Adventurous diving trips in the Red Sea area. Highly committed to the conservation of the local reef. Perform weekly surveys of the rubbish on particular dive sites for the PADI Dive Against Debris project. Snorkeling, try dives, fun dives for certified divers, shore and boat dives and beginners courses through to Dive masters. Digital Underwater Photography (which only 4% of instructors can teach!)

phone: +962 3 2022323

address: South Beach Road
Buy
Aqaba is a tax-free zone so prices for expensive consumer items tend to be lower than elsewhere in Jordan. Hence, the high number of shops specialized in nuts and sweets, catering for Jordanian tourists.
Beware however should you depart by plane from Aqaba: the Aqaba airport security check mafia will confiscate many types of goods on departure. See the note on the
Aqaba airport security check mafia below
.
Eat
In the centre of the city you can find very good hummus, falafel and shawarma (lamb meat in pita bread) places in many local restaurants. Prices start from 0.20 JD for stuffed pies (fatayer), 0.50 JD for a falafel sandwich, 1 JD for ful, baba ganous or hummus and pita, 1.50 JD for pizza-like snacks and 1.50 JD for a shawarma dish. Walk around to find the hole-in-the-wall eateries.
Arabic Moon RestaurantDelicious falafel and hummus.

Syrian Palace Rest(aurant)

address: Raghadan St, Hayl al madina, Al Awsat

phone: +962 3 2012900

One of the finest places to eat is situated next to the water in an upmarket neighbourhood. They serve exquisite fare (mostly seafood fresh from the sea) for prices that are reasonable by Western standards. Service is fast and courteous. They are closed all afternoon and reopen for dinner, thus unavailable for a mid-afternoon snack after coming from the beach.
Drink
You can ask for fresh fruit juices in most restaurants, and they are a treat! Many also serve the lemon juice with fresh mint in it, which is very delicious.
Not many restaurants outside of the resorts serve alcohol (Ali Baba does and they charge a lot for it) but there are many wine shops, e.g. along An-Nahdah Street, selling alcohol much cheaper than elsewhere in Jordan.

Sleep
Budget
Dweik Hotel 1Small rooms, but bathrooms are in good condition. Some rooms have TV, with access to satellite channels, but you do have to get the front desk to tune the satellite for you.

Beach Hotel

Amer hotel

phone: +962 3 2014821, +962 77 5616802

address: Raghadan Street, Hayl al madina, Al Awsat

Clean, satellite tv, no breakfast, no internet, fan/ac, bathroom, very very noisy (near mosque, shops, restaurants, some strange phone calls).

Amer Hotel 2

phone: +962 3 2019284

Same owner as Amer 1, but the interior seems to be a little newer and nicer. Sat, tel, fridge, bathroom, WiFi.

Ahla Talla Hotel

phone: +962 79 5168821, +962 78 0478755

address: K. Hussein St. / Corniche St.

Looks very decent.

Amira Hotel

phone: +962 3 2018840

Only doubles available here.

Al-Safa Tourist Hotel

phone: +962 79 2967505

address: Al-Tuniseah St.

Looks fine from the outside.

Nairoukh Hotel

J Plaza Hotel

phone: +962 79 2688671, +962 3 20314444

Dune Village

phone: +962 78 837-8914

Offers singles, double, and shared rooms with breakfast included. The places also offers scuba diving equipment and guided dives. The place organizes transportation for guests to/from airport and border crossings.
The quality of the following budget hotels is not confirmed. Leave a description or delete them if not relevant ir passable.
Hospitality Palace Hotel

phone: +962 78 8265694

address: Ar-Razi St.

Sea View Hotel

phone: +962 78 8630229

address: Kuwait St.

Al-Naher Al-Khaled Hotel

phone: +962 3 2012456, +962 78 6719050, +962 79 9591519

address: Ar-Razi St.
Mid-range
phone: +962 3 203 9880

address: Al Reem Street

Looks very decent, clean and modern.

phone: +962 3 203 1808

TVs in rooms, free Wi-Fi, deep and shallow pool, full diving equipment available including PADI courses. Extremely relaxed, chill out spaces and loungers by pool, 800 m from the beach and chilled atmosphere. Extremely good value for money, but expect basic room provisions. It is a drive out of town, really quiet, great escape from bustle of Aqaba city. Shipwreck to dive at and corals.
Splurge
Mövenpick Resort & Spa Tala Bay Aqaba

phone: +962 3 209 0300

address: South Beach Road - Tala Bay Area

On the southern shores of the Red Sea. 302 rooms, including 145 family rooms, various suites and two Grand Suites all share a modern design and light-coloured furnishings. All rooms have air-conditioning, TV, coffee and tea making facilities, direct dial phone/voice-mail, wireless LAN throughout the resort as well as hairdryer, 24-hour room service, in-room safe box. Superior rooms and suites allow for added comfort. Non-smoking rooms and rooms for the physically challenged are also available upon request. A special benefit is the free minibar, available in all rooms. In addition, Casalingo, an Italian restaurant, is on premises and open 18:30-23:30 every day. It has a contemporary Mediterranean decoration, with a live cooking counter and wood-fired pizza oven. Casalingo serves authentic Italian dishes, seasonal specialities and pizza, plus a selection of fine wines. Guests can dine on the terrace or in the air- conditioned restaurant.

Mövenpick Resort & Residence Aqaba

phone: +962 3 203-4020

address: King Hussein Street, P. Box 678

High-quality resort hotel, featuring a mix of European and Arabesque designs. All 296 rooms, suites and apartments include self-controlled air conditioning and heating, satellite TV, direct-dial phone with voice mail, public Wi-Fi throughout the resort, coffee and tea-making facilities, hairdryer, complimentary minibar, and a safe. Suites include additional amenities and a balcony or terrace from which you can enjoy remarkable views of the country's world-renowned archaeological sites, the Gulf of Aqaba and neighbouring countries. Guests staying at the residence also enjoy access to all facilities of the resort without limitations. Connecting rooms, non-smoking rooms, and rooms for the physically challenged are also available on request. In addition, the Red Sea Grill is on premises, open 19:00-23:59 during the summer months. It specialises in seafood, including grilled fresh fish and shellfish dishes combined with an Afro-Arab cooking twist, with a magnificent panoramic view of the Gulf of Aqaba from the terrace on the hotel's private beach.
Stay safe
Aqaba border taxi mafia
Taxis at the border from
Eilat
belong to one company, which has a monopoly, and is therefore much more expensive than a typical Jordanian taxi: 11 JD (Feb 2014) for a 15-minute ride to the Aqaba bus station. This is no matter how many people go in the car, be insistent if you are told that sharing a taxi is not allowed. Also as of October 2014, there is a sign listing fixed prices to various destinations (8 JD to the airport, 11 JD to Aqaba, 55 JD to Petra, etc.) Once you get in to Aqaba, however, taxis to Petra are 35 JD, and the Wadi Musa taxi drivers will offer the same price back. Going the other way from Aqaba city centre to the border can be done for 8-10 JD (6-8 JD if you're lucky, Feb 2014).
The taxi company, just outside the customs gate, belongs to a problematic man running this border taxi service, which has been linked to the mafia. Also, if he sees you call your hotel or any other car to come and pick you up, it may be stopped and forced to go back to Aqaba. To try to avoid this, call your hotel or private car while still in the customs area, before being seen by the taxi man.
For those trying to walk the 500 m to the main road, the taxi mafia has connections with the military personnel and may have you brought back. One does not simply walk into Aqaba.
You can ride right past the taxi "mafia" if you have a bicycle. One does simply bicycle into Aqaba. Note that you'll have to cross the border by foot. Even though bicycles are vehicles in the eyes of the road laws, they will force you to dismount and pass the border as if you were a pedestrian.
It is possible to bargain them down, but you will need to be persistent and enlist the help of the border police to mediate. Don't try and set the price too low. 5 JD to the airport is about as low as they'll go - 10 JD to Aqaba is most likely. Stay polite, but be firm and explain to the border police that it is not a good first impression for tourists to have and that you will write to the Ministry of Tourism. This threat normally sees the taxi mafia back down, but there are no guarantees.
Riding back to the border from city center can be a problem when you pick up people on 2 (but very close hotels). Should they have to wait, they'll try to switch on the taximeter and ask for 25-30 JD instead of the arranged 10 JD. Don't get intimidated, the driver will call the problematic man and try to pressure you. Insist on the agreed pricing and when it gets hot, offer 2 JD on top of the 10 to quiet things and get rid of the taxi mafia.
Aqaba Airport security check mafia
Beware of the security check mafia, which is very active as of late 2019 to the very least: excuses will be made to confiscate locally-purchased luxuries for resale on the black market. Among items that seem to be systematically seized are purchases of Dead Sea beauty products, honey, molasses, and alcohol. Nothing including any sort of liquid can be considered safe, even in signed-in bags. Beauty products can probably be made safe for travel by removing all packaging completely and packing everything in your clothes.
Astute negotiation will help save some items, using lateral thinking to offer solutions that could allay any made-up security concerns, but beware of fake helpers: the scam clearly does not implicate everyone in the airport but your allies will probably not be those who will insistently offer to "help" you.
In any case keep calm and avoid escalating the situation. Innocently destroying the commercial value of confiscated goods is strongly recommend: open the packaging of any products to show that they could not possibly be dangerous, take a last sip of the bottle of alcohol you are throwing away, etc. This could probably also be done in advance of your flight (defacing the labels for instance). Please do your bit and also report any incident to the Jordan Tourism Board. It is so sad to see the good vibes of this pleasant destination squandered by corrupt agents only minutes before leaving the country!
Go next
It can difficult to get mini-bus on Friday which is prayers' day, and on Friday and Saturday when there is no school. Try to check it with tourist information, bus station, police and your hotel.
Many destinations that are not north of Amman can be reached on a day trip. You can set up your own flexible day trips by hiring a taxi for the day. However, some require more than one day, especially Petra and Wadi Rum. Make sure when you set up the trip that you have agreed on the destinations to be included in the trip (or you may need to discuss your price while on the road and do not have other options that your current driver). Alternatively, there are a lot of tour companies around town who would happily arrange excursions, in particular to Wadi Rum.
To Israel (Eilat)
The
Israel
border at Arava (for
Eilat
) is only a short hop away. As of December 2018, no exit fee is charged to people with Visa on Arrival from other parts of the country or ASEZA visa. According to some people from the city, the situation changes very often, so it is possible that the 10 JD exit fee will be introduced again. Your accommodation might have the correct information about the situation, so ask them to be sure. You can also just take an extra 10 JD banknote to the border, in case no exit fee is collected, you can exchange it at numerous money exchange machines in Eilat. Note, you have to pay a fee if you stayed less than 4 days—see
Jordan#Visa
.
Basically, there might be another counter after the passport control, which collects the fees, both for paying the exit fee or stayed less than 4 days. There is a white page with big writing in English stating something like this. But no one really seems to care, just walking by without looking at it, might save you some money.
Getting to the border is not as expensive or thrilling as getting from the border (see
#Stay safe
). Any green taxi in the city will be willing to take you there. The price they offer first is 7 JD or 10 JD, you can haggle it down to 5 JD if you haggling skills are good. Or you just walk from the edge of the city.
The border itself is rather quiet, given the fact it is a border between an Arabic country and Israel. Just follow the marks and you might get to the other side in under 30 minutes, depending on the size of the queue and Israeli border procedures. Nevertheless, note that it can easily take up to 2 hr if the Israeli side does apply a more thorough screening to you.
To Saudi Arabia
The
Saudi Arabia
checkpoint is visible on a clear day, but visitors without a visa can only look.
To Egypt (Nuweiba)
Ferries to Egypt are operated by AB Maritime. The schedule changes rapidly with cancellations common, so its recommended to check it when you arrive in Aqaba. As of November 20, 2011
The fast ferry is not operating
There is a slow ferry departing Aqaba at 13:00
There is a slow ferry departing Aqaba at 01:00
This will change based on seasonal loadings. The approximate cost for foreigners is US$65 + 5 JD departure fee. Pay the departure fee on the ground floor of the terminal building, then take the coupon upstairs for immigration purposes. After copious amounts of stamping, you can go and wait outside.
It is also recommended that you ring the AB Maritime ferry office to confirm the departure time for that day. Delays of several hours are common and sometimes known in advance.
Also ferries to
Taba
and
Sharm el-Sheikh
are available from Aqaba.