Aquileia
Aquileia
is a comune in
Friuli-Venezia Giulia
,
Italy
. Now a small town, it used to be one of the world's largest cities in the Late Antiquity. Archaeological Area and the Patriarchal Basilica of Aquileia form a
UNESCO World Heritage site
.
See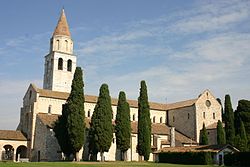 Aquileia CathedralA basilica erected by Patriarch Poppo in 1031, and later rebuilt in the Gothic style by Patriarch Marquard of Randeck. Contains a mosaic floor having 760 m 2 .

National Archaeological Museum

address: Via Roma, 1

Contains a collection of ancient Roman mosaics, jewellery, gems, pottery and coins.

Ruins of the Roman forumThe ruins are unfortunately limited to a line of standing columns.

Museo PaleocristianoThe museum contains some exhibits from the 4th to the 9th century AD.