Aracaju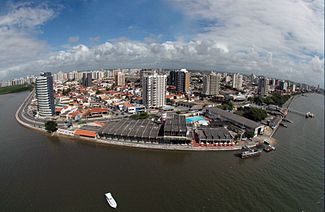 Aracaju
is the capital of the state of
Sergipe
,
Brazil
. It's the capital of northeast with best quality of life (according to Federal Government). It's located on the coast, and cut by rivers such as Sergipe and Poxim. According to the population count conducted by the IBGE in 2007, the city has 520,303 inhabitants. In addition to the populations of cities that form the Great Aracaju,
Nossa Senhora do Socorro
,
Barra dos Coqueiros
,
Laranjeiras
and
São Cristóvão
, number passes for 760,000 inhabitants.
The toponymy "Aracaju" derives from the expression indigenous "ará acaiú", which in Tupi-guarani means "cashew of parrots". The element "ará" means "Parrots" and "acaiú", "fruit of the cashew."
Get in
See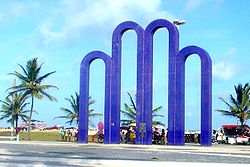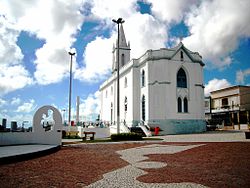 Aracaju Aquarium

address: Atalaia

5 fresh water tanks and 11 salt water tanks with fish from the coast of Sergipe. Shark feeding at 4:30PM.

Aracaju Zoological Park

Atalaia ShorelineAracaju's most famous beach area, 6 kilometers long, has the best concentration of hotels and restaurants.

Igreja de Santo Antônio

Olímpio Campos Palace
Museums
Anthropology Museum

Handcrafts Museum

address: Museu do Artesanato

Museum of the Sergipana People

Museum of the Sergipano Man

Museum of the Sergipe Historical and Geographical Institute

Rosa Faria Art and History Museum

Sergipe Memorial Museum

address: Museu Memorial de Sergipe

War Art Museum of the Sergipe Military Police
Do
The Atalaia beach was never highly rated for its natural beauty, but for an urban Brazilian beach it does the trick. Plastic chairs in the sand for having beer and coconut are near Avenida Rotary. A major refurbishing of the beachfront avenue, including its pavement, has made it a delightful walk at nighttime. Apart from bars and restaurants by the dozens, there are a couple of clusters of bronze statues, a go-kart track, a large playground and an aquarium. http://www.tamar.org.br/centros_visitantes.php?cod=10

Eat
Crabs are the typical dish, often eaten with a good and cold beer.
You also have good fishes, fried or cooked as moqueca.

Sleep
Most tourists will choose the beach at Atalaia, some 5 km from the center. The most convenient spot for transport is the intersection between Avenida Rotary (leading to the airport and downtown, with an urban bus terminal 500 metres from the beach) and the beachfront Avenida Santos Dumont. Plenty of options in the R$ 100-range within a couple of blocks here. For more upscale sleeping, head north along the beach.

Go next
To the south, at the border with the state of Bahia, is Mangue Seco, an easy day trip.
Inland is the artificial lake of the river Xingo.