Aracati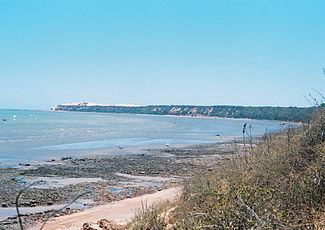 Aracati
is a city in
Ceará
. Being the administrative center of
Canoa Quebrada
, its main "attraction" for tourists is as a connecting point to the latter.
Get in
Some buses between Fortaleza (3 hours) and Natal (6 hours) and/or Mossoró (2 hours) by Nordeste stop here.
São Benedito runs more frequent, although somewhat slower buses to Fortaleza. R$ 15. Phone 85 3444 9999.
Shared taxis leave for Fortaleza as soon as they are full, and will drop you off virtually anywhere in the city. R$ 25 per person. Arrive early! Hard to find co-riders after 8 AM.
Minibuses leave for Canoa Quebrada from the cathedral (from the bus station walk 15 minutes straight along Av. Cel. Pompeu.) several times each hour, from 6 AM till midnight. 20 minutes, R$ 2.
The local airport has recently been boosted to handle 737s. Now we are only waiting for the regular traffic.
Buy
A huge Super Frangolandia supermarket on the outskirts of the city, direction Canoa Quebrada.
Drink
Carnaval here is arguably the liveliest of the state, parts of the party being held in nearby Canoa Quebrada and Majorlândia.
Sleep
Quite a few pousadas.