Aragua
Aragua
is a state in north central
Venezuela
. It is famous for its fertile valleys and beautiful beaches, and is within easy reach of Caracas
Cities
(Capital)
- a fascinating town hidden in the mountains outside Caracas, still populated by descendents of a colony of German settlers who built the town from scratch in the 19th century. Today, the town is a popular weekend escape for Caraqueños who enjoy its cool climate, restaurants serving traditional German food and locally brewed beer. Locally grown produce such as strawberries and raspberries are also sold.
- probably Venezuela's most popular beach destination for foreign travellers with a great after dark atmosphere, plenty of restaurants and posadas.
Cata - together with neighbouring Catica, this is another good Aragua beach resort in a beautiful bay, albeit somewhat spoiled by the construction of two tall apartment buildings just behind the beach.
Other destinations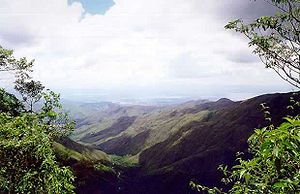 Henri Pittier National Park - Venezuela's first national park, covering the mountains that separate Maracay from the coast. Cloudforest and plenty of wildlife.
Get in
Buses from the Caracas La Bandera bus terminal go to Maracay (1.5 hours) and La Victoria (1 hour). Change at Maracay for buses to Choroni (2 hours).

Get around
A railway linking Aragua with Caracas is under construction but all travel at present is by road. A fast highway runs the length of the state.

See
Santa Teresa RumThis excellent family owned rum plantation is open to the public at weekends, with tours and a tasting session. It is the home of arguably Venezuela's best rum, the "1796" brand, which is carefully aged in oak barrels.

Rancho Grande Biological Station

phone: +58 243 5507085

This ecological research post is run by Venezuela's prestigious Central University, hidden in the Henri Pittier National Park.
Do
Hang gliding is offered close to La Colonia Tovar, on the road down towards La Victoria.

Eat

The Hacienda Santa Teresa's Zafra restaurant, in El Consejo, is open weekends until sundown, offering interesting variations of traditional Venezuelan dishes with a rum theme, as well as international dishes.

Sleep
Hotel El Recreo

phone: +58 244 3210244

Av Intercomunal, La Victoria. A converted colonial era farm, this pleasant hotel is a lovely retreat with a good terrace restaurant and swimming pool. Certainly the best option in La Victoria.