Aran Islands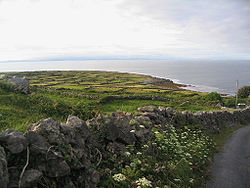 The
Aran Islands
in
County Galway
,
Ireland
, are an archipelago of three small islands, the largest of which - Inis Mór - is only 12km by 3km in size. All are barren, rocky islands with some of the most beautiful scenery in the world.
Islands
Inis Mór (sometimes called Árainn - the original and correct name for Inis Mór) is the largest and most visited of the three islands.
Inis Meáin, the middle island, also the least touristed.
Inis Oírr, the smallest and southernmost island.
Understand
The inhabitants of these three rocky islands not only built incredible stone forts that have stood for thousands of years, built walls that crisscross every last inch of the islands, but also brought greenery to lifeless rock through centuries of digging dirt from cracks and composting seaweed from the oceans.
Though by no means the most popular tourist destination in
Ireland
, due to the small size and permanent population - only about 900 people on the largest island - it can seem like there are tourists everywhere. Surprisingly, this doesn't seem to spoil the place the way it does in other parts of the country, and the place is surprisingly relaxed and retains a very rural and isolated feel to it.
Talk
All three islands are
Gaeltachtaí
, areas of
Ireland
where Irish is still the primary language. English speakers will have no problem, as almost all islanders are fluent in English. However, surprisingly few signs are in English, so it's best to know the Irish name of your destination. The islanders are a friendly if, ahem, insular group of people if you need to ask for directions.
Get in
Ferries are available from Rossaveal in Co.Galway and Doolin in Co. Clare. The Rossaveal ferries are larger and more comfortable but the Doolin Ferries are closer.
Good competition in Doolin keeps prices competitive.
The Doolin Ferry Company
and
Cliffs of Moher Cruises
operate a modern fleet of vessels from Doolin, Co. Clare (the shortest journey to the Aran Islands). They have ferry trips to Inis Oirr, Inis Mor, and sightseeing trips to the Cliffs of Moher. O'Brien Line Ferries
O'Brien Line Ferries
run four large passenger boats from
Doolin
in
County Clare
.
Cliffs and Aran Cruises
and
Doolin 2 Aran Ferries
operate a modern fleet of vessels from Doolin, Co. Clare (the shortest journey to the Aran Islands). They have ferry trips to Inis Oirr, Inis Mor, and sightseeing trips to the Cliffs of Moher.
For those short on time but not on money,
Aer Árann Islands
operate flights from Indreabhán Airport in Connemara, as well as offering scenic flights that provide spectacular views of the Aran Islands, Clare coast, Dun Aengus and Cliffs of Moher.
For a small fee, you can leave luggage at the first tourist shop you pass walking out from the port.
Some ferry operators offer an inter-island service.
There are now only 2 Ferry companies with various names based in Doolin in Co.Clare servicing all 3 Aran Islands. The Doolin Ferry Company and Doolin2Aran Ferries.
Get around
The most popular way to see the island is by bike and is in fact Ireland's most popular Bike Ride. With a pleasant and gentle seaside coastal route you can be at Dun Aonghasa fort in thirty minutes cycle. Most people take the route through the center of the island which has a small sloped component which is easy for most people. Aran Bike Hire has been established since 1969,
Aran Bike Hire
There are mini-bus tours and taxis available on the islands. These are reasonably priced and usually come with a local guide with roots on the island going back generations. Tourism is the main "industry" on the island (Inis Mor), and in exchange for supporting the locals, you not only get a dry tour of all the significant sites on the island, but also an entertaining and informative history lesson. Two drivers who are particularly recommended are Martin Mullen and Oliver Faherty. Both families have lived there for generations and will share their stories openly. You might even offer to buy them a pint at Joe Mac's, next to the hostel, as a tip for the ride. Arrange a tour with either of them with the ferry company when you buy tickets for the trip over to the island. Another way to see the islands is on foot. While you may balk at the seemingly 'touristy' nature of the pony carts which will be waiting for you in Cill Rónáin, paying the little bit extra for one of these is often worth it striking up conversation with your driver may get you invited to dinner or a party.
If you have time, consider walking the islands to see the sights. It is easy to walk on the roads between sights and you are more likely to really begin to understand the scale of the islands and the feel of the place. But, keep in mind, it is best to plan to be back to your lodging before dark as the roads are not lit.
Inter-island
Aran Direct
runs inter-island ferries during the peak season, but for most of the year the only way to get between islands is to return to Ros an Mhíl and take a different boat out. Most Doolin based ferries now travel between all islands during the summer season.
Aer Árann Islands
flights do operate between the islands, though they run a circular route and may not go directly where you want to.
See
Dun Aengus
is a fort situated on the edge of a cliff at a height of 100 meters overlooking the Atlantic on the Aran Islands, Inishmore. It consists of a series of concentric circular walls, the innermost; the citadel encloses an area approximately 50 meters in diameter with 4m thick walls of stone. These walls have been rebuilt to a height of 6m and have wall walks, chambers, and flights of stairs as well.
O'Brien's Castle on Inis Oírr in the Aran Islands was built in the 14th century. The castle was taken from the O'Briens by the O'Flaherty clan of
Connemara
in 1582.
Dun Eochla and Dun Eoghanachta are ringforts located inland of the island and can be seen from the main road.
Clochan na Carraige is a beehive hut. The structure is unusual because the outside is circular but the inside is rectangular.
Buy
Though you can change money on all three islands, be aware that only Inis Mór has an ATM (Bank of Ireland) which is inside the island's only supermarket that closes in the evening, so be sure to plan accordingly.
There is well stocked Spar grocery store on Inis Mór, about a 5-minute walk from the main port.

Sleep
Accommodation is easy to come by on Inis Mór, the most touristy of the islands. Inis Oírr offers a quieter stay. Tígh Ruarí (no website, but locatable on several 'visit Arann' sites) is a wonderful bed and breakfast on the island, with a grocery store and pub attached. For a complete list of places to sleep
Aran Islands Website
Mainistir HouseThis hostel is about a 20 - 30 minute walk from the main pier. The rooms and bathrooms were acceptable for the price. They serve a hearty breakfast for all guests: steaming oatmeal, toast, marmalade, and coffee/tea.

Aran Camping & Glamping www.irelandglamping.ie

Óstán Árann/Aran Islands Hotel

phone: +353 99 61090

Cill Rónáin.

Pier House/Teach na Céibhe

phone: +353 99 61417

phone: +353 99 61218

phone: +353 99 61255

phone: +353 99 61213

phone: +353 99 61126

Oatquarter House

phone: +353 99 61328

Árd Mhuiris

phone: +353 99 61208

phone: +353 99 61150

Claí Bán

phone: +353 99 61111

Open all year round.

Man of Aran cottages

phone: +353 99 61301

c/o Joe & Maura Wolfe, Cill Mhuirbhigh, Inis Mór, Oileáin Árann, Co na Gaillimhe. Open all year round.

phone: +353 99 61111

address: Kilronan

The Clai Bán is an excellently located family run Bed and Breakfast in Kilronan village.