Arbroath
Arbroath
is in
Angus
, north east of
Dundee
and south of
Montrose
. This old harbour town is perhaps best known its red sandstone abbey, and its local speciality: Arbroath Smokies.
Understand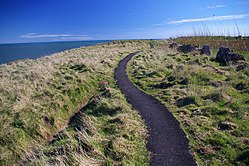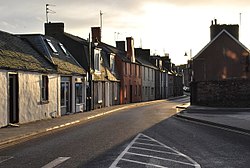 Arbroath and its surrounding areas have been inhabited since at least the Neolithic period. During the middle of the 1800s, Arbroath had significant production capabilities and was a source of sails, jute, lawnmowers, and shoes. Another boom in industry occurred between 1900 to 1980. During this time, roughly 40 large fishing vessels employed several hundred men. Since the 1980s, fishing has declined and now very little of the industry remains.
Get in
By plane
The nearest international airports are in
Edinburgh
and
Aberdeen
. If travelling from North America, it can be considerably cheaper to fly into
Glasgow
and take a 3 hour train trip directly to Arbroath from the train station located near the airport.
By car
Arbroath is served by the A92 road which connects the town to Dundee and Fife to the south west, and Stonehaven in the north east. The A92 joins the A90 north of Stonehaven and leads to Aberdeen further north. The A92 is dual carriageway from the southern outskirts of Arbroath to the northern outskirts of Dundee, the A92 proceeds through Dundee before crossing the Tay estuary into Fife via the Tay Road Bridge. The A90 can also be reached at Dundee heading both north (to Aberdeen) and south (to Perth and Edinburgh).
By train
Arbroath Railway StationThis station is a short walk from the bus station. It has regional train services to the east coast of Scotland, Edinburgh, Perth and Glasgow and intercity services that operate to destinations in England such as Newcastle, Birmingham, York and London.
Get around
By bus
Arbroath has regular bus service, with most stops being serviced once an hour. The
Angus.gov
site has the most recent schedules and routes.
See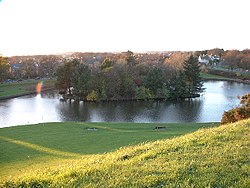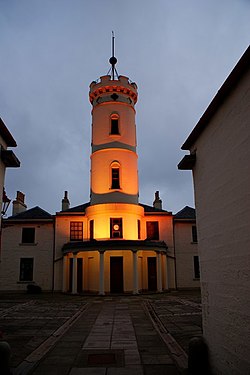 Arbroath Abbey

address: Abbey St

The Arbroath Abbey was founded by King William the Lion in 1178 and was completed in 1233. King William was buried here in 1214. Today, the abbey is in ruins. It is believed that the lead roof was recycled for other purposes in the 16th century civil war and the red sandstone was used to build houses in the nearby area. The finer details of the abbey's architecture have been lost to time, however much of the exterior structure remains.

Keptie PondScenic park wrapped around a pond. At the top of the hill there is a stone brick building overlooking the park that locals call the Water Tower.

Arbroath Signal Tower Museum

address: Ladyloan

St Vigeans Churchchurch rebuilt in 12th century, Pictish Symbol Stones
Do
Arbroath Clifftop WalkThis walk starts at King's Drive and goes all the way to Auchmithie. It meanders on the top of the red sandstone cliffs and provides an excellent view of the ocean and surrounding countryside. It is almost always a very windy walk. It is possible, in some areas, to climb down to ocean level. The locals often use these areas to swim during summer. Please use caution, as the tides can turn previously dry areas or a shallow pool of water into ocean very quickly.

Kerr's Miniature RailwayThis is the oldest miniature railway in Scotland. There are several, small versions of locomotion that ferry children and adults along a roughly 1/2-mile track.

Watch football (ie soccer): Arbroath FC were promoted in 2019 and now play in the Championship, the second tier of Scottish football. Their stadium Gayfield Park is near the coast at the south end of town.
Buy
Most shops are located on or near High Street. Arbroath is not known for its shopping. There are few local stores or specialities. Arbroath has a Tesco (Cairnie St, Stobcross), Boots (142-146 High St), and a few other chain locations to get your essentials.

Eat
No trip to Arbroath would be complete without sampling their famous smoked haddock, called a
smokie
. This delicacy is sourced to restaurants and food stores all around Scotland, so you'll be able to try it even if you don't eat them in Arbroath. However, nothing quite compares to eating one that finished smoking a few minutes before you ate it. Most locations that make smokies will have a sign outside that indicates the time the next batch of smokies will be ready.
Peppo's Harbour Chip Bar

address: 53 Ladybridge Street

A traditional fish and chips shop that has been in business for several decades. The fish and meat used are all locally sourced. The food is cooked to order. The fish and chips are excellent and the mock chop supper is also worth trying. This is a very small place and geared more toward take-out. Expect a queue, sometimes stretching outside, on most days.

The But 'n' Ben

phone: +44 1241 877223

address: Auchmithie

This restaurant serves seafood and high tea. The food here is traditional, excellent and the interior has cosy, beach house décor. It is located about 3 miles (4.7 km) from the centre of Arbroath. It sits on the top of a cliff and overlooks the old Auchmithie harbour. After your meal, take a walk down the gravel road to the bottom of the cliffs. There are stunning views of the sandstone cliffs and caves if you walk along the rocky beach near the harbour.

phone: +44 1241 437811

address: 4 Gravesend

Serves foods such as meat pies, steak, burgers, and fish & chips. The interior is clean and gives off a slightly more upscale atmosphere. Portion sizes are substantial. The dessert menu changes frequently; there is a cheesecake of the day. Casual dress and family friendly.

address: Ladybridge House, 46 Ladybridge St, Arbroath DD11 1AX

Stuart is one of Arbroath's smokie makers. He will show you how his fish are smoked in the back room smokehouse at Ladybridge House and sell you fresh from the smoker warm smokies together with a range of fresh fish to cook. He also runs a mail order business and will ship throughout the UK
Sleep
phone: +44 1241 875393

address: Brucefield, Cliffburn Rd E

phone: +44 1241 872038

address: Dundee Rd, Arbroath DD11 2PT

Offers static caravan (mobile homes for US readers) rentals. The caravans include a living area, kitchen, shower and toilet, and at least two bedrooms. The furnishings are very "unfancy": you'll want to bring your own pillow and bed sheets if possible, the furniture is dated, and the walls are thin. The benefit of staying here is that it is relatively cheap for the number of beds and the full kitchen allows you to cook your own meals to save more money. There are recreation facilities available, such as a pool. Additionally, you can park your touring caravan here: there are stances with hookups for waste water, electricity, and television. You may want to have a form of transport other than walking available to you if you stay here since the site is located a bit of a distance away from most attractions in Arbroath. There is a bus stop right outside the main entrance, however.
Go next