Arcadia (California)
Arcadia
is a city in
Los Angeles County
in
Southern California
.
Get in

Arcadia is accessible by Interstate 210. There are three exits: Baldwin Avenue, Santa Anita Avenue, and Huntington Drive
From Interstate 10, get off at Temple City Blvd. (Westbound), Baldwin Avenue (Eastbound), or Santa Anita Avenue and head north for about 4.5 miles.

Get around
The easiest way to get around Arcadia is via private automobile, as it is a primarily residential suburb in the Los Angeles area.
Metro
, the transportation agency of Los Angeles County, runs bus routes on major roads, such as Santa Anita Ave., Duarte Rd., Baldwin Ave., and Huntington Dr., but the buses run infrequently (about an hour's wait between buses for most routes), especially on weekends and holidays. Metro also operates the
Gold Line
light rail service to Pasadena and Downtown L.A., which stops in Arcadia at 1st Avenue and Santa Clara Street.
See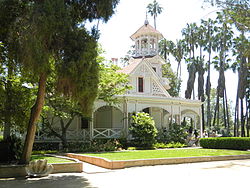 address: 301 North Baldwin Ave

Occupying the heart of the historic Rancho Santa Anita, The Los Angeles County Arboretum & Botanic Garden is a unique 127 acre botanical garden and historical site jointly operated by the Los Angeles Arboretum Foundation and the Los Angeles County Department of Parks and Recreation and located in the city of Arcadia. Home to plant collections from all over the world, including many rare and endangered species, The Arboretum also houses outdoor historical landmarks representative of the major phases of California history.

phone: +1 626 574-7223

address: 285 W Huntington Dr

Santa Anita is the oldest thoroughbred race track in Southern California. The Art Deco style grandstand dates back to the 1930s. In 2000, Santa Anita Race Track was listed on the National Trust for Historic Preservation's list of "America's 11 Most Endangered Historic Places". The track was also home to a Japanese Internment Assembly Center during WWII. Today, the site is remembered with a historical marker near the entrance.
Do
Live Oak Library

phone: +1 626 446-8803

address: 4153-55 E Live Oak Ave

Fancy hitting a library and just checking out some books? This library is rather obscure compared to the Arcadia library (on the corner of Duarte Rd. and Santa Anita Ave.) but is very cozy and has a good selection of books. Its front is nearly invisible as it's small - there is a parking lot in the back, however, just turn the corner and slide through the small alley-like road right after (there are green signs marking direction).

The Ruth and Charles Gilb Arcadia Historical Museum

phone: +1 626 574-5440

address: 380 West Huntington Dr
Buy

Westfield Shoppingtown (commonly known as Arcadia Mall) is on the northeast corner of Baldwin Avenue and Huntington Drive. It is right beside the famous Santa Anita Park.
Joann Fabrics: A large, well-stocked fabrics store located on Duarte Rd., just west of Baldwin Ave. It's part of the plaza with the Burlington Coat Factory (Joann's up the ramp to the higher floor when viewed from the road, although you can walk up to it once inside the plaza). Contains many fabrics, arts and crafts materials, decorations, etc. Great for sewing/designing needs.
American Life Plaza: Also in the same plaza as Joann, next to the Au 79 Tea House. Sells Asian trinkets, CDs, DVDs, and souvenir items.

Eat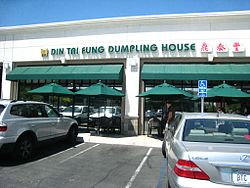 May Mei

phone: +1 626 574-1318

address: 639 W. Duarte Rd

Excellent Chinese restaurant located near several others in the same plaza. Some customers' favorite is Beef Cubes French Style. Its clientele is mostly Chinese, but don't be intimidated! They speak English (although Mandarin is probably preferred) and their menus are bilingual.

J.J. Bakery

address: Baldwin Ave

Rather popular and serves Taiwanese-style baked goods.

Din Tai Fung Dumpling HouseAlso located in Baldwin Plaza. Popular and its Chinese food is said to be excellent.

In-N-Out

address: 420 N. Santa Anita Ave

More drive-thru than restaurant, although it has outside seating. Very popular, part of a unique southern CA burger chain. Simple selection, good prices, excellent hamburgers.

Taco Lita

phone: +1 626 445-2889

address: 120 E Duarte Rd

A favorite of the locals. Get there early for lunch unless you want to stand in a pretty long line. American Tacos and Burritos done well. Great Hot Sauce. Decent value. Can get crowded at lunchtime. Very little seating area.
Drink
Dave and Busters: located in Westfield Shoppingtown, across from the AMC movie theater on the second floor. Contains a bar and an arcade.
Sleep