Arcen
Arcen
is a village in the
Southern Netherlands
. Administratively, it's a part of nearby
Venlo
(previously it had been part of the municipality of Arcen en Velden), but this small place really is a destination in its own right. It's popular with Dutch tourists for its historic castle -whose beautiful gardens are well known throughout the country- and the natural surroundings. Called the 'pearl of the Maasduinen', it's an excellent base to explore the
Maasduinen National Park
.
Get in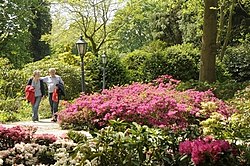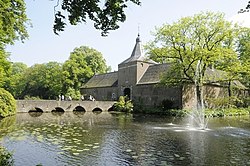 Arcen sits right on the most eastern curve of the Maes river in the Netherlands; locked between the water and the German border. The
N271
is the main road in and out, heading north to
Gennep
and
Bergen (Limburg)
, and south to Venlo.
If you're relying on public transport, your best option is to head to Venlo first. Arcen has no train station, but from Venlo
bus line 83
in direction Nijmegen runs twice per hour, getting you to Arcen in 30 minutes. Get out at bus stop
Maasstraat/Koestraat
.
If you're cycling, you'll find that there are many routes from all directions. The area is quite flat, making cycling easy, even for those less experienced.
Get around
The town is small and the castle is only a five minute walk from the centre. Getting around on foot is therefore the obvious choice for the town itself. Visitors of the castle gardens can park their cars at a well indicated parking lot close to the entrance. A bicycle is great to explore the natural surroundings, including the further out parts of the castle's estate. While the gardens are spread over an area of some 32ha, which is already quite a walk, the total estate is about 450ha.

See
address: Lingsforterweg 26

The 17th century Baroque castle was damaged severely in a 19th century fire, in which half of the property was lost and never rebuilt. The remaining parts where restored in the 1980s, after decades of decay. When not rented out for weddings or other events, parts of the castle are open to visitors of the gardens, with works of art on display. The real attraction here are the gardens, however. While the historic estate always had gardens, parks and a conservatory, much of the current 32 ha castle gardens where designed and established in the 1980s. The area is subdivided into a variety of styles, including a classic rose garden, Asian gardens and many ponds. On the site, there are restaurants, a gift shop and a mini golf course. Furthermore, regular events include birds of prey demonstration flights and concerts. The castle is an easy 5 minute walk from the town centre.

address: Kruisweg 44

This well-known Dutch beer brewery offers guided tours and tastings, which can be booked online. It's a nice place to visit. even if the history of beer brewery in Arcen is not by far as long as that of other Dutch breweries. The property changed hands repeatedly due to financial issues and had to be thoroughly restored after WWII. Only in 1993 the beer was named "Hertog Jan", after a local 13th century duke who -according to legend- often gave parties where a lot of beer was consumed. Tours are in Dutch and last an hour.
Do
phone: +31 774732424

address: Klein Vink 11

This thermal bath, drawn from a natural source some 900 meter below the surface, is part of the holiday park and Bad Hotel, but can be visited independently. The entrance fee gives access to the baths, herb baths, saunas and rest areas. For extra fees, a wide range of beauty and wellness arrangements is available, including massages, waxes and facial treatments. You can just walk in for the baths and saunas, but treatments in the beauty centre need to be booked in advance and end a few hours earlier. If you're looking for a day out, check their full day arrangements which include lunch in the restaurant.
Eat
Tiny as this town is, its popularity among visitors ensure plenty of places to eat. There are several restaurants in the town centre, and while the food isn't anything special, some have great atmosphere.
address: Raadhuisplein 16

While the food gets somewhat mixed reviews, the venue and the outdoor terrace are lovely and worth a visit. The great views over the river put it in the top 5 of best terraces in the country. It serves a selection of simple lunch and dinner dishes, as well as snacks.

address: Raadhuisplein 8

This lunchroom serves high tea and lunch dishes, as well as simple early dinner plates. Note that it accepts no new customers after 19.00h and it closes at 20.00h. On Sundays, there's a breakfast buffet too.
Sleep
address: Schans 3-5

Friendly 3 star hotel in the centre of town. Rooms are not too modern, but they are well maintained, spacious and clean. The outdoor terraces are a nice place to linger.

Klein Vink Roompot Vakantiepark

address: Klein Vink 4

This holiday park has camping grounds, holiday homes and a few serviced hotel rooms. Especially for families staying more than a night, this can be an interesting option in terms of price and available activities. When booking, just make sure to check if you're booking a stay at the Kleink Vink park itself, or at one of its outer Residence areas, which have no facilities and are a few kilometres away. The rental houses are worn, but the price is accordingly. There's a pool and playgrounds for the kids. WiFi is slow and comes at extra cost. Note that the homes are not available for single nights, but only for weekends or mid-weeks.