Ardrossan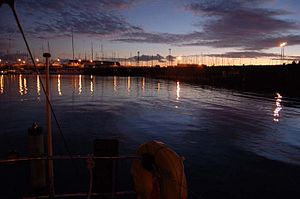 Ardrossan
is a port in
Ayrshire
in
Scotland
. It's the largest of the "Three Towns" conurbation of Greater Ardrossan, which also includes
Saltcoats
and
Stevenston
. The town has few sights and amenities, and the only reason to visit is to catch the ferry to the
Isle of Arran.
While nearby towns such as Largs and Troon developed as beach resorts in the Victorian era, the Three Towns have always been industrial. Trades included salt extraction, shipping, quarrying and mining, and in the early 20th C Stevenston was important for the production of military and commercial explosives. Little of these now remain and various regeneration projects are in hand.
Get in
By car
From Glasgow, follow M8 west. Just past Glasgow Airport, exit at Jcn 29 onto A737, following signs for Irvine. With a light vehicle (and with a caravan or RV is okay), at Dalry take the signposted shortcut onto B780. (With fields and hills all around, it'll feel like you're many miles from the coast. But then you glimpse a line of wind turbines, as if an enormous aircraft was taxiing on the far side of the ridge; finally the sea and harbour come into view.) Otherwise stay on A737 to join A78 further south.
From England, take M6 then A75 to Dumfries, then A76 to Kilmarnock, then A71 west to join A78.
All approaches eventually follow A78, which bypasses Ardrossan, so ferry traffic loops round to the north of town then approaches the harbour along Eglinton road. (Don't follow what looks like a shortcut along A738 unless Stevenston or Saltcoats is your destination, you don't want to be part of the congestion on this road.) The final turn onto Glasgow St towards the harbour comes up with little warning, so when you reach the sign to the ferry, turn promptly.
There's long stay parking next to the ferry terminal, plus an Asda supermarket - stock up on fuel and supplies before crossing to Arran.
By bus
Stagecoach
bus X36 runs from Glasgow Buchanan Street every couple of hours daily, taking 90 min, with a bus at midnight, 3 am then 7 am. You can also reach Ardrossan just as quickly by taking the X34 (for Beith and Irvine), and changing at Kilwinning for Bus 11, which is the frequent Kilmarnock-Ardrossan service. A third option is to take the X77 (for Ayr) and change at Prestwick for Bus 585.
The latter bus, Stagecoach bus 585 or
Clyde Coaster
, runs between Ayr and Prestwick Airport in the south, through Saltcoats and Ardrossan, and on to Largs (for Great Cumbrae), Weymss Bay (for
Isle of Bute
) and Greenock. It runs every 30 minutes Monday to Saturday and every 2 hours on Sunday.
By train
Trains run to Ardrossan from Glasgow Central every 30 mins Mon-Sat, hourly on Sunday, taking 40 mins. Trains run via Paisley Gilmour Street (closest station to Glasgow Airport), Dalry, Kilwinning (change for Ayr and Prestwick Airport),
Stevenston
and
Saltcoats
to the main railway station . Alternate trains then either continue north to
Largs
(ferry port for Great Cumbrae) or take the short branch line to
Ardrossan Town
and
Ardrossan Harbour
, which is next to the ferry terminal. These Harbour trains are timed to connect with ferries to Arran.
So the combined townships in effect have five railway stations: they're all just platform halts with no facilities. Ardrossan South Beach and the Harbour are a mile apart, so if you're coming here to catch the Arran ferry and have only light luggage, it may be quicker to take the "wrong" train and walk the last stretch, than wait 30 mins for the "right" train. The last train to & from Glasgow is after 23:00, long after the ferries have stopped running. If your train is delayed and you risk missing your ferry, make your plight known to the conductor, and the ferry may be held. Combined
rail + ferry tickets
are available.
By boat
From
Caledonian MacBrayne ("Calmac")
ferries ply to Brodick on the
Isle of Arran
, taking 55 mins. In summer they run Mon-Sat every 90 mins, Sunday every 2-3 hours. There are fewer in the "shoulder" seasons of April and October, and in winter there are only 4 or 5 ferries per day. Return fares are £31 for a car, plus £8 for the driver and each adult passenger, children 5-15 £4. For ferry practicalities see Arran page and Calmac website.
There are also facilities here for private boats. Clyde Marina (VHF Channel 80) has mooring, dry berthing, cleaning, marine diesel & marine fuel.
A mile from the harbour is
Horse Isle
, an RSPB reserve, with a 19th stone tower to act as a day-mark. The island is a mixed blessing to Ardrossan - it shelters the harbour, but the navigation channel is very close and there have been several wreckings.
By plane
Glasgow Airport
(
GLA
) is west of central Glasgow on the M8. Dozens of airlines fly to destinations in the British Isles, Europe, North America and the Middle East. The closest railway station to the airport is Paisley Gilmour Street Station, which is about away. From there you can take a train to Ardrossan. See the Glasgow page for details on how get from the airport to the train station.
Glasgow Prestwick Airport (PIK) is much closer to Ardrossan but has very few flights. Ryanair is the only passenger airline. It flies to a variety of holiday destinations, principally in Spain, Italy, Greece and Portugal. The Clyde Coaster Bus 585 (Stagecoach West Scotland) runs every 30 min (every 2 hours Sundays) between PIK and Ardrossan, taking 45 min. The airport has a train station from which you can get to Ardrossan, with a change at Kilwinning station required. The total train journey time is between 30-45 min.

Get around

Walking is probably all that is required to see the town, it is not huge and above the High Road/Parkhouse Road there is little of interest to tourists.
There are plenty of local buses should walking be impossible e.g. due to the often atrocious weather.

See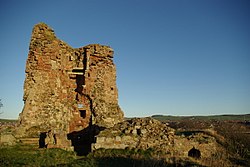 Ardrossan CastleThe castle was once ransacked by William Wallace and his followers and remained an important outpost until Oliver Cromwell took control of it, had it dismantled and sent the stone to build a new castle in Ayr. So it's just a stone stump, but prominently located on the hill above town centre. The ruins have become unsafe and are fenced off(hole in fence near momument), but you can admire the exterior and views across the Firth to Arran.

Beaches: see "Do".
Barony St Johns (now a training centre) and St Peter in Chains (RC) are good examples of old and new styles of church architecture. They're close together at the north end of South Beach.
is just a stump of masonry, all that remains of a 16th C tower. Cromwell's not to blame for this ruin however, as it was stripped of its stone in the 19th C to build a dam for a mill at Montfode Farm. You see it first from the bypass A78 just before this reaches the coast. For a closer look, turn onto the coast road then immediately right into the lane.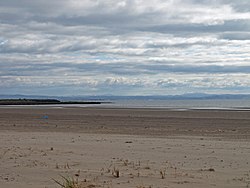 address: Campbell Ave, Saltcoats KA21 5AF

Fine church, built in 1908. Note the stain-glass windows and the small carvings around the entrances and within. It's Church of Scotland, with regular services.

North Ayrshire Heritage Centre

address: 12 Manse St, Saltcoats KA21 5AA

Local history exhibits.

Abbottsford Nursing home

address: 98 Eglinton Rd, Ardrossan KA22 8NN

Location of plaque to remember first ever trans-Atlantic shortwave broadcast . On 11 December 1921, history was made in Ardrossan when the first radio broadcast from the United States of America was received in a field near Abbotsford.
Do
Beaches along this coastline are:
Ardrossan South Beach, just south of the main railway station, is the principal traditional seaside strip. Amenities, pubs, ice cream vans, Glasgow accents, beach football, gulls stealing chips, squalling kids, yappy West Highland Terriers, what's not to like about it?
Ardrossan North Beach, north of the harbour, is quieter. Best views are at sunset as the light drops over the mountains of Arran. Listen out for the story of how the Earl of Eglington was horribly slain here. No spoilers, but if you seize a cartload of contraband rum on a fine smugglers' beach like this, then beware reprisals, even if you let them keep the cart.
Saltcoats South Beach is another traditional seaside strip, close to Saltcoats railway station where hordes alight from Glasgow.
Stevenston Beach further south is much quieter, but the tide comes right in and with the wind behind the sea it can become hazardous.
A short way inland from Ardrossan South Beach, is a relaxing grassland for recreation and walking.

phone: +44 1294 605126

address: Saltcoats Road, Stevenston KA20 3JR

Activities include ice skating and the Olympic sized swimming pool.

Ardrossan Bowling Club

address: Kilmeny Terrace, Ardrossan KA22 8DX

Disclaimer - this is not a wise choice for the under 60s.

address: Saltcoats KA21 5DA

Cinema overlooking Saltcoats harbour.

phone: +44 1294 603801

address: 58-60 Hamilton Street Saltcoats KA21 5DS

Ten pin bowling.
Sail the ferry to Arran even if you're not staying on the island. You can take a day-trip to Brodick and stroll to the castle, or just cruise there and back without stepping ashore. Have a scenic lunch on the way, or look for marine life in the Firth.
Ardrossan Highland Games are held on the second Sunday in June on Memorial Playing Fields. The next event is on Sun 14 June 2020.
Buy
There are few shops in Ardrossan. Glasgow Street and Princes Street have basic shops and the ASDA superstore.
There are many shops in Saltcoats' town centre. Most are found on Hamilton Street, Chapelwell Street, Dockhead Street and Countess Street.

Eat
phone: +44 1294 464355

address: 230-232 Glasgow Street

Traditional Italian fish and chips shop, cafe, and ice cream parlour. They also offer a sit down service, an extensive selection of sweets (some old fashioned) and newspapers.

Alberts

address: 35 Glasgow Street KA22 8EP

Fish & chips takeaway.

address: 51 Glasgow Street KA22 8EP

Small friendly restaurant with usual Indian menu. Does takeaway.
Lauriston Hotel: bar meals and restaurant food, see "Sleep". It's best value before 6pm.

phone: +44 1294 471700

address: 5 Dock Rd KA22 8DA

Good Italian, a tad pricey but worth it. Let them know if you prefer a well-fired pizza, they usually cook soft. Has another branch in Ayr.
Saltcoats
has a huge number of places to eat.
phone: +44 1294 607079

address: 72 Hamilton Street, Saltcoats KA21 5DS

Coffee and snacks.

phone: +44 1294 464638

address: 68 Hamilton Street, Saltcoats KA21 5DS

Coffee and meals, can serve gluten-free.

address: 2 Hamilton Street, Saltcoats

Bakery: breads, rolls, sandwiches, cakes.
Indian restaurants are Motherland Spice (16 Bradshaw St), Punjab Grill (3 Dockhead St) and Sugar & Spice (18 Hamilton St).
Dalry
six miles north along B714 has
Braidwoods,
a Michelin-starred restaurant, you need to book at least a month ahead. Open W-Sa 12:00-13:30 & 19:00-21:00, Su 12:00-13:30; May-Aug also Tu 19:00-21:00.
Drink
There are a few establishments in which to remedy a dry throat in Ardrossan.
address: 18 Glasgow St KA22 8EL

Friendly wee place.

address: 2-4 Princes Pl KA22 8HB

Pub with games. Free wifi, beer garden, dog friendly, horse racing and football on TVs.
Saltcoats has a plethora of drinking establishments, mostly situated around Hamilton Street and Dockhead Street in the town centre.
address: 7 Hamilton Street Saltcoats KA21 5DS

J.D. Wetherspoon pub with food.

Nonsuch Sports Bar

address: 35-37 Windmill Street Saltcoats KA21 5EW

Play pool here.
Sleep
phone: +44 7779 515012

address: 2 North Crescent Road KA22 8LY

Reliable B&B.

phone: +44 1294 463771

address: 15 South Crescent Road KA22 8BE

3-stat hotel with 5 rooms next to Ardrossan South Beach railway station. With bar meals and restaurant.
Connect
Free internet access at the Ardrossan Library where there are pleasant, foreigner-tolerant librarians.
The Harbour where a free wifi internet connection is set up.
There are several public phone booths in the centre of town.
Several postboxes around town and a Post Office in neighbouring Saltcoats.

Go next