Arecibo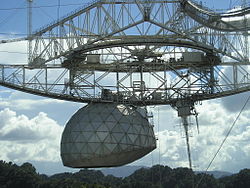 Arecibo
is a municipality on the north coast of
Puerto Rico
, best known for its giant radio telescope.
Get in
Arecibo is about 80 km (an hour's drive) west of
San Juan
along Highway 22.
See
phone: +1 878-2612

On a mountainous and somewhat isolated (but fairly well signposted) road, the Arecibo Observatory is home to the world's largest radio telescope, operated by SRI International, USRA and UMET, under a cooperative agreement with the National Science Foundation. The visitor's center is decent with working bilingual exhibits. There are no tours of the telescope itself, however you can view the telescope from a platform and view a free informative video. Bring an umbrella, in case of rain. Also be sure to have comfortable walking shoes for the 500 steps up the mountain. Don't let the 500 steps up the mountain put you off if you have a disability etc. - if you are unable to walk that distance, you can get a ride up (and down) with a security guard on request.

Rio Camuy Cave ParkNestled in the forests south of Arecibo is the Rio Camuy Cave Park. This is one of the largest cave systems in the world. Bring your lunch with you as there is a wait, but it is well worth it. Wear shoes with grip because the cave is damp and slippery. Watch out for guano

Arecibo Lighthouse and historical Park
The Arecibo Lighthouse and Historical Park is a cultural theme park located in the surrounding area of the Arecibo Lighthouse. It has an innovative and unique concept that includes among other things five cultural representations of the Puerto Rico's history, which transports all of our visitors through historical and cultural events from the Spanish Conquest of 1493 to the 1898 when this lighthouse was built and the Spanish-American war occurred.
In the restored lighthouse you will find original marine artifacts, and from the roof a breathtaking view of the Arecibo Town and the Atlantic Ocean, and if are lucky,
whale watching
while in season.
Horarios / Business Hours
9AM - 6PM (Monday to Friday)
10AM - 7PM (Saturday and Sunday)
Open on holidays, during regular business hours)
Entrance Fee $12.00 (Adults 13-64 years old) $10.00 (Children 2-12 years old)(Seniors 65+)
Parking Fee $3.00 (per car)
Buy
Plaza del Atlantico

address: Ave Miramar (PR 2)

retail center with stores like Big K-Mart, Anna's Linnens, Capri and Radio Shack.
Eat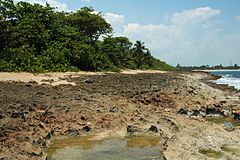 phone: +1-787-816-2020

address: Highway 681, Km 3.8

Seaside restaurant with views of the lighthouse, specializing in fresh seafood cooked to order. Indoor and outdoor seating.
Drink
Salpicon Bar & Restaurant

phone: +1-939-940-9766

address: Rd #681 Km 13.7

Ocean views while enjoying a Piña Colada, also has an casual elegant dining room - The Fried Red Snapper is reported to be good.
Go next
Ponce lies Southeast of Arecibo and is a two hour drive through the jungle, on sometimes questionable roads.