Arendal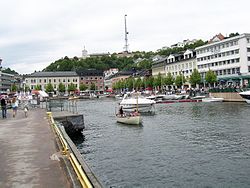 Arendal
is the biggest city in
Aust-Agder
,
Norway
.
Population around 40,000, so it not like you're getting lost or anything...
Understand
Tourist office
phone: +47 37 00 55 44

address: Sam Eydes plass 2
Get in
By plane
Kristiansand airport
(
KRS
) is around 45 minutes away by car, and also has frequent bus service to Arendal. Frequent flights with Widerøe from Copenhagen, Bergen, Stavanger and London-Stansted, with SAS and Norwegian from Oslo, KLM from Amsterdam.
Sandefjord-Torp (TRF) is around 2 hours away by car.

By bus
The bus from Oslo takes around 4 hours for the 260 km journey.


By train
A sideline takes you from Nelaug Station by the Sørlandet Line (Sørlandsbanen), where it is necessary to change the train to the local train bound for Arendal Station. The railway Sørlandet Line follows an inland route from the larger cities Oslo (to the east), Kristiansand and Stavanger (to the west).

Get around
On foot
The city center is quite compact, which means that everything is within walking distance.
By bus
Setesdals Bilruter operates the white city buses.
By car
Parking might be difficult in the city centre, try the parking houses.
By motorcycle
In the city and especially in the outskirts of the city, motorcycle often is the best mode of transport. There are many winding but picturesque country roads to explore. Remember to be aware and follow the speed limits.
By taxi
Please note that using a taxi in Norway is not cheap.
See
PollenThe center of this town consists of the waterfront street along a wharf.

address: Nedre Tyholmsvei 14

The city's local museum

address: Rådhusgaten 10

The house is a national heirloom and subject to strict regulations today. The beautiful second floor is used for weddings, concerts, balls, receptions and meetings.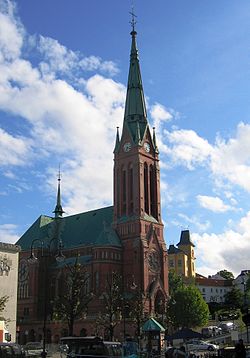 Trefoldighetskirken

address: Friergangen 2

An interesting church. It is probably also one of the few churches in the world with a 7-Eleven in its basement.

Tromøy kirkeworth a visit. It dates back to 1150, with significant restoration work done in the 1700s. Some of the interior still dates back to medieval times.

KUBEN

address: Parkveien 16
Do
Visit MerdøHike along typical wooden houses and narrow paths, walk on sandy beaches and see the view towards rhe city and the lighthouses.

Arendal Town HallIn Arendal Cultural Center there are concerts and theater performances.
Play golf
phone: +47 37 19 90 30

address: Jacob Aalls vei 53, 4934 Nes Verk

An eighteen hole golf course, it is one of the largest and best golf courses in Norway.
Hove Festival
The Hove Festival is one of Norway's biggest music festivals featuring big international acts in every music genre. It is located at an island called Tromoya, just outside the city centre. The festival mixes large international acts with Norwegian bands in the unique setting of an island outside Arendal city.Besides the music, you'll share experiences from the quirkiest art scenes, watching yet-to-be-released movies and eating delicious ecological food. There is no age limit to the festival and children under 12 are admitted free.
In 2010 the British newspaper The Daily Telegraph pointed out Hove Festival as the best festival in Europe.
Since its startup in 2007 the Hove Festival have had big international acts like The Killers, Jay-Z, Queens of the Stone Age, The Prodigy, Faith No More, Arcade Fire, Slayer, Slipknot, Vampire Weekend and a lot more. The line-up in 2010 includes Muse, Them Crooked Vultures, Massive Attack, Arcade Fire, Paramore, Empire of the Sun and Florence + The Machine among many more.
The festival is easy to reach from Arendal. There will be buses and ferries every 15 minutes from the city centre.
Buy
Shopping malls
The city centre

Harebakken senter

address: Langsæveien 5

Shopping center.
Eat
phone: +47 37 02 11 66

address: Nedre Tyholmsvei 1

Affordable seafood
Mid range
Symposium Restaurant

phone: +47 405 57 321

address: Kirkegaten 1

Dishes from the Greek cuisine

phone: +47 37 02 19 00

address: Nedre Tyholmsvei 3
Splurge
phone: +47 404 343 40

address: Langbryggen 9
Drink
No1 Sportsbar

phone: +47 940 06 024

address: Langbryggen 3

Lille Andevinge

address: Nedre Tyholms vei 10

Barrique øl og Vinstue

phone: +47 37 02 25 22

address: Teaterplassen 1
Sleep
Camping
phone: +47 37 08 52 21

Places for tents, carriages and motorhomes and cabins for rent. Pebble beaches close by.

phone: +47 911 81 327

address: Vesterveien 250, 4817 His

Places for tents, carriages and motorhomes, flats and cabins for rent. Swiming places nearby.
Hotels
Connect
There are many Wi-fi hotspots scattered around town, including many eateries, cafes and various hotels.

Go next
Grimstad is a city west of Arendal, known as the residence of the famous Norwegian authors such as Henrik Ibsen and Knut Hamsun, its picturesque wooden houses and for good swiming spots for families with children.
Evje is a village northwest of Arendal towards Setesdal. Here you can go rafting in small rivers and for those who are ineressert in geology, a visit to the Mineral Park in Evje should be mandatory.