Arequipa
Arequipa
is a city in the
Southern Coastal
region of
Peru
just below the edge of the
Altiplano
, at above sea level and surrounded by three impressive volcanoes. It's Peru's second most important city (after
Lima
), and the second most popular among tourists (after
Cusco
).
Understand
The city is part of the so-called "Southern Peru Tourist Corridor", together with
Nazca
,
Puno
and
Cusco
. In contrast to these other cities, Arequipa is an example of the Spanish and mestizo culture developed in Peru. There are no Inca artifacts or ruins in the city.
In the winter it is warmer than in the summer. It is nicknamed the 'white city' (
la ciudad blanca
, in Spanish), because many of the buildings in the area are built of
sillar
, a white stone. This rock was quarried from the many volcanoes that surround the city, including the towering
El Misti
. Ask for local help to identify Misti, Chachani and PichuPichu, the three volcanoes surrounding the city.
Arequipa embodies a rich mix of the indigenous and Spanish colonial cultures. With almost 500 years of history since its founding, examples of Spanish colonial architecture can be found throughout the center of the city and several surrounding districts. UNESCO has declared it
World Heritage site
. Catholic churches are scattered throughout the center of the city. Some ancient houses have been refurbished by the local authorities and serve as living museums. An example of this are the so-called "Tambos" located at Puente Bolognesi street.
Get in
By plane
By far the easiest way to get to Arequipa is by plane,
Rodríguez Ballón airportLan, Peruvian Airlines, Avianca and LC Perú fly from Lima, Juliaca and Cusco. A taxi from the airport to the Plaza de Armas costs a flat-rate of S/25 (soles). Signs are posted with this rate, but depending on the size of the car, the size of your bags and your bargaining skills you could pay less. No public transportation is available to/from the airport.
By bus
There are two terminals serving the city, Terminal Terrestre and Terminal Terrapuerto. They're next to each other, about from the center. A taxi should cost around S/8.
Try to avoid cheap buses — the more you pay, the higher the quality of service, and safety. Some of the more reputable companies are Cruz del Sur, Ormeño, Excluciva (full 180º beds with meals served, S/130), Oltursa and Cromotex (S/70 to Lima, good value and security), Flores (a good budget option, but only with their "super dorado" and similar services, their economic is best to be avoided for safety reasons (high accidents rate). Their station is located across the street from Terminal Terrestre.) If you take the night bus make sure the bus is climated. There are cheap companies like Julsa which don't use heating in the bus, some don't have bathrooms, and the temperature can sink close to 0°C - don't use them. Compare prices between booking online, in the office or via an agency since it can vary up to 100% for exactly the same seat and service.
From
Lima
(S/30-130, 16–18 hours) it's advisable to take non-stop express buses — though more expensive, they tend to be safer. Oltursa and Excluciva buses depart from dedicated VIP terminals in the San Isidrio area of Lima.
Peru Hop
offers buses to Arequipa, as well. Unlike other buses that provide a direct service with nothing to see along the way, Peru Hop bus passes include stops where you can choose to hop off along the way to Arequipa. Their stops from Lima to Arequipa include Paracas, Huacachina and Nazca. Peru Hop offers free hotel and hostel pick-up and drop-off.
There are several buses per day from
Cusco
(9 hours, S/50-120),
Puno
(5–6 hours, S/25-50),
Pisco
(12–14 hours, S/50-150),
Nazca
(9 hours, S/50-150) and
Tacna
(near the border with
Chile
, 6–8 hours). If you take a
Peru Hop
bus from Cusco to Arequipa you can choose to hop off in
Puno
.
La Paz
Ormeños has direct buses leaving at 01:00 every day, passing through Puno at 06:00 (S/40) and arriving in La Paz at 12:00 ($60).
By train
Charter trains to
Juliaca
and
Puno
are only available for groups of 40 or more.
Get around
The city has an urban area that can be explored on foot. The historical center is a 5-block area around the main square and it's very easy to visit following one of the many maps available at the hotels or any information office. Some ancient districts like Yanahuara and Cayma are also within walking distance.
The rural area is a whole attraction in itself. With gorgeous terraces, Spanish mills, palaces and an unobstructed view of the volcanoes from wherever you are.
A great way to visit most of the tourist spots from the rural and urban area is to take a bus tour. These special buses are available at the main square and you can book the tour at your hotel or directly with the bus driver. In two or four hours, depending on the tour you book, you will visit most of the famous viewpoints of the city. A great experience (from US$6-10).
If you want to take a taxi, you should take a "safe one". Rules to recognize them: they have signs on the roof. The more common the sign, the bigger the company and the safer the taxi. Another tip is to take one that has just left a passenger. Avoid taking taxis that are stopped and waiting for passengers.
Prices are per ride. A ride from the main square to any place in the central district will be S/4-7. A taxi from the bus station to any hotel, S/8 . From the airport, the price varies between S/20-30. Some cab drivers try to rip you off by saying prices are per head but price is always per ride for all passengers. Allow for a minor extra charge for luggage (usually half a sol per large piece).
You can rent a car with a driver included and go all around Arequipa for just $6 an hour. There are many taxi companies that can be trusted like Panataxi, Taxitel, Turismo Arequipa and Megataxi. For your safety, if you leave a restaurant or disco late night and want to come back to your hotel in a taxi, ask the restaurant to call a safe taxi.
You can rent a truck at a very low rate including a driver (just US$55 per 8 hours plus diesel expenses), call +5154 9350539 or email: fbedregal@yahoo.com, and go ahead and visit Arequipa's outskirts and places such Colca River, Majes, and the beaches at Camana and Mollendo.
See
The

Plaza de ArmasThe main square of Arequipa, surrounded by buildings made of sillar, a white volcanic stone.

Cathedral Basilica of Arequipa

phone: +51 54 213149

address: on the Plaza de Armas

The first cathedral was built I need 1544. This reconstruction dates from 1848, with a substantial repair after the 2001 earthquake caused the towers to collapse through the roof. The tour takes you into the Basilica, and to see the cathedral's collection of liturgical items in precious metals & gemstones, and sacremental garments. You are also taken up to the roof to see the bell tower and for views of the Plaza de Armas and the city.
A good place to watch the sunset in Arequipa is in one of the third floor restaurants on the main square. Make sure you are a little in advance because there will be others as well. The view of the mountains and the main square is amazing.
Visit

San Camilo MarketThe oldest one located in the centre of the city. It's three blocks away from the main square.

See the Juanita Mummy in the

Museo Santuarios AndinosFrom May to November the main exhibit is the Dama de Ampato, also known as Juanita. It is close to the main square.

phone: +51 54 221213

address: Santa Catalina 301

The most visited building from the Spanish era of the city. Described as a city within a city, this beautiful place with its colors, flowers and little streets will make you feel like you are back in time. Quite close to the Plaza de Armas. The guides speak many different languages; ask at the desk to the left after the entrance. The guide will tell you about the history of the convent and the life of the nuns in the convent. You can also do the tour by yourself at your own pace: there are helpful descriptive signs in Spanish and English in all the rooms that contain mostly the same information.
The

Convento de Santa TeresaA little off the usual tourist path, in downtown Arequipa. It is not as architecturally interesting as the Convento de Santa Catalina, but some of the paintings and artifacts are stunning.

Many of the almost 250 colonial buildings named as Human Heritage by UNESCO, are close to the main square. Some have been turned into banks, stores, restaurants and private residences. This practical way of preserving the city by finding a practical use for the historical buildings provides a great experience to the visitor who feels like visiting a living museum.
Churches are among the most beautiful buildings preserved. They are all Catholic and you can visit them but always with a respectful eye towards the people there who may be worshiping. Most of the population still practices the Catholic religion. La Compania, San Francisco, La Merced and the Cathedral are some of the most famous.
Arequipa has beautiful bridges. The closest to the main square is

Puente BolognesiGo there and visit the Tambos (ancient houses rebuilt by the city government and used as apartments). Great experience.
Puente FierroAn iron bridge designed by Eiffel and still in service. A technological jewel located in Vallecito (10 blocks from main square) and a must for people who love trains and bridges. From the bridge, at golden hour (16:00-17:00), you can get some of the best pictures of the volcanoes and the city.

Nearby is the

Molino de SabandíaA three-century-old water mill, set in the old district of Sabandia.

Also to be found in the old countryside is the

Mansión del FundadorA renovated centuries old Spanish Colonial mansion.
Do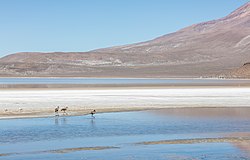 Free Walking Tour (Downtown Arequipa)

address: Calle Santa Catalina 204

Around 2½ hrs. Tour is more about presenting the background of Arequipa, how and why it developed into the city it is today, different aspects being presented from different locations (rather than a tour of the major sights). Just turn-up (no booking necessary). Very worthwhile.
Adventure
Ride in Peru - address : Calle San Rafael 0-2 (between house 504 and 534), urb Los Angeles, cercado, Arequipa - phone : 214444 / 974211440 - email : reservas@rideinperu.com - Imagine Peru offers horseback rides and tours in the Colca. They have Peruvian Paso Horses and a lot of different rides to try in these splendid Colca landscapes. Opened to beginners and confirmed riders. Departure everyday.
Downhill volcano biking - Offered at several levels of difficulty. Half day adventure managed by professional guides. S/70-80. They provide all the required equipment. Very safe. Great countryside views.
Volcano climbing - Two options: an excursion to Misti or a real climbing to the more difficult Chachani. Two-day tour. The first one with low difficulty level the second one with medium difficulty. Altitude is usually the worst enemy for visitors. Chachani is over 6,000-meter altitude. Book with professional operators. Price around US$90/person.
Whitewater rafting - Arequipa has some of the best rivers of the world. A typical half-day tour with some 90-min of rafting will cost you about S/70.

Horse Pa Enrique Tours

phone: +51 54345948, +51 54 284796

address: Calle Santa Catalina N 308

Anibal has six horses in the small stable just behind Arequipa. The horses are quite calm and suitable for beginners. First you will be provided with a helmet and some basic instructions. After that you ride 7 km there and 7 km back next to Chili River with great views of volcanoes. At the end you may be asked to help with feeding the horses.

phone: +51 947377201

address: Ugarte 503/ inside 112

Tour operator specializing in custom groups, with wide range of tours and treks in the Colca Canyon area and beyond.

phone: +51 54446944

address: Avenida Los Incas 415-A

Tour Operator based in Arequipa specialized in tailor made and shared tours to the Colca Canyon, Arequipa and Cotahuasi Canyon.
Learn
Spanish language - Because of its weather, its friendly people and lower prices when compared to Lima or Cusco, Arequipa is a great place to learn Spanish. Several schools are available, most of them with excellent programs. Classes are usually offered on a per week basis and with accommodation packages included.
EDEAQ - Legally established and recognised by the Peruvian Ministry of Education. City Centre Location. Swiss Management. Bildungsurlaub (Germany). –
Cooking lessons - This is an excellent opportunity to share with local cooks and work with them in preparing delicious local cuisine. The experience starts with selecting the products, then preparing and cooking them. After that, you can serve and enjoy the results in the form of a good traditional meal.
phone: +51 54 213177

The cooks are local people who learn cooking from their ancestors and include Felipe an Inca cook born in the 1940s who shares his own exclusive recipes. Classes are held in a kitchen and outdoor barbeque area. 6 persons per group. The cooking area is surrounded by a garden. 3-hour hands-on activity suited for travellers of any ability level. Reservations are required. Wine and cocktails can be ordered but are not included in the price.
phone: +51 973 531 225

address: Urb Leon XIII K-1B Av. Trinidad Moran - Cayma

Chefs and bartenders provide you a unique experience in which you will cook and try Peruvian flavors, drinks, and dishes. At the same time, you will learn more information about the most representative Peruvian products such as quinoa, potatoes, chilis, and corn.
Buy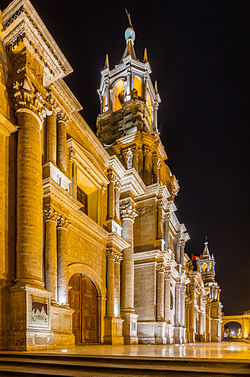 Arequipa is called the world´s capital of the alpaca, a wool that comes from these Andean camels and is considered very fine and valuable. Big factories and several boutiques offer fine products at great prices. A good quality alpaca sweater will be S/70-180 according to colors and designs. Some handicraft stores offer very cheap alpaca, often of a lesser quality.
Most typical handicrafts come from the Chivay area. Colorful embroidery called Maquinaza style, representing daily activities or nature scenes.
There are some interesting shops geared towards tourists, including Patio del Ekeko, free Wi-Fi included. The old Jesuit convent, half a block from the Plaza de Armas, is free to enter and has very good shops for fine Alpaca garments and local products. The place itself is very nice.
There is also a square near La Compañía featuring a number of more expensive handicrafts shops.
Eat
Arequipa features some of the most
varied
and flavorful
cuisines
in the country. Meals are robust with soups as one of their main dishes. Local food is usually served at lunch time but you can also find it in locals for tourists during dinner time. The better restaurants are near the Plaza San Francisco.
The places overlooking the Plaza de Armas and behind the cathedral, while decent, are overpriced relative to the quality of the food. Their tours will show you their à-la-carte menus with mains for S/30-40, but you can ask for their
menú del día
which will give two courses and a drink (pisco sour, chicha morada, or Coke) for S/20 (Mar 2018).
Budget restaurants can be found on Calle Bolognesi, west of the Plaza de Armas.
Spicy food is very popular. Locals use
rocoto
(
Capsicum pubescens
) to provide the hot taste to their foods. This flavour is different than the spiciness in Indian or Mexican cuisine.
Try
Rocoto relleno con pastel de papa
, a large stuffed pepper with potato pie. Ask beforehand if it has been made for tourists or if it is the original, quite hot, style; if the last one, be careful, it can be extremely hot!
Try
Alpaca steaks
. This meat, very low in fat, is juicy and very tender. It is presented in the same manner as traditional beef.
This city is the best place in Peru to eat
river shrimps
. They are presented in several ways, the most popular being
Chupe de Camarones
, a thick, savory soup featuring many shrimps in it. Beware, the plates here are big.
Arequipa is only three hours away from the sea, so many fish restaurants are available. If you have not tried
ceviche
in Peru yet, this is a great opportunity. There are also many other sea delicacies.
Local restaurants are called
picanterías
. They are still very popular among locals. Some are within the urban area and some others on the outskirts of the city. In the Arancota neighborhood, you can find many of these restaurants. Some of them are huge (600 tables or more) and they are usually full of locals. The main food attraction in this area is
chicharron
(fried pork with corn). Menu's are usually set, consisting of a hearty soup followed by a main dish. Drinks are often included. Prices are generally very cheap, ranging from S/5 to S/10.
As with all Peruvian food, local delicacies are heavy and sometimes very hot. Proceed with caution when eating here, especially since the height of the city makes digestion slow. Take a
mate de coca
, coca-leaf tea, after meals: it helps digestion and makes the altitude more bearable.
Maya

address: Calle Jerusalén

Breakfast, piglets, burgers. Their set lunch is somewhat expensive, but it is worth it.

Picantería La CapitanaOld and the truly old cooking in Arequipa, is behind Saga Falabella, this picantería observes the old traditions. Go early, or the specialty of the day, which is around S/7, will be sold out. Though other dishes are also always available.

Picantería La Lucila SachacaStill run by Sra Lucila Salas de Ballon, is a short taxi ride outside of town. An old-style kitchen with Cuy (Guinea Pigs) eating scraps in the yard, and Lucila still making her sauces the old way as she keeps an eye on everything and everyone.
For dinner, you can find the best restaurants in the city around Calle San Francisco:
Ary Quepay

address: Calle Jerusalén 502

Nice restaurant that serves local food.

Tacos y Tequilas

phone: +51 54 628653

address: Calle Ugarte 112

A nice atmospheric Mexican restaurant. The Mexican meals here are delicious, with an excellent guacemole.

address: Calle San Fransisco 309

Typical food like "cuy" or "rocoto relleno".

Lazos

phone: +51 54 215729

address: San Francisco 315

Steakhouse

address: Santa Catalina 210

Excellent cuisine inspired by traditional Peruvian dishes. More expensive than other restaurants in the area, but well worth the price. Great table service by very attentive waiters.

Hatunpa

address: Ugarte 208

Restaurant with a unique concept: slices of 3 or 7 different Andean potatoes covered with vegetables and meat slices of your choice. Very small place with only a few tables, so it might be a good idea to be there early.
Vegan
address: Calle Bolivar 425

Vegan sushi bar tucked in behind the Monasterio de Santa Catalina. Enjoyed by vegans, vegetarians, pescetarians and carnivores alike.
Vegetarian
In addition to the places listed below, there are dozens of other vegetarian restaurants scattered throughout town. Most offer a set lunch (menú) for around S/10.
Mandala

phone: +51 54 22 99 74

address: Calle Jerusalén 207

Natural and tasty vegetarian food. Breakfast, lunch and dinner. At lunch time, the menú ejecutivo, including a small salad, a soup, a main dish, a dessert and a drink costs S/9.
Govinda - Hare Krishna Vegetarian and PizzaSometimes they have a buffet, if not get the Menu Turistico, a 4-course meal for S/15 which includes homemade yogurt, a Peruvian specialty, and your choice of entree among several Indian and Italian options. Everything is fresh and organic or locally grown. Eat outdoors and don´t go if you are in a hurry, expect it to take an hour as one person is preparing each part of your meal from scratch.

Nitay Gouranga Vegetarian Restaurant

address: Calle Rivero (Rivero Street) 603 Cercado

You can get the menu of the day for just S/4 including soup and a main dish and a soft drink. Tasty vegetarian food with many different options.
Drink
The most popular Peruvian alcohol product is Pisco. Arequipa is the cradle for the Acholado type, a Pisco derived from a blend of several grapes. Locals drink it pure, in little sips. Chilcano is another way to drink it, Pisco with white soda. And of course, the
Pisco Sour
, which is a must for any visitor.
A famous local alcoholic product is Anis Najar.
Chicha
, a slightly fermented corn beer and
Pisco Sour
are also considered traditional drinks.
The local soft drink is
Kola Escocesa
, not as sweet as Inca Kola.
There is also a popular mineral water called
Socosani
. Energina is a yellow soft drink produced with this water. Some other soft drinks area available from the same factory.
Most bars and clubs for tourists are on
Calle San Francisco
, uphill from the main square. Many have happy hour specials until 22:00P.
There is an area of the city called
Calle Dolores
, with discothèques, karaoke bars, and salsa ball rooms usually attended by locals but usually safe enough for travellers. A taxi is needed to get there.
phone: +51 54-214441

address: Calle General Moran 118 - int. 13

Cafe Bar Senor Misti is a very nice cafe bar within the wonderful Claustros de la Compania. Senor Misti offers very good cafe and one of the best Pisco Sours in town and offers free Wi-Fi. Nice place to enjoy the old part of town in a secure and calm way. Very nice outdoor-seats.

Chaqchao Cafe and Chocolate Factory

address: Santa Catalina 204

Situated between the Plaza de Armas and the Convent, this place offers a nice atmosphere and the cafes and chocolates taste wonderful. There is a chocolate factory and store in the first floor where you can watch chocolates being made and also a cafe in the 2nd floor. All ingredients are grown organically and sourced locally.
Sleep
Budget
phone: +51 54 221327

address: Puente Bolognesi 104

phone: +51 54 21227

Deán Valdivia 238-A. (5 minutes from Plaza de Armas). Located in an old colonial building with high ceilings. Budget dorms to semi-luxurious doubles. All rooms have speakers to plug in mp3/mp4/devices. Large rooftop area with tables and chairs is a great chill-out place. Free internet, a travel agency, kitchen, laundry, breakfast and drinks. Staff is friendly and helpful, some speak English.

Lula's B&BNeither a hotel nor a hostel, but a family-run apartment-style B&B. All the rooms are with private bathroom/shower-WC, international cable TV and WiFi (ADSL wireless). Owners speak (besides Spanish) English, German and French.

Koala Hostel

phone: +51 54 223622

Puente Grau 108. In an old colonial building with a lovely courtyard. All types of rooms, arrange tours for you, and is very friendly and has no curfew. If using their bus ticket booking service check the price is comparable with other alternatives. Check your bathroom on arrival as some are really miniature.

phone: +51 84 244315

address: Calle Sucre 204

Free breakfast, free internet, pick up service, kitchen, laundry, breakfast and comfortable beds.

Buena Vista HostalVery basic hotel in one of the oldest and most pleasant suburbs. Breakfast may be of dubious quality. Keep your own record of expenses and incidental charges as they may get confused when it comes time for the final bill.

phone: +51 54 213177

address: Av. San Martin 116, Vallecito

Casa de Avila is in a beautiful 1930s building reburbished as a hotel. Central courtyard is the main attraction of the place. Staff is friendly and helpful, and most speak English. A family run business with a warm informal atmosphere. Free wifi, private rooms with cableTV in most of them. Spanish classes and cooking activities are available. Tourist information service to help you planning your activities.

La Posada del Cacique

phone: +51 54 202170

address: Jerusalen 404

Safe area, friendly and competent owner can give good assistance with tours such as hill climbing, colca canyon and similar.

El Rosario Hospedaje

phone: +51 54 222517

Pasaje del Solar No 124, run by a friendly elderly couple. Hot water showers. Singles from S/10.

address: Calle Moral #107

One and a half blocks from main plaza across the post office, best location, free transfer from airport, and bus terminal, great coffee shop Bernini's at hotel.

Hotel VizaCalle Peru #202. Three blocks from the Plaza de Armas, US$25 a nice room, includes breakfast and pick up from the airport.

Arequipa Youth Hostel

phone: +51 959669253

Calle Zela 313 (between Bolivar and 4th block of Santa Catalina). Singles, doubles, and dorms available from S/15/person, S/20 w/breakfast. Professionally managed and on a quiet street just 2 blocks from Plaza de Armas. Clean and comfortable rooms. Nice patio area for socialising. Use of kitchen and free internet access. Friendly and helpful staff with tourist information available.

phone: +51 54 275498

At Urbanizacion Los Angeles de Cayma Mz. G1 (A few blocks from the main plaza). Dorm bed S/20, including breakfast and hot showers.

La Reyna

address: Zela 209

Colonial House Inn

address: Calle Puente Grau 114

A huge, beautiful room for US$27, the rest are cheaper, good breakfast.

phone: +51 54 282438

address: Calle Puente Grau 306

Sunny terrace, bar area, hammocks and helpful bilingual staff. Lots of fun things going on- Spanish lessons, bbqs, trips, tours, volunteering.

phone: +51 54 405982

address: Rivero 509

Family-run hostel, multilingual staff. Cosy bedrooms, wifi, terrace, laundry, travel agency.

Hostal Lluvia de Oro

address: Jerusalen 308

Friendly, in front of the tourist police station, nice patio, pick up from airport.

El Solar de la Macarena

address: Calle Jerusalen 531

Private bathrooms, nice shared kitchen, laundry, TV in every room, wifi. You can hang out on the roof or the 2nd floor terrace.

La Casona de Jerusalen

phone: +51 54-205453

address: Jerusalen St #306-A

Very friendly staff, great location, and quiet. Clean rooms, sunny terrace, free laptop use and free wifi, cable TV. Good thick towels and hot water. Very nice place to stay.

El Albergue Espanol

address: Calle Peral 117

Relaxed place, authentic building, rooftop terrace, free wifi, nice staff, clean and very comfortable beds. Showers are solar powered, so not always really hot.

La Posada del Virrey

address: 103 Calle Puente Grau

Four blocks away from the central square, this place has rooms with shared and private bathroom. Rooms are clean and a bit worn out. Some of them even has TV. Laundry is available on site for S/3 per kilo. Staff takes good care of safety and keeps the main gate locked majority of time. Wi-Fi is available in patio, but does not reach into all the rooms. Breakfast is available for extra S/7, but may be delivered later than promised. The roof terrace is extra nice bonus.

phone: +51 54 226111

address: Ugarte 202

phone: +51 54 330015

address: La Merced 123

Bright and clean, with an expansive and sunny terrace. Wi-Fi, kitchen, hot water, breakfast (all-you-can-eat fresh breadrolls, jam and butter, tea, coffee, juice, fruit), even towels included. Rooms are cleaned every day. The shared bathrooms are separated by gender and definitely clean.
phone: +51 54 286473

address: Calle Ugarte 114, Cercado

Several restaurants below, great atmosphere, terrace for breakfast.
Mid-range
phone: +51 54 223851

address: Av. Parra 110-B Cercado

Very comfortable, modern rooms with TV, fast wifi, hot showers and buffet breakfast. Very competent and helpful staff, also English-, Dutch- and German-speaking. Big garden with hammocks and chairs. Spanish language school in garden: Spanish Cafe Arequipa. S/4 by taxi (day), S/5 by night - but don't worry about that, as the hotel is paying the taxi fare for you.

phone: +51 54 222459

address: Melgar 108 Cercado

Built into an old colonial house. Very atmospheric hotel with friendly staff.

phone: +51 54 284848

address: Campo Redondo 109-111 San Lázaro, Cercado

In the traditional district of San Lazaro, which is characterized by small alleys of sillar (volcanic stone blocks).

Los TambosHalf a block from Plaza de Armas. 2-night minimum stay, wifi throughout, à la carte breakfast and private transfers on arrival and departure.

address: Calle Ugarte 211

Rooms are small, but the hotel is recently refurbished, clean, and quiet. The staff is friendly and solicitous. There is internet, and breakfast is included. Travel agency on site.

El Balcón

phone: +51 54 286998

address: Calderón 202

Decorated mansion with a small number of rooms on a small side street between the downtown and the river.

Hotel Queens Villa3 stars with standard and deluxe rooms. Including breakfast, cafeteria and swimming pool.

address: Jerusalen 606

A green oasis 10 minutes' walk from the main plaza. The place has a huge beautiful garden area with hammocks, benches, swings and a little swimming pool. Very clean and bright rooms in houses around the garden, most with view or balcony to the garden.
Stay safe
All the
usual advice
given for Peru applies here as well. When taking standard precautions, Arequipa is a safe city, and like most of the other major Peruvian cities, there is always a fairly large police presence. That said, don't flaunt your valuables or your money. There are occasional robberies reported.
Do not
walk alone after 23:00 in the downtown area!
In the downtown area, there is a fairly large presence of tourist police, wearing white shirts. Ask them for help.
The most common form of crime involving tourists is when a foreigner takes a no-name cab and a robbery occurs. To be safe, don't just hail any old cab that passes by. Always take reputable large company taxis (of which you can see plenty). Several of these taxi companies are very careful about the owners/drivers they take on. Consequently, they are very reliable. The best of these is the "Turismo Arequipa" company with a green and white logo (watch out for fakes). "Taxitel" is also good.
The safest way to call a taxi is to ask your hotel or hostel to do it for you. Almost all hostels and hotels have a relationship with a taxi company whose drivers are known and trusted. This holds for the rest of Peru as well.
Go next
There are many travel agencies, but only a few tour operators without commissions. The best operators are Andina (Jerusalen 402A), PeruSchweizExplorer (Jerusalen 314) for Colca Canyon Tours (around 150 Soles for a 3D/2N trip) and Quechua Explorer (San Francisco 218) for hill climbing.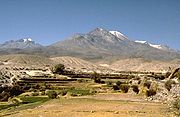 The Colca Canyon: Theoretically possible as a day trip but not recommended; count a minimum of two days. Many people opt for at least one night in Chivay or Cabanaconde outside the Canyon, others stay in one of the lodges inside the Canyon. Close-up views of flying condors and beautiful landscapes are two of the many highlights on these trips. You can visit the Canyon with a tour or hire a guide. Trekking Colca Canyon without a guide or a tour is also possible and costs less.
The Cotahuasi Canyon: not as visited as Colca Canyon but surely as interesting. Cotahuasi Canyon claims to be the deepest in the world, and the mixture of wilderness, pre Hispanic ruins and Andean villages make it a fantastic 4-7 days escape.
Chachani 6,057 meters above sea level. Arrange transport with one of the adventure tour guides in town and be prepared for a 2-hour bumpy, swerving, scary drive around sharp curves up steep mountain roads. The base camp is at slightly over 5,000 meters and the views are spectacular. If you are well-acclimated and have gear (ice axes and crampons) you should be able to summit from high camp in just over 8 hours. Otherwise just hike up the switchbacks to high camp (don´t stay there, you can´t sleep well at that altitude. Heed the mountaineer´s motto: "Hike high, Lie low") and then on to the col, from which you can see the beautiful view of Arequipa and surrounding mountains. The trek beyond can be dangerous if you´re not an experienced mountaineer. If you are, be prepared for a tough slog up dangerous scree and a trecherous traverse, and make sure you feel up to the return trip.
El Misti 5,822 meters above sea level it is a 2-day climb. There are a lot of agencies in Arequipa offering the climb for around US$50. The first night camp is at approx 4,600m so it gets very cold. You wake up at 01:00 to make the summit for sunrise. Not at all a technical climb as you can pretty much walk to the top. It helps to be acclimatised or you will feel the effects of the altitude.
Andagua at the head of the Valle des Volcanes is reachable by a direct (though long and bumpy) bus trip from Arequipa. Well off the tourist trail, it provides a fine opportunity to see beautiful altiplano scenery and experience an area of Peru scarcely touched by tourism.
Visit Umacollo