Arica
Arica
is a seaside resort town of 170,000 in
Northern Chile
.
Understand
Arica has a mild, temperate climate with some of the lowest annual rainfall rates anywhere in the world. It's quiet, relaxed and safe, with several nice beaches and sun virtually every day of the year. You will rarely find any clouds in Arica. This city is the northern gateway to
Peru
and
Bolivia
.
Get in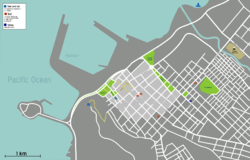 Numerous buses arrive daily from centers further south in Chile. Daily buses come in from Bolivia,
La Paz
,
Cochabamba
and
Oruro
(If you wish to come from Oruro you should note that you will also have to get a bus to Patacamaya to transfer to the bus to Arica, there are no direct buses. It may be best to go to La Paz — they have direct buses — because the transfer is very confusing!). Colectivos (shared taxis) arrive and depart continually from Peru during the border opening hours of 08:00-22:00, taking passengers from the International Terminal in Arica to the International Terminal in
Tacna
, Peru. From the National Terminal (alongside) buses come in from other centers in Peru. Note there are no direct buses from
Arequipa
,
Cusco
or
Puno
to Arica.
Also, there are trains coming from La Paz (Bolivia) and Tacna (Peru).
Get around
Walking will get you most places in town, although buses run along the major avenues for those in a hurry. They are also handy for getting to and from the bus station. The usual fare is CLP$320.
Radio taxis (colectivos) average CLP$550 per trip.

See
Cathedral of San Marcos is designed by Gustave Eiffel (of the eponymous Tower in Paris). It's a popular attraction. Entry is from Plaza Colón.
The views from el Morro are superb. One can follow the work being done in the harbour closely or gaze at the mountains gradually turning into the altiplano in the east. The hill looks like a giant sand dune from a distance but it is in fact made of solid rock. The paved footpath visible from anywhere in town starts at the south end of Calle Colón. Allow 10 minutes for walking up and enough time for philosophic discussions on top. There is a war museum on the hill for those into uniforms and cannons from the 19th century. Beware of the dishonest Coca Cola vending machines, bring water and snacks from town.
Do
Surfing and boogieboarding is good around Arica. The beaches north of town are good for beginners, while more experienced surfers go south of el Morro. There is a surfshop in the centre, but it's best to bring your own board.
Bathing and sunbathing on the beaches north of town. Summer is the main season, in winter you'll have the beaches for yourself. Water is cold.
San Miguel de Azapa Archaeological Museum
Trekking "Playa Corazones" area
Visit nearby valleys with olive trees plantations
Eat
Chifa Maxi, Baquedano 494. Delightfully slow and nonexistent service at this authentic Chinese place with vegetarian options. Popular. Take away available.
La Casa del Coctel, San Martin 495, +56 58 250400. The best cheese empananas in downtown Arica. Fastfood from CLP$500.
La Nanu, Av. Santa Maria 1182, +56 58 312399. Great empanadas (21 different kinds). Between the bus station and the centre. Also pizza. Good for vegetarians.
Lider Supermercado, 18 de septiembre 401. Well stocked supermarket in a convenient location. Good for stocking up on cheap mineral water, as the tapwater in the area is not recommended for drinking.
Los Aleros de 21
Maracuya
Don Floro

Restaurant La Gran Familia

phone: +56 58 222426

address: Los Pelicanos #2060

This restaurant has fish, seafood, salads and beef. Attention! only Sunday at lunch hour.
Sleep
Residencial Ivonne

phone: +56 58 265482

Clean double rooms with private bathroom for US$34 per night as of June 2012. Very safe, no breakfast, patchy Wi-Fi, Laundry. Walking distance to the beach. Just a couple blocks from the bus station. Bernardaivonne@HotMail.com
Hostal Ecuador, Juan Noé 989, +56 58 251934. Quiet place a short distance from the centre. Breakfast included, use of kitchen CLP4,500, hot water mornings only. A twin with bath is CLP$10,000, try bargaining.

Sunny Days20 minutes walk to the centre. Excellent breakfast (included). Kiwi owner. Huge kitchen and a lovely view from the rooftop

Hotel Arica
Hotel Azapa Inn
Hotel Plaza Colon

HI Arica

phone: +56 58 248108, +56 58 226372

address: Manuel Rojas #2864

Very friendly hostel, clean rooms, kitchen, with breakfast, nice and helpful staff.

address: Bernardo O'Higgins 661

Excellent hostel close to the city centre. Excellent atmosphere and a super friendly and helpful owner and staff.

Arica Unite Hotel

phone: +56 58 247 702

address: Vicente Dagnino 117

Hostel close from the bus station and the beach. Very good atmosphere, perfect for those who are looking for fiestas. Rooms are new and clean. Hot showers, excellent breakfast and friendly staff.
Go next
Buses and shared taxis (colectivos) to Tacna, Peru leave regularly all day and take 1½-2 hours. These can be caught from the international bus terminal, which is only about 100 meters from the main bus terminal, across the car park. As of September 2014, colectivos cost CLP$4,000, or 18 Peruvian soles, and leave as soon as they are full (4 or 5 passengers); the driver also helps you through immigration and customs. Buses cost less, but take much longer. From Tacna, buses go regularly to Arequipa, Lima, and Puno. For Cusco, it is necessary to change buses in either Arequipa or Puno.
Buses to Iquique leaves every hour from the main Terminal Rodovario. Tickets are CLP$7,000 and the trip takes 5 hours. Also frequent departures to Santiago and two companies operating a daily service to San Pedro de Atacama (departing at night), Tur-Bus (CLP$13,000, 11 hours) and Espresso Norte (CLP$10,000, but you need to change buses in Calama).
Lauca National Park. Chungará Lake is the main attraction in this wilderness park surrounded by volcanoes and adjacent to the border with Bolivia. Tour operators and touts will try to grab you on the pedestrian streets in the center, but hiring a car or getting on a bus to Bolivia and getting off in Parinacota on the Chilean side or Lagunas on the Bolivian might work out cheaper.