Arkansas
Arkansas
is a state on the western side of the
Southern United States
. It is known as the
"Natural State"
.
The northern part of the state is mountainous and forested, with the northwestern corner being home to the scenic
Ozark Mountains
and the economically booming Fayetteville-Springdale-Rogers-Bentonville area. The western-central area is home to the
Ouachita Mountains
, while the southern and south-eastern part of the state is part of the
Mississippi Delta
, with rice and cotton fields and flat, sweeping vistas.
Little Rock
, the capital, lies near the center of the state.
Regions
Cities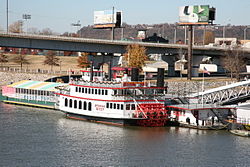 – state capital, also the seat city of Pulaski County
– northwest town best known as home to the headquarters of Walmart
– a small city of 19,000 in Arkansas' Union County
– a tourist destination town of 2,000 located in Arkansas' Northern Ozark Mountains.
– the largest city in the state's northwest, and home to the main campus of the University of Arkansas
– second largest city in Arkansas
– the place where President Bill Clinton grew up, a very widespread city of 35,000 in Arkansas' Garland County.
– a city that shares a border with the city of the same name in Texas.
Understand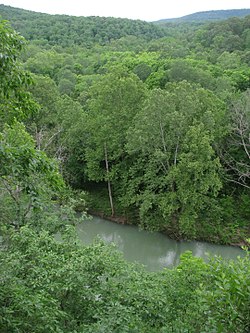 Arkansas' official nickname is "The Natural State", and that tells you a lot. It has great
state parks
throughout the state, with wilderness comprising broadleaf forests. The northwest boasts the Ozark Mountains while the south and east of the state has flatter land and shows more of its agricultural heritage. The Mississippi River forms the eastern border of the state and gives a great blues music heritage, great country music elsewhere (Johnny Cash and Glen Campbell were Arkansans) and folk and bluegrass everywhere. There are wonderful state parks with camping facilities and some with cabins. The Buffalo River has majestic scenery and easy canoe float trips (but go in late spring to be sure there is enough water). The summer is
hot
and humid; spring and autumn are wetter but mostly from intermittent heavy rain showers. Winter brings a little snow, but this time of year can still be humid. Spring is tornado season.
The spelling and pronunciation of "Arkansas" (it is always ar-kan-saw or ark-an-saw,
not
ar-kansas) reflect the state's heritage. The name is a French pronunciation of a Siouxan word meaning "land of downriver people" and was prescribed by law in 1881. It is still illegal to mispronounce the name (the law contains a clause stating that "the pronunciation with the accent on the second syllable with the sound of 'a' in 'man' and the sounding of the terminal 's' is an innovation to be discouraged"), so be careful!
Natives and residents of Arkansas are called Arkansans, though the older "Arkansawyers" is also still used.
Talk
English is the prevalent language in virtually the entire state - although Spanish has become much more apparent in Northwestern Arkansas. Many rural (and quite a few urban) Arkansans have distinctive southern accents and dialects, which is generally a source of pride. The Arkansas accent is more akin to an Oklahoma or Texas accent than the "Deep South" accent, though it has elements of both. Speakers of English as a second language may face difficulty with understanding some speakers with strong accents.
Relatively few Arkansans are truly bilingual, and menus, signs, and other information is rarely presented in a language other than English; Spanish is by far the most common second language.

Get in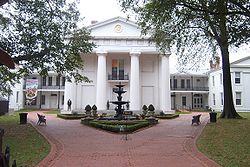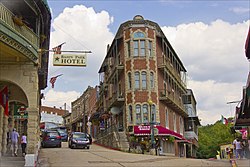 By plane
Little Rock National Airport (
LIT
)serves central Arkansas, while Northwest Arkansas Regional Airport (XNA) located near Bentonville serves the Northwest region of the state. Aside from private airports, other airports that may be more convenient can be found in Fort Smith, Texarkana, Tulsa, Oklahoma, and Memphis, Tennessee.

By train

Amtrak serves the state via its once-daily Texas Eagle train that runs between Chicago and San Antonio, with through-cars to and from Los Angeles three times a week. Cities served in the state include Little Rock, Texarkana and Walnut Ridge, just outside Jonesboro. Unfortunately, southbound trains arrive in the middle of the night while northbound ones arrives late evening.

By car
By bus

Bus travel is somewhat limited in Arkansas, but Greyhound runs daily services to Little Rock from Dallas and Houston, Oklahoma City and Nashville via Memphis. Additionally, Jefferson Lines runs daily buses from cities north of Arkansas, such as Kansas City.

Get around

Car travel here, as in most of the United States, is quickest. Interstate 40 crosses the state from Fort Smith to Memphis, passing through Little Rock. Interstate 30 also goes south from Little Rock to Texarkana.

See
Central High (civil rights museum in Little Rock)
Clinton Presidential Library (Little Rock)
Crystal Bridges (world class art museum in Bentonville)
Eureka Springs and the Christ of the Ozarks (Victorian era spring town)
5 - 10 museum (first Wal Mart in the US) in Bentonville.
Johnny Cash Museum in Dyess.
Do
Climb a mountain (Petit Jean state park, Mount Magazine state park in the Ouachitas, etc.)
Paddle down a river (Buffalo National River).
See some live music (Wakarusa Music and Camping Festival at Mulberry Mountain in Northwest Arkansas, Toad Suck Daze in Conway, Riverfest in Little Rock - all happen in the spring).
Watch some animals (bald eagles and migratory birds at Holla Bend, trumpeter swans at Magness Lake, elk near Ponca)
Dig for diamonds at Crater of Diamonds State Park, in between Hot Springs and Texarkana in the Timberlands area.
Listen to traditional country music in Mountain View.
Visit one of the state's local wineries, some of which have been producing wine since the late 1800s (several near Altus off I-40).
Hike the Ouachita National Recreation Trail.
Eat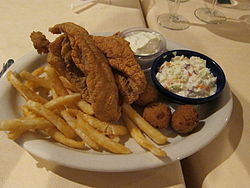 Arkansas' food resembles that of its southern neighbors. Much truly authentic and worthwhile southern cuisine is made in private homes, cookouts, or church functions, rather than actual restaurants. One exception is barbecue, particularly pork barbecue, which is widespread, and available in restaurants, roadside stands, and even trucks. Another regional staple is fried catfish, often it is served with hushpuppies, cole slaw, and french fries or a baked potato. Catfish is especially prevalent in the lowland and Delta regions of the south and east.
Traditional African-American cooking, or "soul food" is generally very similar to the traditional cooking of white southerners in terms if ingredients or basic dishes. It tends to be spicier, and may make more extensive use of ingredients more affluent whites or blacks shun. Likewise, it is rarely presented in formal restaurants, but at cookouts and church gatherings.
One unusual highlight of the Delta region is "tamales." These are very distinct from Latin American tamales, even though they were originally introduced by Mexican farm workers in the early 20th century. In the northwestern part of the state, recent growth in Mexican immigration has brought more authentic Mexican cooking to the state.
There is plenty of cosmopolitan dining in the state.
Little Rock
,
Eureka Springs
,
Fort Smith
, Northwest Arkansas, all have excellent options in certain cuisines due to large immigrant/foreign populations.
Drink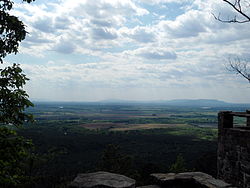 Iced tea and lemonade are stereotypically southern beverages and are prevalent in the state along with bottled soft drinks. Both are generally served very sweet, though most restaurants will offer an unsweetened version.
Many Arkansas counties are "dry" and do not have retail alcohol sales. However bringing alcohol for private use into a dry county is legal for those over 21 years of age.
Stay safe
Crime
Crime is generally low in most of the state, the main exceptions being the larger cities. Even though many small-town Arkansans view Little Rock as a particularly dangerous and unsafe city, its violent crime rates are in line with other United States cities of similar size. Property crime is more prevalent.
Drunk driving can be a danger, especially in rural areas at night. Arkansas is divided between "wet" and "dry" counties, so many drinkers in the state must drive 10–30 miles away from home for a good time.
Social issues
In terms of race relations, Arkansas has progressed in many respects since the 1950s. However, many small towns in the state, especially in the highlands, are mostly or entirely white, and people of color may attract stares or unwanted attention. People of Hispanic background may be assumed to be recent immigrants. Likewise, some areas of the Delta, and of the cities of Little Rock, North Little Rock, and Pine Bluff are almost entirely African-American, and even absent overt racial tensions, poverty is widespread in these areas, and wealthier visitors of any background need to be aware of economic and social tensions. However, some areas in larger towns and cities are decidedly integrated.
Severe weather
Severe thunderstorms and flash floods often occur during the spring and summer months. While generally mild, winter storms can also strike the state – especially in the northwest. Perhaps the most likely environmental danger is the intense summer heat, compounded by the humidity from June through September. Keep well hydrated, and avoid overexerting yourself.
Tornadoes
Arkansas, though not a part of the country's "tornado alley," is frequently affected by
tornadoes
during the storms which occur throughout the spring and summer seasons. Weather conditions can change rapidly and it is important to stay informed during tornado season as to the current weather outlook while travelling across the state.
If you are planning on traveling to Arkansas during the spring or summer months, refer to the
Tornado safety
page for important precautionary information.
Go next
Texas – The largest state in the contiguous United States borders Arkansas to the southwest.
Oklahoma – Arkansas' western neighbor offers the opportunity to explore America's Great Plains.
Tennessee – Northeast of Arkansas, Tennessee offers natural wonders such as the Great Smoky Mountains National Park.
Mississippi – The state's eastern neighbor has Civil War battlefields, scenic parkways, and antebellum charm.
Louisiana – Home to New Orleans, this state on Arkansas' southern border offers a unique culture.