Arkhangelsk Oblast
Arkhangelsk Oblast
is a region in
Northwestern Russia
, which borders
Karelia
to the west, the White Sea to the north,
Nenetsia
to the northeast,
Komi Republic
to the east,
Kirov Oblast
to the southeast, and
Vologda Oblast
to the south.
Regions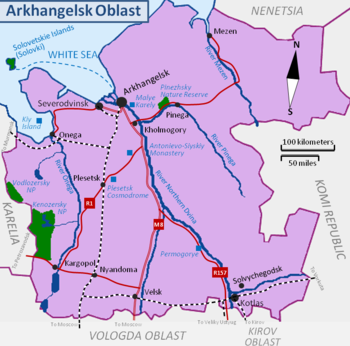 Arkhangelsk Oblast can be divided into 3 parts from north to south:
Northern part - the White Sea coast and Northern Dvina's delta. Home to biggest cities (Arkhangelsk and Severodvinsk), but less populated in rural areas outside the delta.
Middle part - the less populated part, with worst roads, a gap between North and South. Plesetsk Cosmodrome is located there.
Southern part - agricultural and more populated part with an array of old towns, as Kargopol, Velsk, Solvychegodsk, and Kotlas.
Cities
— the region's capital, chief sea port of medieval Russia, which houses Europe's largest museum of wooden architecture (Malye Korely). Claims to be the cultural capital of Russian North.
— the second-largest city in the Oblast, 35 km from Arkhangelsk, at the White Sea coast. Home to the military Russian Northern Fleet and a principal submarine base and construction site.
— a 1000-year-old town in the south-west of the region, near Kenozersky National Park, notorious for sasquatch/bigfoot sightings
— Lomonosov's birthplace, a historic village with a museum and few abandoned churches.
— an important rail junction in the region's southeast, transit point to Veliky Ustyug.
— a military town, forbidden for tourists, home to the Plesetsk Cosmodrome.
— a small, old port and a base for tours heading out to Kiy Island.
— a historic town on the Vychegda River with an impressive Blagoveshchensky Cathedral and Vvedensky Monastery
—a small subpolar town in the northern part of the Oblast.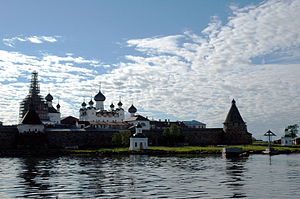 Other destinations
— home to a hauntingly beautiful monastery which has served as a Russian fortress in numerous wars for the past 500 years as well as one of the first Soviet gulags; a UNESCO World Heritage Site.
— also at the border with Karelia, but more remote from roads.
— a beautiful river, a small town, and the only Oblast's national reserve, famous for its caves. Golubinsky Proval — the biggest cave at Pinega, open for tourists, best to visit in winter.
— an uninhabited island in the White Sea that is a popular tourist destination for its disbanded Kiysky Monastery
(also Bolshaya) — a Northern Dvina's riverside village on the road from Arkhangelsk to Kotlas, famous for a beautiful wooden church and local handicraft.
— is an archipelago in the Arctic far north. There are only a few marks of civilization in the whole archipelago, and most of the islands are covered by ice and snow.
("Red Hill") — the highest point of Arkhangelsk oblast near Pinega with beautiful Krasnogorskiy Bogoroditskiy monastery ruins. The only alpine skiing place in the Oblast.
— is a group of islands were a couple thousand people live; it is a mountainous island group with a history of nuclear testing.
Narrow-gauge railroads — lost in taiga, they are partly abandoned, and partly operated by timber producers. Often constructed by prisoners, started to operate in Stalin's Gulag times. Going deeper into taiga, it's possible to find abandoned gulag locations and even small unpopulated towns.
— village with a beautiful lakefront Antonievo-Siysky monastery nearby
Understand
Locally called Pomorye, Arkhangelsk Oblast is a very large region (about the same size as
France
) in the Russian north. Sparsely populated (1.5 million for all this area), it is filled with taiga, beautiful lakes, wide rivers, and wast swamps. The nature is kin to
Finland
, especially its subpolar part.
Most famous destinations are
Arkhangelsk
(regional capital) and the
Solovetsky Islands
, where a beautiful northern monastery/citadel served as a brutal gulag prison during the Soviet years. There are other less-visited, but very picturesque towns in the Oblast (
Kargopol
,
Solvychegodsk
), but the main reason to visit the region is to discover its severe beautiful nature mixed with wooden rural architecture. There are 2 national parks and 1 natural reserve, which are truly worth to be seen in Arkhangelsk Oblast'.
Talk
Russian is spoken everywhere. Outside of Arkhangelsk city center it's hard to find English-speakers.
See
Russian phrasebook
.
Get in
By plane
Flights arrive at Arkhangelsk airport from
Moscow
,
Saint Petersburg
,
Riga
, and
Tromso
. The airport is served by Aeroflot, Utair, Nordavia, Rossiya air companies, and also by low-costs, as Avianova and Air Baltic.
By train
The overnight train ride from
Moscow
takes 21 hour, from
Saint Petersburg
a full 25 hours.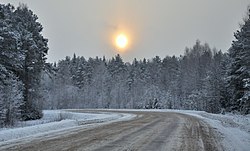 By bus
There are no regular interregional bus services to Arkhangelsk Oblast.
By car
It's the most interesting way to enter and explore the region. M8 road connects Arkhangelsk with Moscow and Saint Petersburg through
Vologda
. It is paved at all distance, but some parts are in poor condition. There are about 700 km from Moscow to the region's border, and more than 500 km after it to the north to reach
Arkhangelsk
.
Another way to Archangelsk Oblast is through
Veliky Ustyug
(
Vologda Oblast
). The road is not so good as M8, but still available for all types of cars, allowing to see picturesque villages beaded at river Northern Dvina's high bank.
The road from
Karelia
via
Kenozersky National Park
is unpaved at regional border, and hardly passable by non 4x4 cars, unless it is winter.
By boat
There are no regular ship service to the region, yet
Arkhangelsk
is a seaport, so it's possible to reach it by a commercial ship.
Get around
By plane
The main
Arkhangelsk airport
serves a regional flight to
Solovetsky Islands
(2 per week in winter, 4 per week in summer), while the other airport Vaskovo has local regional flights to remote locations inside the Oblast.
By train
It's possible to reach by train from
Arkhangelsk
such destinations as
Severodvinsk
,
Onega
,
Plesetsk
,
Nyandoma
(transit point to
Kargopol
),
Velsk
,
Kotlas
, and
Karpogory
(at Pinega river). The quality of trains is poor comparing to European standards or to interregional Russian trains.
By bus
Regular buses departure from Arkhangelsk to
Veliky Ustyug
,
Kholmogory
,
Severodvinsk
,
Kargopol
,
Velsk
,
Yemetsk
(transit point to
Antonievo-Siysky Monastery
),
Kotlas
, and
Pinega
.
By car
There are no international car rentals in Arkhangelsk, but it's possible to rent a car via local agencies.
By taxi
Taxi can be a good alternative for short distance rides, like from Arkhangelsk to Severodvinsk (35 km), or where other transport is not developed (e.g. from
Nyandoma
station to
Kargopol
). Most destinations inside the Oblast are quite distant, so expect very expensive taxis.
By boat
Navigation period lasts from mid-May to mid-October. There is regular commuter ship service from Arkhangelsk to neighboring locations (mainly to isolated island villages in Northern Dvina's delta).
There are many points it Oblast, which are accessible only by riverboats.
By thumb
Hitch-hiking is very possible in the region with general safety precautions. But most drivers will hardly understand English.
See
Malye KarelyLarge and locally famous wooden architecture museum, 24 km from Arkhangelsk.
Do
- hiking
- skidoo rides (in winter)
- alpine and plain skiing (in winter)
- fishing
Eat
Kulebyaka - a local pie with fish.
Kozuly - local sweets.
Stay safe
Northern Russians are kind and hospitable, but a foreign tourist looking significantly richer than locals can provoke someone for a robbery.
Use general safety precautions and keep low profile while surfing the region with no Russian guide. Avoid wooden part of Arkhangelsk at the left bank of Northern Dvina and keep out of unattended dark places in cities at night.

Go next