Armenia (Colombia)
Armenia
is a city in Quindío department in
Colombia
's
Zona Cafetera
.
Get in
By plane
El Eden Airport
(AXM) is 20 minutes from the city center. Has a food court in one of its sides were you can enjoy tropical fruit juices like maracuya, mango and guanabana; also try some coffee cookies and the special caramel spread with coffee ready to go. There are other places with magazines and always display some typical art in the walls. The washrooms are very clean and in general people are very warm.
By bus
The bus terminal is 3 km from the centre of town where there are plenty of hotels. Expect to pay no more than COP$4,000 for a cab to the centre.
Get around
There are taxis all over and they run into the night. Negotiate a price before riding if the meter is off.

See
Cocora Valley

Parque De La Vida

address: Avenida Bolívar corner Calle 6N

Rather big park with a lake and a artificial water cascade. Calm atmosphere and good for relaxing. Many different trees including a bamboo forest. It is worth a visit.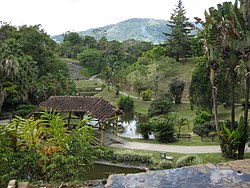 Do
Recuca - Recorrido de la cultura cafetera (

National Coffee ParkA theme park where you can see different fauna and vegetation, see typical folk dances, ride roller coasters, visit museums inside the park, and ride a touristic train.
Eat
Restaurante Cafe Quindio Gourmet

phone: +57 6 749 5970

address: Carerra 14, #7N (Ave. Bolivar)

A dining experience in a clean, modern setting with outdoor seating under a large canopy in addition to the inside tables. Not pricey by U.S. or European standards, exotic appetizers and salads are priced from COP$9,500-16,500, and beef, pork, chicken, seafood, and pasta entrees are COP$18,000-34,500. Beverages include natural fruit juices, coffee, beer, wine, and scotch. A great venue for a first date with a lovely senorita, or your significant other. There are also Quindio coffees, coffee cookies, and gift sets available in the gift shop. The gracious owner, Jaime Moreno Motta, is likely to personally greet you, especially if he hears you speaking English, in which he, and several of his staff are fluent.
Sleep
Go next