Arnhem
Arnhem
is the capital of the Dutch provice
Gelderland
. It was built on both banks of the rivers Nederrijn and Sint-Jansbeek, which were the source of the city's development. The larger area of the
municipality of Arnhem
has a south-eastern border that is partly formed by the river IJssel. It forms the northern part of the
Stadsregio Arnhem Nijmegen
. Arnhem had a population of 151,356 in 2014 and is one of the larger cities of the Netherlands.
Understand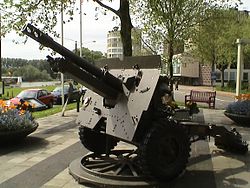 History
Though the early tracks of settlements showed that the early residents of Arnhem descended from the forests on the hills, Arnhem was not built on the banks of the river Rhine, but a little higher along the Sint-Jansbeek. Arnhem arose on the location where the road between Nijmegen and Utrecht/Zutphen split. Seven streams provided the city with water, and only when the flow of the Rhine was changed in 1530, was the city located on the river.
in 1543, it fell to the emperor Charles V. As capital of the so-called "Kwartier van Veluwe" it joined the Union of Utrecht during the Eighty Years War in 1579. After its capture from the Spanish forces by Dutch and English troops in 1585 the city became part of the Republic of the Seven United Provinces of the Netherlands.
The French occupied the town from 1672 to 1674, and preoccupied it from 1795 to 1813.
In the 19th century, Arnhem was a genteel resort town famous for its picturesque beauty. It was known as "The Little Hague of the East", mainly because a number of rich former sugar barons or planters from the Indies settled there, as they did in
The Hague
.
In the World War II, during Operation Market Garden, the British 1st Airborne Division were given the task of securing the bridge at Arnhem. A second battle of Arnhem took place in April 1945 when the city was liberated by the British 49th Infantry Division fighting as part of the First Canadian Army.
Get in
By car
Arnhem is connected with multiple highways.
A12
: (west-east) The road connects the city of
The Hague
, with the
German
border, connecting to the German Autobahn A3.
A50
: (north-south) Is a highway in the
Netherlands
, stretching from
Eindhoven
in the southeast up to
Zwolle
in the northeast of the country.
A325
: The highway between Arnhem and
Nijmegen
By train
Arnhem has four train stations to its name: is the main station of Arnhem, opened in May 1845. The station, which with 40,000 passengers per day is the ninth busiest station of the Netherlands, has two exits, one of which,
Sonsbeekzijde
, is on the west side of the train station, and can be identified as the elevated walkway across the tracks. As the exit's name implied, it is closest to
Park Sonsbeek
. The city side exit is found on the east side, and has escalators and steps going down. Here you're find on-the-go shops, though these are quite expensive compared to their counterparts outside of the station. The city centre is a few minutes away by foot. Optionally, you could take a (trolley) bus from the bus station, which is incorporated into the train station. It too can be found on the city side of the station. Arnhem Centraal is on the
Amsterdam
—
Frankfurt am Main
InterCity Express (ICE) line, as well as an international stopping train to
Dusseldorf
(RE 19) serviced by Abellio. Sprinters, Intercity's connect to
's-Hertogenbosch
,
Utrecht
,
Amsterdam
,
Schiphol
,
Ede
-
Wageningen
,
Wijchen
,
Zutphen
and many more. Stoptreinen serviced by Arriva and Breng will get you to
Doetinchem
,
Winterswijk
or
Tiel
.
The other three stations in Arnhem which connect to more urban areas of the city, are:
, on the south bank of the river Rhine,
, near the shopping centre of the same name; and
, near the Steenstraat and the Klarendal Fashion Quarter.
By plane
Arnhem is near several airports:
Amsterdam-Schiphol airport
(
AMS
), The largest airport in the Netherlands, and the fifth largest in Europe. 110 km to the northwest. Train takes about 75 min, and will cost €17.70 one way. Schiphol airport gets served by most major carriers, and has an excess of 100 flights per day to the United States alone.
By car: Take the A12 to Utrecht, Then heading to Amsterdam via A2 and then A9 to Schiphol Airport. Expect this to take anywhere from 60–75 minutes in regular traffic.
Weeze Airport (NRN), 80 km southeast of Arnhem just across the border with Germany, near the village of Weeze (Germany). Although Ryanair (the biggest airline serving the airport) and the airport advertise with the name Düsseldorf-Weeze, the airport isn't near Düsseldorf. The city of Düsseldorf is 80 km to the southeast of the airport. Weeze serves over 50 destinations across Europe, Northern Africa and Western Asia.
The only direct public transportation from Weeze to Arnhem is a taxivan costing €16 euro one-way, and you will have to make a reservation beforehand. For timetabling see the taxivan's website. Journey time will be about 70 minutes. Pick-up and drop-off in Arnhem will be at the Gelredome Stadium/McDonald's. If your plane lands shortly before the bus is scheduled to leave give them a quick call on the tarmac and they will wait for you.
Otherwise, the more adventurous can take a bus from Weeze to Kleve, then a train to Nijmegen, where you can catch a connecting train to Arnhem. This journey can take between 2.5 and 3 hours.
Eindhoven Airport (EIN), 85 km to the southwest of Arnhem. From the airport you take bus 401 to Eindhoven Central Station and then a train to 's Hertogenbosch (which is the same as Den Bosch). In 's Hertogenbosch, change trains and take the train to Arnhem. This journey will take you approximately 100 minutes by public transportation.
When driving, take the A50, (Zwolle-Eindhoven) which skirts the west of the metropolitan area to the Eindhoven ring road (A58/A2) Airport exit is exit 29 on the A2.
Flughafen Düsseldorf (DUS), about one-third the size of Amsterdam-Schiphol, but with plenty of international connections, including to the USA, and gets served by all the major airlines in Europe. Although it doesn't get nearly as many flights as Amsterdam does, it's cheaper, doesn't have nearly as many congestion problems, and generally much less hassle at the airport.
From Arnhem's main train station you can take the ICE train to Düsseldorf Hbf, where you can take S1 to Flughafen terminal. The train to Düsseldorf Hbf will take around 70 minutes.

By bicycle
Arnhem is on EuroVelo 15 and LF-3.
For information on the adjacent German section, see Rhine Rad Weg.

Get around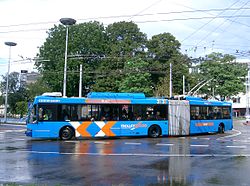 By bus
Arnhem is the only city in the Netherlands that uses trolleybuses as a means for public transportation. The bus station is next to the train station in the city centre. There is a fast and frequent trolleybus network. From here you also can take a local bus or buses to cities as
Apeldoorn
(bus 91 and 231) and
Nijmegen
(331 stops only on the main stopping places, also 33 but he takes a longer route). Timetables and prices can be found
here
.
By bicycle
There is a bike rental at the Stationsplein (Station square) next to the exit of the Station. (Tel. +31 26 4421782) The rate per day is €5.20, per week (5 days or longer) it's €21.
At the bike rental a deposit of €25 per bicycle is required. Payment by credit card is accepted. It is possible to take out a bicycle insurance. The premium amounts to €0.50 a day per bike. The deposit amount is doubled when a bicycle insurance is not taken out.
By taxi
There are several taxi services in Arnhem. The most common service is Taxi Arnhem, they can be reached 24/7 at +31 26 260 26 26. You can also arrange for the taxi to pick you up from Schiphol Airport or Eindhoven Airport.
Taxis can be found waiting near Arnhem Central Station. Taxi drivers in Arnhem do not use Uber, Lyft, or a similar service, so you have to phone a taxi to book one.
By car
There are several car rentals in Arnhem:
Europcar, Boulevard Heuvelink 5. +31 26 445 3701
Hertz, Bergstraat 2. +31 26 351 3222
KAV, Stieltjesweg 17. +31 26 351 5819
See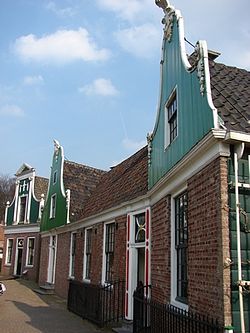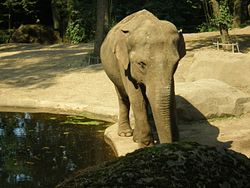 Points of interest
address: Roggestraat 43

De Gruyterpassage is a covered, 75-metre-long pedestrian passage built in 1916 in the Art-Nouveau style. It was originally used as a grocery store until about 1980. In 2006, after restoration, the passage reopened as part of a shopping complex.

Duivelshuis

address: Koningstraat 38

This 15th century house was once owned by Maarten van Rossem. Today it belongs to the city and is used as the mayor's office. Duivelshuis litterally means Devil's house owing its name to the satyrs on the front facade.

John Frostbrug

address: Nijmeegseweg

This is a 1948 replica of the bridge made famous in the film A Bridge Too Far. John Frost was the commander of the unsuccessful British assault on the original bridge during the 1944 Battle of Arnhem. The original bridge was destroyed by an allied air raid after the battle to deny its use to German forces.

address: Jansplein 60

This octagonal neo-classical church stands in the middle of Jansplein, a public square, and was built in 1837-1838. It is used today by the Reformed Church.

KorenmarktKorenmarkt (literally: corn market) is a small, attractive city square lined with sidewalk cafés.

Postamt

address: Jansplein 56

The former post office is in a Neo-Gothic building built from 1888 to 1890.

Sabelspoort

address: Eusebiusplein

This Baroque-style city gate was built in 1642 and is the only surviver of four original city gates.

phone: +31 26 4435068

address: Kerkplein 1

This medieval church has high towers equipped with a glass elevator and a panoramic viewing platform. The church hall is closed due to renovations until September 2019, but the towers remain open.

Sint-Petersgasthuis

address: Rijnstraat 71

Sint-Petersgasthuis (Saint Peters guest house) was built around 1354 to provide overnight accommodation for homeless people. The brick building has two bartizans (castle-like turrets) and a statue of saint Peter at the top of the façade.

address: Markt 38

The city scale (stadswaag) building dates from 1761-1768 and is constructed of brick with natural stone with decorative parts. Today a restaurant occupies the building.

Synagoge

address: Pastoorstraat 17a

The Arnhem Sjoel was built from 1852 to 1853 in an eclectic style, mainly a fusion of neoclassicism and neo-Gothic. It was restored from 2001 to 2003 and still serves as a place of worship for the Jewish community of Arnhem.

Walburgis

address: Sint Walburgisplein 1

Saint Walpurga Church is the oldest church existing in Arnhem today. It was built in the 14th century and restored in the mid-19th century. During World War II, it was gutted by fire; after which the church was rebuilt and expanded. Today, known as the Walburgis, it serves no religious functions, but is used as a venue for expositions and concerts.

Waterval Jansbeek

address: Rijnkade, 6811

This small water feature lies along the riverside Rijnkade (Rhine quay) promenade. An old wharf-side crane is on display between the water feature and the John Frost Bridge.

Wall of Fame

address: Boterdijk

Along the Boterdijk you can see a lot of legally-placed graffiti.
Zoo
phone: +31 26 442-4534

address: Antoon van Hooffplein 1

A large zoo showcasing animals in their original habitats. The zoo is divided into several different areas, including Desert, Ocean, Mangrove and Safari.
Museums
address: Utrechtseweg 232

A museum dedicated to the Battle of Arnhem, fought in September 1944. During the battle the building was the headquarters of the British forces fighting in and around Oosterbeek and Arnhem. The Museum shows a diverse and extensive collection of original weapons, uniforms and equipment alongside interviews, pictures and videos about the battle. In addition to this collection, the museum has an award-winning Airborne Experience exhibition, that depicts the area as it appeared during the battle. The museum also describes the German and civilian perspectives of the battle. Near the museum, there is also the Airborne War Cemetery. It was established in 1945 and is home to 1759 graves from the Second World War. Soldiers of several nationalities are buried here, including British, Polish, Canadian, Dutch, Australian and New Zealanders.

Airborne at the Bridge

address: Rijnkade 150

This is an information centre with display panels and audio/video presentations about the Battle of Arnhem. Large windows at the centre overlook the river and the John Frost Bridge, the objective of the battle. There are staff present to answer questions. The centre is a branch of the Airborne Museum Hartenstein in Oosterbeek.

address: Oude Oeverstraat 4

39 interconnected cellars from the 13th, 14th and 15th centuries are preserved and restored under the shopping streets of Arnhem.

address: Klarendalseweg 82

Windmill De Kroon was built in 1870 and still is in working order. It is designated as a Rijksmonument.

address: Zijpendaalseweg 24A

The water mill produces organic flour and the mill barn sells its products plus baked goods.

phone: +31 26 442-3164

address: Utrechtseweg 87

A small modern art gallery specialised in Dutch artists.

phone: +31 26 357-6111

address: Schelmseweg 89

A large outdoor museum featuring windmills and many other heritage buildings. It reflects old as well as more recent Dutch traditions. In the museum you can buy a lot of traditionally made goods, ranging from food, to drinks to paper to other goods. A tram line circles the park running vintage trams on a fairly frequent basis connecting various clusters of heritage buildings.

phone: +31 26 445-5912

address: Velperweg 23

A museum showcasing everything related to making wine.

address: Remisestraat 4

Besides many photos of Arnhem's tram, trolley and diesel buses, the museum also features numerous items of public transit paraphernalia mostly in display cases. The museum also has a working trolley bus switch mounted on the ceiling of one of the rooms. The museum's owner may guide you through the rooms.

address: Zijpendaalseweg 26-28

Interactive and educational museum about water. Make a trip through a sewer or learn about dikes and how water is used all over the world.
Do
Events
The Living Statues exhibition is one of the great summer attractions for the city, with around 250 competitors from around the world. The event takes place during the last weekend of August and dates back to 1996. On Saturday the catwalks belong to child performers, whilst adult actors perform on Sunday afternoon.
The Airborne March is an annual Dutch commemorative event of remembrance that began in 1947 and takes place on the first Saturday in September in Oosterbeek near Arnhem. Over 34,000 people took part in the 65th march in 2011.
The Gelredome is a stadium home to Arnhem's football club Vitesse. The premises are also used for various concerts and event, such as the annual monster truck show Monster Jam. The Gelredome is accessible in a few minutes from the central station and the city centre by busline 7.
King's Day (formerly Queen's Day) is a national holiday celebrated on 27 April. Festivities will be held in the city center.
Other national holidays, such as Sinterklaas and Carnival, are also celebrated publicly with events and parades throughout the city.
Leisure & sports
Cinemas
address: Oude Stationsstraat 20

phone: +31 263 514 514

address: Hoogstraat 10

phone: +31 264 424 283

address: Audrey Hepburnplein 1

At the Korenmarkt in the middle of the square, surrounded by cafes and bars. Here you find a bigger offer of all kind of movies.
Sports
Parks
National Park de Hoge VeluweNorth of the city, the Hoge Veluwe National Park is the largest actively managed conservation area in private hands in the Netherlands. You can cycle to the park from Arnhem and back if you start early in the morning. If you go there by car or public transit, you can use the bicycles provided for free at the entry gates.

phone: +31 264 450 660

address: Zijpendaalseweg 24A

Expansive parkland & gardens with 18th-century mansion, fountains & a water mill, plus tea house. Sonsbeek is often home to public art exposures, and is by far the best-reached and most-used park of Arnhem.

phone: +31 263 644 645

address: Zijpendaalseweg 44

Directly north of Sonsbeek, Zypendaal is a less-used park with features like Sonsbeek, but lacking the public art. The park, however, contains ten Rijksmonumenten, or recognised monuments varying from the entry gates to the 18th-century estate.

Stadsblokken-MeinerswijkAt the southern part of the river Rhine, west of the Nelson Mandela Bridge. A pleasant area to walk, bike and relax. Wild Horses and walk freely in this area.

Park de Steenen Kamer and Westerveld

address: Drielsedijk 13A

Two parks within walking distance of each other, directly south of Meinerswijk en de Praets. They are separated by a road.

address: Appelschahof

Built in the 1970s, Immerloo is a spacious park in southern Arnhem bordering Huissen. The park is spacious, hosting several events, mostly in the summertime.

Park Klarenbeek

address: NL-6822 Arnhem

In the north of Arnhem, Klarenbeek is a quiet park with a forested and open area. The first of which sees a lot of change in elevation.

address: NL-6826 Arnhem

Opposite the mall of the same name, Presikhaaf is a park mostly used by students of the University of Applied Sciences HAN, which borders the park to the north.

address: near Velperweg 137

A ten-minute walk from Presikhaaf Station, Angerenstein is the source of the Julianabeek. The park used to house a monastery, but nowadays only has a 17th-century estate along with its property. The park is free to visit, with the landscape around it having been revitalised in 2004/2005.

Rijkerswoerdse Plassen and Jubileum ParkSouth of the city, bordering Elst, the Rijkerswoerdse Plassen are a summer hotspot. The park features two large artificial lakes created in the 1980s, one of which has a beach, which see a lot of use during summer, whether that be for swimming or water sports.
Buy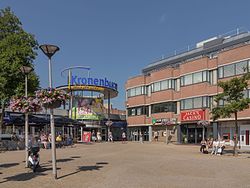 The city center in Arnhem has four major shopping areas, that are connected with each other. They are the Roggestraat, Ketelstraat, Vijzelstraat, Rijnstraat. It's a pedestrian zone and has a length of approximately 1,5 km. These streets are paved with shops and boutiques, and form Arnhems main shopping area.
Just outside the city center near the Arnhem Velperpoort train station is the Steenstraat, a well-known shopping street.
Indoor Shopping Centers
address: Kronenburgpassage 101

A large indoor shopping center that offers free parking. It houses a wide variety of shops, catering and supermarkets.

address: Hanzestraat 157

An indoor shopping center housing numerous shops and cafés.
Eat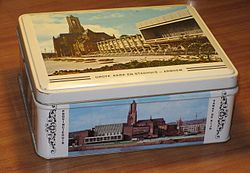 Typical to Arnhem are the
Arnhemse meisjes
('Arnhem girls'), a local type cookie. You can also enjoy a wide variety of traditional Dutch treats, such as
stroopwafels
, at many vendors and stores in Arnhem's city center. There's a wide variety of restaurants, especially in and near the city center, but also in the Kronenburg shopping center.
High-End
phone: +31 26 443 5313

address: Weg achter Het Bos 1

Exquisitely located restaurant ideal for high-class dining.

phone: +31 26 379 6825

address: Kleine Oord 78

Hamburger and wine bar; three time winner of the Horecava Tastiest Hamburger in the Netherlands competition.

phone: +31 26 214 8800

address: Ingenieur J.P. van Muijlwijkstraat 19a

Inside a former church is this unusual, trendy and quirky restaurant where you can dine amidst old church furniture and a large mural of nude women. The food is middle-eastern/northern-African, and it also houses a bar and a hotel.

phone: +31 26 351 5607

address: Bakkerstraat 58

An acclaimed Italian restaurant in the city center. What's best about this restaurant is the food: delicious pastas and a mouthwatering funghi trifolati, all made with quality ingredients. It's an all-round quality restaurant with a professional staff and authentic appearance. Ask for the sorbet ice cream as dessert.

Restaurant Valkenburg

phone: +31 26 361 52 00

address: Westervoortsedijk 89

Located along the river side, this place is half built on the water. It's rather vintage in terms of decoration but is widely praised for its excellent food.
Japanese
Italian
phone: +31 26 744 0251

address: Oude Stationsstraat 14

Inexpensive Italian restaurant.

phone: +31 26 443 7444

address: Jansplein 50

Inexpensive Italian restaurant with typical Italian decor.
Vegan and Vegetarian
phone: +31 6 81026579

address: Oude Kraan 72

Vegetarian and vegan restaurant, with its name humorously translating to "Rabbit's Food".
Other
address: Gele Rijders Plein 39

Mexican restaurant.

La Cubanita

address: Pauwstraat 11

Cuban-themed tapas restaurant.

phone: +31 26 720 0807

address: Willemsplein 46

Restaurant that also serves cocktails.
Drink
For Arnhem's nightlife visit one of the many pubs, clubs and bars on and near the Korenmarkt, including
The Cavern
,
Bloopers
,
Jules
,
Aspen Valley
,
The Manhattan
and
The Move
. The nightlife in Arnhem is predominantly active on weekends after midnight; on weekdays or before 12 on weekends you can expect to find most clubs mostly empty.
Cafes
phone: +31 26 382 8307

address: Willemsplein 45

Cosy place serving a large selection of excellent coffees, teas and cakes.
Pubs
phone: +31 26 202 0258

address: Jansplein 56

An Irish Pub with a selection of Irish and domestic beers, pool tables and a couple of board and card games. Also hosts an indoor smoking area.
Bars
phone: +31 26 202 0258

address: Jansplein 56

Located inside the old post office is a unique type of bar where you can draft your own drinks from a selection of over 100 types of beer and 80 types of wine.

phone: +31 26 445 0393

address: Ruiterstraat 35

Cosy and casual bar with a large selection of craft beers.

Café Vrijdag

address: Velperbuitensingel 21a

It's a simple but cosy bar. They serve good wine that goes well with the basket of bread with a variety of dips.

phone: +31 26 351 9440

address: Duizelsteeg 20

A cosy bruine kroeg (brown bar) serving Grolsch Beugels (a type of beer bottle), as well as several craft beers, single-malt whiskeys and food options.

phone: +31 26 443 4604

address: Bovenbeekstraat 28

Another place to enjoy wine, coffee and food. Everything is made or chosen for taste and quality. Pies and food are made by the staff.

phone: +31 26 370 7240

address: Bovenbeekstraat 5
Clubs
Brigant

phone: +31 26 848 2982

address: Apeldoornsestraat 4a

An alternative nightclub, frequently hosting events and live shows for electronic, metal, hip-hop and punk music.
Sleep
address: Diepenbrocklaan 27

A hostel in the north of Arnhem. It's near the hospital Rijnstate on a main bus route from the central station.

address: Stationsplein 1

A 4-star hotel opposite to the central station.

address: Willemsplein 18

Near the city centre. It houses a Greek buffet restaurant (€19).

address: Amsterdamseweg 505

Hotel Landgoed Groot Warnsborn

phone: +31 26 44 557 51

address: Bakenbergseweg 277

Elegant country-park hotel on the outskirts of Arnhem surrounded by 750 hectares of woodland.

address: Onderlangs, 10

Located on the River Rhine, this hotel offers 68 guest rooms with stunning views and many tourist attractions within a short distance.
Hotel de Bilderberg, Oosterbeek
Camping
phone: +31 264 42 34 69

address: Bakenbergseweg 257, 6816 PB Arnhem

Has a recreation room with socket available (fir e.g. charging phones), seats and table. Wi-Fi available with extra charge. Separate field for "hiker &biker" though that seems to mean just with a tent.
Go next
From Arnhem, the
Hoge Veluwe National Park
and
Veluwezoom National Park
are just a hop away to the north. There are accommodations for the parks in the towns and cities surrounding it.
Arnhem and
Nijmegen
have very close ties, as a result, travelling from Arnhem to Nijmegen can be done witch ease, whether you're travelling by car (via A325) or train (direct line).