Arnhem Land
Arnhem Land
is an isolated reserve that covers 91,000 km² of the
Northern Territory
of
Australia
. It's located in the middle of Australia's northern coast and bounded by
Kakadu National Park
, the
Arafura Sea
and the
Gulf of Carpentaria
. The region has been a reserve since 1931, taking its name from Matthew Flinders, who named the region in 1623 after the Dutch ship exploring the coast named
De Arnhem
, the boat in turn is named after the Dutch city of
Arnhem
.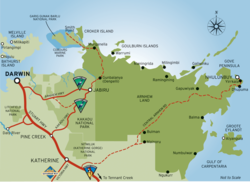 Understand
The main settlement is
Nhulunbuy
with a population of over 4,000 people, actually the fourth largest settlement in the Northern Territory. The area belongs to the Yolngu Aboriginal people who have lived on and taken care of the land for more than 40,000 years. Nhulunbuy is one of the most isolated areas of Australia, surrounded by beautiful beaches and is a popular adventure fishing spot. The town was built in the early 1970s to service a bauxite mine and alumina refinery, operated by Alcan. However it has also assumed a role as a centre for service provision to Arnhem Land. Its isolation has meant that its natural attractions have had little visibility in the mainstream tourist market. Nhulunbuy is often referred to as "Gove", however Gove is actually the peninsula on which the town is located.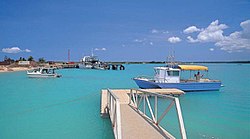 History
Arnhem Land is home to the oldest living culture in the world. There are hundreds of different languages, customs and laws, each woven together to tell a story that is more than 50,000 years old. Sharing and learning about aboriginal art and culture is central to the Arnhem Land experience.
Geography
This Aboriginal-owned expanse is made up of wild coastlines, deserted islands, rivers teeming with fish, lush rainforests, soaring escarpments and savannah woodland. This land is one of the last great unspoiled areas of the world. Its small population is predominantly indigenous, whose traditional Aboriginal culture remains largely intact. The didjeridu originated in Arnhem Land, and the area is also world-renowned for its distinctive Aboriginal art.
Flora and fauna
Arnhem Land is one of the best fishing destinations in the world, mainly owing to its rarely fished waters.
The World Heritage listed Kakadu National Park, Arnhem Land, the Mary River and the Gove Peninsula are home to around 280 bird species, equating to about a third of all bird species found in Australia, making the region a drawcard for bird watchers.
The apex predator of Arnhem is the saltwater crocodile. Dugongs and killer whales also reside in the eastern end of the region.
Climate
The most popular time to visit Arnhem Land is in the dry season (April to September) The wet season sees extremely dramatic weather conditions. Unless you are an experienced adventure traveller, then booking a tour to visit the area in the dry season is the usual way to travel there.
Throughout the year, Kakadu and Arnhem Land's landscapes undergo spectacular changes. Bininj/Mungguy recognise six different seasons, as well as subtle variations that signpost the transition from one season to another. This knowledge of nature is fundamental to the culture of the Aboriginal people. Bininj/Mungguy have lived with the changing landscape for tens of thousands of years, adapting and using the land for food, shelter and general well−being.
Yegge: Cool weather time, May to June. The wetlands are carpeted with water lilies. Drying winds and flowering Darwin woolly butt tell Bininj/Mungguy to patchwork burn the woodlands to encourage new growth.
Wurrgeng: Early dry season, June to August Most creeks stop flowing and the floodplains quickly dry out. Magpie geese, fat and heavy after weeks of abundant food crowd the shrinking billabongs.
Gurrung: Hot dry season, August to October Hunting time for file snakes and long-necked turtles. White-breasted wood swallows arrive as thunderclouds build, signalling the return of Gunumeleng.
Gunumeleng: Pre-monsoon, October to December Streams begin to run, water birds spread out as surface water and new growth becomes widespread. Barramundi move from the waterholes downstream to the estuaries to breed.
Gudjewg: Monsoon, December to March. The heat and humidity generate an explosion of plant and animal life. Spear grass grows to over two metres tall and creates a silvery-green hue throughout the woodlands.
Banggerreng: Harvest time, April. Clear skies prevail, the vast expanses of floodwater recede and streams start to run clear. Most plants are fruiting and animals are caring for their young.
Get in
By car

Access by road to Nhulunbuy is only possible via the Central Arnhem Road which connects to the Stuart Highway south of Katherine. A permit to travel this road is required by the . The Central Arnhem Road is approximately 650 km of mainly gravel road with numerous river crossings. The drive should only be done in a high clearance four-wheel drive vehicle. Caravans are not permitted on the road. There is limited fuel available along this route.

By plane

Helicopter tours and light aircraft flights are available.
There are daily Qantas flights to Nhulunbuy (Gove Airport) from both Darwin and Cairns. Airnorth flies from Darwin 6 days a week as well. Gove Airport (GOV), is approximately 13 km from Nhulunbuy and 7 km from Yirrkala.

Fees and permits
Anyone wanting to venture into Arnhem Land needs to apply for a permit through the
Northern Land Council
(+61 1800 645 299) and discuss the best spots to camp with the regional permit officer. Call or check website for up to date details on pricing etc.
Nhulunbuy is surrounded by land that is under the control of the local Aboriginal landowners, the Yolngu. Permits are required to enter Yolngu land. During the wet season a proper 4WD should be used to get to some of the camping spots.
Get around

Many travellers fly in or visit Arnhem Land on a four-wheel drive tour, but to really test your driving skills, obtain a permit and experience the networks of four-wheel drive tracks yourself (April to September only). Scenic flights are another way to really take in the vast scenery.
Organised tours are really the best way to experience Arnhem Land. A knowledgeable guide will lead you through the area and answer any questions you may have.

See
There are a number of indigenous art galleries in and around Arnhem Land. The art centres can arrange visitor permits and advise when is the best time of day to watch local artists and craftspeople create their work.
address: Yirrikala, Gove Peninsula, Nhulunbuy

The Buku-Larrnggay Mulka Centre, located in Yirrkala near Nhulunbuy, houses a collection of Yolngu, Aboriginal, bark paintings, carvings and artefacts. The museum includes the original church panels that are of great historical and cultural significance. There is also an extensive history of Yolngu service in World War II, and a collection of stories and petitions relating to the Yirrikala area. The centre also has a retail outlet.

Dhamitjinya (East Woody Island) and Galaru (East Woody Beach)

address: Dhamitjinya, Nhulunbuy, Northern Territory

Dhamitjinya (East Woody Island) and Galaru (East Woody Beach) are 3 km from Nhulunbuy. These pristine beaches are spectacular in both their length and the clarity of their azure waters - a great spot to enjoy a tropical sunset.
As access can be affected due to high tides, please check with Dhimurru Land Management Land Corporation for details. Travellers must also obtain a recreation permit from Dhimurru prior to visiting the area.
The
beaches
around Nhulunbuy are absolutely spectacular. Beautiful sand and water that you can swim in most of the year, of course being cautious about sharks and other dangers. The
bush
here is great as well. Beautiful animals and types of plants you see all along the way to the spectacular waterholes. They have clear pristine water.
Do
You can learn about and view the many world-famous rock art galleries on a guided tour or through the comprehensive interpretative signage at many art sites.
Tours led by aboriginal guides explore the spectacular bush environment, searching for traditional foods and medicines while others cruise rivers and billabongs or tell you the story of the didgeridoo.
address: 10 Beagle Circuit, Nhulunbuy, Northern Territory

They operate around remote north east Arnhem Land, from their base in the town of Nhulunbuy on the Gove Peninsula. They offer luxury four-wheel drive small group tours and personalised private charters throughout the Gove Peninsula area with fishing day trips around Nhulunbuy or extended activity based safaris to their Banubanu Wilderness Retreat on Bremer Island. Fish or just chill out and enjoy the remote solitude.

Conservation Volunteers Australia

address: Shop 4, 41 Cavenagh Street, Darwin

Conservation Volunteers Australia is a non-profit, non-government organisation and is Australia's leading practical conservation organisation. They welcome more that 10,000 volunteers per year and have 24 offices across Australia.

address: Level 3, 43 Cavenagh Street, Darwin

The Yothu Yindi Foundation is a not for profit charitable Indigenous organisation with three primary aims. Sharing knowledge and culture, thereby fostering greater understanding between Indigenous and non-Indigenous peoples. The maintenance, nurturing and celebration of cultural traditions and practices. Creating economic opportunities for Yolngu through education, training, employment and enterprise, community and personal development.
Buy
The art sites and galleries sell original aboriginal arts and crafts.
Collect Aboriginal Art
offer small, tailor made flying tours to remote Aboriginal communities in Arnhem Land, Central Australian and beyond, to view and purchase authentic Aboriginal art. Focusing on their belief, 'the first rule when collecting Aboriginal art is to spend time where it's created', these fully escorted tours will provide you with a rich cultural experience.
The Arnhem Land Art Tour runs for 3½ days and visit remote art centres. This tour costs from $8600 to $9220. Private charters are also available.
Eat
Exploring the area through a tour is most recommended. The tours will provide you with all your food needs. Bush tucker tours show visitors how the indigenous people live from the land. Basic food is available at the sporadic rest stops and museums throughout the park.

Drink
Make sure you drink plenty of water when trekking through Arnhem Land, at least one litre of water for every hour of walking.

Sleep
Lodging
Accommodation is limited, but there are some facilities scattered over Arnhem Land, two of them in Nhulunbuy.
Camping
You can then sleep under the stars at one of Arnhem Land's many secluded camp spots. Discuss the best places to camp with the regional permit officer.
Stay safe
Crocodiles Estuarine (saltwater) crocodiles are dangerous. They have attacked and killed people. They inhabit most areas of water in Kakadu National Park including floodplains, freshwater billabongs, creeks, rivers and coastal areas. In most locations, crocodile warning signs tell you not to enter the water and to keep away from the water's edge. Obey signs warning of crocodiles. If you do not see a warning sign, assume that crocodiles are present. Do not enter the water unless you are sure it is safe to do so.
Swimming Due to the risk of estuarine crocodiles in the park, the only public place you should swim is in the Jabiru swimming pool. Some visitors choose to swim at their own risk, in selected natural plunge pools and gorge areas such as Gubara, Maguk, Jim Jim Falls, Gunlom, Jarrangbarnmi (Koolpin Gorge) and in creeks on the plateau above Twin Falls, Jim Jim Falls and Gunlom. These areas are surveyed for estuarine crocodiles prior to opening each dry season. There remains some risk that estuarine crocodiles may move into gorges and plunge pools during the dry season. Read the crocodile warning signs in each plunge pool and gorge area and consider their information carefully.
Some of the most poisonous snakes in the world inhabit Kakadu, but luckily for visitors they are all very shy and are very rarely seen, let alone confronted. These species include the Taipan, Death Adder, and King Brown. They are seldom active during the day, hunting at night. Do not hike off any trails after dark.
Feral animals have become relatively common in Kakadu, some of which may pose a threat if harassed. Asian Water Buffalo and Wild Horses can cause serious injury or death if they charge.
Cliffs Climbing rock ledges and cliffs and walking or standing near cliff edges can lead to serious injury or death, especially when rock surfaces are wet. Keep well away from all cliff edges.
What to wear During the heat of the day, you will be most comfortable in loose covering clothing which is cool but protects you from sunburn and insect bites. Use sunscreen and wear a wide brimmed hat and sunglasses. Mosquitoes can carry viruses such as the Ross River virus, so if they are biting, use a repellent.
Dehydration Early symptoms include feeling thirsty, excess sweating, headache, dizziness and nausea. If dehydration continues, it can result in seizures, a loss of consciousness and even death.
Preventing dehydration Limit your activity to the cooler parts of the day (mornings and late afternoons) and drink plenty of water. Most people need between 4 to 8 litres of water per day so start drinking water early (coffee, tea and alcohol don't count!). For every hour you walk, carry at least one litre of water per person.
First aid Lie the person down in a cool shaded area. Give them water in small quantities at a time (creek water is alright if you have no other water). If the person cannot keep the water down, or does not recover quickly, seek medical assistance. Contact the medical centre at Jabiru on +61 8979 2018.
Emergency Call Devices are available in remote locations throughout the park. Instructions on use are written on the ECD. These are for emergency calls only. See maps for locations.
Flash flooding Sudden rises in the levels of waterways can quickly cut off the return route from the top of waterfalls such as Gunlom and Jim Jim. Fast flowing water can be deceptive, creating strong currents and dangerous swimming conditions.
Driving hints Top End roads can be hazardous. Plan ahead and allow sufficient time for travel. Slow down! Roads can become slippery in the wet. During the dry, dust from other vehicles can obscure your vision. When using 4WD tracks, put your vehicle into 4WD. Read your vehicle instructions: many vehicles need their front wheel hubs physically locked, before engaging 4WD from the driver's seat. At flooded crossings read the signs, look at depth markers and observe how quickly the water is flowing, before deciding whether to cross. Sometimes it is safer to wait until the water recedes. Remember crocodiles may be present. In the event of fires, make sure you park your vehicle in cleared areas rather than in flammable long grass. Use vehicle headlights if driving through heavy smoke, and drive slowly. If stopping, park well off the road and use hazard lights. Do not park on bridges or causeways at any time. Always check road access.
Make sure you have all the correct permits.
Go next