Arrowtown
Arrowtown
is in a village in the
Queenstown-Lakes
region of the
South Island
.
Understand
Arrowtown is a picturesque gold mining town in the Wakatipu Basin. Set at the edge of the Otago goldfields, Arrowtown was one of New Zealand's biggest gold towns in its day. These days Arrowtown relies on its determinedly preserved heritage to attract tourists - miners' cottages, historic wooden buildings, tree lined streets and 19th century-style shops, still stand as they did during the gold rush.
It is a 20 minute drive from Queenstown, and is often taken in on a day trip from there. It also has its own accommodation and eating options, and can be used as a base for exploring or skiing in the region, if you are after a quieter alternative to Queenstown. It has a quiet village feel outside of the historic main street, and a number of the properties in the town are holiday houses for locals.
History
Arrowtown is believed to have been founded in 1862, when a rush to the district followed a rich gold strike by a prospector, William Fox. It is said that within a few weeks the first parties had taken 200 lb of gold out of the Arrow Gorge.
The mining settlement became known as Fox's, but soon afterwards was changed to Arrowtown after the nearby river (named the Arrow because its point of junction with Bush Creek resembled the outline of an arrowhead). With the exhaustion of gold the settlement declined. Arrowtown was constituted a borough in 1867. Its population dwindled to 171 in 1961, but has since climbed back up following the growth of tourism in the region.
Get in
By road
Arrowtown is located on the banks of the Arrow River approximately 5 km from State Highway 6. There is also road access directly to Queenstown via the Shotover Gorge and a third route via the picturesque Lake Hayes.
By bus
There are
buses
from Queenstown about once per hour between 6AM and 10PM. The bus costs $2 with a GoCard or $5 with cash.
Get around

Due to its small size Arrowtown is easily explored on foot.

See
phone: +64 3 442 1824

address: 49 Buckingham St

The museum is also the town's major Information Centre. It is the focal point for all that is the history of the town and the surrounding areas

Chinese gold mining hutshistoric and informative, short walk from the west end of Buckingham Street.

address: 16 Berkshire St

Wooden church built in 1871.
Do
Walking tracks - Tobin's Track, Big Hill, Sawpit Gully to name a few.
Trip into Macetown (old mining village, scattered remains left) - Mountain bike, trail bike or 4WD into Macetown. Many river crossings. Stunning scenery.
Try your hand at goldpanning - pans are available for hire or purchase from the Museum.
Fishing in the Arrow River
Buy
Arrowtown features a number of small antique and craft stores to explore.

Eat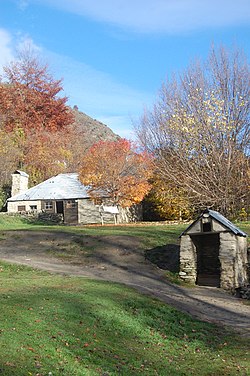 Arrowtown has some great eating places nestled on and just of its historic main street. The two best known are the bakery, which is famous for its gourmet pies, and Saffron, one of the best restaurants in the region.
phone: +64 3 442 1587

address: 1 Buckingham St

Fantastic pies and other assorted baked goods

PestoSaffron's younger family friendly sibling - Italian, pizza, pasta

PostmastersFine dining

address: 1 Ramshaw Lane

Boutique chocolate producers with a cafe offering coffees and sweet treats.

phone: +64 3 442 0131

address: 18 Buckingham St

One of the most serious fine food restaurants in the Queenstown region, it shows off some of the best the South Island has to offer on a plate, with some unique Asian influences. Named in Conde Nast Traveler's list of the 100 Best Tables in the World (2001). There is also a well known cookbook featuring a number of the restaurant's dishes.
Drink
address: 51 Buckingham St

wide choice of beers.

New Orleans Hotel

address: 27 Buckingham St

Established in 1866, the original country pub.

Blue Door

address: alley alongside Pesto and Saffron

Part of the Saffron/Pesto family.
Sleep
Unlike Queenstown, Arrowtown does not have a large number of hotels. Instead it features a number of boutique places, including bed and breakfasts and historic cottages, or rooms in the historic New Orleans hotel for visitors to stay in. There are also a number of motels available, and the five star Millbrook resort and golf course lies just out of the town.
Arrowtown Born of Gold Holiday Park

address: 12 Centennial Ave

A range of accommodation, from fully self contained tourist flats, semi-self contained studios, basic lodge rooms and camp sites that are designed for all sizes of motorhomes and tent sites.

address: 27 Buckingham St

Established in 1866, this original country pub is located in the heart of Arrowtown, just steps away from shops and cafes. The accommodation rooms are comfortable and offer views across the Arrow River or private courtyard.

phone: +64-03-441 7000

address: 1124 Malaghans Rd

Five star luxury resort and golf course.
Go next