Arua
Arua
is a city in
Northwestern
Uganda
.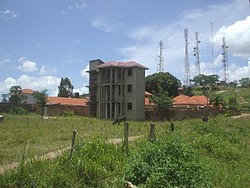 Get in
Get around
Taxi from Airport.

See
Ajai Game Reserve, Albert Nile, Murchison Falls National Park.

Do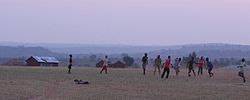 Rhino Camp is a small trading center about 62 km east from Arua on the west bank of the Albert Nile. It's the former site of Theodore Roosevelts safari camp and there are some abandoned facilities from that time around. Many people have turned up in this small town asking the locals the location of the Rhino Camp for accommodation! There is no commercial acccommodation in this small town. There are remains of an old cotton ginnery that was established in the 1940s when Rhino Camp was a town bustling with activity and had a steam ship stop over station for the route Butiaba-Nimule. The Ajai Game Reserve is located 10 km to the south.
Buy
Kenya Commercial BankHas a Mastercard/Visa Card ATM.

Stanbic BankHas a Mastercard/Visa Card ATM.
Eat
There are many restaurants in Arua.

Sleep
In Arua there are Oasis Inn, Heritage Park, Heritage Court and The White Castle Hotel. Outside Arua is the river camp operated by Bahr-el-Jebel Safaris.
Hotel Pacific

phone: +256 772667314

address: Arua Avenue

Has 28 single/double rooms.

Olomide Guest House

address: Kuluva road

Double room with outside bathroom. Breakfast.