Arusha National Park
Arusha National Park
is in
Tanzania
, near the city of
Arusha
.
Understand
History
Landscape
Flora and fauna
Arusha National Park has a rich variety of wildlife, but don't expect the same game-viewing experience you'd find in other national parks of Tanzania's northern circuit. Despite being a small park, common animals include giraffe, Cape buffalo, zebra, warthog, the black-and-white colobus monkey, the blue monkey, flamingo, elephant, and lion. Leopards are present, but rarely seen. Birdlife in the forest is prolific, with many forest species more easily seen here than elsewhere on the tourist route - Narina trogon and bar-tailed trogon are both highlights for visiting birders, whilst the range of starling species provide somewhat less gaudy interest.

Climate
Fees and permits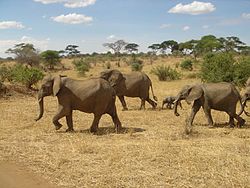 Park fees:
Entrance/Conservation fees: US$45 per person per day (foreigners)
Hut fees: US$30 per person per night (foreigners)
Guide fees: US$15-20 per person (possibly per day, foreigners)
Rescue fee: US$20 per person (foreigners)
Thus a three-day, two-night climb will cost a minimum of US$260 for foreigners. However, because of the new/more strictly enforced regulations, other fees may also be added depending on the tour operator you organize through and may include porter, cook, and meals. These additions will likely add at least another US$100, and probably more. As always, be prepared to negotiate and shop around.
See
There is a small village, called Kirua, that is not very far from Arusha.

Do
Climb Mount Meru - 4566m
Best done in 4 days;
Day 1 : 4-5 hours to Miriakamba hut
Day 2 : 3-4 hours to Saddle hut
Day 3 : summit by sunrise and back to Saddle or Miriakamba hut (8 - 11 hours)
Day 4 : final descent (2-5 hours)
Cost - about US$200-300 with a compulsory ranger. Porters can be hired for about US$20 per day to carry luggage if needed. All trips up Mount Meru must be arranged through a tour group and thus it is no longer possible to climb independently. However, it is sometimes possible -and likely cheaper- to talk to the rangers at the station and see if it is possible to join an existing group.

Buy
In Kirua, there is a shop called co-op which is like budgens.

Sleep
There are options within and outside of the park.
Camping inside the park starts at US$30 per person per night (foreigners).
There is also a hostel for US$10 per person per night (foreigners).
Colobus Mountain Lodge: located about 300 m from the Arusha National Park entrance arch, it is a fairly pleasant -and probably cheaper- alternative to staying in the park. The property underwent a change in management and thus the facilities were still undergoing renovations in August 2015. Manager is friendly and things are generally functional nonetheless. Camping US$10 per person per night. Rooms also available.
Backcountry