Asakuchi
Asakuchi
(浅口) is a city in
Okayama prefecture
.
Understand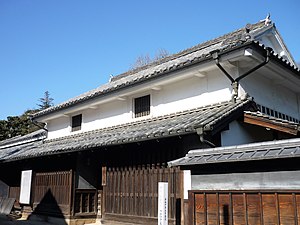 Asakuchi City (浅口市) has three main settlements. The two largest are Kamogata (鴨方) and Konko (金光) on the Sanyo main train line (山陽本線), easily reached from Okayama Station (岡山駅). The third settlement, Yorishima (寄島), is a fishing town on the Inland Sea. Although difficult to get to, a trip to Yorishima is worth it for the seaside scenery, pretty beaches, some easy hiking and a glimpse at Japan's beautiful rural lifestyle without having to go too far off the beaten track.
The three settlements used to be independent towns until they were merged together as a city in 2006. A fourth town, Satosho (里庄), declined to merge into the city. The four towns used to be collectively known as 'Asakuchi District' (浅口郡) and Satosho is still considered to be part of the district, though the city is not.
Konko is famous for two things. The first is being home to the mother church of the Japanese 'new religion', Konkokyo which has about half a million followers in a number of different countries. The second is for being the birthplace of famous Japanese filmmaker HIdeo Nakata. If you're hoping to see what kind of town created the brilliant mind behind sick Japanese horror films like
The Incite Mill
you'll be disappointed: Konko is peaceful and friendly unlike Nakata's films.
A trip to Asakuchi is a good option for an adventurous traveller who wants to see some of what rural Japan has to offer or as a place to check out the
Seto Inland Sea
. It's close enough major transport options that it can be reached as an easy day trip from Okayama City or Kurashiki (or Hiroshima or Osaka or Kyoto) if you use the bullet train on a JR Pass) but you're very unlikely to see any other travellers and you might even attract a few enquiring looks.
Get in
Asakuchi has two stations served by the Sanyo Main Line, Konko Station (金光駅) and Kamogata Station (鴨方駅). A third train station serves Satosho (里庄駅).
The Sanyo Line is the main train line in Okayama and is serviced by local trains relatively frequently. Asakuchi stations can be reached by local train from Okayama Station (岡山駅), a major Shinkansen (bullet train) stop (transfer from the Shinkansen to the local platforms). This line also serves major stations at cities like Kurashiki (倉敷駅), Fukuyama (福山駅) and Kasaoka (笠岡駅).

Get around
The areas around the stations probably aren't on most traveller's itineraries. Unless you're into chain restaurants and Pachinko parlours, you won't find anything of great interest.
There are buses to various destinations in the area in front of Kamogata Station, though they are infrequent. Buses to Yorishima depart more frequently from the front of Satosho station, though again you'd be lucky to get one more than once an hour and there's not a lot to do around Satosho station while you wait. Get off at the last stop (inside the bus depot) and then walk down the main road towards the sea side, continuing in the direction the bus came in.
Taxis may be a better, though expensive, option. Taxis wait outside of Kamogata Station, and there may be a few outside of Satosho or Konko Stations as well.
A taxi to Yorishima will cost around 2,500 yen (about $20 USD) each way. To get a taxi to the Yorishima seaside ask the taxi driver for Yorishima Mitsuyama Sports Park (浅口市寄島三ツ山スポーツ公園) and walk from there. Taxis are generally not available in Yorishima unless you call for one, so you might want to get a bus back if your Japanese is not up to calling for a taxi. Buses depart from the Yorishima bus station near the Sanukiya supermarket in the shopping district of town, about 15 minutes walk from the seaside. The lady in the bus centre doesn't speak English (even if your Japanese is good you might find Yorishima people difficult to understand, it's a very rural area with its own way of speaking!) but is very friendly and will try to help you out.
If you have hired a car you will find free and ample parking at the Sports Park, though in any mode of transport you're going to have to walk a short distance to the seaside.

See
National Astronomical Observatory

Okayama Astronomy MuseumHas exhibits related to space and a planetarium.
Yorishima has beautiful beaches, a small mountain by the seaside you can climb for great views of the Inland sea, and relatively gentle hiking trails. There are good facilities such as picnic spots, ample car parking and clean, accessible public toilets in the area.
Do
Have an adventure! Go for a walk in Asakuchi and soak in the atmosphere of rural Japan! Japanese drivers are very courteous and will give you plenty of space if you want to walk down the rural roads and have a look around.

Buy
You don't go to Asakuchi to shop; you go to enjoy the atmosphere and scenery and to have an amazing adventure.
Supermarkets like Marunaka (マルナカ show a Japanese person your phone with the Japanese text; they'll point you in the right direction!) are found close Konko and Kamogata Stations. In Yorishima there is a supermarket and a Lawson convenience store close to the bus station. These are good for food (see 'Eat' below) but will not offer much in the way of anything else.

Eat
You can probably find chain restaurant food along Route 2, a short walk from either Konko or Kamogata stations. You might be better to pack a picnic lunch or bring snacks with you, as Route 2 is about as beautiful and interesting as any other main road anywhere in the world! Think LA or Phoenix with polite customer service.
If you find yourself in Yorishima, you can buy food, including pre-packaged food, in the Lawson Convenience Store or the Sanukiya Supermarket near the bus depot. These are good options for the non-Japanese speaker in rural Japan. Chances are, you won't find any English menus or picture menus around here and English is rarely spoken (though Asakuchi might surprise you in this regard!). Supermarkets or convenience stores are great for grab-and-go food and is probably of a much higher quality than you'd expect at a supermarket or convenience store back home.
A great picnic spot in Yorishima is on top of the mountain, just past the sports park by the sea. Commanding views of the Inland Sea and a good walk to help you burn off your lunch.

Drink
Yorishima has a brewery which produces the rather dry, but very tasty, Kamikoro (嘉美心) sake. You can pick it up in supermarkets and convenience stores in Asakuchi, especially in Yorishima.

Sleep
Connect
You should have no trouble with internet or phone reception, even in the most rural parts of Asakuchi.

Go next