Ashbourne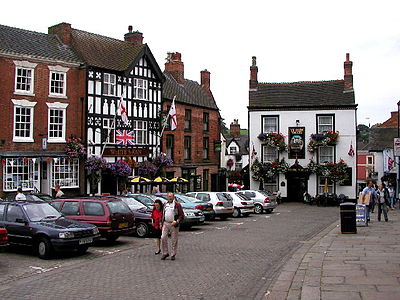 Ashbourne
is a small market town in
Derbyshire
.
Get in
By train
There is no train service to Ashbourne: the town's rail link was removed in the 1960s and now forms part of a national cycle network.
By bus
There are regular bus services to the town from Derby and Manchester and numerous outlying villages and nearby towns.
By car
Ashbourne is at the crossroads of several main roads (all old stage coach routes) the two most notable being the A52 and the A515
Get around

As with every small town, all you need is your feet...

See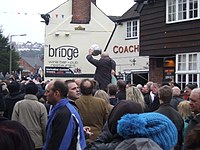 address: Church St

Dating back to 1669

address: Church Street

Dating back to 1640

address: Church Street

The Elizabethan Grammar School

address: Church Street

16h century
Do
Tissington Trail cycle and foot path
Limestone Way, bridleway
Events
The annual Royal Shrovetide football game, played every Shrove Tuesday & Ash Wednesday.
The Ashbourne Highland Gathering, every July.
The Ashbourne Arts Festival, every mid-June to mid-July.
Buy
Numerous antique shops along Church Street. Some VERY pricy, others more reasonable, wide range of antiques right across the board.
Market on Thursday and Saturday.
phone: +44 1335 346753

address: 26 St John St

phone: +44 1335 344528

address: 9 Dig Street

Cheese shop

phone: +44 1335 361287

address: Springfield House, Rough Lane, Shirley Common, DE6 3AZ

Great selection of men's suits and clothing accessories.
Eat
Most of the pubs in town provide food, but the following are the specialist food establishments.
Traditional
phone: +44 1335 342279

address: 4 Victoria Square

phone: +44 1335 344090

address: 5 Market Place

phone: +44 1335 346753

address: 26 St.John's Street
Indian
Red Chilli

phone: +44 1335 343232

address: 1-5 Dig Street

Sit-down Indian restaurant, very clean with friendly staff, good range of curries, licensed. Reasonably priced with good portions. Also does takeaway.

Bengal Cottage

phone: +44 1335 348282

address: 9 Compton Street

Sit-down Indian restaurant. Not licensed so you are welcome to bring your own alcohol (which can get messy if you drink too much too quick!). The food is superb but the service is slow as everything is cooked to order. Also does takeaway.

phone: +44 1335 300661

address: 7 South Street

Takeaway only Indian cuisine. Also does Pizza and kebabs.
Chinese
phone: +44 1335 300546

address: 41 Market Place

Cantonese-style Chinese sit down restaurant. Very good Chinese food in a clean and friendly restaurant. Also does takeaway.

The Golden Hill

phone: +44 1335 343500

address: 28 Market Place

Takeaway only Chinese cuisine (owned by the same family as the Dragons Nest).
Fish and Chips
Market Place Chip Shop

phone: +44 1335 344780

address: 7 Market Place

Eat in or takeout fish and chips. Best in town.

Ashbourne Fishbar

phone: +44 1335 345700

address: 9 Compton

Eat in or takeout fish and chips.
Other
Bennys

phone: +44 1335 346665

address: 21 Compton

Pizza, kebabs, potatoes, homemade nan bread, Southern Fried Chicken. Chips & Cheese. Takeaway only.

phone: +44 1335 345220

address: 9 Dig Street

Turkish, pizza, kebabs. Eat in or takeaway.
Drink
Ashbourne has many pubs and bars, quite a high number for such a small town:
The Bowling GreenA quiet pub at the top of a very steep hill (probably why it is so quiet!). Does fantastic food but booking is ESSENTIAL, not very child friendly, in fact don't take children under 14 there at all. Bed and Breakfast accommodation

The Green Man & Blacks HeadAn old coaching inn (Grade 2 listed) with a rare & distinctive gallows sign that stretches right over the road (but which is in desperate need of re-painting). Has two bars, one is quiet, the other rowdy.

The Bridge Wine BarRecently refurbished with a very cosmopolitan feel, has large outdoor drinking area overlooking the river.

The Coach & HorsesLarge, modern-ish building, popular most nights.

The Living Room Barin The Residents Hotel

Bramhalls of AshbourneMore of a restaurant than a bar, but with AA rosette award-winning food, not cheap, but not overly expensive. Recommended.

The George and DragonGrade 2 listed large town square pub, live music Friday nights.

Ye Olde VaultsGrade 2 listed small town square pub, clientele can look intimidating outside on benches, but very friendly staff and the only Bass house in town.

The Swan

address: Town square pub

re furbed and re opened

Ex-Servicemen's clubselection of real ales and entertainment. non-members are most welcome.

The WellingtonNow Chimes restaurant/cafe.

Smiths TavernVery Friendly, Traditional Public house, Ashbourne's finest selection of real ales, homemade Pork pies, and fresh rolls daily. nominated for Camra Pub of the Year 2011

The HornsVery old pub (Grade 2 listed) on Victoria square, is cosy with fires in the winter, in the summer sit on the benches outside to enjoy a pint.

The White HartUsed to be great, lost it a bit now. disco pub

The WheelLooks scarier than it actually is, next to police station.

The PloughRe-opening under new management 09/06/10. now apartments

The Stepping StonesMarston's pub/restaurant - new-build on the edge of town - opened December 2009.
Sleep
phone: +44 1335 300035

address: Station Street

Callow Hall Country House Hotel

phone: +44 1335 300900

address: Mapleton Road

phone: +44 871 984 6362

address: Carnation Way
Stay safe

Crime is virtually non-existent, the local paper crime reports usually include events such as roof tiles being stolen from remote abandoned farm buildings.

Go next