Asheville
The city of
Asheville
is nestled between the
Blue Ridge Mountains
and
Great Smoky Mountains
in
Western North Carolina
. Asheville serves as the county seat of Buncombe County. The city is the largest in Western North Carolina with a population of approximately 85,000 and a metro population of 417,012.
Understand
Asheville is a popular tourist destination and is known as a liberal, artsy community. This "Paris of the South," has also been described as the "San Francisco of the East," "New Age Mecca," and "Land of the Sky." It's a city of which Rolling Stone magazine dubbed "America's New Freak Capital." But Asheville is by no means simply a haven for Hippies and 'Out There's', as Money magazine has called Asheville one of the "Best Places to Retire," and AARP cites it as one of the "Best Places to Reinvent Your Life." Self magazine proclaims Asheville as America's "Happiest City." PETA lists Asheville as "America's Best Vegetarian-Friendly Small City." In 2007, Asheville was named one of the top seven places to live in the U.S. by Forbes, and in 2011 Asheville was picked as one of the "10 Most Beautiful Places in America" by Good Morning America. From its titles alone one can easily see that Asheville is a good place to go to see diversity in action.

Climate

Asheville has four distinct seasons: spring, summer, fall, and winter. Year-round, the average relative humidity in the morning is 90% and in the afternoon is 58%. Summers are mild and afternoon thunderstorms are common. In the fall (peaking in October), the area is very popular with "leaf lookers", people who visit Asheville and the surrounding mountains to see the area's splendid foliage. Winters are generally mild and major snow storms are rare. However, snow is common with the area averaging an inch or two of snow at a time, normally melting off in a day or two.

Get in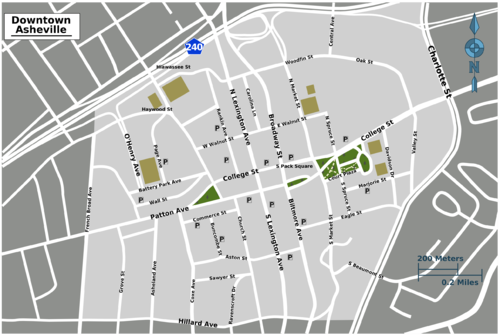 By plane
The
Asheville Regional Airport
(
AVL
) is Western North Carolina's largest airport. It offers jet and commuter service on United, American, and Delta. Asheville has non-stop service to Atlanta, Charlotte, Chicago, Detroit, Houston, New York City, Newark, Orlando and Tampa. It is located fifteen miles south of downtown Asheville near the town of Fletcher. Ground transportation and major rental car companies are available at the airport terminal.
Flights into Greenville-Spartanburg International Airport (GSP) located in Greenville, South Carolina, Charlotte Douglas International Airport (CLT) located in Charlotte, North Carolina, or McGhee Tyson Airport (TYS) located in Knoxville, Tennessee, are sometimes cheaper than flying directly to Asheville. Greenville is about a 1.5 hour drive, Charlotte and Knoxville are both about 2 hour drives.

By train
The closest Amtrak train station to Asheville is in Greenville, South Carolina or Spartanburg, South Carolina.

By car
Asheville is located at the junction of Interstate 26 and Interstate 40, with an I-240 connector that passes through downtown. Mountainous, curvy, and scenic sections of highway are found along the interstates in all four directions while traveling into Asheville. The Asheville area is also served by 10 US and state highways. The Blue Ridge Parkway has four primary accesses in Asheville at US 25, US 70, US 74A & NC 191. Maps are recommended as highways may have listed directions but may travel in different directions - For example a road signed "east" may travel north/south for a significant amount of time.

By bus
phone: +1 828 253-8451

address: 2 Tunnel Rd
Get around
By car
A car is definitely your best bet. Street parking is metered Monday through Saturday, 8AM–6PM at $1 per hour. Street parking is free on Sundays, evenings after 6pm and official city holidays (New Year's Day, Martin Luther King Day, Good Friday, Memorial Day, Fourth of July, Labor Day, Thanksgiving, Christmas). In addition to street and garage parking, there are several surface lots throughout downtown.
There are three parking decks: Civic Center Garage, Rankin Avenue Garage, and Wall Street Garage. All are accessible 24 hours a day and are free for the first hour then $0.75 per hour thereafter. Attendants are on duty 10AM–7PM Monday through Friday.
By taxi
Within the City of Asheville, fares are as follows: For the initiation (drop) of the meter - $2.50; For each one-tenth mile after initiation - $0.25; For each passenger in excess of two - $2; For each two minutes of waiting time or fraction thereof after the first two minutes - $0.40. Uber and Lyft are also available.
Airport Limousine & Taxi Service

phone: +1 828 253-3311

Beaver Lake Cab Co

phone: +1 828 252-1913

Checker Cab

phone: +1 828 254-1155

Pick-ups in 10 minutes on average. Econo-line vans available for up to 10 passengers.

Jolly Taxi

phone: +1 828 253-1411

Metro Cab

phone: +1 828 254-1155

New Blue Bird Taxi Co

phone: +1 828 258-8331

Red Cab Co

phone: +1 828 232-1112

Yellow Cab Co

phone: +1 828 252-1913

Your Cab

phone: +1 828 259-9904
By bike
Self-guided tour routes, maps and guidebooks are available for bicycle rides on the area forest lands, on the Blue Ridge Parkway and around downtown Asheville. Tour Asheville by pedal assist electric bike with guided bike tours by
Electro Bike Tours
.
All buses in the Asheville Transit System are equipped with bike racks.
By bus
Asheville Redefines Transit (ART)

address: 49 Coxe Avenue in downtown Asheville (next to the U.S. Post Office)

A city-wide transit service called ART (Asheville Redefines Transit) provides bus service throughout the City of Asheville and to the Town of Black Mountain with 18 bus routes. Service runs early morning to late evening, Monday through Saturday. Service is regular but infrequent outside of downtown; inside downtown walking is almost always faster. Routes originate from the ART Station, located at 49 Coxe Avenue in downtown Asheville (next to the U.S. Post Office). The ART Station is conveniently located and provides clean restrooms, indoor and outdoor seating and an on-duty information assistant until 10pm. The assistant and website can provide you with the latest maps and schedules; help you with monthly or annual pass purchases; and answer questions that you may have.
See
Architecture
Asheville is nationally renowned for its unique architecture, especially downtown and around the Biltmore Estate. The city suffered greatly during the Great Depression, and consequently little development happened during the time. This actually had a positive effect, as the city's famous Art Deco Architecture of the Roaring 20s was saved from destruction. Therefore, today, Asheville boasts the nations most complete collection of Art Deco structures. Other architectural styles, of course, are present in abundance throughout the city; from the Neo-Gothic Jackson Building "Skyscraper" to the Modern BB&T Tower.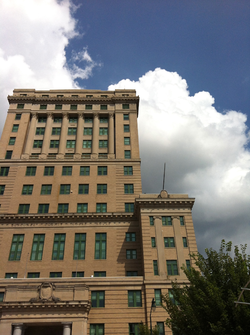 Battery Park Hotel

address: 1 Battle Sq

A 14-story building faced with brick, limestone and terra cotta trim with a Mission Revival style roof, erected in 1924.

address: 1 Approach Rd

A French Renaissance-inspired chateau; with over 250 rooms, it is the largest single family home in the U.S. and the largest privately-owned house in the world, just a few minutes outside the city and should be on any visitor's itinerary. Basic admission includes access to the fabulous gardens, stables, expansive hiking trails, winery and self-guided house tour.

Buncombe County Courthouse

address: 60 Court Sq

Completed in 1928, the outside features complex setbacks, window groupings and overlay of Neo-Classical Revival ornamentation. The Neo-Classical interior lobby contains a sweeping marble staircase, bronze and glass screens, a coffered ceiling with ornate plasterwork and a mosaic tile floor.

The City BuildingDesigned by Art Deco architect Douglas Ellington and completed in 1927, the City Building is constructed out of Georgia Pink marble, brick, and terra cotta. The steeped, octagonal shaped roof is the logo of the City of Asheville.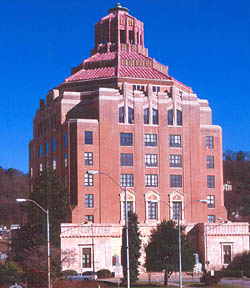 Drhumor BuildingThe Drhumor (pronounced "drummer") is a boldly detailed, Romanesque Revival style building constructed in 1895.

address: 1 Page Ave

Commissioned by Dr. E. W. Grove, the Grove Arcade is an elaborate Tudoresque building occupying an entire city block. It is particularly worth noting, as it was, when it was built in 1927 by architect Charles N. Parker, one of the nation's most unique and interesting buildings. On each side of this city landmark, four giant arches allow entrance into the building. On the main side facing the equally impressive Victorian Battery Park Hotel, are two monumental gryphons, guarding the entrance into the expansive interior, which features oak shopfronts, spiral staircases, and opulence around every corner. Today, it serves as an influential public market with several restaurants, vendors, and mountain craft shops.

address: 290 Macon Ave

Completed in 1913, this historic resort hotel is an important example of the Arts and Crafts style.

Jackson BuildingBordered by South Market Street and South Pack Square, completed in 1925. A Neo-Gothic style skyscraper complete with gargoyles and a bell tower.

Masonic Temple

address: 80 Broadway St

Features robust brickwork and a tall portico of paired Ionic columns. A three-story, blind arched window is on its Woodfin Street side.

S & W building

address: 52-58 Patton Ave

Another Art Deco masterpiece designed by architect Douglas Ellington.

phone: +1 828 253-8304

address: 48 Spruce St

A sprawling frame Queen Anne-influenced house immortalized in the epic autobiographical novel Look Homeward, Angel by Thomas Wolfe.

Vance MonumentStands about 10 stories high, in the middle of Pack Square, Asheville's version of Times Square, Place de la Concorde and Piccadilly Circus. It is the heart of both downtown and the entire city.

YMI Building

address: at the corner of South Market and Eagle St

A simplified English Tudor Cottage style with pebble-dashed walls, red brick quoin trim, multi-pane windows and hipped roofs.
Churches:
Please note that most churches listed below are working churches. When entering, please be respectful of any activities occurring.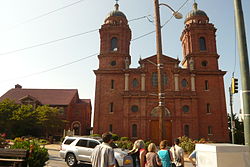 address: 97 Haywood St

Designed and built in 1905, the Basilica is on the National Register of Historic Places and was elevated in status to a Minor Basilica in 1993 by Pope John Paul II. Features the largest freestanding elliptical dome in North America. This place is gorgeous and a must-see.

Central United Methodist Church

address: 27 Church St

Erected in 1902, the imposing limestone church presents Romanesque Revival style massing and forms, but the detailing more closely reflects the Gothic Revival style. A five-bay loggia, set between two pinnacled towers, fronts the large, gable-roofed auditorium.

First Baptist Church

address: 5 Oak St

In Art Deco/Romantic style, Douglas Ellington's first big commission in Asheville. A beautiful distinctive dome with a copper cupola cap.

address: 40 Church St

Commissioned in 1884, the Gothic Revival style brick nave and tower feature deep-corbelled cornices, hood-molded windows and blind arcading at the eaves.

Mt. Zion Baptist Church

address: 47 Eagle St

A redbrick late Victorian Gothic church featuring a tin-shingled roof where three towers are topped by ornamental sheet-metal finials. A large number of Art Glass windows ornament the towers and walls. Built in 1919.

St. Matthias Episcopal Church

address: 1 Dundee St

A Gothic-style building with a gable roof nave. The brick walls are laid with a darker shade of headers presenting a horizontal texture to the building's surface on every face. The interior contains a rich display of well maintained dark woodwork fashioned in various Gothic motifs. The pulpit, lectern, altar and other furnishings are all original to the church and are decorated with trefoil arch panels, quatrefoil incisions and other Gothic elements.

address: 60 Church St

Designed in 1912, the Tudor Gothic Revival style brick building with granite trim features a simple, gable-roofed sanctuary with transepts and a short corner tower.
Art galleries
phone: +1 828 236-2889

address: 16 Patton Ave

Original contemporary fine art by southeastern artists including paintings, sculpture, glass, ceramics and fine craft.

phone: +1 828 281-2134

address: 64 Biltmore Ave

Contemporary Southern folk art, NC wood-fired pottery, and custom picture frames.

phone: +1 828 253-8499

address: 10 N Spruce St

Authentic mountain handicrafts including pottery, face jugs, quilts, mountain-made toys and handmade rugs.

phone: +1 828 236-2660

address: 19 Biltmore Ave

A contemporary craft cooperative featuring handmade work of local artists. Original works in clay, fiber, furniture, glass, metal, jewelry and book arts.

phone: +1 828 258-0710

address: 11 Biltmore Ave

Owned and operated by the Asheville Area Arts Council, provides exhibition space for established and emerging local artists.

phone: +1 828 251-5796

address: 16 College St

A partnership of 29 professional, regional artists offering original two-dimensional works from representational to abstract.

Asheville Glass Center and Gallery

phone: +1 828 505-7110

address: 140 C Roberts St

A glassblowing school and gallery with daily demonstrations and workshops.

phone: +1 828 768-0246

address: 14 Lodge St

Representing local, national, and international emerging artists. Contemporary fine art.

phone: +1 828 225-6625

address: 57 Haywood St

Premier studio glass gallery featuring a variety of glass disciplines by regional and national artists.

Black Mountain College Museum & Art Center

phone: +1 828 350-8484

address: 56 Broadway St

Explores the history and legacy of Black Mountain College.

phone: +1 828 251-0202

address: 38 Biltmore Ave

Presents contemporary Southeastern fine art and crafts.

Fine Arts League of the Carolinas

phone: +1 828 252-5050

address: 362 Depot St

Featuring art school students work.

address: 109 Roberts St

Seeks out art that is provocative, challenging, daring, relevant, and important.

phone: +1 828 254-8577

address: 52 Biltmore Ave

phone: +1 828 254-5088

address: 63 Haywood St

Premier jewelry gallery and working studio. Featuring contemporary and classic fine jewelry.

phone: +1 828 281-2252

address: 19 Patton Ave

Featuring more than 100 distinguished artists and craftspeople, all showcased in the historic Kress Building.

K2 Studio

phone: +1 828 250-0500

address: 59 College St

The Kress Emporium's sister gallery.

Merrimon Galleries

phone: +1 828 252-6036

address: 365 Merrimon Ave

Classic and contemporary oils, photography and sculpture.

phone: +1 828 350-0307

address: 1 Page Ave

Featuring the work of over 80 Western North Carolina artisans.

Odyssey Gallery

phone: +1 828 285-9700

address: 238 Clingman Ave

Functional and sculptural work by national ceramic artists.

phone: +1 828 258-1761

address: 35 Wall St

The working studio, gallery, and loft of internationally recognized jewelry designers Michael Overstrom and Susan Overstrom.

phone: +1 828 439-5451

address: 39 Biltmore Ave

Offers a strong blend of local and regional artists.

Red Square Gallery of Russian Art & Culture

phone: +1 828 225-8777

address: 7 Rankin Ave

Work by Russian artists.

phone: +1 828 505-2225

address: 55 Broadway St

Contemporary artists with roots in urban and pop counter cultures.

phone: +1 828 236-9191

address: 84 Walnut St

An exclusive members-only salon and fine art gallery.

phone: +1 828 254-7959

address: 30 1/2 Battery Park Ave

European salon style gallery features works from international artists hand-picked by painter, sculptor, and owner Vadim Bora.

phone: +1 828 254-9234

address: 25 Haywood St

More than 150 exhibiting artists and artisans selling and making jewelry, fine art, decorative art and crafts in nearly 20,000 square feet of air-conditioned, quality display and studio space.

phone: +1 828 252-4614

address: 39 S Market St

Houses numerous exhibits, many dealing with the history of African Americans in Western North Carolina.
Museums
Do
Activities
phone: +1 828 505-7110

address: 140 C Roberts St.

A glassblowing school, working glass studio, and glass gallery with demos and workshops daily.
Tours
phone: +1 828 545-5181

A personalized tour and VIP treatment at three of Asheville's finest local microbreweries Asheville Pizza and Brewing Company, French Broad Brewing Company, and Highland Brewing Company.

Autorickshaw Tours

phone: +1 828 777-1014

address: 235 Montford Ave

A historic/architectural tour of Montford including Riverside Cemetery. The autorickshaw holds two per tour.

phone: +1 828 489-3266

address: 1 Page Avenue, #101

Eating Asheville's walking food tour leads you through an orchestration of the finest and most delicious sights and tastes that the city has to offer. Join us for a tour of the city's unique food culture. Inquire about our walking brewery tours of downtown Asheville!

phone: +1 828 513-3960

address: 24 College Street

Pedal with ease to the Basilica of St. Lawrence, Botanical Gardens, Grove Park Inn, Pack Square, and more on this guided two hour electric bike tour of Asheville. Also, check out the Bike n Brew Ride!

phone: +1 828 779-4868

Ghost Hunters of Asheville offer three separate 90-minute ghost tours covering different aspects of historical, haunted Asheville. Guests enjoy free use of ghost-hunting tools and paranormal photographs are guaranteed.

Herstory Asheville: A Tour that Tells the Rest of the Story

phone: +1 828 423-3819

Come hear tales of the famous, the infamous, and the unsung heroes of the female persuasion in engaging detail. This 90-minute walking tour covers the history of downtown while spotlighting the women who helped shape Asheville. Tours leave daily from The Old Kentucky Home, Julia Wolfe's former boarding house at Thomas Wolfe Memorial. Reservations required.

Historic Trolley ToursSightsee Asheville aboard a vintage Trolley. Fully narrated, covers all major points of interest in Asheville including: the Grove Park Inn, Biltmore Village, the Grove Arcade, the Montford Historic District, the downtown shopping and restaurants district, the Thomas Wolfe Memorial, the Asheville Museum and Art Gallery district, the Asheville Chamber and Visitors Center.

phone: +1 828 225-6932

address: 90 Biltmore Ave

LaZoom Comedy Tours is "A Tour with a Twist!" You'll get all of the facts plus loads of fun. Your costumed tour guide will take you and your family on a 90 minute adventure covering all of the points of interest. This isn't your grandma's tour (but she can still come).

Urban TrailA self-guided walking tour in downtown Asheville, tracing the footsteps of Asheville's historic past. Twenty-seven "stations" are highlighted in this continuous 1.6 mile loop, from churches and buildings to streets and landmarks. Guided tours are available April through November on Saturdays at 3PM. Tours leave from the front desk inside Pack Place. Headsets and maps are available for self-guided tours.

Montford Holiday Tour of HomesA yearly tour of holiday decorated homes in Asheville's oldest historic neighborhood on the second Saturday of December. Enjoy Shakespearean actors and homemade baked goods during the tour. Located down the street from Asheville Visitors Center.
Festivals
Live music
phone: +1 828 259-5544

address: 87 Haywood St

The Arena has a capacity of 7,654.

Grey Eagle Tavern & Music Hall

phone: +1 828 232-5800

address: 185 Clingman Ave

Has a capacity 550.

phone: +1 828 225-5851

address: 101 Biltmore Ave

Standing capacity of 942, shows local and nationally touring acts. In 2008, Rolling Stone magazine named the Peel one of the top five rock clubs in America.

address: 112 N Lexington Ave

A hot spot for live music and dancing.

Thomas Wolfe Auditorium

address: 87 Haywood St

Has a capacity of 2,431.

phone: +1 828 254-7072

address: 28 Broadway St
Theatre
Outdoors
Hiking: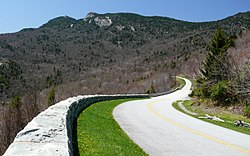 phone: +1 828 298-0398

Some of the most beautiful (and abundant) waterfalls can be reached via the Blue Ridge Parkway. Park your car on any Parkway overlook and there will most likely be a trail nearby. Popular spots include Mount Pisgah (15 miles south on the Parkway), Graveyard Fields (25 miles south on the Parkway), Craggy Gardens (24 miles north on the Parkway), and Mount Mitchell, the eastern United States highest mountain (35 miles/1 hour drive north on the Parkway). The Parkway intersects Asheville at US 25, US 70, US 74A & NC 191.

Botanical Gardens at AshevilleA half-mile loop across streams, through meadows, and over a woodland ridge to a wildflower cove with an authentic log cabin. Just three miles north of downtown beside the University of North Carolina at Asheville.

phone: +1 828 665-2492

address: 100 Frederick Law Olmsted Wy

A 434-acre facility with a Visitor Education Center, state-of-the-art greenhouses, beautiful gardens, and walking trails.

Pisgah National Forest

phone: +1 828 257-4200

Much of Western North Carolina is covered by national forest, making it a hiker's paradise. For maps or information on great places to hike, call the National Forest Service.
Climbing:
phone: +1 828 252-9996

address: 43 Wall St

An indoor rock climbing gym in downtown Asheville.
Fishing:
Rafting:
Rock 'n' Water Adventure Outpost

phone: +1 828 689-3354

Offers whitewater rafting, guided "back country" waded fly fishing, mountain biking, hiking, and horseback riding.

phone: +1 828 232-1970

Lake Julian

phone: +1 828 684-0376

address: off of Long Shoals Road in South Asheville
Riding:
Baird Cove Trail Rides

phone: +1 828 206-3700

address: 300 Baird Cove Rd

Riding and equestrian center. Trail rides & lessons. Call to make an appointment to come ride. Only 10 minutes north of downtown Asheville.

Biltmore Estate Equestrian Center

phone: +1 828 225-1454

Lessons, guided trail rides, shows, clinics, and camps. Must pay entrance fee to Biltmore estate.
Skateboarding:
phone: +1 828 225-7184

address: corner of Flint and Cherry Streets

An outdoor skateboarding park in downtown Asheville.
Sports
address: 30 Buchanan Pl

Come support Asheville's own minor league baseball team! The Tourists offer a full season running from May through early September, and every Thursday is 'Thirsty Thursday' where a cup of draft beer is only $1.

address: 30 Buchanan Pl

A professional minor league men's football team.

address: 1301 Fanning Bridge Rd

Women's Flat track Roller derby league.
Yoga
Buy
Asheville does not necessarily have a specific commercial district but rather it resembles a long line, curving through the mountains. Beginning directly north of downtown,
Merrimon Avenue
has many low density restaurants and small shopping strip malls. It is the typical American shopping street and many locals consider it "The Strip." As you move south towards the city-center, Merrimon Avenue changes names to
Broadway
, then
Biltmore Avenue
after it intersects with
Patton Avenue
at Pack Square, home to the Vance Monument, located directly in front of City-County Plaza.
Surrounding this area,
Downtown
, you will find many boutiques, cafes, museums, and interesting historical buildings. At the eastern end of downtown, The
Beaucatcher Tunnel
is carved directly into Sunset Mountain. The recently renovated street leading out of downtown and into the mountain goes into the edifice as
College Street
and comes out as Asheville's most celebrated shopping street,
Tunnel Road
.
Tunnel Road is very commercial and hosts mostly large corporate chains. Recently, construction has boomed along this stretch, and reaching towards the skies above the restaurants and stores you will see some brand new hotels. Finally, Tunnel Road transitions into
South Tunnel Road
, which is home to the city's main mall and smaller chain shopping centers. This area of town is not at all touristy, and prices are average and intended for locals.
At the end of South Tunnel Road there is a vast shopping center that extends across the Swannanoa River and up over the mountain, eventually overlooking the Industrial district, containing a relatively new and quite controversial shopping complex along the river, having the city's Super Walmart as its flagstore. It was built upon the rubble of the abandoned Sayles-Biltmore Bleachery, which used to bleach paper for the US Treasury's currency manufacture.
From Pack Square going south (away from I 240), Biltmore Ave continues down past
Biltmore Village
and into
South Asheville
and
Arden
, with many chain stores and strip malls, from which one can access via
NC 146 Long Shoals Rd
,
Biltmore Park
a recently built exurb with high end shopping around a reproduced downtown square.
Downtown
Asheville is full of neat and quirky shops and prides itself on the lack of corporate chain stores. Spend some time exploring downtown (it's very walkable) and see what you can find. Here are some highlights:
Biltmore Village
Just South of Asheville's downtown, and right outside the gates of the Biltmore Estate is the quaint village built around the 1890s called Biltmore Village. It is easily accessed from I-40 (Exit 50). A number of small independently owned retail stores which have carved out specialty niches can be found intermingled with restaurants beneath the shade of the tree-lined streets. Recently, National Specialty stores and a boutique Hotel have begun construction there. Of particular note are the following:
New Morning GalleryProbably the best collection of regional Arts and Crafts in Western North Carolina. The gallery features ceramics, glass, jewelry and furniture from local Appalachian artisans. It is in front of Bella Vista Art Gallery.
River Arts District
Wrapped along the river, and visible from the bridge over the French Broad River (i.e. from I-240 or Patton Ave.) is an enclave of Art Studios, Galleries, and restaurants that is still not quite user-friendly but accessible to the adventurous. Some worthy points of interest are:
Head away from downtown and visit the
WNC Farmer's Market
for a huge selection of locally grown and produced crops 'n' crafts. You could spend hours and still not see everything.
Eat
Downtown
Asian
Modern American
Mexican/Latin American/Caribbean
European
Southern
Steakhouses
Vegetarian/Vegan
North
West
South
Drink
Liquor is available by the drink in Asheville, but if you want to buy liquor by the bottle you must do it at state-run ABC (Alcoholic Beverage Commission) stores rather than at a traditional liquor store. These stores have limited exterior decorations so they can be difficult to find. If you plan to explore nearby counties keep in mind Madison County (to the north) and Yancey County (to the northwest) are "dry counties" and prohibit all alcoholic beverage sales. Open containers of alcohol are never permitted on the street; if you order a beverage you must finish it before leaving the restaurant or bar. Beer and wine are available for purchase at most markets, grocery stores and gas stations. The alcohol laws of the state prohibit the sale of alcohol after 2AM Monday through Saturday, and from 2AM until noon on Sundays. Pick up a copy or check the website of the local alternative newsweekly
Mountain Xpress
for an up-to-date, detailed guide for what is going on at each bar and club for the night.
Downtown
:
address: 77 Coxe Ave

A brewpub with their own locally-brewed beers on tap and a full liquor bar, piles of board games, and a large outdoor covered patio with giant movie screen.

phone: +1 828 255-0504

address: 42 Biltmore Ave

A popular destination with an expansive variety of beers, local, regional, and continental. 52 beers on tap. Small stage with live music 3-4 nights a week, no cover charge. Upstairs Billiard Room with four tables available by the hour.

phone: +1 828 285-0002

address: 46 Haywood St

Over 200 beers from around the world and a full liquor bar. For the sports fans, they have 16 televisions including a 15-foot screen.

Cinjades

address: 22 N Market St

A popular dance club playing the best of 80s, 90s, and today.

address: 38 N French Broad Ave

A gay/lesbian dancebar.

address: 64 Carter St

A two level club playing Top 40 hits until 3AM on the weekends and live music during the week.

Green Man Brewing & Tasting Room

phone: +1 828 252-5502

address: 23 Buxton Ave

The Hookah Bar

phone: +1 828 252-1522

address: 38 N French Broad Ave

Hookah bar with live music and bellydancing.

address: 95 Patton Ave

Serves its own locally-brewed Green Man Ales on tap and a limited selection of bottled beers.

phone: +1 828 376-0031

address: 25 Broadway

Classic Cocktails, Sumptuous Small Plates and Rooftop Revelry.

address: 11 Grove St

A huge gay-oriented nightclub with 3 dance floors and 4 bars.

Scully's Signature Dine and Drink

phone: +1 828 251-8880

address: 13 Walnut St

Serves pub fare and a good selection of beers. College crowds.

phone: +1 828 254-5470

address: 92 Patton Ave

Pub specializing in Belgian beers.

address: 7 Rankin Ave

World Coffee Cafe

phone: +1 828 225-6998

address: 18 Battery Park Ave

Three rooftop balconies where you can watch the sun set. Drink coffee.

Yacht Club

phone: +1 828 255-TIKI

address: 87 Patton Ave

Tiki bar/restaurant serving lunch, dinner and a late night menu. Check out their specialty cocktails, particularly the 'Pain Killer', it's served on fire.
North
:
East:
French Broad Brewery Tasting Room

phone: +1 828 277-0222

address: 101 Fairview Rd

Offers tastings, tours and live music five nights a week in a relaxed, intimate setting.

phone: +1 828 299-7597

address: 1410 Tunnel Rd

Home of the original sport of rootball (a cross between horseshoes and boccie)! Beer only.
West
:
address: 777 Haywood Rd

Family-oriented bar with pub grub and live music.
Sleep
Bed and breakfasts

Asheville is rightfully well known for its many Bed and Breakfasts
Montford Historic District:
Chestnut Hill Historic District:
Other Areas:

Budget
Mid-range
Splurge
Connect
The
area code
for Asheville is 828. For calls within the US or Canada, dial 1+area code+number. There are some public
pay phones
scattered around the city, but they are becoming increasingly rare with the predominance of cell phones. It is not safe to assume you will be able to find a pay phone at any given time. All
ZIP code
s in the city of Asheville begin with 288. The ZIP code of the downtown area is 28801.
Free wireless hotspots
:
phone: +1 828 255-4077

address: 77 Coxe Ave

Asheville Pizza & Brewing Company

phone: +1 828 254-1281

address: 675 Merrimon Ave

Asheville Visitors Center

address: 36 Montford Ave

phone: +1 828 277-9227

address: 518 Hendersonville Rd

Buncombe County Courthouse area

address: in the City-County Plaza

phone: +1 828 398-0209

address: 190 Broadway

phone: +1 828 254-6734

address: 51 Haywood St

Mountain Java

phone: +1 828 255-3881

address: 870 Merrimon Ave

True Confections

phone: +1 828 350-9478

address: 1 Page Ave, Suite 147

World Coffee Cafe

phone: +1 828 258-1058

address: 18 Battery Park Ave
US Post Offices
:
Downtown: 33 Coxe Ave. M-F 7:30AM-5PM, Sa 9AM-1PM.
North: 725 Merrimon Ave. M-F 8AM-5PM, Sa 9M-1PM.
South: 780 Hendersonville Rd (Suite 7). 8AM-5:30PM, Sa 9M-1PM.
East: 1141 Tunnel Rd (Suite C). M-F 8AM-5:30PM, Sa 9AM-1PM.
West: 1302 Patton Ave. M-F 8AM-5PM, Sa 9M-1PM.
Go next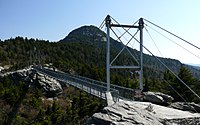 A thirty-mile drive south to
Flat Rock
will bring you to the
Flatrock Playhouse
where dramas, comedies, and musicals are shown April through December. Also in Flat Rock is the
Carl Sandburg Home
. This historic site consists of a 22 room house, barns, sheds, rolling pastures, walking trails, two small lakes, ponds, flower and vegetable gardens, and an orchard.
A thirty-mile drive west to
Waynesville
during the last weeks of July will bring you to
Folkmoot
, a festival of song and dance staged by performance groups from around the world.
The town of
Brevard
, an hour drive southwest, hosts the
Brevard Music Festival
each summer. Lasting almost two months, a variety of musical events ranging from grand operas and symphony orchestras to Broadway musicals and pop concerts as well as renowned guest artists are featured.
A 45 minute drive north brings you to the
Hot Springs Resort and Spa
. Reserve the jacuzzi-style tub of your choice, all individually enclosed and private. Bring a bottle of champagne and spend an hour or two.
Hot Springs
also has a few campgrounds and is passed through by the
Appalachian Trail
.
The
Cradle of Forestry
is located about 20 miles southwest of Asheville off U.S. Highway 276 in the Pisgah National Forest in Transylvania County. Visitors will find a number of hiking trails in the area. Open 9AM-5PM, mid April through the end of October. $5 for adults, 16 and under free.
A popular tourist attraction is
Chimney Rock Park
, located 25 miles (about a 30 minute drive) southeast of Asheville in scenic Hickory Nut Gorge. It's a privately owned park (not part of the US system) with a fairly high admission fee ($14 for adults as of 2009), but the views are incredible and there are six different hiking trails, ranging in difficulty from easy-to-moderate to moderate-to-strenuous. Open all year.
The
Great Smoky Mountains National Park
is on the border of North Carolina and Tennessee and is the country's most visited national park. A variety of trails for hikers of any age or skill level are available.
Gorges State Park
is approximately 45 miles southwest of Asheville, located in Transylvania County and joins the North Carolina/South Carolina state line. Gorges State Park has over 80 inches of rain a year making it a temperate rain forest. The plunging waterfalls, rugged river gorges, sheer rock walls, and concentration of rare and unique species makes this a wonderful park to visit.