Ashtabula
Ashtabula
is a commercial, historical, and recreational center located in
Ashtabula County
in
Northeast Ohio
, roughly equidistant from
Cleveland
and
Erie, Pa
. As of 2000 census, the population is 20,962.
Get in
By car
U.S. Route Number 20 - Runs through town from southwest to northeast.
Ohio State Route 11 - Runs north of town toward the south ending near Youngstown, OH.
State Route 45 - Runs from the south, west outside of town, ending north at Lake Erie.
State Route 84 - Runs from southwest through town ending north at Lake Erie.
State Route 531 - Runs west to east, north of town along Lake Erie.
Interstate 90 - Main Interstate running southwest to northeast 6 miles south of town. Best route to travel to Cleveland to the west and Erie, PA. and Buffalo, NY. to the east.
By bike
Western Reserve Greenway Trail

phone: +1 440 576-0717

address: 2773 Ohio State Route 307 (Austinburg Trail Head)

West Ave in Ashtabula to SR 307 in Austinburg. Trailheads are at Old Austinburg Road, 2 miles east of SR 45 off Austinburg Road, Woodman Avenue in Ashtabula, and Lampson Road. The 43-mile mostly shaded and rural paved bike trail runs to Champion Avenue East in Warren. The trail is paved and good for hiking, biking, rollerblading in summer, and cross-country skiing and snowmobiling in winter. There are 6 trailheads and parking lots along the trail.
Get around
By car
Driving is the best way around town.
City Taxicab & Transfer Co. 1753 W Prospect Rd, +1 440 992-2156.
Premier Transportation 6710 N Ridge Rd W, +1 440 466-1515
By bike
At only 7 square miles, it is possible to walk or bicycle to locations within Ashtabula.
See
Architecture
Ashtabula lift bridgeThis Bascule lift bridge was created in the early to mid 1900s to accommodate marina traffic and Conrails (now Norfolk Southern) iron ore freighters. It is still in use as the main gateway to Lake Erie from the Ashtabula River. At night it is beautifully illuminated with bright blue lights that reflect in the water making the harbor glow.

Ashtabula Harbor LighthouseEnd of Ashtabula Harbor breakwall. Established in 1836 but now not in operation. The best way to see the lighthouse is by boat since it is on a long breakwall that could be treacherous to walk. There are no tours of the lighthouse.

Kent State University at Ashtabula

phone: +1 440 964-3322

address: 3300 Lake Rd W

A regional campus of Kent State University. Notably this branch allows students to major in viticulture and enology and produces a Kent State label wine in conjunction with local vineyards.
Museums
phone: +1 440 964-6847

address: 1071 Walnut Boulevard

Displays tell about Lake Erie and Ashtabula Harbor history.

phone: +1 440 964-8168

address: 1603 Walnut Blvd

Restored home of William and Catharine Hubbard, the only northern terminus of the Underground Railroad that can be toured.

phone: +1 440 998-0025

Off SR 84, south on Dibble Road to Dewey Road, Ashtabula County's only museum of covered bridges. Memorabilia, artefacts, and educational displays. Hours - June 1 to October 31. W,Sa, & Su 1PM-5PM.
Do
Nature
Walnut Beach

address: Walnut Blvd. & Lake Ave

Public beach (lifeguard until 6pm, kid and pet friendly) accessible by a boardwalk. sand dunes, walking trail, wetlands, sports facilities (tennis, basketball, and volleyball).

phone: +1 440 964-3819

Lake Road and Manola (east of SR 11). Public park with a public beach, pavilions and picnic areas, playground, a boat launch, and disc golf site.

Point Park

address: Walnut St

Public park with camping that overlooks Ashtabula harbor and river, as well as the coal conveyor, shipping docks, and lift bridge. In the park see the Hulett ore unloader and Merchant Marine Memorial.

Saybrook Township ParkPublic park with picnic pavilions, playground, baseball diamond, and trail to a small, unguarded beach.
Fishing
phone: +1 440 964-9334

address: Morton Drive

Walleye, Bass, and Perch fishing. Lake Erie - June–October.

Taylor Made ChartersRiver Marina, - Walleye and Perch fishing. Lake Erie May 1 thru December 1.

La Gre' Le Fishing ChartersDocked in Ashtabula Harbor, - Walleye and Perch fishing. Lake Erie May - October.
Events
The Harbor BuzzThis generally refers to all activities in Ashtabula Harbor during the summer, including Car Shows, Beauty Pageants, Eating Contests, Raffles, Street Performers, and Stage Performers.
Golfing
Chapel Hills Golf CourseAustinburg Road east of SR 45, 18-hole course. Driving range also available. Open April - October, Dawn to Dusk.
Buy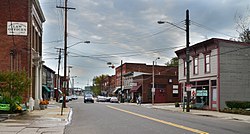 phone: +1 440 992-8362

address: 1105 Bridge St

Street vendors and local merchants bring products and services on the sidewalk, several local farms and co-ops offer fresh organic produce.

Albinos Meats

address: 2316 Lake Ave

Fresh meats, must pre-order.

phone: +1 440 998-2020

address: 3315 N. Ridge East

address: 1003 Bridge Street
Eat
Alleman's Bakery & Restaurant

address: 1030 Lake Ave

Alessandro's

address: 6540 Lake Rd W

Authentic Italian dining.

Broken Dreams Cafe (Hershey's Ice Cream Parlor)

address: 4601 Main Ave

phone: +1 440 964-6677

address: 1205 Lake Ave

Sells pizza, pasta, wings, and grinder sandwiches. Also sells wine and craft beer.

Covered Bridge Pizza

address: 4861 N Ridge Rd W

Crows Nest

address: 1257 Harmon Rd

Deb's Diner

address: 3214 State Rd

Great Wall Chinese Restaurant

address: 2610 W Prospect Rd

phone: +1 440 964-3663

address: 1033 Lake Ave

An Italian deli that sells sandwiches and pizza.

phone: +1 440 964-9277

address: 1003 Bridge St

Coffee house that roasts its own coffee.

Hil-Mak Seafood Restaurant

phone: +1 440 964-3222

address: 449 Lake Ave

phone: +1 440 998-2113

address: 2238 E Prospect Rd

phone: +1 440 992-2300

address: 1730 W Prospect Rd

A family style American restaurant.

LA Cafe

address: 1017 Bridge St

Lake Erie Family Restaurant

address: 5050 Lake Rd W

Lakeway Restaurant

phone: +1 440 964-7176

address: 729 Lake Ave

Seafood and Italian dining.

phone: +1 440 992-1554

address: 5345 Main Ave

Pizza and wings for Take out or delivery

Lunch Box

phone: +1 440 992-5124

address: 1837 E 51st St

Take out, fast food

Main Diner

address: 5760 Main Ave

phone: +1 440 998-6681

address: 2117 Lake Ave

Chinese take out and dining

Mandarin House Restaurant

phone: +1 440 998-3232

address: 2519 S Ridge Rd E

Chinese dining

Moys Special Occasion Restaurant

address: 2339 West Ave

Chinese take out and dining,
Salvato's Pizza, Pizza, Salads, and Subs 1810 E Prospect Rd, (440) 998-6477.

R & R Alley Cafe

address: 234 Progress Pl

address: 3523 State Rd

Whippy Dip

address: 2448 W Center St

Ice Cream.
Drink
Crow's Nest

address: 1257 Harmon Rd, Ashtabula, OH 44004
Sleep
Budget
Mid-range
Bed and Breakfasts
Camping
Connect
phone: +1 440 997-9341

address: 4335 Park Ave

Offers public computers and WiFi.
Go next
Youngstown
,
Erie
, and
Cleveland
are around an hour away from Ashtabula.