Ashtarak
Ashtarak
is a small city in
Central Armenia
20 km northwest of
Yerevan
. It features the best-preserved Armenian church of the 7th century, Karmravor.
Understand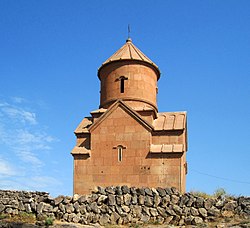 Ashtarak is located at the intersection of roads leading to
Gyumri
and Yerevan. Due to such a convenient location the settlement appeared here long time ago. However, it didn't play any significant role until the second half of the twentieth century, when Ashtarak acquired the status of a city and started to host Institute of physics of Armenian Academy of Sciences. The name of the city means "a tower" in Armenian.
Ashtarak does not look like the regional center nowadays: it's a sleepy town, where it's easier to meet a chicken rather than a car. A trip here - is a good opportunity to escape a rush of Yerevan for a few hours.
Get in
There are minibuses #502, #503 departing from Yerevan's Kilikia Bus Station, the price is 250
dram
(2019). Ask the driver to stop at Ashtaraki Hraparak (the main square), otherwise you'll be dropped out at the not so centrally located bus station. Buses to
Vanadzor
don't go through the city, bypassing it to the north.
address: Admiral Isakov Ave

Also knowns as Central Bus Station. It's located 10 minutes bus/taxi ride from Yerevan's city centre.

address: Yerevan Street

Stop in front of the now abandoned Soviet-era bus station.
Taxi drivers will be happy to drive you from Yerevan to Ashtarak or anywhere else. Approximate price range from the center of Yerevan — 2200-2500 dram. The road from Yerevan to Ashtarak — M1 motorway (4-lane road in a good condition). There is another quite OK road from
Echmiadzin
(17 km), which is convenient if you want to visit Echmiadzin and Ashtarak on the same day from Yerevan. Public transport is the cheapest option and provides good connection. There are bus services leaving Ashtarak Bus Station for Echmiadzin, the bus journey only takes half-hour.
See
Karmravor Church

address: 30 Abovyan str.

The church was built in the mid-7th century and has been preserved without significant alterations. It features a single reddish clay tile domed roof (hence the name Tsiranavor, which means "reddish"). There are ancient khachkars around the church, and a stone gates with preserved engravings. It is a small church but quite interesting.

Surb Sarkis Church

address: St. Sargis str.

S. Sarkis was built in the 19th century supposedly upon older foundations. It looks to be a new church because of extensive restoration work done recently, but a small number of the older original stones carved with decorative relief and inscriptions (replaced with new stone and now sitting next to the foundation of the building) show its age to be much older. It offers a fine view to the three churches of Tsiranavor, Spitakavor, and Karmravor.

Surb Mariné Church

address: Smbat Shahaziz str.

S. Mariane was built in the year 1271 or according to some sources 1281. It has a beautiful umbrella dome that rests above.

Ashtarak BridgeThe reddish stone arch bridge was built in 1664 as part of the old road to Yerevan. It features two equal sized smaller pointed arches on either side of a larger central pointed arch.

Kasagh River Gorge Monuments

Spitakavor ChurchSpitakavor meaning "whitish" is a triple-aisled basilica built in the 5th-6th centuries (most likely between 540-557). The front façade is whitewashed and has a lengthy inscription. Walls remain but the roof has since collapsed. Note: Some confusion about the name of the churches of Spitakavor and Tsiranavor has seemed to have occurred due to the misplacement of the Russian markers located inside the two structures. The ruins aren't impressive: if you aren't an expert, you can skip it.

Tsiranavor ChurchTsiranavor meaning "apricotish" is a small church built between the 13th to 14th centuries. Its roof has since collapsed, but walls remain. It also doesn't look very appealing and can be skipped.

Central squareThe center life in this quiet town. There is a monument to Catholicos Nerses of Ashtarak, a taxi rank and a pair of nice pre-revolutionary buildings.
Do
House museum of Perch Proshyan

address: 10 Proshyan str.

Perch Proshyan — the writer of the second half of the 19th century - was born here. There is a funny milepost at the entrance showing distances to the Hermitage, the Louvre and other world-famous museums.
Eat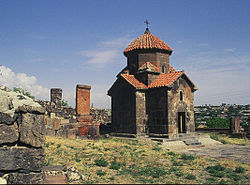 address: 12 Abovyan str.

One of the few options in Ashtarak to eat. The choice of dishes according to Armenian standards are rather big, espresso, desserts. Good reviews, WiFi.

"Pirozhok"

address: Aram Manukyan str.

Simple eatery near the bus station.

Ashtaraki Dzor Restaurant ComplexWell worth a stop for a reasonably priced meal and nighttime entertainment show, all outdoors, and long popular with Armeniansm, though perhaps in decline.

phone: +374 94 992232

address: 31 Ghapantsyan St.

Nicely restored old Ashtarak house with garden, offering good Arabic cuisine at reasonable prices.
Drink
phone: +374 41 228225

address: 25 Ghapantsyan St.

Beautiful old traditional style house with garden hosting an anti-cafe. You pay by the hour and get free drinks and snacks. Games available. Non-smoking.
Sleep
There is only one very average hotel in Ashtarak, but
Yerevan
with plenty of sleeping options is half an hour's drive away.
Hotel "Ashtarak"

phone: +374 (232) 34 393

address: 16 Sisakyan str.

A big Soviet hotel with a very little renovation. Deluxe rooms look better, but they're significantly more expensive.
Connect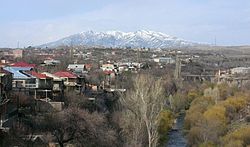 Go next
A little down the river is Oshakan Village, where the creator of the Armenian alphabet, Mesrob Mashtots, is buried in the village church.
Just north along the river (and highway) is Mughni, with an interesting church where alternating colors of stone form black and red bands around the cupola.
Further north is Ohanavan village with Hovhannavank Monastery. This restored monastery is perched atop the cliffs and has a great view of Mt. Ara.
Saghmosavank Monastery, just east of Artashavan village shares the same great views of the gorge and Mt. Ara. You can hike from one to the other in the gorge. Great architecture, carvings, details.
Much further north is the town of Aparan, whose inhabitants are the butt of jokes which pin them as not the brightest folk. The very ancient, black Kasagh basilica church, just a few meters from the main highway is worth dropping into on your way to Lori Marz.