Atalaya (town, Ucayali)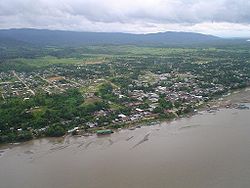 Atalaya
is in the
Peruvian Amazon
.
Understand
Atalaya is a town in the Ucayali Region of Peru. Atalaya is 220 meters above sea level with temperatures ranging from 18°C to 37°C. The rainy season is between December and March. It is the capital of the Atalaya Province and the Raymondi District. Its sometimes referred to as Villa Atalaya or Puerto Atalaya. It is also known as La Esmeralda del Ucayali (The Emerald of Ucayali). Atalaya is on Rio Tambo about 1 km before the confluence of Rio Tambo and Rio Urubamba which form Rio Ucayali.

Get in
By plane
By boat
From
Pucallpa
the trip takes 3 to 6 days depending on conditions.
Puerto Ocopa
is around 35 km past
Satipo
and its possible to take a boat from Puerto Ocopa downstream on Rio Tambo, this is particularly useful in the wet season when the road can become impassable.
The slow boat (lancha) to Pucallpa leaves Monday mornings around 8AM, S/90 (Nov 2013).
By road
Bus or taxi from
Satipo
.
Bus from
Lima
to
Puerto Ocopa
(Lima - La Oroya - Tarma - La Merced - Satipo - Puerto Ocopa) - 12 hours, then by boat from Puerto Ocopa to Atalaya (5 hours).
From
Lima
you would probably be best to take a bus or train to
Huancayo
first or a bus from Lima to
Tarma
or
La Merced
then onwards to
Satipo
.
See
Aguas Termales UniniSmall hot spring 60°C, sulphurous water. The area is surrounded by lush vegetation.

Cascada de Corintoni

Colpa de InuyaClay containing high concentration of salts, which attracts large numbers of macaws.

Quebrada CanujaCold water springs.

Quebrada de SapaniGorge, several pools surrounded by lush vegetation and waterfalls. Also a native Ashaninka community.
Do
An interesting activity is to navigate the river. This city is located at the confluence of two rivers. One coming from the highlands and is cold and brown, and the other is from the jungle and is green and warm. The waters don't mix and for miles you can see one river with two colors and temperatures.

Eat
Chocolate & Pimienta

phone: +51 993 341751

address: Jiron Purus Cuadra 7 Atalaya Peru

Clean, nicely appointed yet inexpensive high-quality meals. Menu changes to market availability. Prix fixe full-lunch with beverage S/. 9. Easily the best restaurant in Atalaya.
Sleep
Hostal Peruanita

phone: +51963610925

address: Jiron Raimondi #144

This place is quiet day and night. The rooms 100 - 107 open onto a large garden adding green space (and fewer guests) to the mix. Water and juices available at market prices. Run by a friendly family.
Go next