Atami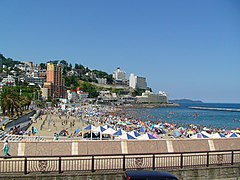 Atami
() is a coastal
hot spring resort
in
Shizuoka prefecture
, on the east coast of the
Izu Peninsula
southwest of
Tokyo
,
Japan
.
Understand
Atami
means "hot ocean". The town has been a popular hot spring resort since the 8th century and is ranked as one of
Japan's Three Great Hot Springs
(三大温泉
Sandaionsen
). These days the coastline is heavily developed and covered in "identikit" concrete hotels, but in summer the sandy beach is popular.
Get in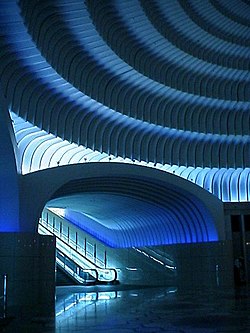 By plane
You can reach Atami from one of Tokyo's two airports. From
Narita Airport
, take the Narita Express train to
Shinagawa
, then transfer to either a Shinkansen
Kodama
or
Hikari
train or a Tokaido Line local train. It is 2 hours via shinkansen connection (¥7100) and 3 hours via local connection (¥4900).
From
Haneda Airport
, take a Keihin Kyuko line train to Shinagawa (¥400) for connection to the Shinkansen (1 hr 15 min, ¥4500 total). Alternatively you can take the Keikyu Line from Haneda to Yokohama via Keikyu-Kamata station (¥470) and change at Yokohama for the local JR Tokaido line (2 hours, ¥1750 total).
By train
Atami is on the Tokaido Shinkansen main line, just 50 minutes from
Tokyo
(¥3570 for an unreserved seat). All
Kodama
trains stop at Atami, and a select number of
Hikari
stop there as well.
Kodama
trains make the run to Atami from Shizuoka in 40 minutes (¥2960 unreserved seat) and Hamamatsu in 70 minutes (¥4930 unreserved seat).
Atami is also a stop on the regular Tokaido Line which runs from Tokyo (2 hours to Atami, ¥1890), Shizuoka (80 minutes, ¥1280) and Hamamatsu (2 hr 45 min, ¥2520).
With the exception of the Keihin Kyuko line, all train rides listed above are free with the Japan Rail Pass.
Get around

Atami's city center is fairly compact, but buses connect the train station to the MOA Museum of Art via a veritable hillside of ume trees (bus no.4, blossoms in March) and several other points of interest.
The YuYu Bus, a tourist bus, links the main attractions including the Atami Castle. ¥800.
The Tourist Information Center in the train station stocks little in the way of English brochures; the branch on the sea front, between the main Atami Sun Beach and the Marine Spa Atami, is a better bet.
There are two car hire companies directly across from the Train station: Toyota Rent-a-car 0557-81-0100. Nippon Rent-a-car 0557-82-4588 (both Japanese only).

See
Mokichi Okada
Mokichi Okada (岡田茂吉
Okada Mokichi
, 1882-1955) was a multimillionaire and the founder of the Church of World Messianity. According to his official biography, Okada made his fortune in the jewelry business. Okada claimed to have received a special revelation from God in 1926, leading him to found a new religion in 1935 to spread the teachings, aiming for nothing less than a new civilization based the transmission of the diving spirit, natural farming and appreciation for beauty and art.
phone: +81 557-84-2511

Opened in 1982 to house some of the collection of spiritual leader Mokichi Okada (see box), the displays here run the gamut from Japanese calligraphy to Tang-dynasty pottery, with a roomful of Matisse, a tea room covered in gold leaf and Socialist-realist bronze sculptures thrown in for flavor. But there's a uniting thread to it all, as according to Okada, "Art must meet three conditions: it must be true, it must be good, and it must be beautiful." No falsehood, evil, or ugliness; no death, no old age, no sickness; no sorrow, no hate, no pain, no lust. The overall effect is a little eerie, but beautiful just the same and well worth a visit. The entrance to the museum is particularly striking.

phone: +81 557-83-5572

If lolling about in hot water has gotten you all hot and bothered, this overpriced erotic museum will fan the flames a bit. Adults only.
Do
Hot springs
Don't be fooled into thinking that the 'Hot Springs/Spas' on the town map are
onsen
baths — they are literally locations where the hot volcanic water pumps up from the ground. Some even have geysers! There is, however, a free foot-bath directly outside the train station that runs up until the evening. A conveniently placed vending machine sells towels lest you forgot yours.
This area does have several excellent onsen open to the public for a small fee.
phone: +81 557-86-2020

address: 4-39 Wadahamaminamicho

Nikkotei

phone: +81 557-83-6021

address: 5-26 Kamijukucho

Indoor & outdoor baths, sauna & relaxation room.
Scuba diving
Atami is a popular day or weekend trip from Tokyo for
scuba diving
, largely due to its proximity to the city (40 minutes by shinkansen). Sites feature some spectacular soft corals and sea life including nudibranchs, moray eels, and octopus. Atami also has one of the only divable wrecks in mainland Japan. Visibility can be poor during certain times of year, but it peaks toward the end of the summer/early fall.
phone: +81 80-5707-3260

address: 6-25-26 Asamizodai (Sagamihara, Kanagawa 228-0828)

English-speaking dive operation that offers dive tours in Atami.

DiveZone TokyoScuba diving to Atami and various other sites in Izu, Japan. PADI shop based in Tokyo. English, Dutch, French and Japanese.

phone: +81 90 3851 3901

English dive operator in the Tokyo area and offers fun dives and courses in Atami and the surrounding area.

Japan Underwater ExplorersRecreational and technical dive club/service offering multi-lingual training and fun dive adventures.
Eat
phone: +81 557-81-0808

Serves up Scandinavian food and is a good way to learn about what's going on in town.
Sleep
Budget
Mid-range
Splurge
phone: +81 557-81-6261

address: 10-33 Showacho

The glitzily named Golden Palace Hotel was the top place in town in the 1980s but has remained firmly stuck there ever since, with gaudy chandeliers and miles of brown plush. On the plus side, there's a full range of spa and pool facilities and a beautiful little garden too.