Atar
Atar
is a city in
Saharan Mauritania
.
Understand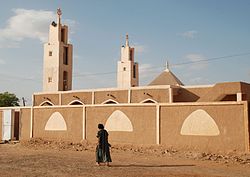 Atar is a small town which is great for exploring the Adrar region and tends to be slightly cheaper overall than
Chinguetti
. Atar is growing in importance due to its proximity to an airport and a regional hospital.
Get in
By plane
Atar International AirportUsed to be served by a daily flight from Marseille, France but there are only small charter flights available due to the kidnappings in other parts of Mauritania.
By train
The Iron Ore Train typically departs from
Nouadhibou
sometime between 14:30 and 22:00, depending when the cargo is finished loading. There is only one train a day with passenger cars and tickets can be arranged in advance or bought at the
Nouadhibou
train station (Gare Voyageurs) for around 1500 ouguiyas. Travel in the bucket cars is free, just climb aboard, but it will be cold and dusty. The train stops at
Choum
where you can easily grab a ride to Atar in one of the many bush taxis or pickups which will meet the train for around 1500-2000 ouguiyas.
By road
There is a paved and fast road which runs from
Nouakchott
to Atar served by a variety of minibuses (including one run by a kindly French ex-pat) and bush taxis. All of the rides going to Atar tend to leave Nouakchott from the Garage Atar at the end of town. Typical fare is around 4000 ouguiyas.
Get around

Atar is quite small and can easily be walked, although some auberges and resorts lie quite far out of town. Taxis are available and can usually be caught around the traffic circle in the center of town, fares run from around 100-300 ouguiyas depending on distance.

See
Atar has a few markets which may be of interest to the souvenir hunter and prices tend to be lower than
Chinguetti
, and bargaining is expected.
Musée Universitaire Atar

address: Rue Wilaya

Museum with displays on local culture.
Buy
Galerie Artisanale Chez Picasso

address: Route vers Choum

Souvenir shop selling the usual Mauritanian and African items.

La Boutique d'Adrar pour la Fabrication Traditionnelle et les Météorites

address: Rue Wilaya

Souvenir shop with a selection of meteorite rocks and other geological curiosities from the region.
Eat
Restaurant AgadirIn the center of town, it serves typical Moroccan fare for around 600 ouguiyas a plate.

Restaurant De la CoinA little harder to find, this hole-in-the-wall Senegalese restaurant dishes out plates at around 300 ouguiyas.

Auberge Bab SaharaOn the pricier end, try a home-cooked lunch (700 ouguiyas and up) or dinner (3500 ouguiyas for a 3-course menu)
Drink

The occasional beer can be found at Auberge Bab Sahara.

Sleep
For its size, Atar contains a good number of auberges, hotels and resorts.
The Auberge Bab SaharaHas rooms ranging from mattresses on one of two terraces to a number of traditional tents or stone huts. Plentiful bathroom and shower facilities (including hot water). The hospitality of the owners is genuine and they will gladly help arrange bush taxis or tours.
Connect
Elmejd InfoThe only internet cafe in town.
Go next
Bush taxis (
taxis brousses
) or 4x4s to
Choum
,
Chinguetti
, or
Nouakchott
can be arranged in the Garage, the market or at most hotels.
Many of the oases and other natural sites in the region can be seen in day trips leaving from Atar. Ask around at your hotel/auberge to arrange bush taxis, 4x4s, or rent bikes. If your feeling adventurous wander into the market and you will doubtless get offers of obliging drivers ready to show you what they consider to be the most interesting sites.
Some of the notable sites in the region include oases (Terjit, Mhaireth), dunes (Valle Blanche, Amatlich), and old towns (Azougi, Chinguetti).