Athabasca
Athabasca
is a town of almost 3,000 people (2016) in Athabasca County,
Alberta
.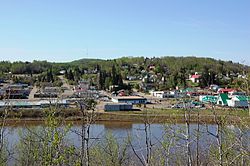 The Town of Athabasca is nestled in the picturesque Athabasca River valley.
It is the health, education, shopping, and service centre for the region.
Understand
The town is home to Athabasca University, a major centre for distance education and the town's largest employer.
History
Unlike many other towns in Alberta, Athabasca predates the railway. It was the terminus of the Edmonton to Athabasca Landing trail. Athabasca lies on a southern protrusion of the Athabasca River. During the fur trade era, when rivers were the principal means of transportation, the Athabasca–Edmonton trail connected two different drainage basins. The Athabasca River flows north and is part of the Mackenzie River watershed, which leads to the Arctic Ocean. Edmonton lies across a height-of-land on the North Saskatchewan River in the Nelson River drainage basin, which empties into Hudson Bay. Edmonton was in Rupert's Land but not Athabasca. The trail allowed goods to be portaged back and forth between river systems. Once agricultural settlement occurred, the trail served a similar purpose. Eventually, road and rail links would trace the same path.
The Athabasca Heritage Society has put up signs through the downtown as well as along the riverfront that explain and depict the history. It has also published a historical walking tour that is available from the town office, library and visitor information centre.
Get in
By car
It is 145 km (90 mi) north of
Edmonton
at the intersection of Highway 2 and Highway 55, on the banks of the Athabasca River.
Get around
Walk or drive.

Eat
49th Street Grill

phone: +1 780-675-5418

address: 4901 - 49th Street

Chicken or pork souvlaki; pizza.

Anne's Fine Dining (Green Spot)

phone: +1 780-675-3040

address: 4820 - 51 Street

Canadian, Italian, Greek and Irish cuisine.

Athabasca Burger Bar

address: 4719 - 50 Street

Fast food
Sleep
phone: +1 780-675-5111

address: 4804 - 46 A Avenue

20-room motel built on the side of a hill with a panoramic view of the river valley. Some rooms have kitchenettes.

Athabasca Lodge Motel

phone: +1 780-675-2266

address: 4004 - Hwy #2 South

Continental breakfast with seasonal fruit included. 32 rooms, air-conditioning, fridge, microwave, LED TV, fitness room, laundry room, kitchenettes, cable TV.
Go next