Athens (Ohio)
Athens
is a city with a major university (population 26,000 -2010) and county seat of
Athens County
(population 68,000 2010
Southeast Ohio
, best known for being home to over 29,000 Ohio University students. Athens was settled in 1797, and the university was the first to be founded west of the Appalachian Mountains in the Northwest Territory in 1803.
Get in
By plane
John Glenn Columbus International Airport (CMH

), take US-33, approximately , from Columbus.

phone: +1 740-597-2600

address: 747 Columbia Rd

A General aviation airport operated by Ohio University.
By car
SR 33 and SR 50 intersect at Athens.
By bus
GoBus
provides intercity between smaller cities in western Ohio,
Cincinnati
and Columbus.
Greyhound
with partner companies serves the city with several daily departures from nearby larger cities. Many local taxi companies in Athens also offer shuttle service. Long distance buses stops at and . It is possible to change to local buses at both stations.
Get around
By foot
Athens is a small town that can be easily traversed by foot.
By taxi
There are many different taxi companies servicing Athens, all with easy numbers to remember.
(740)-594-7433 (RIDE) Has been servicing Athens for over 10 years. The types of car include 2007-2008 Aveos and Limos. Great service.
(740)-594-4686 (GOTO) Fast service, but GOTO only has mini-vans, which are in very poor condition.
By bus
Athens Transit
provides a small bus network with departures every 30 minutes, buses does not run on Sundays. A single fare is $1.
See
Arts and culture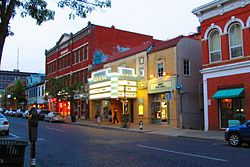 Ohio University School of Theatre

phone: +1 740-593-4818

address: 307 Kantner Hall

Features six mainstage productions a year as well as a series of Lab Shows

The Seabury Quinn, Jr. Playwrights' FestivalGraduate playwrights' festival held each year, usually at the end of May. Features readings, staged readings, and full productions of graduate work.

Midnight MadnessEach week the graduate playwrights write a ten minute play based on a theme they receive that Monday.

Lost Flamingo CompanyOhio University's student run theatre company. Features nine to twelve productions a year, as well as yearly productions of The Rocky Horror Picture Show (Fall Quarter), The Vagina Monologues (Winter Quarter), and Short Stack, a collection of ten minute plays written by Ohio University students (Spring Quarter).

Comedy for the MassesOhio University's student sketch comedy group. Features six shows a year, as well as an annual Stand-Up Showcase. Founded in 2001, in part by Michael Busch (An actor who worked on Conan and Glee).

The 48-Hour Shoot OutAn annual competition sponsored by the School of Telecommunications in which students are given two days to write, film, and edit a short movie based on a line of dialogue, a prop, and a genre.
Do
phone: +1 740 592-3325

address: 701 East State Street

skate park. Skateboards and inline skates only.

phone: +1 740-592-1991

Has a tractor pull, demolition derby, and a livestock showcase.

Pawpaw FestivalA festival dedicated to the PawPaw, a fruit native to Ohio.
Sports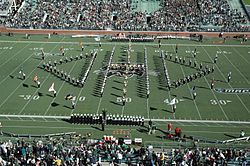 Peden StadiumThe football stadium for the Bobcats.

Ossian C. Bird ArenaThe Ohio University Ice Arena.

Ohio University Aquatic CenterHosts the Bobcats swim team and regional swim meets.

Bob Wren StadiumThe Ohio University baseball stadium.

Pruitt FieldPruitt Field hosts the Bobcats Field Hockey team. It is surrounded by the Goldsberry Track for the Bobcats track teams.

Convocation CenterThe basketball arena for Ohio University. A distinctive building in it's own right, it's dome is a good landmark.
Buy
phone: +1 740-592-4643

address: 7247 N Coolville Ridge Rd

A plant store with a variety of plants and helpful staff.
Eat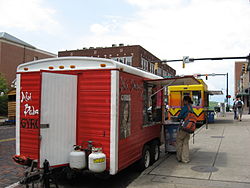 address: 4 W. State St

Great "Mexican" (non-authentic) food, vegan and vegetarian options, dedicated to using local resources. Restaurant has been worker-owned since 1984.

China Panda

address: 965 E. State St

Sitdown & takeout. Excellent American Chinese cuisine (includes General Tso's Chicken and California Rolls.)

Lui Lui's

address: 8 Station St

Decent Asian and American fusion.

O'Betty's Red Hot

address: 15 W. State St

Burlesque-themed hot dog joint.

Court Street Diner

address: 18 N. Court St

Greasy spoon diner, only restaurant in Athens that serves Cherry Kool-Aid.

Peking Express

address: 5 N. Court St

Commonly known to locals and college students as "$3.95 Chinese", it is precisely that, a giant heap of Chinese food, although now it'll cost you about $4.50.

Avalanche Pizza

address: 329 E. State St

Cheap, internationally award winning pizza. Insanely great deals (especially if you pick-up rather than get delivery) and an obscene amount of topping choices and specialty pizzas.

Bagel Street Deli

address: 23 S. Court St

Charming deli featuring nearly 200 different bagel sandwiches and other fares, ranging from vegan to ultra-carnivore. Walls are decorated with tin foil sculptures and chalk signatures of past customers. Home of the annual Pickle Fest (pickle eating contest).

Donkey Coffee

address: 1/2 W. Washington St

17 rated best coffeehouse in the state by Ohio Magazine. Features calming music, great coffee, board games, open mic nights, poetry nights, local art, and is open 24 hours during finals week.

Souvlaki's Restaurant and Deli

address: 9 W. State St

Late night gyros and baklava.

Big Mamma's Burritos

address: 10 S. Court St

A local option for those who loathe Chipotle. Many burrito and salsa options. Chipotle Ranch is a customer favorite.
Burrito Buggy A stand that sells amazing burritos at the intersection of Court St. and Union St. It's bright orange, yellow, and purple; you can't miss it.

Grand China Buffet

address: 1002 E. State St

Amazingly great buffet with waitresses who glare at you in every attempt to will you to your own death.

Hungry Howie's Pizza

address: 235 W. Union St

Not just a national chain, but the only Hungry Howie's with an official bus and $5 mediums being sold on the sidewalk.
Stephen's End of Court St. Amazing restaurant with a constantly changing menu

address: 24 1/2 East State Street

Zoe features New American cuisine in a contemporary Setting. The ever changing a la carte menu features meat, seafood, poultry, and vegetarian options with an emphasis on local, seasonal ingredients. Tuesday evenings half price wine, and Friday evenings prime rib. Reservations recommended but not required.

phone: +1 740-594-7311

address: 268 E. State St., Athens

Uses locally grown organic vegetables, non-GMO meats, and free-range eggs. Serves Fair Trade organic coffee, Herbal Sage teas, and bake with organic dairy, flour and sugar to create a variety of freshly baked hand crafted loaves, flaky quiches, sweet and savory pastries, breakfast pizza and a selection of tasty soups, salads and sandwiches for lunch. For dessert, they serve cookies, brownies, tarts, and cakes. The Sunday brunch menu includes individual omelettes, French toast, and sides of locally produced sausages, ham, polenta or home fries. They offer no espresso-based drinks.

address: 8 North Court St. Athens, Ohio 45701

Fresh-baked goods and sanchwiches.
Drink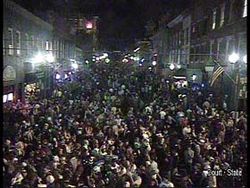 There are many bars on Court Street located near Ohio University's College Green.
Pubs
phone: +1 740-593-5060

address: 18 W Union St

Voted one of the best dive bars in America by Maxim Magazine. Features $1 Pabst Blue Ribbon, live indie rock of varying volumes, and Dance or Die, a monthly dance party. They shut down the grille, and the roaches left in protest.

phone: +1 740-592-2699

address: 39 N Court St

Well known for their Beer Cheese Soup, Aquarium Night (beer in obscenely huge glasses), and for being massively packed during the weekend.

Pigskin Bar and GrillVery well known for their signature drink The Black Widow, a one of a kind dark purple concoction that is a must have for any visitor to Athens.

Red Brick Sports Pub

address: 14 N Court St

Many flat screen TVs and a pretty decent menu.

Tony's Tavern

address: 7 W. State St

Considered a "townie bar." Tony's is very well known for their 'Hot Nuts' shot. Daily specials on Killian's and a very laid-back, friendly dive bar atmosphere. Be there on Friday night for Tony's happy hour (free food!).

Casa Nueva & Cantina

address: 4 W. State St

Great food, warm and friendly bar. The nation's oldest co-op restaurant.
Bars
The Smiling Skull Saloon

phone: +1 740-589-2474

address: 108 W. Union St

Known as Athens' biker bar. Great jukebox ranging from Johnny Cash to Dylan to The Clash. Open 365 days a year. Very reasonable drinks and nearly guaranteed to be free of frat and sorority types. Two dollar "Black and Tans" on Tuesdays. Your (well-behaved) dog is welcome to come inside!

phone: +1 740-592-9686

address: 22-24 W Union St

Home of the only micro brewpub in Athens, offering live music, food and outdoor patio. A great alternative to the typical Athens bar scene.

The J Bar

phone: +1 740-249-4015

address: 41 N Court St

Features the signature drink Junction Punch. Gin is probably an ingredient and one is more than enough.

Pawpurr's

address: 37 N. Court St

A "dive bar" with a small (and mostly unused) dance floor.

The Crystal

phone: +1 740-593-3679

address: 34 N. Court St

Very easily the #1 frat/sorority bar.

The C.I.

address: 32 N. Court St

The Hockey Bar. Crowded on weekends, College to Locals.

Cat's Eye

address: 12 N. Court St

A mix of locals and college kids.

Lucky's

address: 11 N. Court St

The official Steelers bar of Athens. Very good daily specials.

Broney's

address: 7 W. Carpenter St

At the very end of Court Street. Kind of sterile compared to the rest of the bars in town.

CourtsideSports bar that has a beer garden ideal for day drinking on a spring day.
Sleep
Budget
Mid-range
Bed & Breakfast
Connect
phone: +1 740 592-4272

address: 30 Home St

Offers public computers and WiFi. Rents free bicycles for three hours a day for library card holders.
Go next
Burr Oak State Park and Resort Lodge, Athens County, north of Glouster and east/adjacent to the Wayne National Forest off of Route 13. A variety of overnight accommodations, cottages and campground. Cottages: 30 family cottages, air conditioning, cable TV, sleeps six people, bath/shower, living room, complete kitchen, dining area, screened porch. Linens, towels, cooking, eating utensils are furnished. Camping: 100 non-electric campsites, showers, flush toilets, 21 primitive sites, pet camping. Fishing, hunting, swimming, beach, bathhouse, showers, changing booths, snack bar, twenty-eight miles of hiking trails, Burr Oak Backpack Trail, horseshoe court and playground.
Lake Hope State Park, eastern Vinton County, approx. 20 miles west of Athens. Lake Hope State Park is entirely within the 26,824-acre Zaleski State Forest and adjacent to part of the Wayne National Forest. Dining lodge. Cottages: 72 cottages, all cottages have linens, towels, complete kitchens, microwave ovens, heat, air conditioning, outdoor grills and fire rings. Camping: 219-site campground, heated showerhouses, pit latrines, waste disposal, laundry facilities, picnic tables, fire rings, 46 sites have electric hookups, pet camping, three Rent-A-Camp units, one camper-cabin, one Rent-A-Tepee. Boats with electric motors only, 120-acre lake, canoes, kayaks, and rowboats, available for rent. Swimming beach, beachhouse, sun deck, restrooms, concession building, fishing, hunting, seventeen miles of hiking trails, 21-mile backpack trail with primitive campsites, 33 miles of bridle trail and 23-mile singletrack bike trail.
Stouds Run State Park, Athens County, east of Athens, on Route 690, inside of Wayne National Forest on Dow Lake. 75 non-electric campsites, picnic tables and fire rings, pet camping, three Rent-A-Camp sites, boating, fishing, hunting, 15 miles of hiking trails, birdwatching, nature study, 8½ mile bridle trail, 900-foot sand beach, change booths, drinking water, restrooms, scuba diving with proper equipment, picnic tables, cooking grates, three shelterhouses, basketball court, playground equipment, boat rentals, volleyball court and another playground.
Go to
Cleveland
,
Columbus
,
Cincinnati
,
Pittsburgh
or
West Virginia
.