Atlanta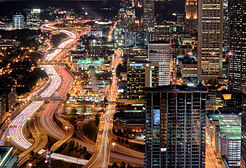 Atlanta
is the vanguard of the New South, with the charm and elegance of the Old. It's a city that balances southern traditions with sleek modernism, and southern hospitality with three skylines and the world's busiest airport. It's a city that has been burnt to the ground and built back up; seen the horrors of war; felt the pain of droughts and floods; and given birth to Martin Luther King, Jr., the greatest figure of the civil rights movement. Atlanta is the capital of the state of
Georgia
and, according to many, the capital of the entire
Southern United States
.
Districts
There are three separate skylines in Atlanta:
Downtown
,
Midtown
, and
Buckhead
. The size of any one of these districts could rival the center of any other city in the South. However, Atlanta consists not only of skyscrapers and other high-rise constructions; each of the city's urban neighborhoods offer unique atmospheres that are well adapted to living in the shadow of the city.
Understand
Sitting on the Piedmont Plateau in Northern Georgia, Atlanta is almost entirely in Fulton County, while a part of the city limits extends into
DeKalb County
. The city covers 132 sq mi (343 km²), but
Metro Atlanta
, which includes 28 counties, has an area of 8,376 sq mi (21,693.7 km²). The
Chattahoochee River
, which forms the northwestern boundary of Atlanta, is a major source of water throughout the metro area. Aside from the river, the topography of Atlanta is assorted with rolling hills, forests, lakes and ponds, and granite
Stone Mountain
to the east.
According to the 2010 Census, Atlanta had 420,000 residents within the city limits and 5.3 million in the metro area. .
Climate
Atlanta is on the Piedmont Plateau, at an approximate elevation of 700–1100 ft (220–330 m) above sea level. The city is thus somewhat cooler than other places in the U.S. South, a fact that certainly helped the growth of the city before the introduction of air conditioning.
Atlanta experiences a very wide range of temperatures. Temperatures in winter are overall mild to warm, but cold-fronts can bring light accumulations of snow and lows occasionally plummet into the teens. However, days are usually in the 50s F (10 °C) and nights in the low to mid 30s F (0 °C). Ice-storms are very rare, but not unheard of. Summers are hot and humid, with temperatures frequently reaching above 90 °F (32 °C), thus the city earning the nickname "Hotlanta" (a name which makes locals cringe, and will likely be met with a retort of "Nobody calls it that"). Rainfall is high in late winter and early spring, and afternoon thunderstorms are common in summer. Spring and autumn are the best times to visit. The region is often affected during hurricane season (June through November) from remnants that spill out from the Gulf, bringing heavy rains and sometimes high winds.
History
Atlanta began taking shape in 1837 when the Western & Atlantic Railroad selected the site as the southern end of its tracks. The town was called Terminus until 1843 when it was renamed Marthasville after the daughter of Gov. Wilson Lumpkin. In 1847, the city was renamed Atlanta, supposedly a feminine form of "Atlantic", probably created by an engineer with the Western & Atlantic. The city was incorporated in 1847.
By the outbreak of the
American Civil War
in 1861, Atlanta was a major
railroad hub
, manufacturing center, and supply depot. But in 1864, to cripple transportation between the South and the North, Union General William T. Sherman's army
burned to the ground
all of the railroad facilities, almost every business and more than two-thirds of the city's homes during his infamous "March to the Sea." Atlanta lay in ruins, the only major American city ever destroyed by war.
Atlanta's first resurgence began soon after. Within four years of Sherman's attack, the Georgia capital was moved from Milledgeville to Atlanta and a drive to attract new business was underway. In the meantime, colleges and universities began to open, telephones were introduced, and trolleys began to roll. In 1895, the Cotton States and International Exposition in Piedmont Park showed 800,000 visitors and residents that Atlanta was headed in a new direction and braced for the 20th century.
By the late 1920s, a downtown business sector had taken shape, giving Atlanta much of the distinct pattern it maintains today. At the same time, Atlanta Alderman (and later Mayor) William B. Hartsfield campaigned long and hard to convince the city to turn a vacant racetrack into an airport. Today, Hartsfield–Jackson International Airport is the
world's busiest airport
, with more than 100 million annual passengers.
While the city continued its economic surge, it also became known as the
"City Too Busy to Hate."
Atlanta and Georgia preempted much of the strife associated with the 1950s and 1960s by taking the lead in the Southeast in strengthening minority rights. The city's strongest identification with the movement was through its native son,
Dr. Martin Luther King, Jr.
Much has been accomplished in the last 25 years to elevate Atlanta to world-class status. An efficient (by the standards of the Southern US at least) public transportation system, MARTA, was put in place; Underground Atlanta was added to the entertainment map; the Georgia World Congress Center made the city a convention hub; the Georgia Dome was built in 1992; and Philips Arena was built in 1999. The Dome was torn down in 2017 once its replacement, Mercedes-Benz Stadium, opened.
From July 20 through August 4, 1996, all eyes were on Atlanta as it hosted the
Centennial Olympic Games
. The city successfully hosted the biggest Olympic Games ever, showcasing itself to 2 million people in person and 3.5 billion people through global broadcast.
The Olympics served as a catalyst for a second resurgence of Atlanta as it experiences a dramatic transformation from great American city to greater international city by fueling more than $6 billion in development and changes.
Atlanta has become a major
conference and convention destination
, due mostly to the enormous airport and favorable weather. Most of the conference venues are near the Peachtree Center MARTA station in downtown, and when there is a large show in town, it can sometimes seem as though every other person in the city is wearing a name tag.
Movies and television
Atlanta's southern culture, deep history, and bustling city have been the backdrop for numerous classic films.
Gone with the Wind (Victor Fleming, 1939). Steeped in Confederate politics, a struggle for survival, and unavoidable love intrigues, this film has the rare distinction of being as good as if not better than the classic southern book it is based on.
Driving Miss Daisy (Bruce Beresford, 1989). This film tactfully explores the racial issues of the civil rights-era through the nuances of a relationship between a wealthy white woman and her black chauffeur.
ATL (Chris Robinson, 2006). A coming of age drama set in the hip-hop culture of the modern city.
Atlanta is also the background for the popular television shows
The Walking Dead
and
Atlanta
.
Atlanta (and the rest of Georgia) have quickly become a favorite filming location thanks to state tax incentives. You can catch glimpses of Atlanta landmarks in movies like
The Hunger Games: Catching Fire
(Francis Lawrence, 2013) where it plays the decadent capital city, and
The Internship
(Shawn Levy, 2013) where it plays Google's high-tech modernist headquarters.
Visitor information
Get in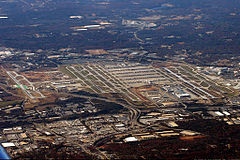 By plane
Atlanta's principal airport is
Hartsfield–Jackson Atlanta International Airport
(
ATL
) ("Hartsfield–Jackson," "ATL," or just "the airport" to locals), about south of downtown. Hartsfield-Jackson has been the world's busiest airport since 1999, serving more than 107 million passengers in 2018. The airport has 192 domestic and international gates, and covers 4,700 acres (1,902 ha) of land with five parallel jet runways. ATL is a major hub for Delta Air Lines and a focus city for Southwest Airlines, and also serves as the location of Delta Air Lines corporate headquarters.

Private Aviation
Atlanta has the 3rd highest concentration of Fortune 500 companies in the United States, and is one of the nation's largest media centers. Due to the high levels of media and executive activity, together with heavy congestion at Hartsfield-Jackson, there are several airports that focus on business and leisure aviation.
Dekalb-Peachtree Airport (PDK) is located within "the Perimeter" in Chamblee, Georgia. Although PDK offers shuttle service to Cincinnati, Memphis, and Destin, it mainly serves as Atlanta's main private jet hub with 4 runways and 3 private terminals. There are 5 additional airports with private FBO terminals located just outside of the perimeter: Fulton County Airport (FTY); Cherokee County Airport (); Falcon Field-Atlanta Regional Airport (); McCollum Field-Cobb County International Airport (); and Gwinnett County Airport (LZU). Air charter companies including Priority Jet and Georgia Jet Charter offer access to a variety of planes based at Atlanta metro area airports, with aircraft ranging from economical single and twin engine planes, to modern business jets and luxury Gulfstreams.

By train

Atlanta is served by Amtrak, +1-800-872-7245. Amtrak's Crescent train runs daily and serves New York, Philadelphia, Baltimore, Washington, Charlotte, Gainesville, Birmingham and New Orleans. Southbound, the train leaves New York just before 3PM, calls at Atlanta at around 9AM the next day and reaches New Orleans by 8PM. Northbound, the train leaves New Orleans at around 7AM, calls at Atlanta at around 8PM and reaches New York by 2PM the next day.
The Atlanta Amtrak station is at 1688 Peachtree St. NW, which is several miles north of downtown and the airport. To connect from MARTA, take bus #23 or #110, which can be transferred to at Buckhead Station and Arts Center Station. There is no on-site parking at the Amtrak station, but Elite Parking has a surface lot nearby and offers longterm parking at reasonable rates.

By bus
Greyhound Bus Lines, +1-800-229-9424, provides bus service to Atlanta from many locations throughout the U.S. Buses arrive at and depart from the Greyhound terminal in a less affluent neighborhood on the southern edge of downtown area and directly beneath MARTA's Garnett Station.
Megabus, service to Atlanta from locations across the Southern U.S. The bus stop is downtown at 435 West Peachtree Street, near MARTA's Civic Center Station.
GoToBus, service from Atlanta to locations across the northern U.S. The bus stop is at 1192-A Pryor Street in south Atlanta near a plaza off I-75/85 exit 244; buses stop in the parking lot in the plaza.

By car
The principal highways serving the city are I-75 (serving traffic from Detroit to Florida), I-85 (connecting the Mid-Atlantic to New Orleans) and I-20 (connecting Texas to South Carolina), all of which cross through Downtown. GA-400 connects North Georgia to I-85 by passing through Buckhead.
I-285 (commonly called "The Perimeter" by Atlantans, and "Atlanta Bypass" on overhead signs) circles the city at a distance of about out, crossing and connecting with all the above freeways and the airport. In the shorthand of traffic reports, it's sometimes specified as "inner loop" (the lanes that travel clockwise) and "outer loop" (counterclockwise), or the "top end" (the busy segment on the north between I-75 and I-85).
Free real-time traffic information is available by dialing 511 anywhere in the state of Georgia.

Get around
Although most locals rely on their cars for day-to-day transportation, walking and public transit are well suited for visitors. The major downtown neighborhoods are quite walkable, and many attractions are easily accessible from public transit.
If you'll have a car anyway, driving is often the fastest means of getting around. It also opens up destinations that are difficult or impossible to access by public transit. However, having a car in Downtown is often a hindrance where parking is scarce, and the lengthy rush hour is an exercise in frustration.
Street names
in Atlanta are very confusing. There are more than 70 streets that have "Peachtree" in their name, and they are often difficult to distinguish (Peachtree Street, Peachtree Lane, West Peachtree Street, etc.) When someone says "Peachtree" without clarifying, they mean
Peachtree Street
, a major north-south thoroughfare through Downtown, Midtown, and Buckhead. Do not confuse it with
West Peachtree Street
, which parallels Peachtree Street a block away and is a major road through Midtown. Additionally, many thoroughfares change street names frequently, generally at intersections and curves.
Ponce de Leon Avenue, often shortened to Ponce, is pronounced
PAHNS duh LEE-ahn
, rather than the Spanish
POHN-say day lay-OHN
.
By foot
Visitors will find today's Atlanta very walkable, with many improvements made in the last decade. Most of the in-town neighborhoods are individually easy to walk around, with dense collections of bars, restaurants, and shops. In particular, getting around within Midtown, Downtown, Decatur, Buckhead, or the areas around the North Highland Avenue corridor in East Atlanta (including Virginia-Highland, Poncey Highland, and Little Five Points) is usually quite easy; walking times rarely exceed 10–20 minutes, and buses or trains provide some relief for longer trips. Getting
between
those neighborhoods solely by foot is more difficult; for example, expect a 30–45-minute walk between Midtown and Virginia-Highland. Inter-neighborhood transportation is best done by car or public transit.
By transit
Atlanta is served by
MARTA
(Metropolitan Atlanta Rapid Transit Authority),
+1
404-848-4711, which operates rapid rail and bus networks in the city of Atlanta and the counties of Fulton and Dekalb. Locals just say "MARTA"; referring to it as "the MARTA" will mark you as an out-of-towner.
A single ride on MARTA costs $2.50 (children 46 inches and under free, up to 2 per adult); the fare includes transfers. MARTA uses wireless Breeze Cards to store your fare; a new card costs $2.00 but is reloadable and valid for 10 years. (Breeze Cards can't be shared; you need one per person.) Breeze Cards are sold in vending machines at all rail stations or at RideStores at Airport, Lindbergh Center, and Five Points Stations (vending machines accept credit cards, but cash may be faster as the machines are slow and prone to breaking). On the bus, tap the card at the fare post next to the driver. At the train station, tap on entry and exit at the fare gate. When transferring, tap your card again. (The card uses RFID technology, so you can leave it in your wallet and just tap your whole wallet on the sensor.)
Buses accept fares in cash, but cannot issue transfers on fares paid in cash — you must have a Breeze Card to obtain the transfer. If you plan to make a connection, make sure to get one before starting your trip.
Unlimited passes are available ($9 for 1 day, $19 for 4 days, $23.75 for 7 days). These will easily save you money if you plan on making more than one or two trips per day.
MARTA runs slower on the weekends
; typical wait times are 20 minutes for trains and up to an hour for buses. Be sure to accommodate for this.
The system is quite safe regardless of the time of day, although there have been a handful of incidents of violent crime in the last decade. Like in any other city or transit system, use common sense, keep aware of your surroundings during low ridership periods, and avoid train cars with no other riders or with only a couple of other riders.
Rail
The rail network consists of four lines: Red, Gold, Blue, and Green. The Red and Gold lines run north-south, while the Blue and Green lines run east-west, forming a cross with Five Points Station in the center as the only connection point between the Red-Gold and Blue-Green lines.
The Red and Gold lines run on the same rails from a southern terminus at Hartsfield-Jackson airport through Downtown and Midtown Atlanta, before splitting into two branches: the Red line runs to north metro Atlanta at North Springs Station, and the Gold line runs northeast and terminates at Doraville Station.
The Blue line runs from a western terminal at Hamilton E. Holmes to an eastern terminal at Indian Creek. The Green line runs east-west along with the Blue line, but has a small spur to Bankhead station and only goes as far east as Edgewood/Candler Park station.
Trains run M-F 5AM-1AM, and on weekends and holidays 5AM-12:30AM. Trains run on all lines every 12 minutes during peak periods, and every 20 minutes at night and on weekends. The wait is often shorter than this for trips in the center of the city, as you will not have to wait for any specific train; you could take either the Red line or the Gold line to get from Downtown to Midtown, for example.
Bus
The bus network comprises over 100 different bus routes, with many routes operating approximately every 20 minutes. Bus service on some lines (generally including the most popular tourist areas) runs M-F 5AM-1:30AM, and on the weekends and holidays 5AM-1AM.
There are a few buses which are particularly useful for getting around some of the in-town neighborhoods:
Streetcar
Downtown, the
Atlanta Streetcar
has brought streetcars back to Atlanta, 65 years after the previous service ended. The Downtown Loop runs east-west, connecting Centennial Olympic Park, Peachtree Center MARTA station, and going across the highway to the Martin Luther King, Jr., National Historic Site. It's cheaper than MARTA (adults $1, children free ; multiple trip passes available), but the limited destinations mean visitors may not get much use from it.
By taxi
It is usually possible to flag taxicabs down near tourist attractions and bars in Midtown and Downtown. However, calling ahead is recommended.
24-hour taxicab services:
Taxis between the airport and major areas of town are
flat rate
.
Be sure to insist on the flat rate, even if the driver claims no knowledge of it.
You can also use ride-hailing apps such as
Uber
and Lyft. Be aware the pricing can be high during times of high demand.
By car
Cars
are the most popular form of transport to get around the sprawling city, and usually the fastest during non-peak hours. Many destinations outside the urban centers are only accessible by car. Rush hour peaks around 7:30AM–9:30AM and 4PM-6:30PM on weekdays and often results in congestion when travelling inbound in the mornings and outbound in the afternoons. Downtown/Midtown and major shopping districts such as Buckhead can also get crowded on weekends. In most of the city,
parking
is free and plentiful. In the most urban areas, some restaurants offer free or cheap valet services ($1–3 tip expected) and on the rare occasion where parking is scarce, public lots are usually nearby for a fee.
Real-time traffic information
is available online or by dialing 511 from any phone.
See
Museums
Atlanta's top attractions form an eclectic mix that is sure to have something that appeals to everyone, and enough variety to keep the adventurous traveler busy. The highest concentration of exhibits can be found in the
Centennial Park Area
, where Atlanta's three biggest attractions are within two blocks of one another:
World of Coca-Cola
tells the history of the world's most iconic brand, with plenty of samples to ensure understanding; across the street is the
Georgia Aquarium
, the world's largest by volume of water, where you can swim with the biggest fish of them all, the whale shark; and the
CNN Center
and
Studio Tour
, which offers a behind the scenes look at what it takes to run one of the nation's leading news sources.
Those more inclined to history can visit the
Martin Luther King, Jr. National Historic Site
in
Sweet Auburn
, which includes this inspiring leader's birthplace home, his final resting place, the church where he once gave sermons, and a museum and memorial dedicated to his colossal achievements. The largest collection of Civil War memorabilia in the nation, including the
Cyclorama
(which tells the story of the Battle of Atlanta through a massive, continuous, circular painting), can be found at the
Atlanta History Center
in
Buckhead
, alongside a large exhibit memorializing the
1996 Centennial Olympic Games
.
Exhibits of both ancient and modern history can be found near
Little Five Points
at the
Fernbank Museum of Natural History
, featuring a humbling display of the largest dinosaur ever unearthed, and the
Jimmy Carter Library & Museum
, which is the permanent home of the former president's Nobel Peace Prize. The Michael C. Carlos Museum, on the campus of Emory University is an excellent attraction for those interested in the Greek and Egyptian cultures. The museum houses the largest collection of Greek, Egyptian and Near East artifacts in the southeast. Those with more refined tastes can enjoy the
High Museum of Art
in
Midtown
, which displays fine art from the last two centuries, as well as modern and contemporary pieces. In Midtown, the
Museum of Design Atlanta (MODA)
features rotating design exhibits and the
Atlanta Contemporary Art Center
offers rotating contemporary art exhibitions. The
Museum of Contemporary Art of Georgia (MOCA GA)
between Midtown and Buckhead features a permanent collection as well as temporary exhibitions of contemporary art, focusing on Georgia artists. Georgia State University's
Rialto Center for the Arts
in Downtown has a free exhibition of visual art as well. And finally,
Gone with the Wind
aficionados can't miss the
Margaret Mitchell House & Museum
, which preserves the Tudor Revival mansion in
Midtown
where the Pulitzer Prize–winning novel was written.
Travelers planning to visit multiple attractions may benefit from
Atlanta CityPASS
, which grants admission to 5 Atlanta attractions within 9 days of first use for a much reduced rate and includes expedited entry in some cases. The included attractions are: Georgia Aquarium; World of Coca-Cola; Inside CNN Studio Tour; either High Museum of Art or Fernbank Museum of Natural History; and either Zoo Atlanta or Atlanta History Center.
Architecture
Explore the cityscape and enjoy the many pieces of architecture built all around Atlanta, from the skyscrapers of
Midtown
, to the
Downtown
skyline, to the houses on Highland Avenue, to the mansions of
Buckhead
. Inman Park, Atlanta's showcases the city's old Victorian architecture. Other notable architectural attractions include the High Museum of Art and The Jimmy Carter Presidential Library.
Atlanta has a rich assortment of skyscrapers, notable for their modern aesthetic and the abundance of spires. The Bank of America building in midtown rises to a height of making it the tallest office building in the country outside of New York or Chicago. A building boom has left Atlanta glittering with dazzling glass skyscrapers, many of which contain some of the most expensive condominiums in the country. That said, the city owes a sizeable portion of its modern cityscape to home-grown architect John Portman. The construction of the icon Westin Peachtree Plaza Hotel helped steer Atlanta in a more urban direction. Portman, famous for the development of the hotel atrium also designed numerous other buildings in Atlanta, including the Hyatt Regency, the Marriott Marquis, and AmericasMart.
Atlanta also has a few view points where you can enjoy a 360 degree view of the city in Downtown. One of them is the Sundial atop the
Westin Peachtree
. Another is the Polaris atop the Hyatt Regency Atlanta (its view is becoming obscured by the growing walls of glass around it), and there is also
Nikolai's Roof
on top of the Hilton.
Itineraries
Old South and New South — This tour takes you through the old historical sides of Atlanta and the new rapidly growing areas with postmodern architecture and technology, as well as unique culture.
Do
Parks and recreation
Visit Centennial Olympic Park in Downtown and relax by the man-made river, splash in the Fountain of Rings on a hot summer day or go ice skating at the ice rink in the wintertime, attend a concert, and pay respects to the victims of the 1996 Olympics bombing.
Walk through Piedmont Park in Midtown, the largest park in Atlanta. Attend the Dogwood Festival in the spring time or one of the many musical events.
Grant Park is the oldest city park in Atlanta and is home to Zoo Atlanta. Historic Oakland Cemetery, also here, serves as the final resting place for more than 3,900 Confederate soldiers, famous Atlanta author Margaret Mitchell, golfing legend Bobby Jones, six Georgia governors and 25 Atlanta mayors.
The BeltLine is a multi-use trail. Its plan calls for a loop around Atlanta, of which only some portions are complete. Many sections of the former railway corridor have already been renovated with paved walking paths, while some others are still au naturel but hikeable. The BeltLine has been a big hit with locals; on weekends with good weather you will see dozens of people every minute crossing the street at popular intersections such as near Piedmont Park.
Performing arts
Founded in 1929, the
Atlanta Ballet
is the oldest professional dance company in America, the largest self-supported arts organization in Georgia and the official Ballet of Georgia. The company's performances combine contemporary and traditional styles with classic ballets and new choreography. Its annual season is presented at the historic
Fox Theatre
(
Midtown
), including the holiday season favorite
The Nutcracker
. The "Fabulous Fox" is worth a visit just to see its grandiose interior, and hosts many plays and concerts throughout the year.
Opera fans can enjoy the
Atlanta Opera
(
northwest Atlanta
). Atlanta's love affair with opera has spanned over 125 years of the city's history. Founded in 1979, the Atlanta Opera has won numerous awards nationally and locally.
The
Atlanta Symphony Orchestra
is recognized for its creativity and innovation internationally. It is also known as a wonderful training ground for musicians who go on to stellar careers with other orchestras. Regular orchestral performances can also be caught at the
Verizon Wireless Amphitheatre
(
Alpharetta
in
metro Atlanta
).
Atlanta has one of the most impressive theater communities in the United States with more than 65 active performance groups. Metro theaters present a variety of new and old works. The
Shakespeare Tavern Playhouse
(
Midtown
) is one highlight; this leading playhouse is the first troupe in America to complete the production of all 38 of Shakespeare's plays. Other highlights include Broadway musicals through
Broadway in Atlanta
and
Theater of the Stars
, improvisation, southern themes, political and human issues, contemporary, classic and, of course, Shakespeare. Check out
Alliance Theatre
(
Midtown
),
Center for the Puppetry Arts
(
Midtown
),
Dad's Garage
improv (
Little Five Points
),
Georgia Shakespeare Theatre
(Brookhaven in north
metro Atlanta
), or
Seven Stages
more alternative line-up of shows and musicals (
Little Five Points
).
Sports
Befitting a city closely associated with one of golf's most legendary figures, Bobby Jones, Atlanta hosts one of the most important events on the PGA Tour. Although not a major championship,
The Tour Championship
, held in late August at Jones' home course of East Lake Golf Club at the city's eastern edge, is the final event of the PGA Tour season. The Tour Championship field is limited to 30 players, the survivors of a season-long qualifying process that culminates in the FedEx Cup Playoffs. The winner of The Tour Championship earns over $1.6 million, one of the largest prizes in the sport, and due to a format change in 2019 will also win the season-long FedEx Cup points race that brings a $10 million bonus.
In addition to Georgia Tech, the city has a second NCAA Division I athletic program, and a third is in the metropolitan area. Both have considerably lower profiles than Georgia Tech.
The Georgia State Panthers compete in the Sun Belt Conference. The basketball teams play at the school's downtown campus, but most other athletic facilities are in DeKalb County. The football team moved into the Braves' former home of Turner Field, now renamed Georgia State Stadium, for the 2017 season and beyond, converting that venue into a football-specific stadium. The school plans to build a new baseball park within the footprint of the former Fulton County Stadium while retaining the preserved wall section from the original stadium.
The Kennesaw State Owls, members of the ASUN (Atlantic Sun) Conference, are in the Cobb County city of Kennesaw. KSU football plays in the Big South Conference at Fifth Third Bank Stadium near its campus; as noted above, that stadium is now home to Atlanta United 2.
Kids
Festivals
In January and February, look for the city-wide celebration of visual arts with ATLart and enjoy an early spring at the Southeastern Flower Show held at the Cobb Galleria Centre.
In March, Atlanta celebrates Irish Heritage with Downtown Atlanta's St. Patrick's Day Parade and Festival, followed, in April, by the Atlanta Dogwood Festival staged at Piedmont Park with children's activities, an artist market, and more.

Georgia Renaissance FestivalAllows people to experience merry olde England during the days of King Arthur.

Each May celebrates jazz in Atlanta, the Atlanta Jazz Festival is presented at the Woodruff Arts Center and other venues.
In June, visitors can experience the Atlanta Film Festival.

Georgia Shakespeare FestivalPresents plays from June through October at the Conant Performing Arts Center at Oglethorpe University.

The days around Independence Day (July 4) are filled with quite a few celebrations, but the most notable is the Peachtree Road Race, with 55,000 runners and many more spectators.

National Black Arts FestivalIs held during the third week in July and is the world's largest cultural celebration of African-American art.

Dragon ConA massive science-fiction and fantasy convention, although it's grown to be so multi-media and multi-genre that almost anyone can find a topic of interest here. Celebrity actors and writers come from around the world for Q&A panels. Unlike other large conventions, Dragon Con is fan-run, and there are well over a thousand panels where fans share insightful commentary and even learn about history, podcasting, or digital security. The convention is spread across 5 hotels and a trade center downtown. (Hotel rooms sell out almost a year in advance, as soon as they're made available, but you don't need to stay at a convention hotel to attend.)
Even if you don't go to Dragon Con, you should watch the

Dragon Con ParadeAtlanta's biggest parade is a sight to see for any geek, whether you're on the lookout for pirates, wizards, superheroes, or Storm Troopers. Over 3,000 fans parade in costumes, as well as show off elaborately recreated vehicles like the Ghostbusters' ECTO-1, the DeLorean time machine from Back to the Future, and the Batmobile, plus unique creations like huge animated dragons and starships. Great for children (especially if they want to wear a costume too), although younglings might be scared by realistic-looking Klingons or zombies. Expect large crowds, which begin gathering before 8am.
Atlanta Pride FestivalIs an October three-day celebration held in Piedmont Park.
Atlanta Celebrates PhotographyPromotes photography exhibitions and events citywide every October.
Work
You can serve alongside and meet the people of Atlanta at a Hands On Atlanta volunteer project.
Buy
Atlanta has one of the top 10 retail markets in the US, and the city's neighborhoods are a great place to find antiques, art galleries, arts and crafts stores, thrift stores and boutiques. The city's eclectic shopping neighborhoods include downtown Atlanta, Little Five Points, Virginia-Highland, Buckhead and Midtown.
Looking for antiques and art?
The Miami Circle
,
Bennett Street
, and
The Galleries of Peachtree Hills
offer some of the best merchandise in Atlanta.
Buckhead is home to more than 1,400 retail stores.
Lenox Square
and
Phipps Plaza
offer the most concentrated collection of upscale stores available anywhere in the city including Barneys CO-OP, Neiman Marcus, Tiffany & Co., Jil Sander, Gucci, Cartier, Burberry, Jimmy Choo and Louis Vuitton. The Midtown Mile is a stretch of Peachtree Street in Midtown that offers street level retail shopping.
Atlantic Station
also offers plenty of retail options.
If your interest lies in smaller, specialty, boutique or vintage stores, try Little Five Points, Virginia-Highland, and East Atlanta Village.
Wax 'N Facts
is a popular store in Little Five Points that actually still sells vinyl records.
Bill Hallman Boutiques
are also a neighborhood staple, providing fashion forward clothing for Atlanta's social set.
Underground Atlanta
is six city blocks in the heart of downtown Atlanta transformed into a spirited marketplace that offers historic guided tours and features restaurants, specialty stores, entertainment emporiums and street-cart merchants.
Street vendors are common in Downtown, especially in the Five Points neighborhood. You can also find large assortment of trade retailers at AmericasMart.
Eat
See the Districts articles for more listings.
Affordability, variety of restaurants, culinary diversity and award-winning chefs are key ingredients that earn Atlanta a place at the table with other popular culinary cities. An assortment of neighborhoods offers an array of restaurants featuring cuisine that spans the globe, serving something for every taste.
If you want to plumb the depths of what Atlanta's restaurant scene offers, do what locals do and sift through local magazine
Creative Loafing
. They review restaurants all over the city, and have several lists of
"100 Dishes to Eat in Atlanta"
.
During the past few years, several
celebrity chefs
have traveled south to call Atlanta home. Drawn to the quickly growing culinary scene, these chefs have been welcomed with open arms and some true southern hospitality. Jean-Georges Vongerichten (
Spice Market
), Anne Quatrano (
Bacchanalia
, Floataway Cafe, and Abbatoir), and Richard Blais (The Spence, FLIP Burger Boutique, and One Midtown Kitchen) are just a few.
What better place to travel than to the heart of Atlanta to experience
classic and contemporary Southern cuisine
at its finest?
Mary Mac's Tea Room
has been serving "meat and three" for close to 70 years, and has photos in every room to prove it, while innovators like Canoe, JCT, Restaurant Eugene, and South City Kitchen update Southern cuisine for the 21st century.
A
Wall Street Journal article
in 2007 named Atlanta the best city in the U.S. for
burgers
. Their top pick went to
Ann's Snack Bar
, an 8-seat dive run by one woman.
The Vortex
and
The Earl
were also listed, and are better choices if you don't have several hours to spend waiting in line. There are dozens of other highly-rated relative newcomers to the burger scene.
Atlanta is also making a name for itself in
pizza
of almost every style. For gourmet pizza,
Varasano's
(which has a satellite location in the airport) and
Antico Pizza Napoletana
are invariably named as the two best, but opinions are divided about which is the top. Other gourmet pizzerias include Ammazza, Double Zero, and Fritti. If you're looking for less-pretentious 'za, check out Blue Moon Pizza, Cameli's, Fellini's, or Rocky Mountain Pizza.
Of course, you can stick with the
landmarks
, such as
The Varsity
(the world's largest drive-in),
The Sun Dial
(a restaurant on top of the Westin Hotel which revolves for a 360° view of the city),
Pittypat's Porch
(Southern charm inspired by
Gone With the Wind
), or
R. Thomas
(healthy meals including vegetarian, vegan, and gluten-free).
You might be surprised to learn that Atlanta is home to the headquarters of
many
restaurant chains. Some are small regional or Atlanta-only chains such as
Flying Biscuit Café
,
Taqueria del Sol
,
Figo Pasta
,
Tin Drum Asiacafé
, and
Willy's Mexicana Grill
. The iconically Southern chains
Waffle House
and
Chick-Fil-A
got their start in Atlanta, as did
Mellow Mushroom
and
Moe's Southwest Grill
. (Then again, so did
Applebee's
; sorry for inflicting all that mediocre food on the country.) Other chains just find Atlanta to be a great business home, including
Arby's
,
Krystal
, and
Ted's Montana Grill
.
Drink
Coca-Cola
In much of the
South
, thanks to the influence of Coca-Cola being headquartered in
midtown Atlanta
, "coke" can colloquially refer to any soft drink in place of "soda" or "pop". Ordering "a Coke" at a restaurant usually, but not always, means you're asking for a Coca-Cola Classic (and they
will
ask "Is Pepsi okay?" if they don't serve Coca-Cola products), but if someone says they're going to the grocery store to buy "some cokes" for a party, they mean "a variety of soft drinks", not just Coca-Cola.
Sweet tea
A true staple of southern culture, sweet tea can be found at almost any restaurant in Atlanta. In most places an order for "tea" will be assumed to mean "sweet tea"; hot or unsweetened tea need to be asked for specifically. A popular variant to a glass of sweet tea is an
Arnold Palmer
, a half and half mix of iced tea (either sweetened or unsweetened) and lemonade, named after the famous golfer who popularized it.
Beer and more beer
Atlanta is home to
Sweetwater Brewing Company
, one of the largest microbreweries in the South; their 420 Extra Pale Ale is a signature item.
Red Brick
is the second-largest, while relative newcomers include Monday Night, Orpheus, Second Self, Three Taverns, and Wild Heaven.
Beer bars
are a big to-do in Atlanta. The most widely-known is local chain
Taco Mac
, which boasts an ever-changing collection of as many as 140 beers on draught and hundreds more in bottles, with wings, burgers, and tacos to wash them down. Not to be outdone,
The Porter
serves up 430 brews along with excellent gastropub food.
Brick Store Pub
offers over 20 beers for connoisseurs, plus an additional bar of Belgian beers in an upstairs alcove. Serving up their own in-house brews,
Wrecking Bar
, 5 Seasons (
Upper Westside
and
Sandy Springs
), and
Twain's
top the list of brewpubs. Other local favorites for a good pint include
Publik Draft House
,
Book House
,
Thinking Man Tavern
, and
Cypress Street Pint & Plate
.
Nightlife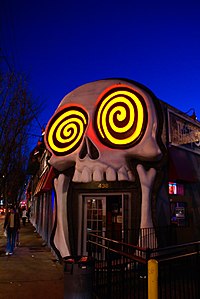 With fun and unique attractions, renowned restaurants and top-of-the-line hotel experiences, Atlanta keeps the party going from day to night. With chic style in
Buckhead
, alternative scene in
Little Five Points
, a casual atmosphere in
Virginia-Highland
and a trendy vibe in
Midtown
, Atlanta nightlife suits every style of letting loose. Since each district has so many options, you will want to visit each district article for a more detailed listing.
Buckhead is still the most popular nightlife district for locals and out-of-towners alike.
Aiko Lounge
is among the most popular dance clubs in Buckhead among 20s and 30s singles, while an older crowd can be seen at the Beluga Martini Bar. The Buckhead clientele is mostly of an upscale crowd, so be sure to dress to impress.
Midtown is the spot if you're looking for the urban vibe with diverse a crowd of 20s and 30s, many of them are college students, locals, transplants from out of state and foreign countries. This is also a gay and lesbian friendly area.
Downtown
has a few options for nightlife as well. Many of the Downtown watering holes can be found in
Kenny's Alley
in Underground. The
Fairlie-Poplar
district has a few neighborhood bars as well.
Stats
is an ideal sports bar to watch a game near Centennial Olympic Park.
Other popular clubs throughout the city include
The Masquerade
and MJQ Concourse. All areas of the city also have plenty of pubs and taverns, such as
Fado Irish Pub
in Buckhead,
Shakespeare Tavern
in Midtown, and
Highland Tap
in Virginia-Highland.
If you like country line-dancing, you can head out of the city and into the suburbs and check out
Wild Bills
in
Duluth
.
Sleep
See the Districts articles for more listings.
Most of Atlanta's major hotels are
downtown
between
Five Points
and
Midtown
in area with a name that is easy to remember: the Hotel District. The district is in the heart of Atlanta's economic and political center and is within walking distance to many of the major tourist attractions, including the Centennial Olympic Park, the World of Coca-Cola, the Georgia Aquarium, and the CNN Center.
Rapidly growing
Midtown
, the center of Atlanta's business district as well as many high-rise luxury condos is nearby many museums and theaters. If you're looking for boutique hotels that are near a thriving urban setting, Midtown may be the area for you.
Once the heart of Atlanta's nightlife,
Buckhead
is still home to several upscale hotels, which are close to the area's shopping and dining districts.
If you're staying in Atlanta without a car, you'll have the best time if you stay around Midtown or Downtown, which offer central, easy access to MARTA. Both areas have many excellent bars, restaurants, and cultural attractions accessible by foot. The big-name hotels in these parts of town are close to train stations and bus routes, making access to most interesting parts of town quick and hassle-free. Buckhead and Decatur are other options with good access to transit, but not as many tourist attractions in the area (and in the case of Decatur, not many hotels to choose from).
If you plan on renting an apartment, good places to look include Midtown a few blocks from Peachtree Street between the Arts Center and North Avenue MARTA stations, and around North Highland Avenue south of Virginia Avenue (including Little Five Points).
Stay safe
Despite Atlanta's reputation, the city is not as dangerous as many perceive it to be. The crime rate has dropped during the late 1990s and 2000s and reached a near forty-year low in 2005. While violent crime levels are still high compared to most American cities, most of the violence is related to the drug trade, and takes place in parts of the city visitors rarely - if ever - see.
Usual precautions should be taken, as in any other major city, such as not traveling alone at night and being aware of which neighborhoods are more prone to crime. In Atlanta, the southwest and southeast areas have reported the most incidents of crime; the triangle created by I-285, I-75, and I-20 in particular is a dangerous neighborhood. Avoid the areas surrounding the new Mercedes-Benz stadium such as Bankhead and Vine City. Car theft is exceptionally high by national standards. Outside of the perimeter, crime rates are significantly lower (except Dekalb County).
One thing to definitely watch out for in Atlanta are the homeless. Whereas homeless people in big cities tend to leave you alone if you ignore them, those in Atlanta have been known to harass people regardless, especially in the Downtown, and to a lesser extent, Midtown areas.

Connect
Atlanta area codes are 404, 770, 678, and 470. All 10 digits of the phone number are required when making local calls.

Cope
Media
Consulates
phone: +1 478 477-8145
address: 130 N Crest Blvd Ste B, Macon
phone: +1 404 495-1660
address: 3399 Peachtree Rd NE Ste 500, The Lenox Bldg
phone: +1 404 659-4760
address: 285 Peachtree Center Ave NE, Marquis Two Tower Ste 201
phone: +1 404 261-3313
address: 3340 Peachtree Rd NE, Tower Place Ste 1670
phone: +1 404 963-5902
address: 5549 Glenridge Drive NE, Atlanta GA 30342
phone: +1 404 487-6500
address: 1100 Spring St NW Ste 440
phone: +1 404 240-4300
address: 3500 Lenox Rd, One Alliance Center Ste 1600
phone: +1 404 266-2233
address: 2600 Apple Valley Rd
New Zealand (Honorary)
phone: +1 404 745-4551
address: 513 Seminole Ave NE
phone: +1 770 394-4671
address: 8060 Roswell Rd
phone: +1 404 923-5079
address: 3715 Northside Parkway
Philippines (Honorary)
phone: +1 404 239-5747
address: 3340 Peachtree Rd NE Ste 850
phone: +1 404 870-2000
address: 1349 W Peachtree St NW, Two Midtown Plaza Ste 1000
phone: +1 404 954-7700
address: 133 Peachtree St NE, Georgia Pacific Center Ste 3400
Go next
Inside the Perimeter
In Atlanta vernacular, "ITP" refers to everything inside I-285 which makes a loop around the city's far edges. A few cities, which are distinct from Atlanta proper, also reside ITP.
East Point is home to many well-known hip-hop and R&B groups as well as a burgeoning fine arts community, and is south-west of Atlanta's neighborhoods.
College Park is a small town south of East Point and adjacent to Hapeville and the airport in South Atlanta.
Outside the Perimeter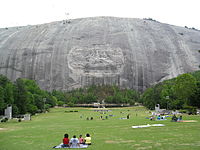 Many towns in the greater Atlanta area reside "OTP" but remain closely associated with the city.
Marietta is twenty minutes north-west on I-75 and home to Marietta Gone with the Wind Museum and Six Flags White Water.
Kennesaw is just beyond Marietta on I-75 and is home to a Civil War battlefield, Kennesaw Mountain National Battlefield Park in addition to Kennesaw State University and the Museum of History and Holocaust Education.
Stone Mountain is one of Georgia's most unique attractions, and is just half an hour to the east. Visitors can hike up the mountain or take a cable car to the top.
Greater Georgia
Austell — a half an hour to the west and is home to Six Flags Over Georgia. Goliath, the tallest roller coaster in the Southeast, can be found here.
Marietta — located just outside I-285 to the northwest and is one of Atlanta's largest suburbs, it is home to Dobbins Air Reserve Base and a Lockheed Martin manufacturing plant, the Marietta Gone with the Wind Museum, and the local land mark, the Big Chicken. The Children's Healthcare of Atlanta Training Ground and headquarters for Atlanta's Major League Soccer team Atlanta United FC, the 2018 MLS Cup champions, is also located here.
Braselton — A small town approximately 53 miles (85 km) northeast of Atlanta. It's home to Road Atlanta, a 2.54-mile (4.088 km) road course race track which hosts the Petit Le Mans, as well as AMA motorcycle racing, The Historic Sportscar Racing (HSR) Mitty, and smaller events throughout the year.
Helen — A mountain town created to resemble an Alpine village. Popular in the fall for viewing autumn leaves, and the largest and longest Oktoberfest in the Southeast. Also nearby is Unicoi State Park and Anna Ruby Falls, as well as Sautee-Nacoochee Valley.
Dahlonega — Once the location of Georgia's own gold rush. Visit the Dahlonega Gold Museum and try your luck finding some of your own gold. Also in Dahlonega is Wolf Mountain Vineyards, which offers a perfect get-away to taste award winning wines and enjoy a beautiful scenery. The vineyards and winery provide the perfect setting for Sunday brunch, café lunch, and gourmet dinners.
Flowery Branch — A suburb of Atlanta with roughly 10,000 residents, located on the shores of Lake Sidney Lanier. It contains the Atlanta Falcons Training Facility and has ushered in significant growth in both population and commercial-demand since its opening in 2005.
Savannah — A 4 hour drive, but well worth it. The downtown is a historical district with many parks, squares, and historic architecture.
Hampton — Home to the Atlanta Motor Speedway, an 870-acre racing complex hosting NASCAR Sprint Cup, Nationwide and Craftsman Truck Series events in March and October. In addition to the race weekend, the facility hosts events ranging from driving schools, Thursday Thunder Legends racing, Friday Night Drags, Car Shows and many others.
Chatahoochee River Fun — Sixteen recreation areas along a 48-mile stretch of the Chattahoochee River have been designed to conserve the river and provide outdoor entertainment for the whole family. In addition, the Chattahoochee Nature Center in Roswell offers education environmental programs, canoe trips and other recreational activities.
Lake Lanier Islands — The closet beach to Atlanta can be found at Lake Lanier Islands Resort, with its lakefront beaches, water park, golf courses, boating, spas, and more.
Chateau Elan Winery and Resort — Chateau Elan, a 16th-century-styled French retreat, is just 30 minutes north of Atlanta in the town of Braselton, and has a festive atmosphere that encourages guests to tour the vineyards, visit the winery, have lunch at a sidewalk café and play a round of golf.
Barnsley Garden Resort — Barnsley Garden Resort is a beautiful hotel and resort in Adairsville, Georgia with lush gardens, cabins and a Zagat-rated golf course.
Callaway Gardens — in Pine Mountain, Georgia Callaway Gardens is a premier vacation spot with tons of activities for the entire family.
Interstate tours