Atlantic City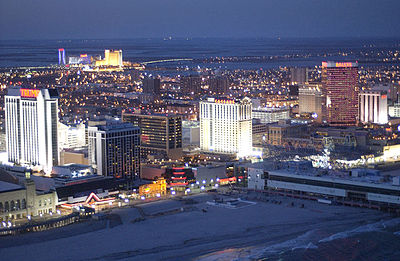 The entertainment capital of the Eastern Seaboard,
Atlantic City
is
New Jersey
's most popular resort destination. Its streets are familiar to anyone who's ever played Monopoly (the American version), but board game fans aren't the only ones who want to "take a walk on the Boardwalk". The city's beaches and the famous wood-plank walkway have attracted visitors for more than a century.
While many visitors come just for the casinos, which had revitalized Atlantic City in the late 1970s after decades of decline, if you never set foot on the beach it's fair to say you're missing the whole point. Atlantic City is more than just a gambler's haven; it's a legendary resort town like no other.
Understand
History
From its founding, Atlantic City has always been about tourism. It was founded in the late 19th century as a resort destination after railroad companies built track between Absecon Island (on which the city exists today) and
Philadelphia
. In its early days, Atlantic City catered to urban workers from Philadelphia. The heyday for Atlantic City as a beach resort lasted through the first half of the 20th century, when it fell out of favor. Atlantic City was revived after a state-wide referendum in 1976 legalized casino gambling in the city, and casinos began popping up along the boardwalk and in the Marina District in 1978.
More recently, Atlantic City's casinos have fallen on hard times due to competition from other states.
Pennsylvania
legalised casino gambling in 2006;
Maryland
,
New York
and
Delaware
have also entered the fray. Atlantic City's annual casino revenue dropped by half, from $5.2bn in 2006 to $2.86bn by 2013. Four of the twelve Atlantic City casinos closed in 2014 (Atlantic Club, Showboat, Revel and Trump Plaza); the Trump Taj Mahal Casino Resort permanently closed on Labor Day 2016.
Visitor information
Get in
By plane
Atlantic City International Airport
(
ACY
) is located about 9 miles to the west of Atlantic City along the Atlantic City Expressway. Car rentals are available in the airport, as well as taxi service and passenger vans for larger groups. Bus service via NJTransit is also available with a connection through the Pleasantville Bus Terminal. Atlantic City International Airport is a smaller airport primarily serviced by Spirit Airlines. It's poorly connected to major airports, since Spirit flights are generally bound for other tourist destinations in Florida and the Caribbean. For many travelers, it will make sense to fly into Philadelphia and drive the hour it takes to reach Atlantic City or take the train.
Philadelphia International Airport (PHL) is located about 60 miles to the west of Atlantic City. It is significantly larger than Atlantic City International and has more flights. SEPTA offers Regional Rail service from the airport to 30th Street Station, where travelers can connect with NJ Transit service to Atlantic City (see below).

Private aviation
Atlantic City was once a popular destination for commercial airlines; however, years of financial distress resulted in many scheduled services becoming discontinued and/or canceled due to lower passenger totals. Today, less than 20% of total aircraft operations are for scheduled flights, though Atlantic City is still a popular hub for private jets and general aviation, especially from the Northeast. Private aviation companies including Atlantic City Jet Charter and EvoJets offer charter flights to/from Atlantic City International Airport on a variety of private planes ranging from twin-engine propeller planes to luxury Gulfstreams.

By train
NJTransit offers train service from Philadelphia's 30th Street Station to Atlantic City, with several stops in New Jersey. One-way fare is $10, and the ride takes about an hour and a half. The train also has several stops along the way, including Cherry Hill, Lindenwold (with connections to PATCO Speedline), Atco, Hammonton, Egg Harbor City and Absecon. Once in Atlantic City at the Atlantic City Rail Terminal, free Jitney shuttles are provided to take rail patrons to area casinos. Taxi service is available, and within two blocks is the Atlantic City Bus Terminal.
If you're coming from NYC, you can take the Northeast Corridor Line from Penn Station, New York to Trenton. Transfer to the RiverLINE light rail to Walter Rand Transportation Center for the PATCO train to Lindenwold. From there, take the Atlantic City Rail Line. This costs about $24 each way.

By car
Atlantic City is well-connected to a number of major highways.
The Atlantic City Expressway ($3.75 toll) connects Philadelphia and South Jersey and deposits right into the center of town as well as to the Marina district and Brigantine.
The Garden State Parkway (toll) intersects the Expressway about 10 miles away from Atlantic City. It connects New York City and Cape May. A slower (toll-free) alternative is US Highway 9.
Be aware if driving into Atlantic City that parking can be quite expensive, especially if you are staying at one of the casino hotels and parking in the hotel garage.

By bus
Greyhound now offers scheduled service from Washington, DC, Baltimore, Philadelphia, and New York directly to many of the Atlantic City casinos, as well as the Atlantic City Bus Terminal. Round-trip fares are typically between $20–40, depending on the city and destination. Greyhound's website lists the routes and schedules offered, as well as the various free play offers for bus passengers.
Many charter bus operators will offer Atlantic City trips originating from other parts of New Jersey, Eastern Pennsylvania, and Southern New York. Many trips will come with casino chips and/or food vouchers for patrons. This particular route is popular with senior citizens.
New Jersey Transit provides comfortable motorcoach transportation from New York City (Port Authority Bus Terminal) and many points within New Jersey to the Atlantic City Bus Terminal. Check the NJ Transit website for fare and schedule information.
There are also buses from Manhattan's Chinatown to Atlantic City.

Get around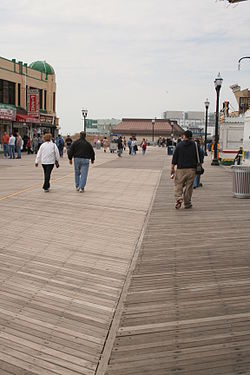 The most popular way to get around Atlantic City is on the 4-mile (6.4 km) long Boardwalk (the oldest in the United States), as most of the operating casinos are on the Boardwalk. While one's feet are the most popular way of navigating the boards, there are also old-fashioned rolling chairs that can be hired. These shaded surreys are rolled up and down the length of the Boardwalk by experienced guides, who are out soliciting riders day and night. The fee is based on the distance traveled, but expect a minimum fare of $5 plus tip.
Bikes can be rented as well, with the Boardwalk being the favorite spot to ride. Note that bikes are only allowed on the Boardwalk from 6:30AM to 10AM during the summer months, so be sure to get up early. Bikes of all sorts can be rented (single, tandem). One bike rental location is B & K Bike Rental at N Carolina Ave and the Boardwalk.
Taxicabs are plentiful throughout the city. The easiest way to get a cab is to call a local service, go to a taxi queue outside of any casino, or visit drop-off points at the Atlantic City Convention Center. The maximum cost for a taxi ride within city limits for up to five passengers is $13, not including tip.
One can also travel between the casinos along Pacific Avenue, which runs parallel to the Boardwalk 1 block inland, aboard the
Atlantic City Jitney
, a fleet of minibuses that run 24 hours a day; the fare is $2.25. The Jitneys also run to the Marina section of the city, where the Golden Nugget, Borgata, Water Club, and Harrah's casinos are located.
See
phone: +1 609 348-2880

address: 800 N. New Hampshire Av.

Features eight giant aquariums (including a touch tank), shipwreck artifacts, etc.

phone: +1 609 347-2001

address: 1441 Boardwalk

400 exhibits of incredible artifacts.

phone: +1 609 449-1360

address: 31 S. Rhode Island Ave

Built in 1857 and is the tallest in New Jersey. 228 steps to the top will yield a magnificent view of the Jersey shoreline.

phone: +1 609 823-6473

address: 9200 Atlantic Av. at Decatur Ave.

A 65-ton building built (as novelty architecture) to look like an elephant. Built in 1881 and listed on the National Register of Historic Places, this is one of those curious pieces of Americana that one doesn't see too much of anymore. 30-minute tours of its interior are available.

New Jersey Korean War Memorial

address: Park Place and the Boardwalk, just north of Bally's

Commemorates those who served in the Korean War.

Atlantic City ShowsAtlantic City has grown to be one of the north easts main stops for all large concerts and tours. With Boardwalk Hall being a great place to see a show or a world championship boxing match – the entertainment with Atlantic City Shows never ends.

Noyes Arts Garage of Stockton University

phone: +1 609-626-3805

address: 2200 Fairmount Ave.
phone: +1 609 348-7000
address: 2301 Boardwalk
Do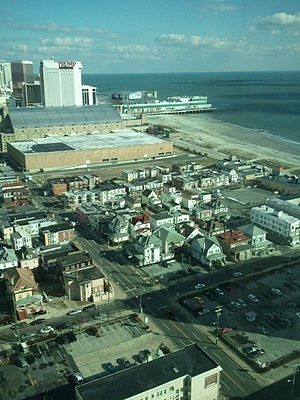 There is plenty to do in Atlantic City. Most people go to "AC" to
gamble
in one of the many resorts. Atlantic City casinos offer slots, poker, blackjack, roulette, craps, baccarat, keno, race and sports books and specialty table games.
BoardwalkExplore the world's first boardwalk! The Atlantic City Boardwalk is the backbone of this seaside resort city, providing access to hotels, resorts, shops, casinos and more. Stemming from the Atlantic City Boardwalk are several piers featuring a number of attractions. Steel Pier features a small amusement park right off the Atlantic City Boardwalk with rides, games and food. Garden Pier is known as the arts and cultural center of the Atlantic City Boardwalk complete with Atlantic City historical museum and Atlantic City Art Center.

BeachAtlantic City is right on the beach at the Jersey Shore; you can go swimming, tanning, fishing, or surfing. Atlantic City is one of the few places in New Jersey where access to the beach is free. Many of the resorts are located right on the beach and boardwalk.
In addition to the beach in Atlantic City, the southern New Jersey Shore boasts many other beaches to the south including Ocean City, The Wildwoods, and Cape May - with their own boardwalks containing amusements, restaurants, shops and souvenir stores. Gambling in New Jersey, however, is restricted to Atlantic City.
phone: +1 609 626-3890
address: 14 N Mississippi Ave
Buy
Eat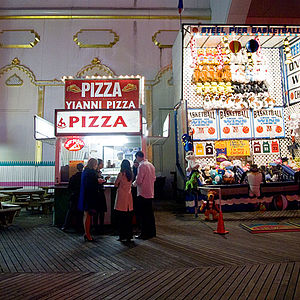 address: 1217 Pacific Avenue

Family owned restaurant in the heart of Atlantic City offering a wide variety of seafood, steaks, and spirits in a comfortable, friendly atmosphere.

phone: +1 609 441-5800

address: 777 Harrah's Boulevard

Classic comfort food and micro-brewed beers with bay views.

phone: +1 609 345-0092

address: 2405 Atlantic Av.

Opened in 1897, continues to offer items from their original menu. Raw bar, extensive selection of sea food. The food and service are both great.

phone: +1 609 441-5747

address: 777 Harrah's Boulevard

Modern Mexican cuisine, made-to-order guacamole & tequila cocktails.

phone: +1 609 317-1000

address: One Borgata Way

Modern Japanese pub serving sushi, sake and robatayaki in a sensual, yet contemporary atmosphere. Tempting cocktails and sharable plates for after-hours nosh and drinks, or a delicious late night meal.

phone: +1 609 344-2050

address: 2108 Atlantic Avenue

Steak and margaritas.

phone: +1 609 441-5402

address: 777 Harrah's Blvd

American fare by Chef Sammy DeMarco.

phone: +1 609 344-8669

address: 300 Oriental Ave

Indigenous Atlantic City pizza-joint, winner of the Guy Fieri Cheesesteak Battle, and local hang-out.

phone: +1 609 345-5766

address: 2800 Atlantic Av.

Old-style pizza and pasta, reasonable prices, a local favorite. Some people are not sold on the place, however.

phone: +1 609 345-1564

address: 2301 Arctic Ave

Great sandwiches made from great bread, celeb pictures on the wall—look for the Beatles pics.
Street vendors on the Boardwalk sell items such as pretzels, hot dogs, pizza, salt water taffy, funnel cakes and cotton candy.
Drink
As in
Las Vegas
, alcoholic beverages are provided 24/7 for "free" to gamblers at the casinos. Expect options to be rather limited (i.e. well drinks and mass-market beer) unless you're a high-roller, though.
phone: +1 609 449-1212

address: 2400 Atlantic Ave

Local sports bar with three happy hours. It's the place to go outside the casinos to watch sports and eat good wings (note, however, that other than wings the food is just OK). It's a local but friendly crowd; it's particularly popular with Atlantic City police, as the happy hours coincide with ACPD shift changes. Open 24/7, they serve breakfast, lunch, and dinner. They carry NFL and NCAA Football packages.

phone: +1 609 344-1113

address: 231 S. Tennessee Ave

Lauded by locals and tourists alike for its down-to-earth crowd, cheap drinks, and great bar food. The place to go for wings.

Culmone's Bar

phone: +1 609 348-5170

address: 2437 Atlantic Ave

Divey locals bar known for its good, cheap beer and attentive, sometimes-strict bartenders.

phone: +1 609 345-4700

address: 8 S Morris Ave

Good mixed drinks for relatively cheap, a pleasant atmosphere, and a laid back crowd make this pub a favorite with locals.
Sleep
Most of the hotels in Atlantic City are large chain hotel/casino combinations, which means lower prices and a high level of service but uninspiring decor and neon-lit lobbies. Not exactly the place to go if you like little Bed and Breakfasts, but an easy place to find a clean bed and a continental breakfast.
Camping
address: 1700 Burton Ave, Northfield
Stay safe
Atlantic City has many high rise condominiums and other major hotels along the Boardwalk and Marina Districts. The Atlantic City Police Department patrols the Boardwalk via bicycle and ATV details. Like any other major city, it is always wise to be aware of your surroundings in this heavily visited tourism district. Many areas away from the casinos are significantly less safe; as of 2012, Atlantic City has the second-highest violent crime rate in the state.
Like many cities that attract money and gambling, Atlantic City has a significant population of homeless beggars. The homeless aren't aggressive and are usually found asking for change on the boardwalk. Simply say "no" or ignore them. They'll usually move onto the next person.
The casinos themselves are very well-policed and if you run into problems, simply ask security for assistance. Be careful with your winnings! There's always a chance that pick pockets are waiting for an opportunity to cause trouble. If you're lucky enough to win at the slots, but feel uncomfortable carrying large sums of cash to your car or hotel room, ask the casino for either an escort or to receive your winnings via check.

Go next