Atok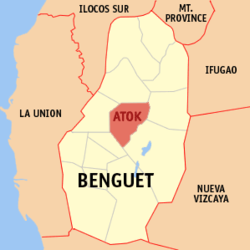 Atok
is a municipality in the province of
Benguet
,
Philippines
.
Understand
Atok is one of the highest towns in the Philippines, thus experiences relatively colder weather than the rest of the country. The average temperatures in Atok is colder than the more popular tourist destination city of
Baguio
which is also dubbed as the Summer Capital of the Philippines, due to being popular with Filipinos from the lowlands seeking relief from hot temperatures of summer in the country.
Get in
The way to get into Atok is by bus, van or jeepney bound to Halsema Highway from
Baguio
. Drop off at Kilometer 55 of Halselma Highway.
See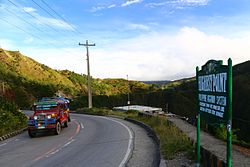 Highest Point View

address: Kilometer 53, Halsema Highway

Located at 7,400 ft above sea level, this attraction is the highest point in the Philippine Highway System. The location also provides a view of the mountains of Atok and surrounding municipalities including Mt. Pulag.

Haight's Place

address: Barangay Paoay

Haight't Place is located at 7,937 ft above sea level, provides a panoramic view of Atok's vegetable terraces which includes the Naguey Rice Terraces in the west. Frost occurs in the area from December to February. The place was named after an American soldier who fought during the Spanish-American war who brought the first vegetable seedlings for the area which has a temperate climate who also married a local and settled in Atok.

Benguet-Kochi Sisterhood Park

address: Barangay Paoay

A park commemorating the 40th sisterhood ties between the province of Benguet and Kochi prefecture of Japan located within Haight's Place. At least 34 cherry blossom trees were planted in the area in mid-2016. A future tourist destination especially among the locals after the trees' first bloom expected to occur in 2019.