Attleboro
Attleboro
is a city in
Massachusetts
.
Understand
History
Attleboro used to be called the "Jewelry Capital of the World" because of the presence of numerous jewelry manufacturers. It was founded in 1634 under the name of Attleborough, after the English town of the same name where the founders had previously lived.
Cumberland (Rhode Island)
and
North Attleborough
were part of Attleborough until the voted in a referendum in 1884 to separate. The town was renamed Attleboro in 1914.
Get in
By car
Interstate 95
By plane
See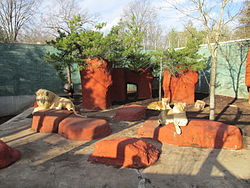 Museums
The Attleboro Area Industrial Museum

phone: +1 508-222-3918

address: 42 Union Street

Attleboro provides a number of museums that you may want to check out. The Attleboro Area Industrial Museum collects and preserves historical information related to Attleboro's industrial times. Open to the public as a resource center, as well as a place of enjoyment. Exhibits pieces of historical treasure known to the Attleboro community. You can take a look at the several replicas of the industrial work place.

address: 86 Park Street

The Attleboro Arts Museum in downtown Attleboro right across Attleboro city hall is one of the largest art galleries between Boston and Providence. It displays a wide range of visual arts along with being a home for performing arts.
Parks and Outdoors
phone: +1 774-203-1840

address: 201 County Street

While not having many parks, Capron Park Zoo provides a habitat for wildlife from all around the world. They offer what they call Zoo Quest Adventures, where you receive a behind the scenes personal experience at the zoo. Walk through the Rain Forest and make your way to the home of black and white ruffed lemurs, and ending your trip by the bear den. Zoo Quest Adventure fee is $100 per person.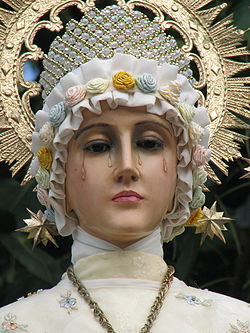 The National Shrine of Our Lady of La Salette

address: 947 Park Street

A popular Attleboro attraction is The National Shrine of Our Lady of La Salette, known to the locals as La Salette. It is composed of a church, monastery, and a place where you can rest and relax. It is a peaceful place that seeks to bring together the world by linking the values of ecumenism, peace, and justice. Placed in a 10 acre-ground is La Salette's shrine, accompanied by a view of 350,000 lights spread across the 10 acres. They are loaded with events such as the Christmas festival of lights that runs from Thanksgiving day to January 2nd, healing service events, and recovery programs.

Mass Audubon's Oak Knoll Wildlife Sanctuary

address: 1417 Park Street

Located a short distance from downtown Attleboro, Oak Knoll features woodlands that are welcoming throughout the year. Be on the lookout for cottontail rabbits, red-winged blackbirds, yellow-rumped warblers, downy woodpeckers, and foxes. Salamanders and frogs are among the species you'll see in the sanctuary's vernal pool. If you'd prefer a guided tour of the sanctuary, the staff lead nature walks throughout the year. The Attleboro Springs Wildlife Sanctuary is located approximately 1 mile away and features an all accessible trail.
Do
Activities
The Attleboro Recreation Department

phone: +1 774-203-1889

address: 81 Pine Street

provides a place where individuals can participate in a wide selection of activities including boxing and volleyball.
Swimming The Recreation Department provides their services to three city-owned pools that are open to go to:
Fred E. Briggs Memorial Swimming Pool

address: 36 East Street

Twin Village Swimming Pool

address: 700 South Main Street

William Liddel Memorial Swimming Pool

address: 787 Washington Street
phone: +1 508-226-0707

address: 25 North Main Street

Tae Kwon Do. Introductory courses open to Adults and children offered in spring, summer, and fall. Learn training techniques, self-defense skills and martial arts discipline. Held at Muhan facility
address: 466 Washington Street

Well known to the locals of Attleboro is BattleGroundZ. A place where family and friends gather to play a variety of activities such as: Paintball / Air Soft Indoor paintball and Airsoft at BattleGroundZ is a competitive team sport played on their indoor field. Has full service to paintball and airsoft store on second floor. Have to be at least 10 years old to play. Laser Tag: Throw a laser tag party or simply play a game of laser tag. They have a laser tag arena 3000sq/ft split into two rooms with a glowing cosmic surrounding. Unlimited games on Thursdays from 6-10pm. Arcade: Play games at their Money Shack Arcade and collect tickets then redeem them for prized at the redemption center.
Eat
Budget
phone: +1 508-299-8020

address: 676 Washington Street

If you're looking to eat in a bigger place rather than a small Chinese restaurant, a popular place in Attleboro is Mon Kou. Mon Kou provides a relaxed, spacious dining area for various occasions. They hold dinners, anniversaries, and birthdays. If you're looking to have a good meal with the family, there you'll find food to satisfy your hunger.

Briggs Corner Pizzeria

Tex Barry's Coney Island

El Azteca
Mid-range
Splurge
Sleep
phone: +1 508-222-6022

address: 203 North Main Street

If you're looking to stay in a place rather than a large hotel, a popular place in Attleboro is The Colonel Blackinton Inn. Built in the mid-19th century, The Colonel Blackinton Inn provides an elegant historic environment to settle in. The inn provides 11 guest rooms along with 4 dining rooms. Depending on the room, they include queen or king size bed, along with different options for private or shared bathrooms. On the other hand the inn also offers a tavern, sunny garden terrace, and The Carriage House. If you're looking to get away or host an event like a private party or meeting, The Carriage House holds up to 55 people. As for the sunny garden, there you'll find live music during the summer, and dining.