Auburn (Alabama)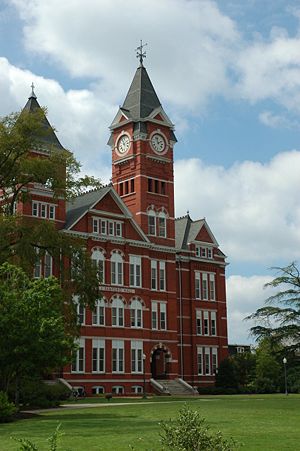 Auburn
is in the
River Heritage
region of
Alabama
. Auburn University is located in downtown Auburn. During Auburn University home college football games, the town fills up with thousands of alumni and college football fans for a weekend of tailgating.
Get in
By plane
Most people traveling to Auburn fly into either
Atlanta Hartsfield-Jackson International Airport
(
ATL
) in Atlanta, GA or Birmingham International Airport (BHM) in Birmingham, AL, both of which are about 120 miles away.
The nearest commercial airports are Columbus Metropolitan Airport (CSG) in Columbus, GA or Montgomery Dannelly Field (MGM) in Montgomery, AL. Both are about 50 miles from Auburn.


By train
There is no passenger train service to Auburn.

By car
Auburn is accessible from Interstate 85, which runs four miles south of Auburn.
I-85, providing access to Atlanta, GA and Montgomery, AL. Exits 51 (College Street) and 57 (Glenn Avenue) provide the most convenient access to Auburn.
US-29, providing access to Troy and points south.
US-280, providing access to Birmingham, AL. It is fastest to take AL-147 from US-280 into Auburn, as US-280 continues to Opelika.
By bus
GreyhoundProvides service to the Auburn area.

BreakShuttlePrivate service geared for students transiting during recesses, though is open to the public. Provides service to and from Atlanta, Nashville, and Tampa, among other cities.
Get around
By foot
Downtown Auburn is easily traversable on foot. The sidewalks and pedestrian crossings in and near downtown are heavily utilized by Auburn's student population which means that cars will often stop if they see a pedestrian waiting at a crosswalk. However, the further one gets from downtown, the greater the distances become. Eventually, you will need to reconcile yourself to using car or bicycle.
Areas outside of Downtown and north Auburn, especially areas along South College and Wire Road, lack sidewalks and pedestrian crossings and are not suitable for pedestrian traffic.
By bicycle
Bicycles are a common method of transportation in Auburn, allowing one to cover longer distances than when on foot. Most areas in Auburn can be reached by a short bike ride of any other point. Auburn was voted a "bicycle friendly city" by the league of American Bicyclists because of the city's bike plan, bike lanes, and advocacy efforts. Both the City of Auburn and Auburn University have established bicycle committees.
Be aware that Auburn City Police will occasionally cite bicyclists for riding on the sidewalk. In Auburn (like the rest of the U.S.), bikes are considered traffic just like cars, though drivers will often ignore bicyclists. Be aware of your surroundings.
By taxi
phone: +1 334 444-4444

Provides personal transportation services geared towards Auburn University and the surrounding area.

phone: +1 334 246-0416

Service provided to Auburn-Opelika area. Airport shuttles available.
By transit
phone: +1 334 749-9092

Dial-a-ride service. Primarily for residents of Auburn-Opelika. All pickups must be scheduled at least one business day in advance.
TigerTransit
provides transportation services exclusively for Auburn University students and faculty, and is not accessible to people unaffiliated with the university.
Phenix City Express
provides transportation services to the general public during football gamedays.
By car
Cars are the most popular form of transport in and around Auburn. Traffic can be bad during short periods of time near downtown Auburn. Parking can also be difficult to find near downtown Auburn at certain times of the day. On Friday and Saturday of home football game weekends, traffic and parking are particularly bad.
Visitors are advised to pay close attention to any notices concerning the towing of unauthorized vehicles. Towing notices are enforced on a regular basis. In particular, towing from apartment complexes may occur at any time of the day or night.
Car Rental Companies include:
phone: +1 334 826-0227

address: 806 Opelika Road
See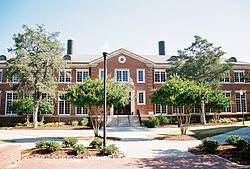 Auburn UniversityThe scenic campus is home to 23,000 students and features buildings in the Greek Revival through the Modern styles.

phone: +1 334 844-5770

address: 249 Sciences Center Classroom

The arboretum features native trees, shrubs and wildflowers of the southeastern United States, including 150 different tree species native to Alabama and the Southeast. Located on the corner of Mell Street and Simmons Drive on the Auburn University campus.
Eagle's Nest, located on top of Haley Center on the Auburn University campus. The highest point in Lee County provides a fantastic view of campus and the surrounding countryside. Can only be accessed by Auburn University Student Recruiters and War Eagle Girls and Plainsmen, so take a campus tour starting from the Upper Quad.

Jordan-Hare StadiumThe 87,451-seat venue for Auburn University's football team located in the center of campus. No admission except on gameday, but still a terrific sight.

Jule Collins Smith Museum of Fine Art

phone: +1 334-844-1484

address: 901 S College St

A 40,000 square foot art museum opened in 2003, featuring visiting collections as well as a permanent collection devoted primarily to 19th and 20th century American and European Art. Also features 15 acres of botanical gardens featuring large-scale sculpture, a three-acre lake, and a landscape that incorporates walking paths, benches and water features. Located on South College at Kimberly Drive.

phone: +1 334-844-4750

address: 250 Beard-Eaves Court

A museum dedicated to the history of Auburn Athletics, primarily focused on Auburn football but showcasing Auburn's success in other arenas. Located on the corner of Samford Drive and Donahue Drive on the Auburn University campus. Admission is free.
Do
Roll the trees at Toomer's Corner (intersection of Magnolia and College streets in downtown Auburn) following an Auburn victory.
Get lemonade at Toomer's Drugs, located at Toomer's Corner.
Have a beer at the War Eagle Supper Club, routinely voted one of the country's best college bars.
Follow the Auburn University Walk of Fame on the streets of downtown Auburn.
Take a bike ride on Auburn's many on-street bike lanes and off-street bike paths (or, in absence of a bike lane, ride on the street because bikes rule the road in Auburn!).

Tuskegee National ForestIs located just West of Auburn and contains the 8.5 mile long Bartram National Recreation Trail which is ideal for hiking, mountain biking, and bird watching.

Chewacla State ParkIs a pleasant park to unwind which is located just off I-85.
Golf
Golfing is an enormously popular outdoor sport in Auburn among both visitors and those associated with the university. The area's mild winters mean that the game can be played year-round, and a number of fantastic golf courses are located in and around the Auburn area. Auburn was also ranked as the number one city in the nation for Golf in 2005 by
Golf Digest
. Among them:
Buy
Anders BookstoreLocated on Magnolia Avenue near College Street. Auburn University souvenirs and supplies.

Auburn University BookstoreLocated in Haley Center on the Auburn University campus. Auburn University souvenirs and supplies.

J&M BookstoreLocated on College Street between Magnolia Avenue and Thach Avenue. Auburn University souvenirs and supplies.

Tiger RagsLocated on Gay Street between Magnolia Avenue and Thach Avenue, Auburn University souvenirs and the unofficial official gameday and victory T-shirts.

Big Blue Bookstore

address: 1655 South College St.

Auburn University souvenir, books, and tailgating equipment
Eat
In addition to the usual fare found in most American cities, Auburn has some excellent local and regional restaurants:
address: 410 South Gay Street

Ariccia Italian Trattoria & Bar

phone: +1 334 821-8200

A pricey but excellent Italian restaurant that is a great place to take a date.

phone: +1 334 745-0223

address: 2520 Enterprise Drive

A gourmet pizza restaurant with pizzas and pasta. Eat outside if you can.

Cheeburger CheeburgerBurger joint located on College Street in downtown Auburn.

address: 2450 Martin Luther King Drive

Serves an "Asian fusion" including Chinese, Thai, and even a sushi bar that is very reasonably priced and deliciously fresh!

phone: +1 334 887-2677

address: 174 East Magnolia Avenue

Laredo Mexican Grill

phone: +1 334 246-4101

address: 1832 Opelika Road

A good Mexican place. Wednesday night is Margerita Night.

phone: +1 334 821-6161

address: 129 East Magnolia Avenue

Great pizza at a great price. Stagnooooooo!

phone: +1 334 887-6356

Downtown Auburn on College Street. Pizza joint with a great atmosphere and is always hopping, especially after an Auburn victory.

phone: +1 334 821-0185

address: 500 West Magnolia Avenue

An Auburn landmark, the run-down shack conceals some of the best sandwiches to be found anywhere. Be sure to try the "Momma's Love all the way."

phone: +1 334 821-3118

address: 1151 Opelika Road

A local casual dining restaurant with good hamburgers, salads, wings, and sandwiches.

Tenda Chick

phone: +1 334 821-8543

Excellent all-around chicken restaurant but famous locally for its chicken fingers.
Drink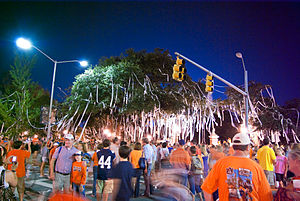 Auburn has several good bars for both students and visitors. The bars in the downtown area regularly change names and redecorate, so keep an eye out for new bars.
War Eagle Supper ClubAn Auburn classic. Once ranked by Playboy among the best college bars in the country, Supper Club is a different kind of place. It draws all crowds and all ages, and is unrivaled for great live music. The beer is cheap, and the bar is dirty. Supper Club is a "private" bar, so you'll have to wait in line for a membership card on your first visit. However, that membership gives you the ability to drink until 4AM, so often the crowd shows up around 2AM, when the downtown bars shut down. 21

Bourbon StreetA touch of the French quarter in downtown Auburn. Bourbon Street Bar is a great place to have a beer following a football game. Popular with students and especially with out-of-town visitors from opposing schools. Bourbon also has great live music, recently having Mama's Love, Mimosa, Two Fresh, and Boombox among others. 21+

17-16A fairly large one story bar with a very relaxed feel. Pool tables in the back and an outdoor patio and bar in the back as well. Very popular with Greeks and not very rowdy, A good place to go early in the night before Bourbon or Sky Bar. 21+

QuixotesA cool bar, with an awesome setup and great drink specials. Down college near the Brand X pizza and across from Mikata. 19+
Sleep