Auckland
Auckland
is the largest city in
New Zealand
at 1.7 million citizens, and the main arrival point for visitors to the country. It is a vibrant multicultural city, set around two big natural harbours, and ranked as one of the most liveable cities in the world. It is in the warm northern part of the
North Island
, on a narrow isthmus that joins the
Northland
peninsula to the rest of the island.
For information on the smaller towns, settlements and islands in the wider area around the city, see the
Auckland Region
article.
Districts
Prior to 2010, the Auckland urban area was divided between a regional council, four city councils and three district councils. In November 2010, all eight councils merged into a single "super city" council with 21 subordinate local boards. The districts here are based on Statistics New Zealand's four Auckland urban sub-areas, which in turn are based on the four old city councils.
Understand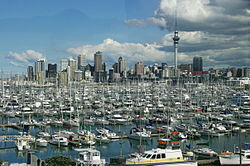 Auckland is New Zealand's largest city, home to 1.49 million people, nearly one-third of the country's population and more than the entire
South Island
. It is the main economic and travel hub, home to an international airport. It's lucky enough to have its own beautiful landscapes, waterways, and other attractions to draw tourists in. It is not New Zealand's political capital though – that honour goes to
Wellington
.
Auckland is called the "City of Sails" for the large number of yachts that grace the Waitemata Harbour and the Hauraki Gulf, and for the city's love of sailing. More than 135,000 yachts and launches are registered in Auckland and several America's Cup regattas have been held here. Auckland could also be called the "City of Volcanoes". Much of its natural character comes from the fact that it is built on the Auckland Volcanic Field which consists of about 50 volcanoes. All of the volcanoes are individually extinct (Rangitoto was the latest to erupt, in the mid to late 15th century) but the volcanic field as a whole is not. The city also features a large number of urban beaches and parks, numerous arts and cultural institutions and events, and is home to a multitude of sporting teams.
Auckland is frequently ranked highly in international quality-of-life polls, including third in Mercer's Quality of Living Ranking (behind Vienna and Zurich). However, Auckland is also New Zealand's most expensive city – house prices alone are double to triple those found in Wellington, Christchurch and Hamilton (the latter just 130 km down the road from Auckland).
Alias Wang and Li
Auckland's multiculturalism is strongly being reflected at the birth registry office. In 2013, the most common surnames of newly born Aucklanders were Wang, Li, Chen, Liu, Smith, Zhang, Lee, Patel, Huang and Singh.
Auckland is very multicultural, with strong immigrant cultures. Some 40 percent of Auckland's population was born overseas; in two local board areas, Puketapapa (Mount Roskill) and Howick, there are more overseas-born residents than New Zealand-born ones. It has the largest Polynesian population of any city in the world. For some Polynesian island nations, there are more expatriates living in Auckland than in their homeland. There is also a large population of New Zealand's native Maori people, and populations of immigrants and expats from the UK, China, India, South Africa, South Korea and the Philippines, among others. Auckland's rich cultural mix is celebrated with a wide variety of festivals and events throughout the city.
Climate
Auckland by definition has a temperate climate, although it is often regarded by New Zealanders as having a subtropical climate. The city experiences four distinct seasons with warm summers and mild winters. Winter night temperatures rarely fall below . Auckland experiences regular rainfall throughout the year, with more in winter than summer, though it can also have periods of drought. Snow in Auckland is extremely rare - the last decent snowfall in the city was in the 1930s, although snow flurries have occurred in 1976 and 2011.
Get in
By plane

Auckland Airport(). New Zealand's largest airport is located 22 km/14 miles south of central Auckland in the southern suburb of Mangere on the shores of the Manukau Harbour. There are frequent services from Australia and other New Zealand cities. There are also non-stop flights from locations in Asia, the Pacific Islands, the United States, Vancouver (Canada), Santiago (Chile) and Buenos Aires (Argentina). Air New Zealand flies right through from London (Heathrow Airport) with a stop in Los Angeles. Ground transport options from the airport to central Auckland include the SkyBus (NZ$18), shuttles (NZ$35) and taxis (NZ$35-65 ask for fixed fare; NZ$75-90 metered).
North Shore AerodromeHas a few flights from Kerikeri in the Bay of Islands, Tauranga and Great Barrier Island.
By bus
The InterCity Sky City Bus Terminal at 102 Hobson St (behind Sky City Plaza) is the main hub for national coachline
InterCity
and its subsidiaries
GreatSights
and
Skip Bus
. Facilities include an InterCity ticketing office, free Wi-Fi, café and luggage lockers.
By train
The
Northern Explorer
train runs from central Wellington to
Auckland Strand Station
on Ngaoho Place, in eastern central Auckland. The 681-km (423-mi) journey takes about 12 hours. The trip runs much of the length of the North Island with stopping-off opportunity at Tongariro National Park. In a single day you will pass every kind of scenery: coastline, volcanoes and mountains, green farm pastures and dense New Zealand bush from $119. The train leaves Wellington on Tuesday, Friday and Sunday, and returns from Auckland on Monday, Thursday and Saturday.
By car
Auckland is accessed from the south via State Highway 1. From
Hamilton
and
New Plymouth
you'll follow State Highway 1 north of Hamilton through northern Waikato and across the Bombay Hills into the southern suburbs of the city. From
Tauranga
and the
Bay of Plenty
, you'll follow State Highway 2 west of Tauranga to meet State Highway 1 at Pokeno, on the Waikato side of the Bombay Hills. From most other points south (including
Rotorua
,
Napier
,
Palmerston North
and
Wellington
), you will travel north to Tirau in the southern Waikato where you can choose between two routes; via Hamilton along State Highway 1, or via Matamata along State Highways 27 and 2.
From
Northland
, you'll follow State Highway 1 to
Wellsford
. From there, you can continue to follow State Highway 1 to approach Auckland through the northern suburbs and over the Auckland Harbour Bridge. Alternatively, you can follow State Highway 16 to approach Auckland from the northwest via Helensville.
Approximate distances and non-stop travel times to Auckland:
By ship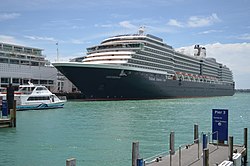 Auckland is a major cruise ship port of call with over 100 cruise ships a year. Auckland's main cruise terminal, Shed 10, refurbished in 2013, is located on Queens Wharf next to the central business district (CBD) and the Britomart Station.
To get beyond the CBD, look for a bus called "The Link". The red city LINK bus runs along Queen Street and is only $1. The Link bus will always end up back at the place you started so you can never get lost - stay on the bus and see it all for one low flat fare. Explorer runs a hop-on, hop-off bus service. Taxis are relatively plentiful; many, such as those that serve the airport, accept credit cards.
Get around
Local transport options include bus, train, ferry, shuttle, taxi, and car rental. Use the
Auckland Transport (AT) website
to plan trips by public transport. AT also has a text messaging service that can be used to find the time of the next bus, ferry or train or to find the quickest way to get to your destination using public transport, as well as apps for iPhone and Android. If you wish to do a lot of cross-city travel, or travel outside the city, it may be more convenient to hire a car, though some city roads are congested at peak times.
Britomart Transport Centre on the corner of Queen St and Customs St in the CBD near the waterfront is the main information centre for public transport. You will find free bus, train and ferry schedules there – which is handy since the frequency of some services is low and sometimes irregular. Timetables can also be downloaded from the AT website.
The AT HOP card is a prepay smart card for travel on bus, train and ferry services that costs $10. It gives free transfers and a significant discount off single trip adult cash fares, except for Airbus and NiteRider buses and Waiheke ferries. Bus and train fares use a zone-based system: fares start at $3.50 cash or $1.85 AT HOP for within zone journeys.
For frequent travel on buses and trains, monthly passes can be loaded on a HOP card. These give unlimited bus (except Niterider) and train travel in defined zones. You must tag on and tag off each trip. A monthly pass pass for the entire network costs $210.
By bus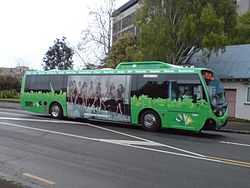 Bus services cover most areas of Auckland. Between 2015 and 2018, the bus network was significantly overhauled, simplifying routes and extending frequent bus services, with the trade-off of having to transfer to a train, ferry or another bus to access the CBD from the outer suburbs. Routes with two-digit numbers run at least every 15 minutes daily between 7AM and 7PM; routes with three-digit numbers operate on lower frequencies.
The most useful bus routes for visitors are as follows:
The City Link bus runs in a circuit from Karangahape Rd/Upper Queen St to Britomart or the Wynyard Quarter – it costs $1 cash or 50c with HOP (as of October 2016).
The Inner Link is a loop service connecting CBD and the surrounding areas of Newmarket, Parnell and Ponsonby. It is fairly frequent and costs up to $3 paying with cash or $1.80 with HOP card.
Northern Express (NX1 and NX2) buses run between the central city and the North Shore along the Northern Busway. NX1 services start at Lower Albert St near Britomart and terminate at Hibiscus Coast busway station. NX2 services start in Wellesley St between the universities and terminate at Albany busway station. They run every 3 to 10 minutes during working hours and no more than 15 minutes apart in the evenings and weekends. Last services leave between 11PM and midnight, with some NX1 services after midnight on Friday and Saturday nights (but only to/from Albany, not Hibiscus Coast).
The Tāmaki Link runs every 15 minutes between Britomart, St Heliers and Glen Innes train station via Tamaki Drive, passing by Kelly Tarlton's.
Route 18 provides a service every 12 minutes between Victoria St in the CBD and New Lynn train station, via Great North Rd, passing close to the Zoo and MOTAT.
By train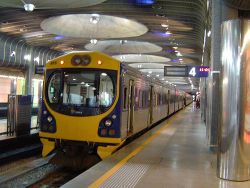 Travel by urban train is a good option, but only if you are near a train line; there are few lines and not all suburbs are served. Rail in Auckland has had a renaissance since the turn of the Millennium, especially after the central city terminus moved to Britomart in 2003. During 2014 and 2015 new electric trains replaced diesel trains, except between Papakura and Pukekohe in the south, where diesels still run.
An AT HOP card provides tag-on/tag-off travel.
The four main lines are the Southern, Onehunga, Eastern and Western lines. The Southern Line runs from Britomart station in the CBD, roughly parallel to the Southern Motorway, to Papakura, with some services continuing on to Pukekohe. The Onehunga Line follows the Southern Line as far as Penrose, before diverting southwest to Onehunga. The Eastern Line runs from Britomart through the east of central Auckland to Manukau Central, sharing with the Southern Line between Westfield and Puhinui. The Western Line runs from Britomart westward to Swanson station. There are no train services in North Harbour or in the suburbs east of the Tamaki River, although the Northern Express bus (see
By bus
above) from Britomart to Albany provides rapid transit service to the rail-less North Shore.
The Southern and Eastern lines have the most frequent and reliable services. Trains on these lines run every 10 minutes on-peak, 20 minutes off-peak and 30 minutes on evenings and weekends. Approximately 85-95% of these services run on time. Trains on the Western Line run every 15 minutes on-peak, and every 30 minutes off-peak and on weekends. The Onehunga Line runs every 30 minutes all day every day.
By car
The road network experiences severe congestion at rush hour. Geography constrains the network to a limited number of routes. Auckland has a comprehensive road network for a city its size, but lack of investment in public transport and geographic sprawl means it is largely dependent on private cars.
It is often easier and cheaper to hire a car instead of using taxis, simply because the city is so large and spread out. Auckland city is well covered by the main global car rental companies, such as Avis, Budget, Hertz, Thrifty and Europcar. All car rental companies offer competitive pricing for economy class vehicles and unlimited mileage options. Local car rental companies like Apex and Jucy may also offer competitive pricing.
There are three main motorway systems running through Auckland. The Northern Motorway (from north of Orewa to the Central Motorway Junction (CMJ) a.k.a. Spaghetti Junction) – note that it has a toll for the last few kilometres beyond Silverdale. The Southern Motorway runs from the CMJ past the Bombay Hills where it splits into State Highway 2 (SH2), and merges to the Waikato Expressway. The Northwestern Motorway runs from Auckland Port through CMJ to near Kumeu. These motorways clog up during the morning rush in the CBD-bound direction, and in the opposite direction during the evening rush. The Harbour Bridge has a method of mitigating this traffic load – it changes the lane system from 4-4 to 5-3, favouring the side which has the heavier traffic load. So be careful when crossing the bridge – some lanes will be available for you at one time but not another.
Watch heading southbound over the Harbour Bridge – if you are heading to the Southern Motorway (e.g. to South Auckland or the Airport), make sure you are in at least lane 3 (if not lane 4) before you reach the bridge to ensure you go over on the main bridge and not the clip-on lanes. Otherwise you will have only a few hundred metres after the bridge to cross two lanes of traffic to lane 4 before lane 1, 2 and 3 split off towards the city centre and the Northwestern Motorway.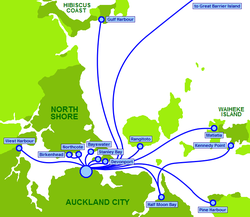 Some motorway on-ramps have traffic lights operating in busy periods – they allow one or two cars to proceed every three to eight seconds to ease the merging onto the motorway. Cameras may be operating to catch red-light runners.
By taxi
Taxi fares vary considerably from company to company. For example, see the
Get in: By plane
section for an indication of fares from the airport to Britomart.
The
Uber
ride-sharing service is available in most of Auckland, and local service
Zoomy
is available in much of central Auckland.
By ferry
Ferry services operate from the CBD to other points on the mainland and to Hauraki Gulf islands.
See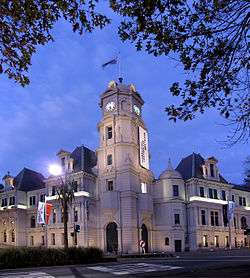 Auckland's many volcanoes offer great vantage points to take in the city and some of them have been turned into parks. Popular ones include Mt. Eden and One Tree Hill in
Auckland Central
and Mt. Victoria in
Devonport
.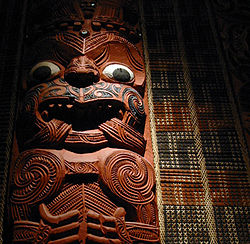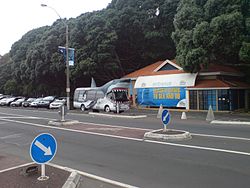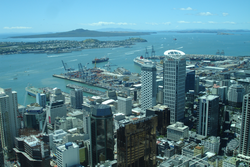 Do
Movies. Ticket prices vary around Auckland. The cheapest are in the west, with adult tickets at WestCity in Henderson the lowest at $8.50, and a bit higher at $10 at LynnMall and Westgate. Hoyts Hibiscus Coast in the north on Whangaparaoa Peninsula is also cheap at $10.90. Elsewhere in Auckland prices are in the $18.50 to $19.50 range, except on Tuesdays when there is a $12.50 special (2017 prices).
Visit the Waitakere Ranges in West Auckland, replete with impressive waterfalls and rugged but beautiful beaches. Around 45 min (peak hours) drive from central Auckland.
Beaches
There are many beaches, due to Auckland's straddling of two harbours. The most popular ones are in three areas:
North Shore beaches (in North Harbour district) are on the Pacific Ocean and stretch from Long Bay in the north to Devonport in the south. They are almost all sandy beaches with safe swimming, and most have shade provided by pohutukawa trees. Most are accessible by bus. Takapuna Beach is the most centrally located, with a lovely beach-front café at one end. Just north of Long Bay is a family nudist beach. St Leonard's Beach is gay male nudist. Others are conventional.
Tamaki Drive beaches are on the Waitemata Harbour, in the upmarket suburbs of Mission Bay and St Heliers in Central Auckland. These are sometimes-crowded family beaches with a good range of shops lining the shore. Swimming is safe. Mission Bay beach is Auckland's equivalent of Los Angeles' Santa Monica/Venice Beach and is extremely popular on a hot summer's day. To its east, Kohimarama and St Heliers beaches are usually less crowded. Ladies Bay to the east of St Heliers has historically been a nudist-friendly beach, but is frequented by regular beachgoers too, and is accessible by a 5 min walk down from the cliff-top road.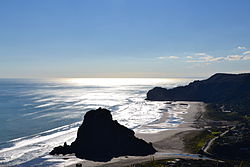 West coast beaches are on the Tasman Sea, and have large expanses of sand and rolling surf. They have unpredictable rips so you should swim only between the lifeguards' flags, which cover select areas of the most popular beaches. They are about a 40-min drive from the city centre (via West Auckland) and the roads are narrow and winding. You'll need your own transport. There's little shade available, and few shops. The sand on these beaches is dark in colour due to high iron content from its volcanic origins. There are several smaller beaches accessible only by foot. The major beaches from south to north are:
Whatipu is the southernmost beach, and the most isolated. The last 7 km of the road there is unsealed, but in good condition. There's a track from the carpark to the beach conservatively signposted as 15-min walk. There are several volcanic outcrops surrounding the beach, and native vegetation including cabbage trees along the path. Manukau Harbour is just to the south of the beach, separated by Paratutae Island. Paratutae is joined to the beach except at high tide. There are caves signposted 20-min walk from the car park; the track is muddy during winter. The caves are less spectacular than they once were because they've partially filled up with sand. No dogs are permitted.
Karekare is the next beach north of Whatipu. It's considerably more popular and there are lifeguards patrolling the beach during summer. Karekare Falls is a waterfall not far from the road.
Piha is the best known and most popular beach. It has lifeguards during summer. The most notable feature is Lion Rock, which separates the northern and southern sides of the beach. There's a steep track partway up Lion Rock to get decent views. Kitekite Falls are a small and pleasant waterfall near the beach. Laird Thomson Track is a walkway from North Piha to the isolated Whites Beach, which usually has very few people on it.
Anawhata has no road access to the beach, but there's a fairly steep track down from an unsealed road. This is the least used beach and you may be the only people there at any given time.
Te Henga (Bethells Beach) is accessible by road, and has lifeguards in the summer. Erangi Point separates it from unpatrolled O'Neill Bay to the north, which can only be reached by foot.
Muriwai is the second most popular of the west coast beaches. There's a colony of gannets (seabirds) which nest in huge numbers and are worth seeing year round. Muriwai has a café, a golf course, and lifeguards during summer.
Buy
The downtown area of the CBD has a number of souvenir shops for a range of budgets. Check around the lower Queen Street and lower Albert Street area.
Hobson Street (at the top end) has a couple of large shops also stocking honey and health products.
The High Street/Vulcan Lane/O'Connell Street area is the Fashion centre of Auckland Central and has local designer stores as well as international brands
There are a number of
markets in Auckland
; perhaps the most famous for Aucklanders are the
Otara
and
Avondale
markets (serving
South
and
West Auckland
respectively).
Eat
There are some good cheap food courts (food halls) offering a variety of usually Asian foods usually priced around $10. Try next to the Queens' Arcade at the bottom of Queen St (slightly hidden entrance), or the Metro award winning
Food Alley
(9-11 Albert St). Very good value and good quality predominantly non-Asian choices are available at
Elliott Stables
(39 Elliott Street, near Wellesley). Also on the same block is the
Atrium on Elliott
(21 Elliott Street), a good quality food court of predominantly Asian food. Check out the once-a-week
night markets
at various locations on different nights.
Britomart Precinct
on the waterfront in the city centre is home to an array of popular and diverse bars and eateries. Cafe Hanoi, Ebisu, Britomart Country Club, Mexico Giapo ice cream, to name a few. A must visit.
Viaduct Harbour
provides upmarket dining, starting at $30 for mains. While this area has some very nice bars and restaurants, be wary of restaurants lacking customers and usually very quiet. It may be a sign of below average food or poor service.
Drink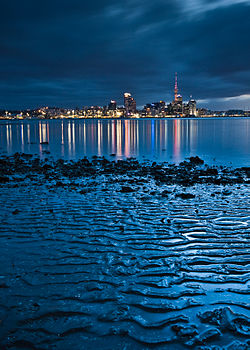 You can find neighbourhood pubs in many parts of the city, but the highest concentration of bars and clubs is in
Auckland Central
— particularly around the Viaduct area, K Road, Ponsonby and Parnell.
Learn
Auckland is home to the
University of Auckland
, which is widely regarded as the top ranked university in New Zealand, and is consistently ranked by several ranking agencies among the top 100 in the world.
Work
Due to already high migration and stresses on local infrastructure in Auckland, the New Zealand immigration service makes it harder to obtain a work visa for those migrants wishing to work in Auckland.

Sleep
Accommodation can be found throughout the city, but the largest selection is in
Central Auckland
particularly the central business district.
Stay safe
Like much of New Zealand, Auckland is overall a safe place to visit, particularly by most "western standards"; with a quality of life that's often ranks alongside cities like Munich, you can almost be certain that Auckland is not somewhere where people have to fear for their lives. With that said, theft and robbery rates are high compared to the rest of the country, and aggravated assaults are not unheard of. Make sure to take all the usual safety precautions.
The only area locals will warn you about is South Auckland, which is widely regarded as one of New Zealand's most dangerous locations due to significant poverty rates. While it is nowhere nearly as dangerous as "rough" neighbourhoods in the USA or Europe, it is advised to remain on one's guards, especially at night. Some people might advise against going to West Auckland, an area once seen as being "rough around the edges" area, but has markedly improved over the years.

Connect
There are many internet cafes in the CBD with prices ranging from $1 per half an hour to $5 per hour. Free internet is available from the public library (limited 100MB per IP address per day). There is also free Wi-Fi in the Skycity food courts. There are 40 HotSpots that offer Wi-Fi connectivity, most notably Esquires cafe (inside Skycity Queen St, Middle Queen St, Lower Queen St, Nelson St), Starbucks (Victoria St, K' Rd, Lower Queen St) and other cafes around Auckland.

Cope
Consulates
phone: +64 9-921 8800

address: Level 7 PriceWaterHouseCoopers Tower 186-194 Quay Street

Austria

phone: +64 9 476-0994

address: 22a William Pickering Drive, North Harbour

Honorary Consulate-General - the actual embassy is in Canberra, Australia. Accepts applications for new passports and identity cards but can not issue emergency travel documents. This consulate deals with Northland, Auckland, Waikato, Bay of Plenty regions and there are other honorary consuls in Wellington and Christchurch.

Bangladesh

phone: +64 9 302-0545

address: Apartment 7P Harvard on Hobson, 147 Hobson St

Mr Ataur Rahman, Honorary Consul.

Barbados

phone: +64 9 473-5949

address: 19 Vaughan Rd, Okura, RD2, Albany

Mr Frederick Nelson Watson, Honorary Consul.

phone: +64 9 525-1588

address: 588 Great South Rd, Greenlane

Greece

phone: +64 9 571-0238

address: 108 Paihia Rd, One Tree Hill

Mr Nikos Petousis, Honorary Consul.

Taipei Economic and Cultural Office

phone: +64 9 303-3903

address: Level 18, 120 Albert St

phone: +64 9 303 2724

address: Level 3, Citigroup Building, 23 Customs Street East
Go next
Go wine tasting on Waiheke Island. It's home to an abundance of art galleries, some fantastic wines and has some of the best beaches in the area. You can rent a scooter and get around the island fairly quickly. Can get crowded during the weekends, but very quiet during the week. It seems a world away from Auckland, but is only 35 minutes by ferry.
Take a ferry to Rangitoto Island. Rangitoto Island has trails around much of the island, as well as a bridge that connects to the neighboring Motutapu Island, and is a great hike for even the most inexperienced hikers. Rangitoto Island has several lava caves that can be crawled or climbed through as well a spectacular 360 degree view at the summit (only about an hour hike on the most direct trail). This is one of the more convenient islands that is nearby as it is only 20-25 minutes by ferry.
Rotorua, Hamilton, Waitomo Caves and Taupo are all within several hours drive and all have a lot to offer.