Augusta (Georgia)
Augusta
is a city in
Georgia
's
Classic Heartland
.
Understand
Due to its location inland on the Savannah River, Augusta was a city of major strategic importance by the end of the Civil War. It was spared most of the destruction of many other southern cities, so there are many old buildings and landmarks. There are some areas of town that the tourist might avoid, but they should be obvious upon inspection. There is a significant presence of military personnel who visit the city on personal business from nearby Fort Gordon. Augusta is also home to the Augusta National Golf Club, one of the world's most prestigious and exclusive golf clubs, which plays host to the Masters golf tournament.

Get in
By car
Augusta is on I-20, between
Atlanta
and
Columbia
,
South Carolina
. I-520 circles the city. Car is usually the best way to get around town, given the sprawl in the city's organization. Traffic is heavy on major arteries and intersections during weekday rush hour. Traveling around the Augusta National Golf Course, especially Washington Road, during Masters Week is not advised.
By plane
Augusta Regional AirportServed by Delta Connections from Atlanta (), and by American Airlines from Charlotte () and Washington, DC ().
By bus
Augusta is served by
Greyhound Bus Lines
. The bus station is at 1128 Greene St in Downtown.
By taxi
Taxis are not often used and are fairly expensive because of the large distances between destinations in town. There is an often updated official list of taxi services on the Augusta Regional Airport
website
.
Get around
Augusta Public Transit
, a public bus system, is available and serves many popular destinations. However, it may be easier to rent a car to access areas not served by the bus system.
See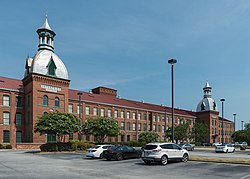 Augusta Canal Authority

address: 1450 Greene Street (Interpretive Center)

Tours, seasonal events, hiking, biking, canoeing, and kayaking are available. There are several locations to access the canal area.

The Boyhood Home of President Woodrow Wilson

address: 419 7th St

Georgia's oldest Presidential home where Woodrow Wilson and his family lived during the Civil War. See fourteen rooms furnished to the 1860s Victorian period, service building with kitchen, and carriage house. The house museum contains thirteen original pieces of furniture used by Woodrow Wilson and his family, as well as other period pieces.

Lake Olmstead Park

address: Milledge Road

Park designed by Frederick Law Olmstead includes a lake for fishing and sports, a disc golf course, and facilities for events. Beautiful place for a picnic or afternoon stroll. Directly across the street from Lake Olmstead Stadium, the home of the Augusta Greenjackets. Area east of the park can be dangerous.

address: 1301 Greene Street

Former Catholic Church which was converted to a cultural center after the community banded together to save it. One of the most architecturally beautiful buildings in Augusta. Open to visitors, unless closed for a private event

address: 114 12th Street

Oldest African American Southern Baptist Church in the world. Built in 1801, its architecture is a great example.

address: 560 Reynolds Street

The historical, archaeological, and ethnographic museum for the region. The area on transportation history is especially nice. Great place to take the kids.

phone: +1 706-724-7501

address: 1 Tenth Street

Augusta's premier art museum, featuring Southern artists.

James Brown Statue and Augusta Common

address: Broad Street

Statue of James Brown that people congregate around and leave flowers. In the median of Broad Street across from the Augusta Common, a downtown park that holds events throughout the year.

Enterprise Mills

address: 1450 Greene Street

These are historical textile mills located on the Augusta Canal were built in the late 1800s. They are beautiful examples of industrial architecture of the period.

Butt Memorial Bridge

address: 15th Street

Historical bridge dedicated to Major Archibald Butt, a resident of the city who died in the Titanic disaster. The bridge had been slated for destruction, and was saved by community intervention in the "Save Our Butt" campaign.

Lamar Building

address: Broad Street

Tallest building in Augusta and listed on the National Register of Historic Places. A strange architectural combination between 1913 architecture and a penthouse added in the 1970s designed by architect I.M. Pei.

address: 432 Telfair Street

Former courthouse and government building for Augusta, built in 1801.

Mockingbird Hill

address: Central Avenue

A miniature town behind Daniel Village shopping center, next to the Dairy Queen on the Water Authority property. It was built in the 1950s and maintained by a local firehouse. It was restored when the new water treatment facility was built. Wonderful little place to get an ice cream and sit.

Old Medical College of Georgia

address: 598 Telfair Street

This Greek Revival structure is a National Historic Landmark built in 1835 to house the Medical College of Georgia.

phone: +1 706-828-2109

address: 1858 Lock and Dam Rd

100-acre nature preserve where you can see the local wetland environment, both flora and fauna. Includes facilities for events.

phone: +1 706-724-4174

address: 1320 Independence Dr

Historic home of George Walton, one of the youngest signers of the Declaration of Independence.
Do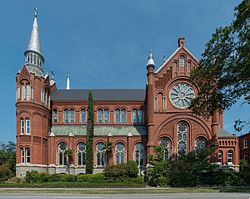 Annual festivals and events
Buy
Eat
Augusta has many of the national chain restaurants found in other cities; however, the city has many excellent local eateries including:
address: 211 Tenth St

A hip restaurant in Downtown Augusta with a fusion-style multi-cultural menu. Other features include a bar with a wide range of drinks and a selection of many vegetarian-friendly dishes. This is an ideal location for a date and may not a good choice for small children.

Tako Sushi

phone: +1 706-736-9191

address: Surrey Center, 437 Highland Ave

A fusion restaurant offering a mix of Sushi and Mexican-inspired dishes. This combination is actually very successful and keeps the small restaurant constantly busy.

phone: +1 803-308-1323

address: 505 Railroad Ave

The menu features breads and pastries, sandwiches, French Mediterranean dishes, vegetables and grilled meats. Chef Verney-Carron uses vegetables grown at Hammond's Ferry's organic Blue Clay Farm which is steps from the restaurant.

address: 509 Broad Street

Italian restaurant and locally-owned landmark, opened in 1949. Located across from the Augusta Museum of History on the far end of Downtown's restaurant district. Also has Greek cuisine, including the best baklava in town.

phone: +1 706-790-5411

address: 2250 Sconyers Way

A great BBQ joint, it has been listed by People magazine as one of the best BBQ restaurants in the United States. The portions are large and the sauces are made in-house. The Plantation Platter gives you a taste of everything, and should feed around four comfortably. Pork is their specialty, but they also serve smoked turkey and beef BBQ. If you're vegan, forget about it (unless you really like potato salad and cole slaw).

phone: +1 706-860-2337

address: 3051 Washington Road

After 5PM, those under 21 must be with a parent or guardian. Seafood with a beach-shack atmosphere. Food is great and atmosphere is relaxed. It gets packed on Friday and Saturday nights. There is no list to get in, so you have to hover around the tables and grab one when it frees up.

address: Surrey Center, 425 Highland Ave

New Orleans-style seafood and other dishes. Great service and rich food. Try the jambalya and the lamb, they are especially good. Good place to go celebrate a special occasion in Surrey Center.

address: various

Locally-owned chain of fast food restaurants. Serves Southern cooking and soul food. Along with the usual suspects like fried chicken and fish, local specialties like fried okra, livers, and gizzards are also featured on the menu. Great biscuits and hush puppies. A good place for a locally-inspired lunch!

Sunshine Bakery

address: 1209 Broad Street

Traditional Southern deli and lunch spot downtown that serves sandwiches. Decor and atmosphere is very dated like any "local" deli. Sunshine tea is a must-have if you go (basically an Arnold Palmer).

address: 2110 Walton Way

Traditional Southern food. The fried chicken is great. On nice days, you can sit on the verandah overlooking Walton Way, the Bon Air hotel, and Downtown Augusta in the distance. Great for Sunday brunch (Su 11AM-2PM) or lunch buffet. Live jazz on Fridays from 9PM-12:30AM. Live band Saturday from 9PM-1AM.

address: 2803 Wrightsboro Road

Locally-owned southern deli and pub favored by the local Summerville population. Found in Daniel Village shopping center across from Daniel Field.

Beamie's at the River

phone: +1 706-724-6593

address: 865 Reynolds Street

Seafood joint with indoor and outdoor seating at the Savannah River. Very popular amongst locals.
Drink
phone: +1 706-828-3600

address: 211 1oth St

A restaurant with a large bar area and a wide range of drinks and small dishes.

phone: +1 706-724-4511

address: 816 Cotton Lane

Located next to the River Walk, live music on weekends.

Metro Coffee House

phone: +1 706-722-6468

address: 1054 Broad St

A coffee shop by day, but it becomes a bar at night. Live jazz on Saturday nights.

Still Water Tap Room

phone: +1 706 826-9857

address: 974 Broad St

Nacho Mama's

address: 976 Broad Street

Great Mexicali style burritos (and nachos, obviously)

Joe's Underground Cafe

address: 144 8th Street

Great local dive bar, located in a basement on 8th Street. Often has live music.
Sleep
Connect
The area code for the city is 706. All local numbers require 10-digit dialing, including the area code.
Every branch of the public library system has internet access, but a library card is required to use it. There is also a free Wi-Fi hot spot area provided by the city in the Augusta Commons on Broad Street. Many local restaurants and coffee shops also provide free wireless internet access, especially those on Broad Street.

Go next
Clarks Hill Lake (also known as Strom Thrumond Reservoir)- large dammed lake northwest of Augusta in Columbia and McDuffie Counties. Known as "the Lake" in town, it is ringed by mostly Army Corps of Engineering land, who provides public access to the water. There are many marinas, public "beaches," and pavilion facilities for enjoyment just for the day. Camping is fairly cheap at many of the sites, and those at Amityville and Modoc are especially nice. Fishing is great, as are other water sports. Make sure to ask locals about the lake levels, as during drought years, the lake may be difficult to navigate or unpleasant to swim in as you get further away from the Dam.
Modoc Speedway- in the suburb of Grovetown, this is a 1/4-mile dirt-track raceway which holds events most weekends throughout the summer. Races last a few hours, but are individually short in duration. Many racers are local amateurs, but the faster semi-professionals also race. Great for people watching and getting a taste of racing culture in the South. The track often changes ownership, making events somewhat unpredictable in timing. Check their website or call ahead to make sure.
Carolina Dragway- across the Savannah River in Aiken, SC, this is a drag racing venue that holds events every Sunday in the summer.
Kackleberry Farm- south of Augusta in Louisville, GA, this is a farm open for field trips and visits to the pumpkin patch and corn maze. Allows for kids to experience a farm. Great in the fall.
Steeds Dairy- in the suburb of Grovetown, this educational working dairy farm is open September–November to the public.