Augusta Raurica
Augusta Raurica
is probably the best preserved Roman city North of the Alps. It is nestled inside the greater
Basel
urban area, in
Switzerland
and has been transformed into an open-air museum. In summer each year it houses
Römerfest
(the Roman festival), an educational and entertainment event which can be fun both for kids and grown-ups. It is located next (and partially within) the towns of Augst and Kaiseraugst.
Understand

Its extraordinary state of preservation is because, unlike most other town sites, once the Romans abandoned this site, no others built upon it - neither in the "Dark Ages", nor subsequently.

Get in
The nearby village of Kaiseraugst, which takes its name from the site, has a train station. Take S1 from
Basel
. The museum and the main sights are around 15 minutes walk away from the railway station.
Get around

The whole site is rather compact, so it is convenient to get around on foot.

See
Roman TheaterA well-preserved theatre, the house for some activities of the Römerfest.

Roman Amphitheater

phone: +41 61 552 50 67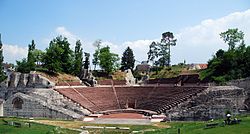 Augusta Raurica MuseumAn informative exhibition based on the local archaeological findings from the Ancient Roman period, which are plenty. Wheelchair accessible with assistance.

HypocaustAn excavated system of underfloor heating of a luxurious Roman house.
Do
Roman festivalThe largest Roman festival in Switzerland. Takes place during the lest weekend of August.
Eat
phone: +41 61 811 26 31

address: Dorfstrasse 32, Kaiseraugst

Mostly meat-based dishes.
Sleep
There are only a few options nearby in Augst or Kaiseraugst, so it might be worth to consider a day trip from
Basel
instead.
Cedro Römerhof

phone: +41 61 811 17 67

address: Giebenacherstrasse 31, Augst

Simple Hotel near the archaeological site.