Austin
Austin
is a city of over 900,000 people in the
Hill Country
region of the
U.S. state
of
Texas
. It is the capital of Texas and a college town, and also a center of
alternative culture
away from the major cities on the US coasts, though the city is rapidly gentrifying with its rising popularity. Austin's attitude is commonly emblazoned about town on T-shirts and bumper stickers that read: "Keep Austin Weird." Austin is also marketed as the
Live Music Capital of the World
due to the large number of venues.
Districts
Understand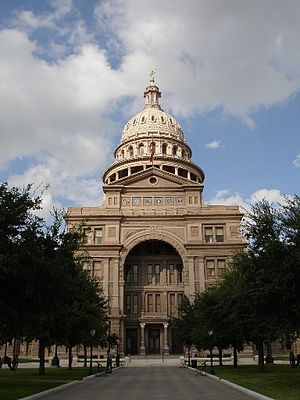 Visitor information
phone: +1-866 GO-AUSTIN

address: 602 East 4th Street
Climate
Austin weather is generally nice most of the year; activities are generally not limited by season. However, as Austin lies within Central Texas, be prepared to deal with the
long, hot summers
if you are visiting between May and September. It is not uncommon for daily high temperatures to be between 90 and 100 °F (32-38 °C) during this time — in fact, a day in the 80s is rare, and several days may even reach triple digits (90 days in 2011). If you are here when the weather is like this, dress accordingly, drink plenty of water, and do not plan on staying outside for long (nearly all indoor places are air-conditioned) — unless you're taking the opportunity to take a dip in Barton Springs Pool or any of the other swimming holes in the area. This is especially true if the heat index is around 105 or higher, which is considered to be dangerous. The interior of cars will get dangerously hot, especially if the windows are up and it's parked in the sun — don't leave pets or children in there, no matter how briefly. How hot the summer gets usually depends on the amount of precipitation the area has been getting. If there is no drought and the spring has been particularly wet, temperatures will remain relatively tolerable and rarely break triple digits. If it has been dry, as it was from 2007-2009, summers can be very uncomfortable and triple-digit temperatures will be very common.
Central Texas winters are short to non-existent. There are many pleasant or even warm days during the winter months (the first 90 ° day of 2012 was in February), and snowfall is rare. However, hard freezes happen occasionally, and light freezes may occur frequently (especially in the more rural areas), and when this mixes with precipitation,
ice storms
and other wintry weather happen. If the storm is severe enough, the city may shut down for a day or so, traffic may be snarled, and the local auto body shops may notice a spike in business. The Austin area usually experiences such events 0-2 times each year or so, from late December to mid-February. Generally, though, winter weather just varies a lot, with alternating cold and warm fronts that can make for large temperature swings in the course of a single week.
Spring and fall are the best times to visit. Springs tend to be stormy (see "Stay safe" for related warning), and falls may bring light freezes during the night. For the most part, though, springs and falls are very pleasant times to experience Austin.
Read
Pick up an
Austin Chronicle
newspaper first thing. These are freely available all over town, including the information desk across from baggage claim at the airport. It will be your guide to everything that's going on in Austin from festivals (Spam Festival, Chili Festival, etc.) to music, theater and food; it's all in there. New issues are published every Thursday.
Get in
By plane
Barbara Jordan Terminal: Aeromexico, Air Canada, Alaska Airlines; American Airlines/American Eagle, British Airways, Condor, Delta, Frontier, Jetblue, Lufthansa, Norwegian Air Shuttle, Southwest, United/United Express, Volaris.

South Terminal: Allegiant, Sun Country and Via Air.
There are a selection of buses, taxis, ride share (Uber & Lyft), shared ride shuttles and car rentals to get you into town and back. Chauffeured sedans or limos are also available to pick you up or drop you off at the airport but normally require advance reservations. Taxi fare to downtown Austin is approximately $30. You may also catch
Capital Metro bus 20
from ABIA to Downtown Austin, $1.25 for one way or $2.50 for a 24-hour local pass.
By train
address: 250 North Lamar Blvd.

Served by the Texas Eagle Line with service from Chicago to San Antonio.
By car
Austin is on one major freeway and several regional highways, and its outskirts are served by several tollways. From
San Antonio
, head north on IH-35, about one and a half hours. From
Dallas
, head south on IH-35, about three hours. From
Houston
, head west on US-290 (or I-10 W to Hwy 71 W if you want to reach South Austin), about three hours. From I-10, take SH-130 Toll north to Austin.
By bus
There are multiple long distance bus lines serving Austin from San Antonio, Houston, Laredo and Dallas-Ft Worth in the U.S. and from Nuevo Laredo and Monterey in Mexico. Each company has a stop or their own bus station in different parts of town that are far from each other:
phone: +1 254 634-3843

address: (Greyhound bus depot) 916 E Koenig Ln and at the CARTS/Greyhound Station on 402 W Bowman Rd in Round Rock, north of Austin

From Killeen to Temple, Waco, Round Rock, Austin and Houston.

phone: +1 512 227-2652

address: 711 Ben White Blvd

They go to various cities in Texas, Illinois, Florida, Georgia, Arkansas, Tennessee, North and South Carolina and Alabama from Houston and to various Mexican cities south of the border. Connections to other Mexican bus lines for onward travel further south
address: (bus stop) 1221 Trinity St

Connects Austin to San Antonio, Ft Worth & Dallas along the I-35 corridor; over to Houston on US Hwy 290. Passengers connect in Houston or Dallas to continue east to Louisiana. They also have another stop at the airport. Airport stop is located near the lower level at the charter pick-up area, identified by pillar "M".
Get around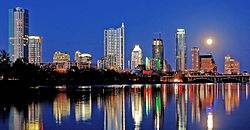 On foot
Generally, the feasibility of seeing Austin by foot depends largely on the weather
For those content to see only downtown Austin and who are in good shape, exploring most of the downtown area on foot is possible. There are many attractions within a 1 - 2 mile walk from most downtown hotels. Just be prepared for potentially oppressive heat during the summer months.
The University of Texas area, just north of downtown, is also very pedestrian friendly, and in fact can be a difficult place to get around by car (very hard to find a parking spot).
By bike
Though there are some exceptions, most of downtown Austin is reasonably bike friendly. There is a high concentration of cyclists in the city, and many trails around town.
Austin is hilly to the west but generally mildly sloping toward the river in the center of town. There are bike lanes on most major streets. Biking is a great way to get around year round and the weather is usually agreeable from mid-October to mid-April. May to mid-October temperatures may reach the high 90s to 100s °F (32-38 °C), and humidity may be a problem.
By bus
Capital MetroThe city's public bus network with a system of inexpensive neighborhood, express and downtown routes. Visitors can also get around on the Capital MetroRail commuter train which operates on weekdays (and in the early evening on Fridays and Saturdays) between Downtown and northwest Austin. Local fares cost $1.25 per trip, or you can get a 24-hour pass for $2.50 on board every bus (while commuter express buses and MetroRail fares are $3.50, $7.00 for a day pass). "E-Bus" and "Night Owl" services serve the city's entertainment districts after hours. Expect a bus ride from any point north of 183 to downtown to take at least half an hour. The Capital Metro website has a trip planner which can be used to find public transport options between two points in Austin.
Austin has a generally mediocre public transit system - even by the already low US standards. However, the bus can be a viable method of getting around with proper planning ahead of time.
The University of Texas shuttles (route numbers in the 600s) offer frequent service between the University and some neighborhoods during weekdays (and less frequently on Sundays) when school is in session. Blue buses are generally used on the shuttle routes; boarding requires a UTexas ID or Capital Metro bus pas.
There are also double-decker tour buses:
phone: +1 512 478-0098

address: 602 E 4th St

Hop on, hop off, with a guide.
By car
Driving is not too difficult if you're used to living in a large city. Traffic is worse from 7-9AM and 3:30-7PM weekdays, though IH-35 through town can be jammed at other times as well. Austin's traffic is among the worst in the nation in terms of hours of delay per year, so allow plenty of extra time during the morning and evening commute.
There are two major north-south expressways:
I-35
(non-standardly called "IH-35") and
Loop 1
(also called the
MoPac
Expressway for the former owner of the railroad which runs along it, Missouri-Pacific - or "Slo-Pac" for anyone who has experienced it at rush hour). There is only one true major east-west freeway in Austin, south of the city center, known as Ben White or US 290 West/Texas highway 71. The freeway section of 290 West/Ben White runs from I-35 to just east of Oak Hill. Freeway extensions are being constructed east on 71 to the airport, and the beginning stages of construction are taking place west towards and past Oak Hill. Hwy 183 runs from the southeast corner of the city near the airport to the northwest suburbs, bridging MoPac and I-35 in North Austin.
Oak Hill
is the point at which TX 71 and US 290 split apart and go in separate directions, and in case this isn't confusing enough, some people make the distinction between 290 West and 290 East because at I-35, 290 East heads up the interstate, and then continues on to the east in North Austin. There is a second freeway that runs from the Northwest side of the city down to the Southeast side of the city past the airport. This freeway is called US 183, and in North Austin it may also be referred to as Research Boulevard. Most of it is freeway now; however, there are still several major intersections which are being constructed and turned into freeway.
I-35 has no loop that circumnavigates the city, so watch out for aggressive, confused drivers. Also, keep your eyes open for the upper deck/lower deck split between Airport Boulevard and Martin Luther King Jr Boulevard; it's confusing, and accidents occur there frequently. Drivers going through Austin without stopping, or those who wish to avoid the chaos of the lower deck, should use the
right
two lanes as the deck split approaches, in contrast to other cities where through traffic uses the left lane. On the northbound side, traffic entering I-35 at Martin Luther King Jr Boulevard goes directly to the upper deck.
Out-of-towners be warned: on-ramps on I-35, especially the lower deck, are very short.
Austin has a mostly completed network of toll roads, see
Central Texas Turnpike System
and
Central Texas Regional Mobile Authority
. These include SH 130, an Austin bypass east of town; SH 45, an east-west artery in North Austin; the North MoPac extension; the US 183A bypass of Cedar Park and Leander; and SH 45SE in far south Austin.
TxTag
accounts are available for commuters. There has been significant opposition and accommodations have been made in some areas. Both US 183A and MoPac are rather deceptive — if you keep going north on either 183 or MoPac, the freeway seamlessly transitions into a toll road and the signage is rather poor. To avoid the toll, you must keep a sharp eye out and get off the main lanes. Even worse, all tolls on 183A are "TxTag Only" meaning that you cannot pay cash. This trend will likely extend to all Austin tollways in the near future.
Parts of the city are subject to flooding at times during the year; however, it is not too common as Austin does not usually get an excessive amount of rain. The year 2007 saw several flood episodes with the worst effects in Marble Falls, northwest of the city. 2015 was another heavy rain year with selective local flooding. See
City of Austin Flood History
for historic flooding.
For those of you unfamiliar with proper treatment of flooded areas,
never
drive through flooded low water crossings. You will lose your car and possibly your life. As little as a few inches of running water can and does wash a car away and each year there are some deaths due to this. "Turn Around, Don't Drown."
Parking
While driving is not too bad, parking in the city center can be difficult; look for municipal parking garages as officers will ticket you in the blink of an eye (check meters, though, because many are free in the evenings, on weekends, and on major holidays). Worse yet, vehicles illegally parked in private parking areas are
very
quickly towed, so make sure that you don't park in spots marked no parking.
Parking is free in the Texas State History Museum garage near UT after hours and on weekends. As of 2005 under SB 1533, state employees may park in state garages during non-business hours for free.
By taxi
There are several cab companies on call if you'd prefer to avoid the driving hassle.
phone: +1 512-452-9999

website includes fare estimator and online booking

phone: +1 512 329-7007

For airport transfers or those who just demand a bit more luxury you can rent a chauffeured sedan, limousine or minibus.
See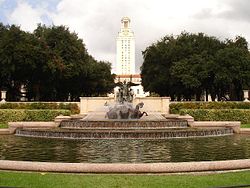 Take a beautiful stroll around
The University of Texas at Austin
. While there you might want to visit the Blanton Museum of Art, the Harry Ransom Center, Texas Memorial Museum of Science and History, or view the public art around campus The famous
UT tower
has reopened and is worth a look for the breathtaking views and history lesson. It is a tour though so you need to make reservations (see the previous link). The theater and music departments are both well regarded and have performances throughout the school year. If you visit during football season, you can see the 2005 National Champion Texas Longhorn football team play at Darrell K. Royal Texas Memorial Stadium.
The Texas State Capitol
is a must-see for new visitors to Austin. Unlike many other state capitols in America, Texas's is as welcoming as the state's people, and is completely open to the public seven days a week.
Do
Tours
phone: +1 512 999-8687

Access ATX Tours offers private Austin city tours and day trips to the Texas Hill Country and San Antonio. Also offers Austin food tours, Texas BBQ Trail Tours, and Wine Tasting/Distillery/Brewery Tours.

phone: +1 512 999-8687

address: 602 E. 4th Street

Austin's wildest ride with a live band on board the bus. Twisted Texas offers Brunch/Food Tours and Brewery Tours with live music, starting at $64 per person. Tours depart on weekends.

Segway ToursAustin Segway Tours enable you to tour downtown Austin on the Segway. Learn to ride a Segway for $50 or tour downtown Austin for $75. Tours depart daily.

phone: +1 512 215-4603

address: 555 E. 5th Street, #2811

Offers scenic carriage and van tours as well as ground transportation to several area landmarks including Arboretum, Round Rock, and UT.

TexasWineTours.com

phone: +1 512 329-7007

Offers half and full day tours of the nearby Texas Wine country. Rent a chauffeured sedan, limo or minibus, generally departing between 10AM and noon daily.

phone: +1 512 707-0099

address: 3913 Todd Lane #607

Austin's local microbrewery, if you're in town on a tour day they are worth the time to see (and sample).

phone: +1 512 663-9634

address: 1108 Lavaca St
Theater companies
Theaters
Spoken word
Music
KUTX Austin Music Map
(Warning: sound; mute at bottom left)
Austin is the
"Live Music Capital of the World"
. If you're into the bar and club scene, head to
Sixth Street
during the later hours for a wide selection of venues, many of which also feature live music. Sixth street is not by any stretch the only place to see music. It can in fact, become very crowded, and is generally the most tourist filled part of town. By ordinance for the protection of workers and public enjoyment, all public buildings in Austin are clean air zones, including bars. Smoking is prohibited except in rare separately ventilated areas, making Austin one of the few cities where a large and varied selection of music can be experienced smokefree.
Film
Enjoying the outdoors
Place include
Barton Springs Pool
,
Lady Bird Johnson Wildflower Center
,
Zilker Park
,
McKinney Falls State Park
. There are numerous
parks all over the city and in the surrounding suburbs
that are very popular with the residents of Austin. A significant number of these parks are pet friendly.
Cycling
trails at a number of locations including
Walnut Creek Municipal Park
,
Lady Bird Lake Hike and Bike Trail
as well as
The Veloway
. There are also a couple of BMX and skate parks downtown.
Town Lake Boat RentalRent a canoe or kayak and enjoy the natural world in the heart of the city.
phone: +1 512 396-5466

address: 170 Bobcat Dr

San Marcos, 25 miles south of town on I-35. There is no more quintessentially Central Texan thing than enjoying a summer afternoon lazily floating down the river. The Lion's club of San Marcos rents tubes at around $8/person or canoes at $10/each. They take you to the river and pick you up.
Town Lake Hike & Bike trailA big loop around Town Lake, beautiful scenery while getting a good workout. Recent beautification has cleaned up parts, and is making it nicer for all. Runs alongside Zilker park. A good place for biking, running, walking, or taking the dog out for a nice run. Relatively easy hike.
Spectator sports
University of Texas LonghornsAustin is a university town and Texas sports are taken very seriously. Home of the 2005-06 National Football Champions. UT also has strong basketball and baseball teams, in particular.

Professional sportsNo major professional sports team plays within the city limits (at least until 2021); four minor-league teams, plus one top-level team in a minor US sport, play in the suburbs. The H-E-B Center, in the suburb of Cedar Park, is home to basketball and hockey teams. In basketball, the Austin Spurs play in the NBA G League, serving as a farm team for the San Antonio Spurs. In hockey, the Texas Stars play in the American Hockey League as the top affiliate of the NHL's Dallas Stars. The Round Rock Express, a baseball team affiliated with the Texas Rangers, play at Dell Diamond in another suburb, Round Rock, in the Triple-A Pacific Coast League. In soccer, the city has been home to two separate teams in the league now known as the USL Championship. The first, the Austin Aztex, folded after troubles securing a new stadium site; the second, Austin Bold FC, began play in the USLC in 2019 at a new stadium on the grounds of the Circuit of the Americas. Bold FC is a prelude to an even bigger soccer development—the arrival of Austin FC in Major League Soccer. That team is preparing to break ground on a new stadium in northwest Austin, and is set to begin play in 2021. Finally, in rugby union, Austin Elite competes in Major League Rugby, the top level of that sport in the US; that team shares Dell Diamond with the Express.

Formula 1Formula 1 has added Austin to its series of races. A must see for auto enthusiasts, the COTA also hosts other racing events such as Moto GP; it even hosted a round of the Australian Supercars series in 2013, though that race didn't return. As noted above, the complex also houses the soccer stadium used by Austin Bold FC.
Other
Austin Steam Train Association

phone: +1 512 402-3830

address: Burnet Depot or Cedar Park Depot

Runs several tours aboard the Hill Country Flyer steam train into and around Texas Hill Country. The train makes short half hour jaunts as well as a circuit on weekends March through December. The Steam Train Association owns a live steam train, but it has been out of commission since about 2000. The train still runs though, just using a borrowed diesel engine. It is still nice, but not as attractive as it used to be.
Events
Festivals arranged by month. The mammoth South by Southwest (SXSW) festivals are in March.
The major Austin City Limits Festival is in October.
Learn
Austin is one of the premier educational areas in the nation. The University of Texas at Austin is one of the best universities in the world, public or private. The flagship institution of the University of Texas System, it is also one of the largest universities in the world, both in terms of endowment, and in terms of student population. UT has been the largest university in the United States, but has intentionally limited enrollment and now ranks in the top five nationally. The red-tiled roofs of the "Forty Acres," as it is known, shelter many cultural and entertainment institutions. The campus is beautiful and vibrant, and visitors are welcome.
Austin is a college town as well as a government and high-tech center. It draws its population from all over, and many students decide to stay. This gives Austin a high level of general education and a diverse cultural scene.
Buy
Austin is very proud of its local stores. Great places to shop are
South Congress (SoCo)
,
The Drag
, (Guadalupe, from 17th to 38th, along the West side of the UT campus) and
South First
.
North Loop
also has a few fun and funky shops, but you'll probably have to ask a local (or several) how to get there. There are several
antique
stores on South Congress.
Half-Price Books
with five locations around town is a Texas-based chain whose stores offer exceptional value for your dollar, and have an extremely diverse selection. A peek in these stores will show you what Austinites are really reading.
Austin is home of the original and the world headquarters of Whole Foods. Their flagship store is downtown at W. 6th St. and Lamar, in the same building as their brand-new corporate headquarters. They have several other stores around town as well. The flagship store is a destination in and of itself.
Austin is also home to the original Central Market, near Lamar and 38th St., and a second location at Lamar and Westgate, down south. Both have live music in their dining areas on weekends.
Whole Foods and Central Market have a large selection of fresh fruits and vegetables, wines, beer, cheese, free-range meats, and seafood. The Whole Foods flagship store downtown and the 38th St. Central Market locations have a varied selection of gelato. The "mothership" Whole Foods (as locals call it) is the largest in its chain, boasting six mini-restaurants with dishes prepared to order (seafood, vegetarian, BBQ, Italian, Asian, and pizza). Spirits live music at night, and an ice rink on top during the winter.
Wheatsville Food Co-op
(original location 3101 Guadalupe, open daily 7:30AM-11PM, new south Austin store 4001 S. Lamar Blvd) is now a thriving cooperative grocery and has been around for over 30 years. Their focus on food issues guaranteed an excellent selection of ethically produced products including organics, vegetarian, vegan, free range meats and eggs, fair trade, household items, bulk foods and a full service deli. The store is a much smaller than the large supermarkets and provides a much more personal grocery experience. "King of the Hill" made fun of the earnestness of the place by having Hank eat "faux fu" (a more ethical form of tofu) from the place.
HEB is one of the largest private (not publicly traded) corporations in America, has many supermarkets around town. They have great selection. Most markets have specialty, organic, and ethnic foods. Many are open 24 hours. Their newest large-scale supermarkets include everything from furniture to electronics to books to eggs.
Randalls, the second largest supermarket chain in town after H-E-B, owned by Safeway has a few locations open 24 hours.
Austin also features a large variety of ethnic grocery stores, including Chinese, Vietnamese, Japanese, and, of course, Mexican.
Eat
When you visit Austin, or if you decide to live here, you'll have no shortage of interesting and satisfying places to eat. Austin's restaurants are a feast for the mind and the palate. The listings below are only a sampling of the diverse and plentiful Austin restaurant scene.
Austin has many high-end, destination restaurants, but it also has many high-quality, unique, and inexpensive restaurants where the locals eat, drink, and socialize every day (all day). It's a town built for living in, and the affordable, excellent restaurants show it. Just so you know you're in Texas, Austin has a large number of places serving Texas Barbeque and
Tex-Mex
; many of them are venerable, famous, and exceptionally good eating.
Austin is vegetarian-friendly, and many restaurants have a good selection to choose from. Most supermarkets such as HEB, Fiesta and Randall's offer inexpensive prepared food.
While Austin has dining options ranging from casual to upscale, most of the popular restaurants skew towards the budget end of the spectrum. There's a good chance the restaurant you want to visit has counter or quick-casual service and does not accept reservations. Part of the reason behind this is the fact that many popular restaurants started out as food trucks and then later built brick-and-mortar locations. Many of these places require that you pay up front, including tipping. When presented with the tipping step, bear in mind that Austin housing has become relatively expensive for service industry workers.
Consequently, many popular restaurants also have long lines (e.g., Franklin Barbecue). While some people enjoy striking up conversations in these famed lines, you may find yourself wanting to actually eat rather than talk. Austin's restaurants tend to follow trends (e.g., BBQ, tacos, pizza), so plan on some nearby alternatives if the idea of standing in 100 °F heat for an hour for a burger isn't your idea of fun.
Local
burger
chains that you can find in numerous locations around Austin include
P.Terry's
who serve hormone free, anti-biotic free beef (Veggie burgers and quality chicken burgers, better than the regular burgers, are also available); and
Mighty FIne
with short menu but not short on taste.
If you're going to Austin looking for
barbecue
, you're going to the right place. Austin is home to multiple of the best barbecue restaurants in the state.
There are numerous
Japanese
restaurants in town (if you are looking for the real thing, most Japanese restaurants in town also are Korean or Chinese run). If you see bulgogi or other Korean fare it's likely a Korean restaurant. These places are pretty good and if you're not really into sushi, it's great to also have the option to eat Korean food.
Austin is home to a variety of excellent
Mexican
restaurants. Everyone in town has his/her favorite so if your looking to find a good one just ask the locals.
Baby Acapulco's
is a well-known Tex-Mex restaurant serving out of 4 locations throughout the Austin area. A fun place for happy hour with a more upbeat and younger crowd. The famous purple margarita will do you just fine. But they serve a limit of two so drink responsibly!
Chuy's Restaurant
an Austin institution with great Tex-Mex food. The North Lamar location is somewhat out of the way, but also tends to have the shortest wait times. Call ahead because the wait can sometimes be extremely long, though there are free chips and salsa to help make up for it.
Maudie's
with 6 locations is great local Tex-Mex chain with locations spread across the city. Excellent tacos, enchiladas and chili rellenos. Serves breakfast all day. Gluten Free Menu available upon request.
Lupe Tortilla's
is a really delicious and affordable Tex-Mex with great margaritas and their queso is the best in town, and be sure to try the flour tortillas (which are as big as your plate).
Serranos
a homegrown Tex-Mex restaurant with five area locations around town offering a great selection of tasty Tex-Mex dishes. The food and service are consistently good for a reasonable price. For something different try the enchiladas con huevos.
Torchy's Tacos
has amazing tacos of every kind, including breakfast tacos. Try the green chile pork or the democrat.
Other local offering found in multiple locations around the city include:
Amy's Ice Creams
where the atmosphere is lively and the employees are friendly. Add a fruit or candy "crush'n" to your ice cream for even more flavor. The location on Burnet Road, aside from being right beside the Amy's production facility, also features a burger joint - Phil's Ice House. Try the sweet potato fries and the burger sampler.
Kerbey Lane Cafe
an Austin favorite offers legendary pancakes and an extensive vegan menu that includes breakfast tacos, chai pancakes, tofu cheesecake, and more. Also try the queso and Dave's enchiladas. Breakfast all day.
Opal Divine's
serving up American food menu at four Austin locations, all of which have large outdoor decks for those who prefer to dine or enjoy an adult beverage with nature.
Thundercloud Subs
a local sandwich deli with over 27 locations around town. Known for its 'Keep Austin Weird' atmosphere and 'Thunder sauce'.
Whole Foods Market Cafe
a vegetarian-friendly grocery store with numerous food bars offering vegan and vegetarian options. Whole Foods' flagship store is in Austin.
Drink
Austin is
coffee
mad. The coffeehouse culture is strong and growing here in Austin, and you can hear poetry and live music at quite a few of these places, as well as getting light eats. Coffeehouses are where the liberal heart of Austin beats for all to see. Free wireless Internet connections are very common (and available at many other businesses as well).
There are a number of local chains including
Caffe Medici
.
Most
gay and lesbian
bars and night clubs are downtown with the highest concentration in the Warehouse district.
For
alcohol
Austin's main strip is on
6th Street
downtown. But like most entertainment districts that get raves in the media, it's a little overhyped. Check out the nearby
Warehouse District
and
Fourth Street
if you don't want quarter wells and million-dollar sorority girls.
Most grocery stores (especially HEB and Central Market) carry a variety of
Texas beer
. There are several microbreweries operating in Texas, and you can expect to find their beer at outlets with moderate to wide selections:
There are also a number of small brewpubs serving their own house-brewed beers to the local cognoscenti, many in the
North Loop
area.
Sleep

Many hotels sell out for Austin festivals, particularly South By Southwest. Book well ahead for anything downtown.

Connect
Stay safe
Austin is one of the safest major cities in the US. However, this does not mean that there is no crime. As with most American cities, credit cards are accepted nearly universally, especially for nightlife. Therefore, for convenience and safety, it's inadvisable to carry large amounts of cash. The number for police, fire, and medical services is 911.
In many parts of Austin, there are beggars on the street corners, particularly off of the freeways, who will hold signs asking for money (panhandling). Donate instead to a legitimate charity, like Meals on Wheels, the Salvation Army or Austin Atheists Helping the Homeless.
There is a district around 6th St. and Red River that houses a large homeless shelter known as the Arch. This area is generally safe during the day, but often filled with panhandlers at night. They can be fairly aggressive and sometimes follow people traveling alone. In addition, groups of muggers sometimes target intoxicated bar patrons who dare to depart on their own.
There is generally a large, visible police presence (mounted, foot, and cruiser) at night in the 6th St. area. They are quite willing to let belligerent drunks dry out overnight in the city jail (or the recently-opened "Sobering Center"). They do, however, provide a safe and secure area to enjoy yourself and Austin's famous live music.
There is the Rundberg area, where you should not walk alone on the streets by yourself, especially around the I-35 area. Austinites tend to avoid this area.
Because surrounding hills concentrate the water, some streets in Austin and the surrounding area are prone to flooding during periods of heavy rain. These areas are typically marked as 'low water crossings' but in any event do not drive or walk across moving water. "Turn around, Don't drown" is a well known, local saying. Each year several people are killed as they are swept away by flooding. You will also see many flood control structures built into the landscape. Small, dry low places with bounding berms during the dry season, these are dangerous places to be in, but keep Austin safer when the rains come.

Cope
phone: +1 512-916-4444

address: 1918 Bissel Ln

Offers relaxation meditations and meditation classes to increase inner peace.
Consulates
Ireland

address: 515 Congress Avenue 1720

phone: +1 512 478-2866

address: 800 Brazos St Ste 330
Radio
FM
Go next
phone: +1 512 328-4957

address: 3801 N Capital of Texas Hwy

About 30-40 minutes outside of town in Driftwood, you'll get to drive through some beautiful hill country before arriving at this sprawling and magnificent BBQ restaurant. It's BYOB, cash only, and the all-you-can-eat menu option that will have you staggering back to your hotel. A satellite restaurant is in the airport, and is a great place to eat. If you've got withdrawal symptoms, and need your maintenance dose, Salt Lick barbeque is available shipped worldwide!
Hill Country Flyer, +1 512 477-8468. A scenic 2-hour train ride through the Hill Country to Burnet, where the train stops for shopping and dining. The ride especially scenic during mid-spring when the hills are covered in bluebonnets. The train is normally pulled by an old steam engine which is under restoration. In the meantime, the route still runs, pulled by a 1960s diesel engine.
San Marcos - 32 miles south of Austin, San Marcos is the home of Texas State University and its Aquarena Center, as well as two massive outlet malls that have more than 350 shops.
New Braunfels - 48 miles south of Austin, this town is best known for its German culture and heritage, not to mention the Schlitterbahn, persistent in being voted the world's best waterpark.
San Marcos River
Hippie Hollow, county park offering clothing-optional bathing since the 1960s.